There are many scenarios where faking your GPS location becomes a necessity. Your original GPS location can act as a geographical barrier. By faking GPS location, you can make the apps and websites believe that you are somewhere else in reality. This will open up many features and functionalities that were not accessible from your original GPS location. You can also fool people with a fake GPS location Android app.
Part 1: How Does GPS Positioning Work?
A GPS receiver receives signals from GPS satellites. The satellites transmit signals along with the exact time of transmission. By subtracting the time between the signal transmitted and the signal received by the GPS receiver, it can tell the distance of the transmitting satellite.
The GPS receiver also knows about the exact position of the GPS satellites in the sky. Therefore, with the calculated travel time and the exact positioning data, the GPS receiver determines your position accurately. This position determination is done in three dimensions, namely latitude, longitude, and altitude.
Part 2: How Do Most Fake GPS Location Apps Work?
Step 1: First of all, you need to install a fake location Android app on your smartphone.
Step 2: Then you have to enable Android "Developer Options".
Step 3: For that, go to Settings app > About Phone > Software Information > Build Number.
Step 4: Tap on the Build Number option 7 times continuously.
You will then see a toast message appearing saying, "You Are Now A Developer".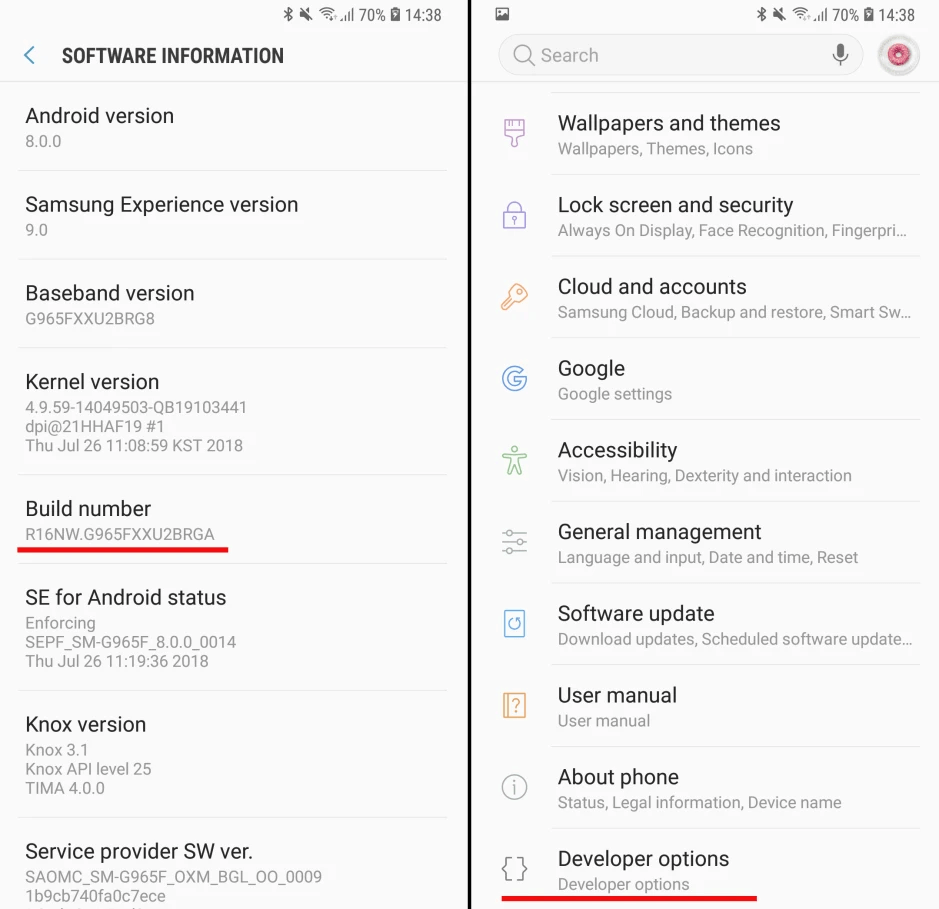 After operating the above steps, you still need to move on to the next stage of the operation

Step 1: Go back to the Settings app, and you will see a new "Developer Options" menu option.

Step 2: Tap on that option and then tap on Select Mock Location App.

Step 3: Select the spoof location Android app you have installed.

Step 4: Go to the fake GPS app and select a fake location.

Go to Google Maps and check your current location to ensure that the fake location is working.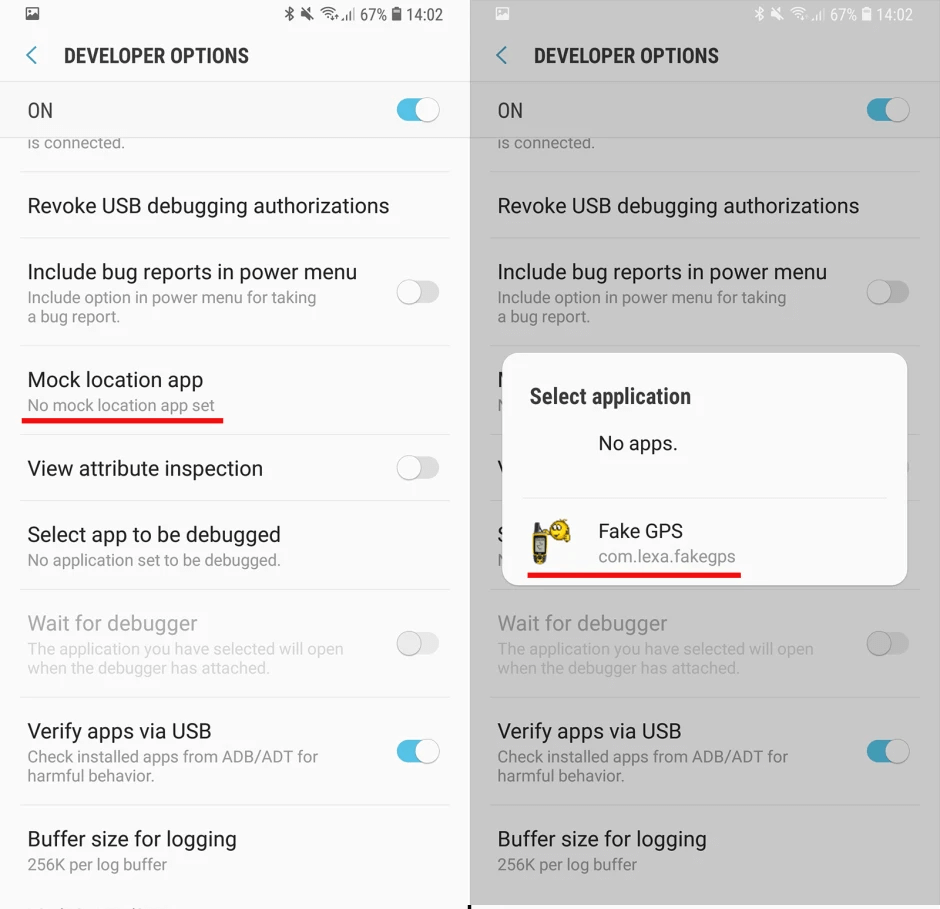 Part 3: Some Location Changer For Android
3.1: Using iMyFone AnyTo to spoof location android
There are many GPS spoofing Android apps available on Google Play Stores, but most of them fail to deliver.
To make it easy for Android users, our team of experts has picked iMyFone AnyTo.  The app delivers what is expected from it, and setting it up is easy for any Android user.
Features
Customization – The app lets the users change their locations and routes as per needs and requirements. The user can pinpoint the virtual location on the map or enter an address or GPS coordinates for faking the GPS location. One can also change the moving speed manually. The user can also set the realistic mode for changing the speed automatically after every five seconds.
GPS Location Sharing – The app lets the users share their virtual GPS location instantly with anyone on social media platforms.
Instant Tracking and Pause – The user can track his real-time movement on the virtual route. He can pause his virtual route traveling any time to get back to the original GPS location.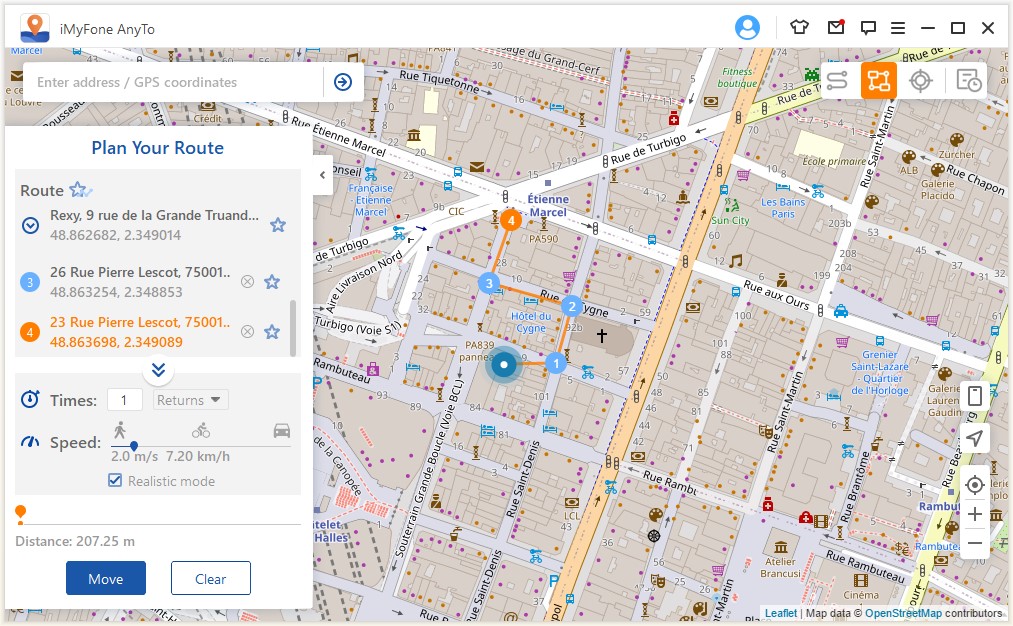 Route Guide – The app acts as a guide and provides all the useful information regarding the route. This includes place names, coordinates, directions, and much more.

Historical Data – The app stores record of all the previously traveled virtual routes by the user. You can also collect and save a route for future reference.
Apart from these features, there are some special features and modes available in this location changer Android app for the user's convenience.
How To Hide Location with AnyTo on Android
Step 1. Download AnyTo
Download AnyTo application on your computer and launch it. Click on the Get Started button on the home page.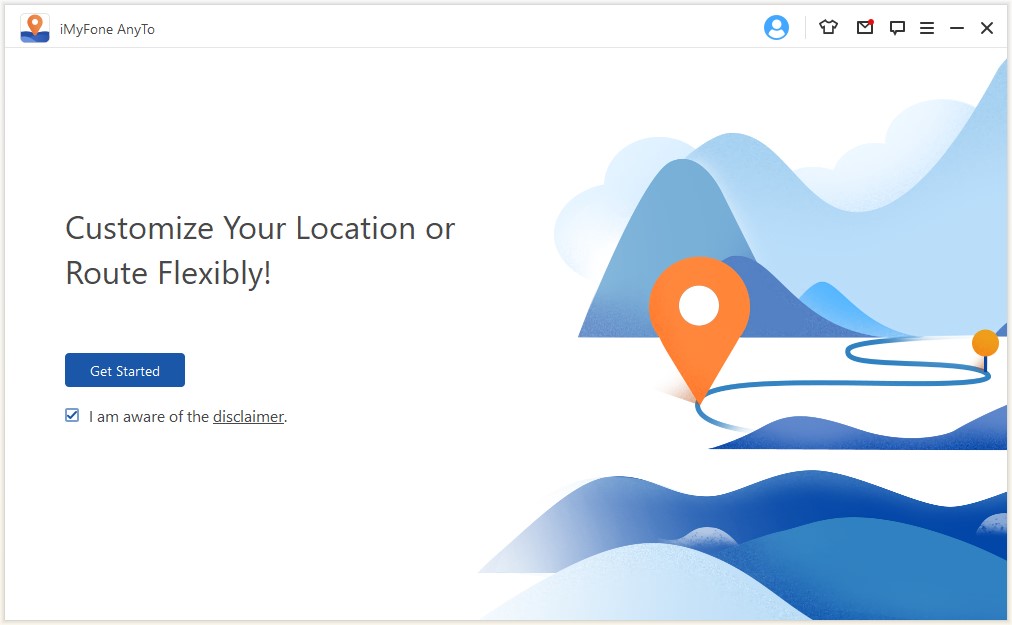 Step 2. Connect Your Android Device
Connect your Android phone or tablet to your computer with the USB cable. Once connected, you need to enable the USB debugging option on your Android device. For that, you just need to follow the instructions popping up on the screen.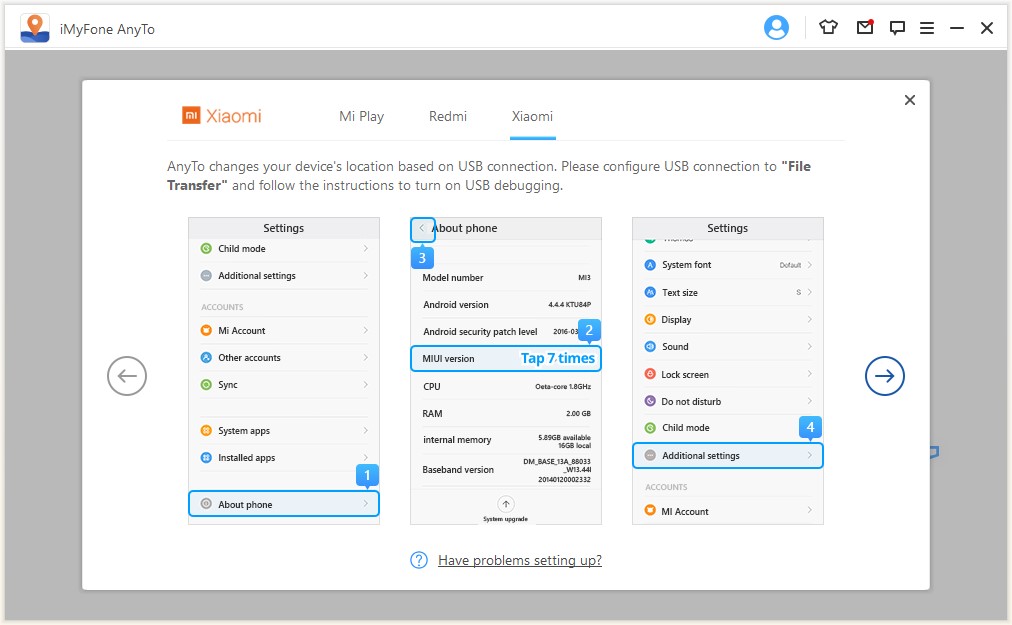 Step 3 – Choose The Mode
Once your device is connected to AnyTo application, you have to choose a mode. There are two modes available namely, gaming and social mode. The gaming mode is for faking location for AR games. The social mode works with all social apps like Tinder Tinder as well as regular apps.
Step 4 – Select The Location
In the next screen, you have to select a fake GPS location. There are three location changing modes available namely Teleport mode, Two-Spot mode,and Multi-spot mode. All these modes are for faking your GPS location.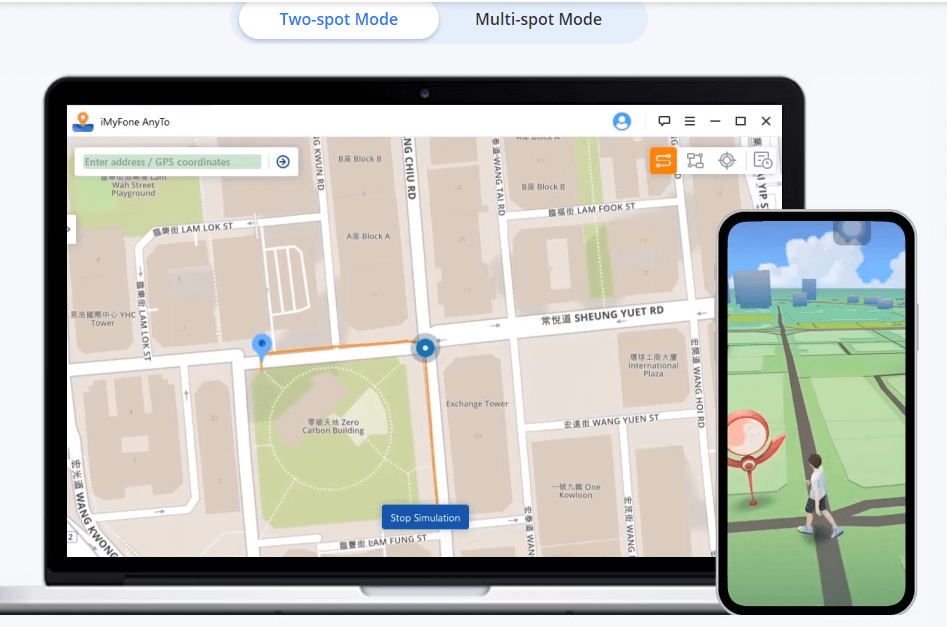 With Teleport mode, you can change your GPS location to anywhere in the world. The two-spot mode and the multi-spot mode are for creating a simulated fake movement between already designated spots around the world.
Step 5 – Get Started
Once you have selected the location, click on the  Move button for faking location to start. You can also select the speed as well as the number of times for the loop movement to continue.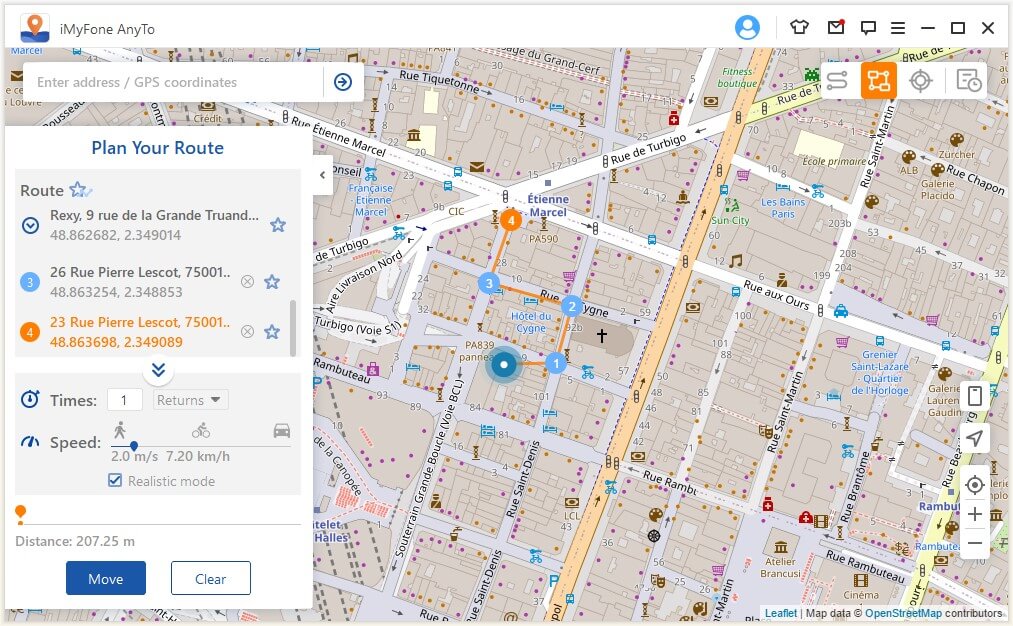 Pros
Any Location – You can teleport your GPS location to any location in the world instantly. You can pinpoint on the map or enter coordinates to fake your GPS location.
Simulate Movement – You can not only fake your GPS location but also simulate a fake movement to fool others.
Customization – You can customize a lot of parameters such as virtual route, speed, number of times to loop or return, and much more.
Gaming and Social Mode – You can change GPS location Android for AR gaming apps by selecting the Gaming mode. The same holds true for social apps like Tinder where you can fake location to meet people from different countries with the Social mode.
Cons
You need to connect your device to your computer to fake your GPS location. You cannot do it instantly from your phone.
3.2: Using VPN to spoof location android
How To Hide Location with VPN Apps
You can use the popular VPN Android apps available on Play Stores to hide your real location. Some of the commonly used VPN apps for Android are ExpressVPN, NordVPN , and CyberGhost.
For example, let's take an example of this VPN information.
ExpressVPN – It is the most popular VPN app for Android users.
Pros
Huge Network – The app currently has over 2000 servers across 150 locations in the world. Therefore, you can fake your real location in any country instantly.
Changing IP Address – Every time you log into ExpressVPN app and start its operation, the IP address of your device changes. This makes your device secure from hackers tracking you easily.
Speed – The Android version of the app delivers great speed for surfing the internet without any glitch.
Cons
It slows down internet speed on iOS devices.
The customer support is poor.
It is relatively expensive.
How To Set It Up?
Step 1 –Go to Play Stores and search for ExpressVPN.
Step 2 – Install the app and open it once the installation is over.
Step 3 - You need to sign up on the app and verify through email.
Step 4 – Once signing up is complete, you need to sign in.
Step 5 – After signing in, you will be asked for a Connection Request. Tap on the "OK" button.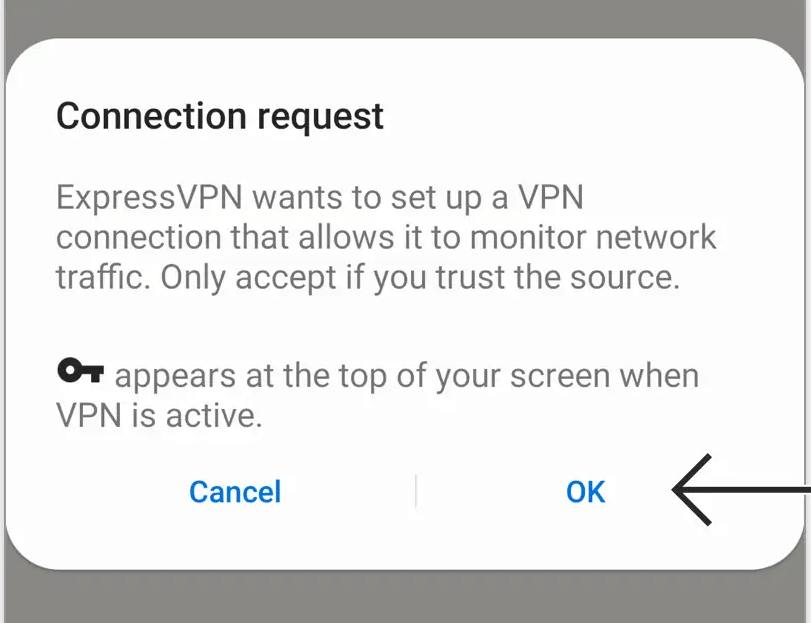 Step 6 – In the next screen, tap on the Start icon to start the VPN service.
Step 7 – By default, the app selects an optimal location for you. You can change it and restart the VPN service.
If you compare ExpressVPN with AnyTo, you can clearly see that AnyTo is superior in features. In ExpressVPN, you can select from certain network spots only.
However, in AnyTo, you can select any fake location as per your preference. Moreover, there is no option in VPN to fake a movement and change speed which makes it not so useful for AR game apps.
Therefore, we recommend AnyTo over ExpressVPN as a location changer for Android.
Conclusion
It has become a necessity to fake your GPS location to get all the features in certain categories of apps. AR game apps such as Pokemon Go and social apps like Tinder works best when you use a fake GPS location changer app. There is no better location changer app for Android users other than iMyFone AnyTo. It is feature-rich, and you can customize various parameters as per your requirements.