Due to the advancement of technology, many people have become followers of electronic devices. They rely on electronic devices to live, so in order to change this situation, there are many sports apps and running apps on the market. These softwares are all the same, they are basically based on GPS technology, track your movement track, thus record your daily location movement distance. But it also caused trouble for many people.
How to find a good faking running app is very important for those who are asked to report their running records every day. The popular sports program Nike run club is highly discussed on various social media platforms. How to cheat Nike run club app? This has become a topic of concern to many people. Don't worry, I'll answer it for you today.
Part 1: The Reasons & Risks for Cheating Running Apps
---
Of course, sometimes there are situations, such as:
The school needs to check my daily exercise record;
My friend invited me to run every day in the name of competition;
I want to show my daily healthy exercise record on my instagram or twitter;
My spouse wants to track my whereabouts for the day through my running log or exercise log.
For various reasons, we don't want to expose our true privacy to others. We hope to create a positive, sunny, sports-loving image by cheating the running app.
Part 2: Best 5 Running Spoofer Apps
---
Actually, these are understandable, then, take the running app Nike+ Run Club as an example, I will introduce several faking running apps and how to cheat Nike run club app:
1. iMyFone AnyTo
---
iMyFone AnyTo is an excellent and very popular location spoofing software on the market. It serves users who need to change their GPS location very well. Simple operation, rich modes and functions, almost completely solve all our problems in software or applications with GPS technology.
Key features of iMyFone AnyTo:
Change the location of your GPS to anywhere in the world.
Plan a route and move on it at a customizable speed. Search for a specific destination, which is friendly for AR game lovers(Like Pokemon Go).
It works very well with location-based apps like Tinder, Snapchat, popular social media platforms, etc.
Be compatible with both Android as well as iOS phones.
No random ads popping on your screen while using this program.
Tips
Quick navigation:
1:11 Teleport Location with Teleport Mode

2:33 Simulate GPS Movement with Two-spot Mode & Multi-spot Mode

Step 1: Launch iMyFone AnyTo. Install and launch iMyFone AnyTo on your computer. Click Get Started.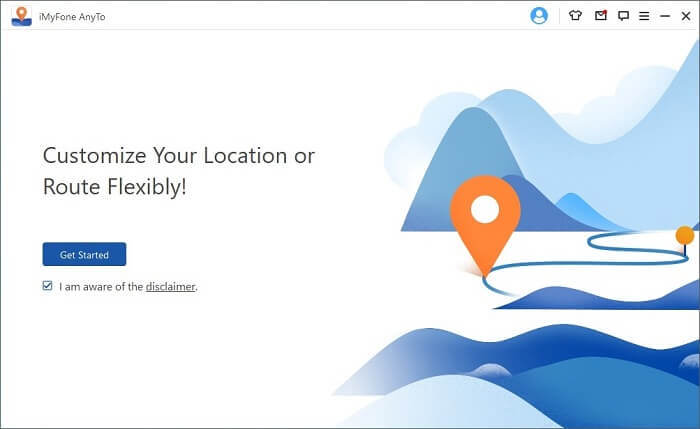 Step 2: Connect Your Device. Connect your iOS device to the computer via USB cable.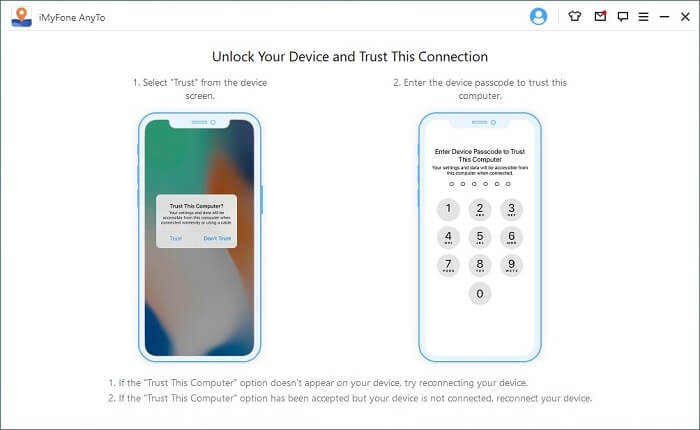 Step 3: Simulate GPS Movement with Customized Route - by Two-spot Mode. Pinpoint a location on the map as your destination. You can also choose a destination by entering the address or coordinate in the Search box.
Step 4: You can now set up the number of times for the virtual route to move back and forth between the two places. Drag the Speed bar to customize your moving speed.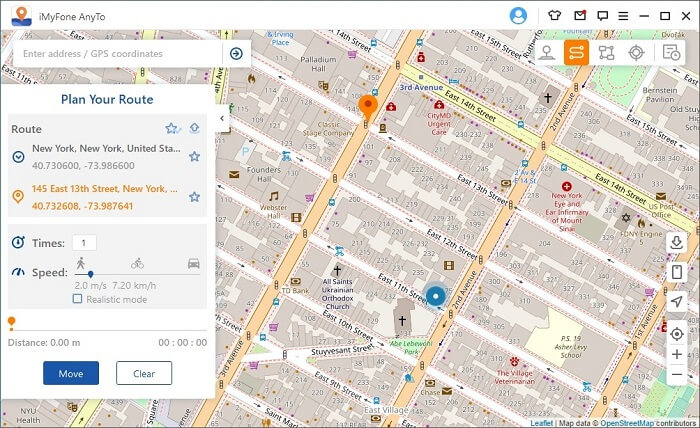 Step 5: When it is all set up, click Move to start simulating the movement. You can see the distance and time change as it moves.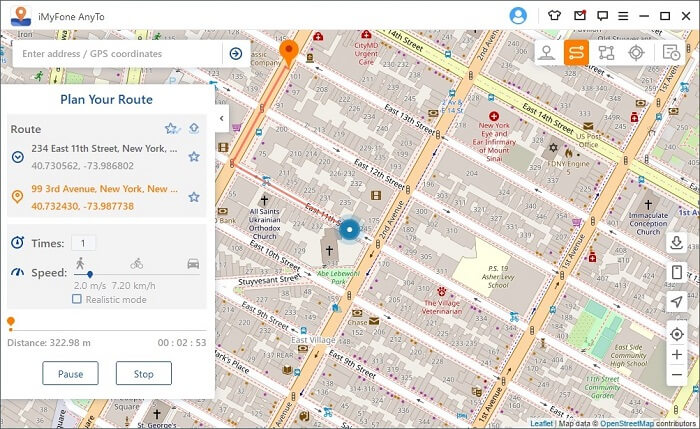 As it moves on the map, the GPS on your iOS devices moves without lag. When it finishes, it will pop up a prompt Completed!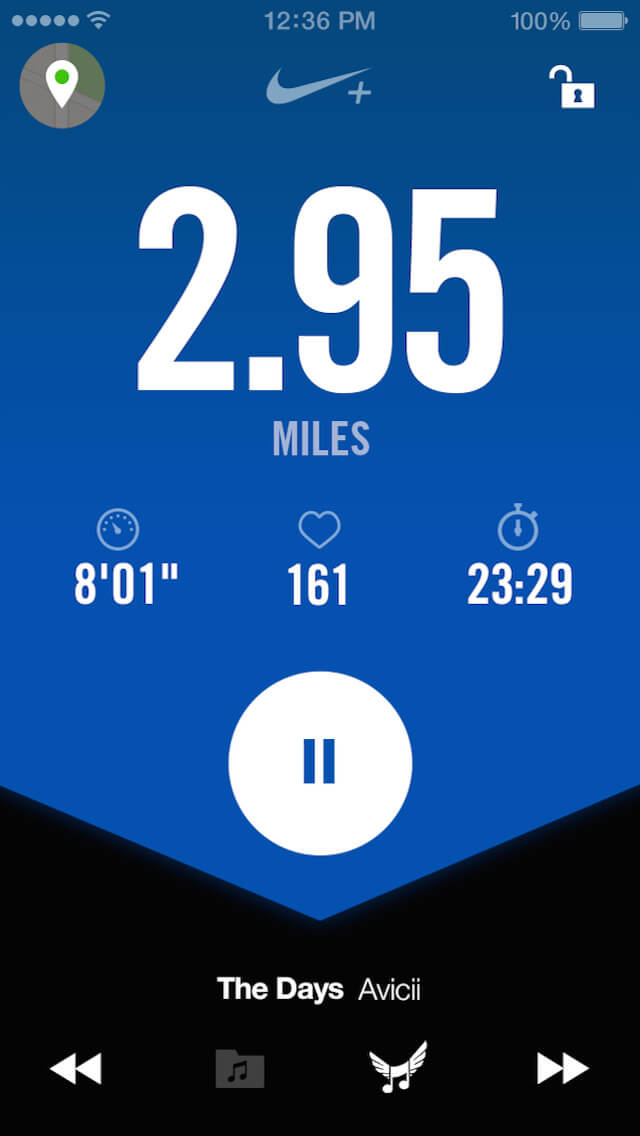 2. iTeleporter Location Spoofer
---
This is a hardware technique that you can implement to fake a location on your iPhone. There are different versions of the dongle, starting at $279.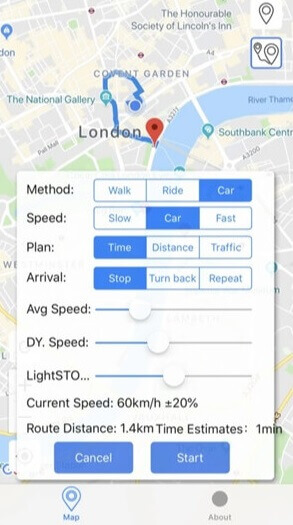 Once the dongle is connected to your iPhone, you can use its app to spoof its location.
Location Spoofer supports most iPhone models and is easy to use.
You can spoof your location by entering the location's name or coordinates on its app.
There are also options to set the route and simulate the movement of the device.
3. GFaker iPhone Location Spoofer
---
You can also take the assistance of this hardware dongle as a fake GPS spoofer that works smoothly on all iPhone models.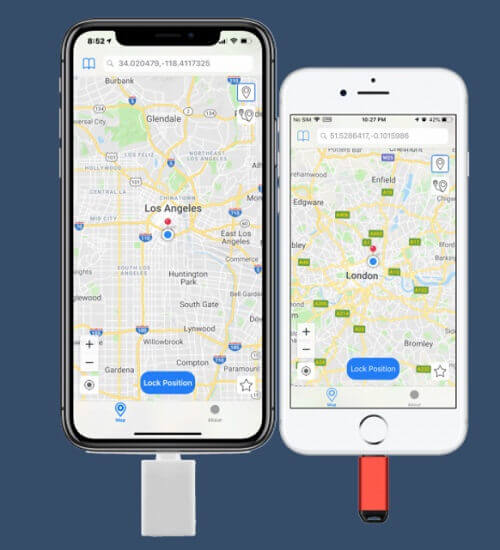 The fake GPS location spoofer is easy to use and comes in two different versions (for $259 each).
You can later use the mobile app on the location spoofer to change your iPhone location.
There are other advanced features to simulate your device's movement in a route.
The location spoofer solution supports all the leading models running on iOS 9 to iOS 16.
4. FGL Pro Location Spoofer
---
This is one of the most user-friendly fake location spoofer tools you can try. While its basic options are available for free, some advanced features would need an in-app purchase.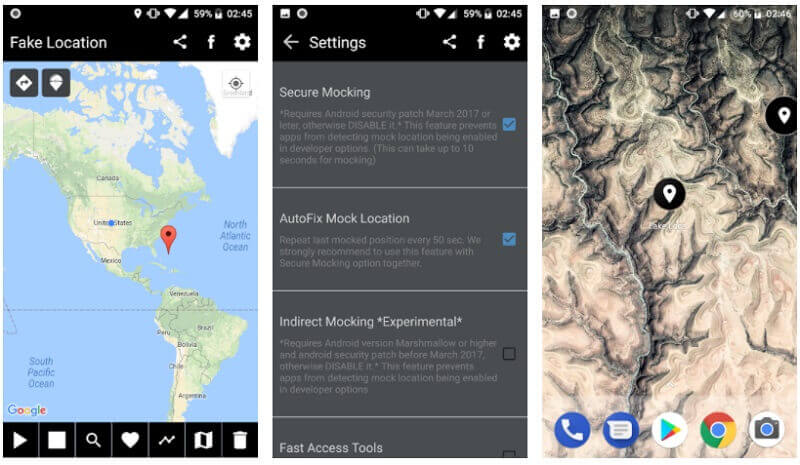 You can directly search for any location by entering its address.
There is also a provision to mark your favorite go-to spots in the fake GPS spoofer.
You can also find different terrains on the map and customize its settings.
Also, the premium version includes a GPS joystick to simulate the device's movement.
5. Fake GPS GO Location Spoofer Free
---
Supporting all the leading Android 6.0+ models, this fake location spoofer app is easy to use and will not need root access on your phone.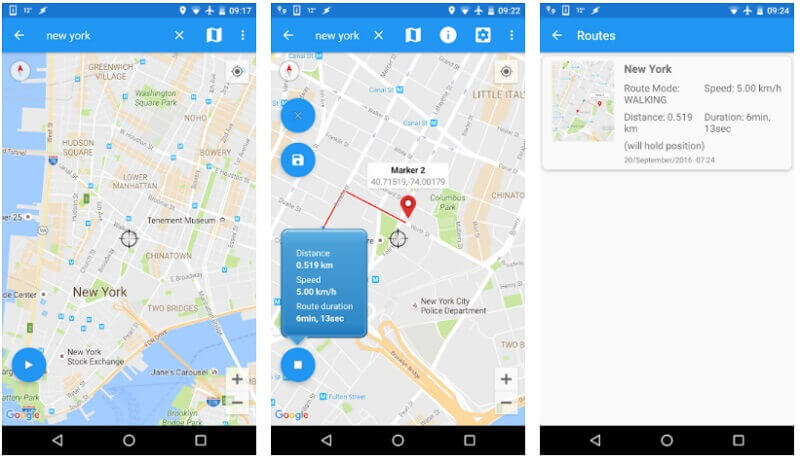 You can manually enter the address or coordinates of the target location.
It supports the spoofing of Android's location anywhere in the world.
On the location spoofer app, you can mark your favorite places or check the past location history.
There is also a provision to set up "routes" so that you can simulate the movement of your phone between multiple spots.
Part 3: Tips on Several Common Running Apps
---
Whether you're a novice runner or a seasoned marathoner, finding the best running app to help you set goals, record metrics, and track your progress is key to sticking with your training plan. Running the app tracks health and performance metrics such as speed, distance, mileage, heart rate and calories. They also come with a training runner and track the route via GPS. More specifically, the running app gives you a place to store information about your workouts, running and other fitness activities, and nutrition.
1. Best Overall: Runkeeper
---
As one of the most popular and tried-and-true running apps out there, Runkeeper earns our top ranking for its wide range of features, accuracy, and ease of use. Whether you are a beginner or an experienced marathon runner, this app has something for everyone. You can use the GPS feature to track your distance, pace and total time, and mix up your running routine by following one of Runkeeper's pre-created routes.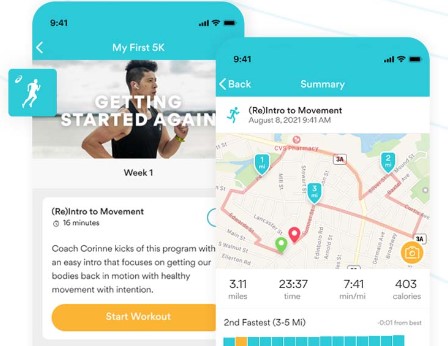 Pros
Strong running community and support.
Suitable for all running levels.
Set goals and track progress.
In-app challenges and virtual running groups.
Cons
Requires an upgrade to use advanced features.
Tailored competition training programs are available only by subscription.
Continued use of GPS in the background reduces battery life.
2. Best Community App: Strava
---
If you love the social and competitive side of running, Strava is the app for you. It allows you to compare times with other members of the Strava community or with your own group of friends to boost your motivation. It also has a safety feature called Beacon that allows up to 3 people to know where you are running.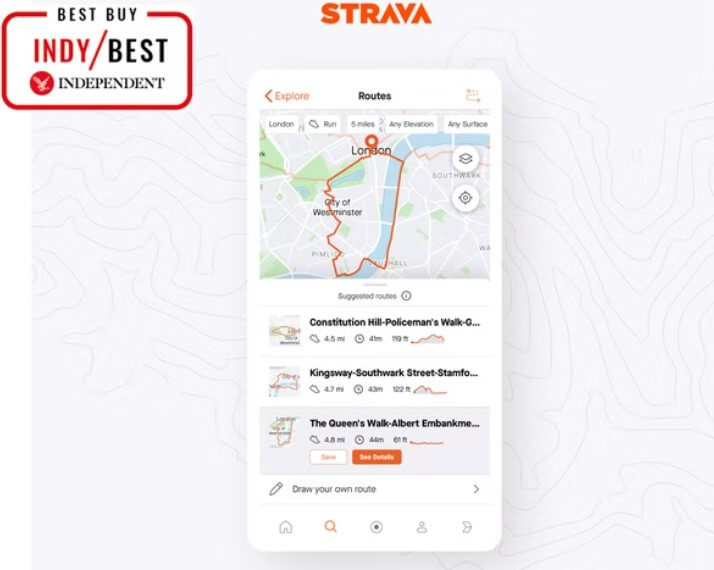 Pros
Good choice for competitive runners.
Focus on performance analysis.
Highlight the social aspects of running.
Cons
Some are concerned about the privacy of public routes.
May be too competitive or too advanced for entry-level runners.
Premium version is required to fully enjoy it.
3. Best for Apple Watch: Nike+ Run Club
---
You can connect to Apple Music or Spotify to access curated playlists specific to your run. If you're a social runner, you'll love the chance to compete with friends and cheer each other on during your run. Nike run club is perfect for Apple Watch-wearing runners who want stats and feedback on their run, but don't want to carry a smartphone. It is also available for Android devices.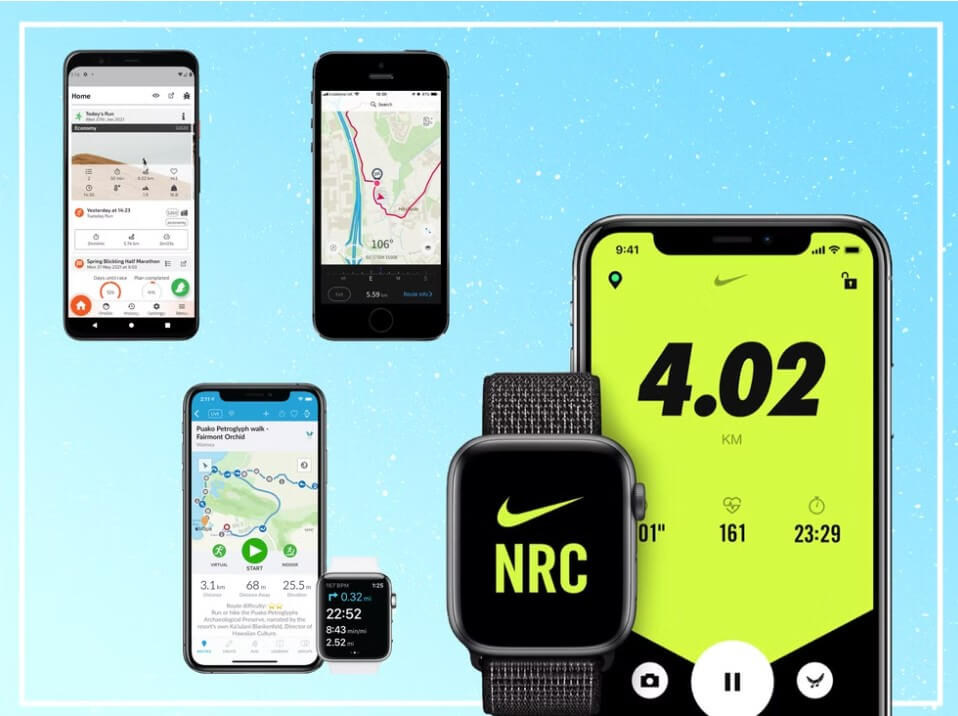 Pros
Quickly browse speed, location, distance, altitude, heart rate and mile segments.
Guided run with headspace.
Audio run with a Nike trainer.
Tutoring and Personalized Programs.
Cons
For Apple Watch only.
Users report that GPS can be spotty.
4. Best Route Finding and Tracking: MapMyRun
---
MapMyRun is another running application that has stood the test of time. It first debuted as a way to measure running routes, but the latest version has more cool and useful features for runners. You can use it to track your runs and find running routes locally or in new cities, as well as get feedback on your stats so you can try to improve your performance.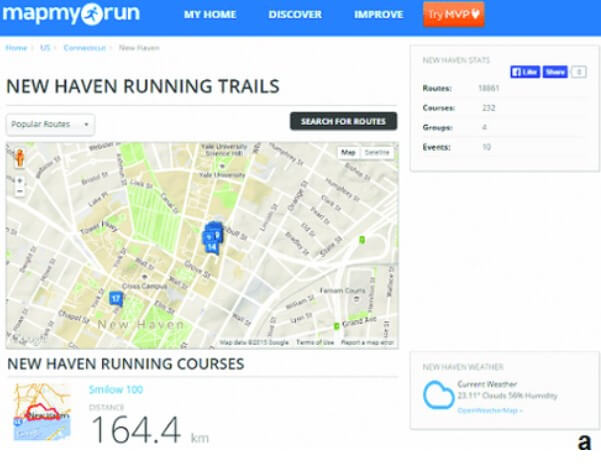 Pros
Live Audio Tutoring
Find local running routes and routes in new cities.
Ability to view time, distance, speed and pace while running.
Gear Tracker will tell you when you need new shoes.
Cons
Premium features require a subscription.
If the phone is not in the correct location, the GPS can be spotty.
5. Best for Motivation: Charity Miles
---
Charity Miles helps you make your miles more meaningful and motivated by donating to every mile you run for the charity of your choice. Just open this free app, choose a charity, and you can start raising money with every mile you run, bike or walk.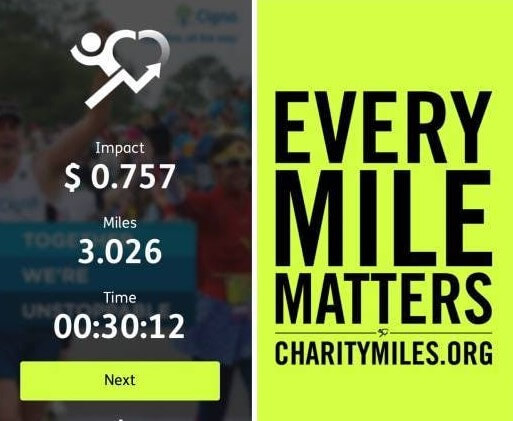 Pros
The company makes donations to charities on your behalf.
Track multiple activities such as walking, running, dancing and cycling.
Walk to make money for your favorite charity.
Cons
Not suitable for fitness tracking.
Features are limited compared to other apps.
The interface is located at the lower end of the application.
Conclusion
Even though running is a competitive sport and there is always someone better, some of those hard-earned Nike run club app titles were stolen instead of being stolen. Users can now spoof their GPS location in almost any location-based game on their device with just a few clicks. Thanks to its latest version featuring an innovative and more intuitive interface, it is easy to find and go to virtual locations in real-time. Apps like iMyFone AnyTo come in handy in Nike run club app cheat runs. Try iMyFone AnyTo for free today and enjoy the Nike run club app cheat run.