Buy iMyFone AnyTo
License will be sent within minutes

Free customer support

Free lifetime updates

30-Day money back guarantee
VIP
Business
Exclusive Benefits for SVIP
10 Devices for PC

All features supported

All versions supported

Unlimited use

24 hoursFree customer support
We accept:
Voices from Our Users
One of the best and safest iOS Location Changers in the market.
It's super easy to mask your location using AnyTo.
Compatible with many different AR games and social platforms.
One of the best and safest iOS Location Changers in the market.
It's super easy to mask your location using AnyTo.

Dryabeth By Sachin

When using this tool to fake your location on iPhone, it will apply to most of the apps on your iPhone. So when you share a location on WhatsApp or something, it sends the virtual location that you set with this tool.

Megan M By Sachin

This is definitely an amazing fake location app. I have been using it to get shinies on Pokemon Go, so far so good, and a warm tip for other players, do not overuse it otherwise you may receive the account warning.

Daniel By Sachin

I always want to fake GPS location for the game i have been playing and i found iMyFone AnyTo someday. I didn't expect it to be so convenient. You know some games ask you to play outside. but you can't be outside every time due to some factors.
Learn more about the benefits
| Benefit | Trial | | VIP |
| --- | --- | --- | --- |
| AnyTo iOS APP | | | |
| Change Location | 5 Times | | 5 Times |
| Simulate Navigation Routes | Once | | Once |
| Favorites | | | |
| AnyTo Android App | | | |
| Joystick | | | |
| Game Mode | | | |
| Teleport Mode | | | |
| Simulate Navigation Routes | | | |
| Favorites | | | |
| AnyTo for Windows & Mac | | | |
| Support for iOS and Android devices | | | |
| Numbers of mobile devices | | 10 | 5 |
| Teleport Mode | Once | | |
| Jump Teleport Mode | Once | | |
| Two-Spot Mode | Once | | |
| Multi-Spot Mode | Once | | |
| Joystick | 15 Mins | | |
| Map Skin | 1 Set | 6 Sets | 4 Sets |
| Show Favorite Spots on Map | | | |
| History and Favorites | | | |
| Import/Export GPX | | | |
| Cooldown Timer | | | |
| Map - PokéStop & Gym | | All Districts | Parts of Districts |
| Pokémon Information Search | | | |
| | | | |
| Show More | | Buy Now | Buy Now |
1-Month Plan 1-Year Plan
Buy AnyTo and MirrorTo together to save!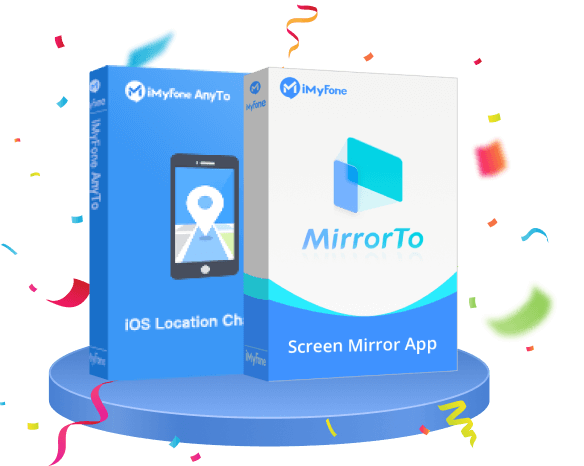 $29.99
+
$19.99
=
$49.98
AnyTo
Modify location with 1-click
10 Devices for PC
Full benefits, all features & versions supported
Free Updates
MirrorTo
Mirror and Control iOS/Android Screen on PC
Enjoy Up to 5 PCs
Cast&Control iOS/Android to PC
Free Updates
Business plan gives you the flexibility to provision, track and manage licensing across groups and teams.
All Features
Free Updates
Free Tech Support
Permission for Company Use
No Attribution Required
Volume Discount
1-1 Sales Consultant
Flexible Payment Options
100% SECURE
Safe purchase & use
No viruses or malware
Privacy protected
MONEY-BACK GUARANTEE
30-day money back guarantee
Free trial for all programs
Preview before purchase
SUPPORT SERVICES
Professional customer support
One-to-one assistance
Quick response to queries
UPDATE & LICENSE
Free lifetime updates
New and improved features
Various license types
Purchase FAQs
About iMyFone
Contact Support
1. Can I cancel my subscription anytime?
Yes, to cancel the subscription yourself, please enter the order info on this page and cancel your subscription.
2. Is it safe to purchase from your website?
Absolutely secure. Your privacy is 100% protected by us when browsing our website, downloading our products and placing an order online.
3. What payment options are available?
Accepted payment methods including: Paypal, Visa, MasterCard, Maestro, JCB, Discover, American Express, Diners Club, GiroPay, Direct Debit, etc.
4. If the product cannot solve my problem, am I eligible for a refund?
Of course, for user interests, we have the 30-day money back guarantee if we cannot help solve the technical problems. Our support team is always there for you.
5. Can I use the product both on different computers, tablets and mobile phones?
Yes. If the product you purchased has different versions, you can download the right version to use according to your requirements. And the rights and services are effective on different terminals.
6. What is your after-sale service policy?
Free support and updates are provided to customers who purchase VIP benefits. If you have questions about product usage or entitlement renewal, you can contact us at any time, and our support team will reply as soon as possible.
Who We Are
iMyFone was established at the beginning of 2015 by a dynamic group of people who are passionate about technology. We have been focusing on developing utility software for iPhone, iPad and iPod touch and our aim is to become the leader in mobile solutions.
What We Have Done
Around 2 million customers from more than 200 countries have already purchased and used iMyFone products and services. With the innovative and easy-to-use products and solutions, iMyFone has been proved a trustworthy mobile solution provider!
Recognition and Trust
More than 1700 technology websites and YouTube channels, such as Cult of Mac, Macworld, MakeUseOf, Engadget, etc., have cooperated with iMyFone.
1. Where can I get help if I have questions about iMyFone programs?
You can write to the iMyFone customer support team at support@imyfone.com and our customer support experts will reply within 24 hours, except on weekends and holidays.
2. Are there any quicker or easier ways to get help?
You can find a list of pre and after-sales questions and answers about iMyFone products and services in our support center: https://www.imyfone.com/support/.
Why Choose iMyFone?
100% Safe
100% safe to browse, download and use iMyFone products
Professional
Years of study, specialized staff and guaranteed quality
Recognition
Approved by major media sites around the world
1700+
Media sites trusted
200+
Countries and regions worldwide
2,000,000+
Satisfied and loyal customers

Processing now, please wait...