[Don't Miss Out] 7 Best Discord Music Bots in 2023
Category: Compress Video
5 mins read
In recent years, Discord has become a platform that caters to everyone with a range of features. One such feature is the integration of Discord bots, which can automate tasks and perform actions beyond the platform's default capabilities.
Among the various bots available, the Discord music bot kind is favored most, which allow users to enjoy background music while engaging in lively conversations.
Whether you're new to this field or seeking alternatives due to the recent closure of popular options like Groovy and Rhythm, fret not! We've got you covered.
This article will explore 7 best music bot for Discord that you can rely on in 2023. Let's dive in and discover the perfect musical companion for your Discord community!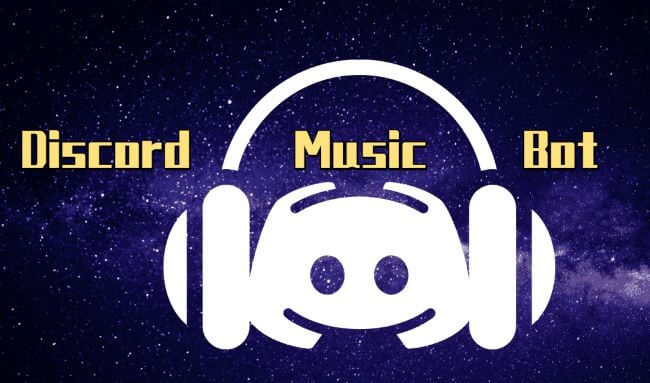 Compress videos to under 8MB for Discord to freely share videos with your friends.
Part 1: How to Add Music Bot to Discord?
Before checking out what are the popular music bot for Discord, it's also important to learn how to add music bot to Discord in 2023. When you learn how to add it to your server, you can sit back and see which bot can satisfy you more.
1. Make sure that you have the administration or the Manage Server is turned on.
2. Go to the website of the bot you choose.
3. Click on Add to Discord/Invite button.
4. Log in to your Discord account then pick a server you want to hold the bot.
5. Tick the Administrator and click the Authorize button for the bot to run smoothly.
Part 2: 7 Best Discord Music Bots
1

Uzox

If you're seeking a Discord music bot packed with features at no cost, Uzox should be on your radar. It offers dependable music playback and seamlessly supports popular platforms. On top of that, you can enjoy a diverse range of music filters.

Another notable highlight is the inclusion of lyrics support. With one tap, you can indulge in the lyrics of your current song.

If you want to enjoy the full premium experience that many bots reserve for paid subscriptions, don't hesitate to give Uzox a whirl.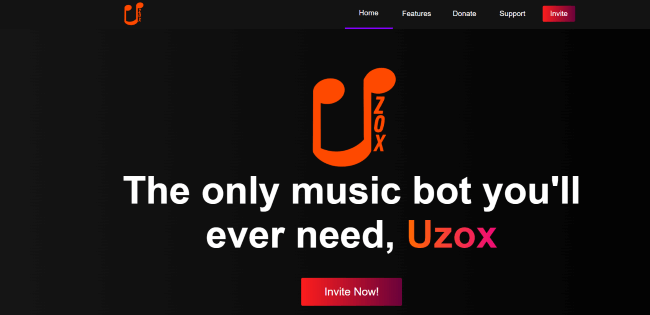 2

FredBoat

The second music bot that users adore on Discord is Fredboat. It's a robust bot that excels at playing music and supports various websites.

What I find particularly appealing is its playlist support, allowing me to create a playlist and enjoy a continuous flow of music without having to select a new song every time one ends.

Plus, Fredboat ensures minimal loss in music quality, which means you can indulge yourself in high-quality tracks effortlessly. And its open-source and secure feature makes it all the more worth trying on your Discord server.

3

Jockie Music

Continuing down our list, we have Jockie Music, a bot that's bursting with features. One of its standout attributes is the capability to have up to four instances. In other words, you can include a maximum of four Jockie bots within a single server.

This incredible bot allows you to play music from popular services, including Spotify, YouTube, SoundCloud, and many others.

The best part? You can initiate playback effortlessly with a simple play command, requiring no additional setup, which streamlines your music experience with ease.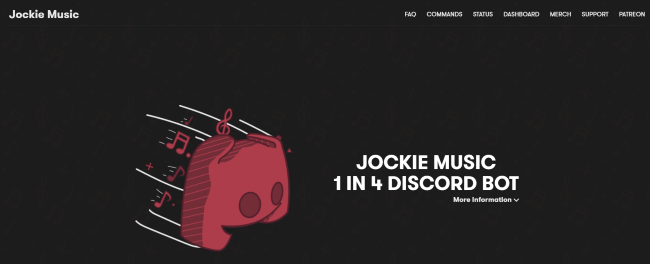 4

MEE6

MEE6 is another praised Discord music bot that goes beyond just playing music. With MEE6, you can search for streamers and videos on Twitch and YouTube, and even create a leveling system for members within your server.

And what sets MEE6 apart from other bots is its user-friendly interface. You can effortlessly rearrange songs by dragging and dropping, and control playback with a simple click for pausing, playing, and skipping songs without complex commands. But please note that this can be accessed only when you've upgraded the plan.

5

Hydra

Let's move on to the next contender on our list: Hydra. This versatile music bot is not only good at playing music but also offers a range of handy features such as creating playlists, looping and queueing songs, and even searching for song information, among other functions.

In its free version, it allows you to ban or unban members, announce the currently playing song, and more. For the premium version, you gain access to features like 24/7 music playback, the ability to adjust speed and volume, and other exciting options.

6

BMO

Let's not forget about BMO, another noteworthy bot in our selection of Discord music bots.

It's equipped with the essential features such as to search, play songs, and line them to the queue though, it lacks the ability to create playlists, which can be a bit disappointing for some users.

Though it performs admirably in terms of speed and delivers songs with impressive audio quality, its commands may require a bit more effort to master, so be prepared to invest some time in familiarizing yourself with this bot.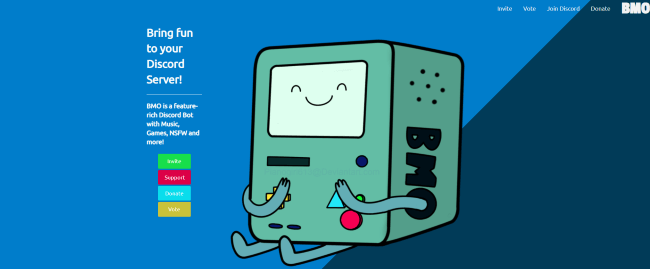 7

Probot

We've reached the final entry in our Discord music bot lineup: ProBot.

When it comes to music, ProBot doesn't disappoint. It offers seamless streaming of high-quality music directly to your server. Also, you'll have the ability to effortlessly play, pause, skip, and queue up music for your server, ensuring an enjoyable listening experience.

It can also assist you in moderating your server, making it particularly useful for communities with a large number of members. With support for embeds, it enables users to earn levels based on their activity within the server, enhancing engagement and interactivity.

Part 3: FAQs about Discord Music Bot
1

Which music bot is best for Discord server?

Regarding the best Discord music bot, you can choose the one based on your personal needs. For the one with more features, the first 3 options mentioned above are worth considering.
2

Are music bots banned in Discord?

No. They are hit products that are being utilized to boost your Discord server.
3

Why can't I play music on Discord?

You can only use music bot to play Discord naturally. And feel free to have a try to make a more relaxing aura during chatting.
Bonus: How to Compress Videos for Discord for Easier Sharing?
Besides looking for a music bot to better chat with your mates, I'm sure you've encountered another problem the time you were using Discord, which is the video size limit.
If you've once wanted to upload a video to Discord, the 8MB may have deterred you from moving forward. You Google the solution, to find out the best way to bypass this difficulty is to try a video compressor.
And yes! A video compressor like iMyFone AnySmall is the one you need so as to freely use Discord to share videos no matter how large the video is.
As a video compressor for Discord, AnySmall helps to compress videos to under 8MB. What's more, fret not about the video quality since the videos can be compressed to under 8MB while without losing quality, which you can see from the video attached below.
How AnySmall compress videos to under 8MB for Discord while maintaining the high quality?
How AnySmall compress videos to under 8MB for Discord?
Step 1. Download iMyFone AnySmall and install it on your computer. Launch it and add videos you want to compress for Discord.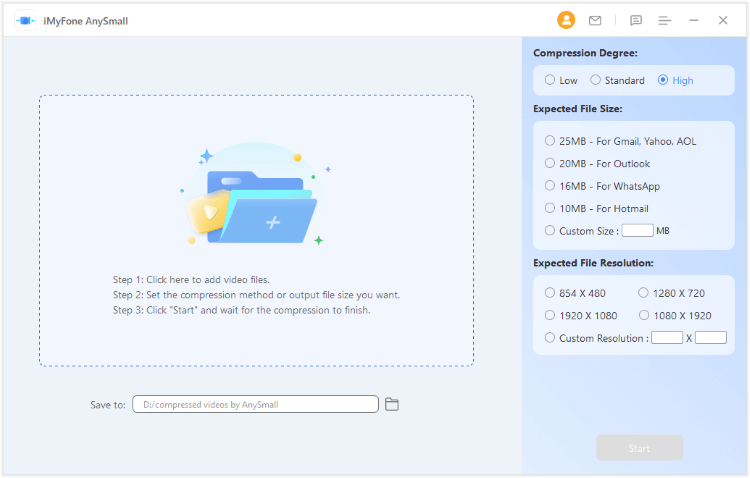 Step 2. Choose the Compression Degree from low to high. Or, you can limit the videos to 8MB directly by specifying the video size.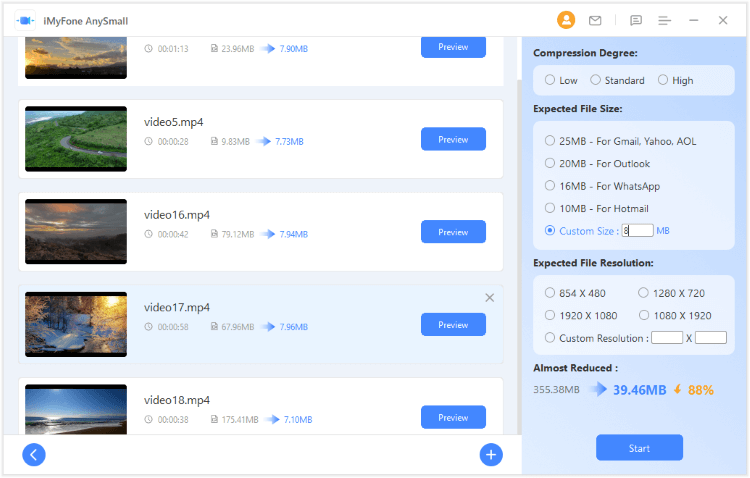 Step 3. Hit the Start button to begin and the process will finish in a few seconds.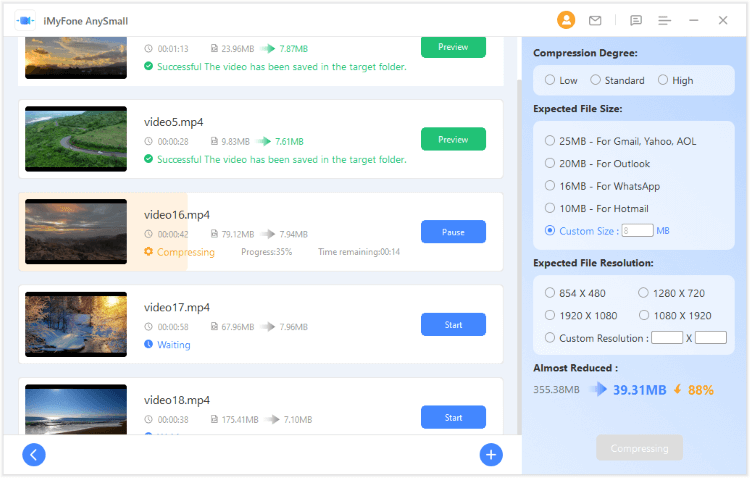 Step 4. All of your compressed videos will be saved to the destination folder after compression. You can then freely share these processed videos to Discord with your friends.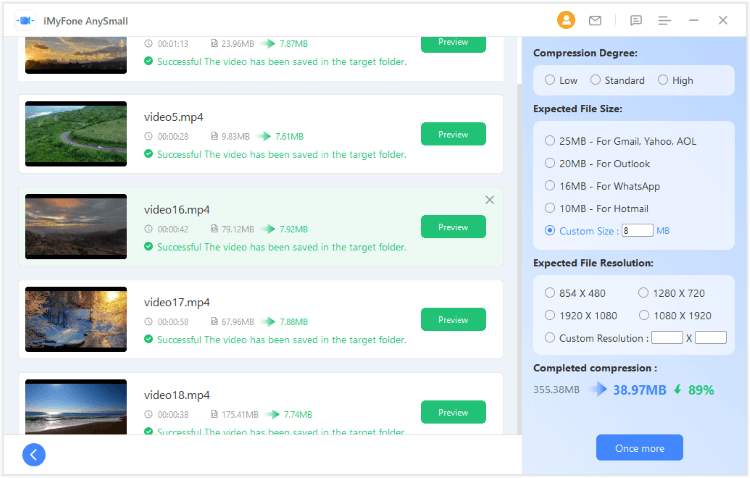 Conclusion
Do you find the Discord music bot you like? All aforementioned bots can satisfy your need in improving your Discord experience. When it comes to share videos without video size limit to Discord, iMyFone AnySmall serves to be your great help. If you do need it, why not click on it to have a try?