Review of 8MB Video Compressor and Its Better Alternative
Category: Compress Video
4 mins read
As people becoming more desired to share videos across the Internet, there is an immediate need to solve the problem of video size limitation set by many popular platforms. And since the videos we have take up much storage space of our devices, it's more necessary to compress videos before sending them out.
In this case, the 8MB video compressor stands out to claim that videos can be reduced to 8MB by using it, which make it welcomed. Given the fact that it's useful for many people who have the exact need in compresisng videos, keep reading this article and I'll show you the full review of this video compressor.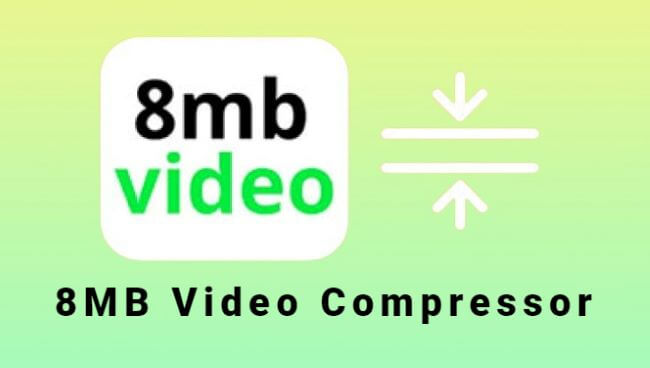 Part 1: What is 8MB Video Compressor?
The 8MB Video Compressor is an online tool that enables you to quickly and easily compress video files for free. It is designed to reduce video filesize under 8MB, so that they can be uploaded or shared online more easily. For larger video files, it can downside to 50MB and 100 MB, which save you a lot of trouble.
Though it seems pretty easy from the interface, it supports to browse, enter the URL or drag and drop to add video files, which improve the path of adding videos and save your more time.
Part 2: How to Use 8MB Video Compressor?
If you have a brief understanding of what 8MB video compressor is now, please follow to see how to use this tool.
Step 1

Visit the 8MB Video Compressor Website

The first step to using 8MB Video Compressor online is to visit its website. After that, click Upload File.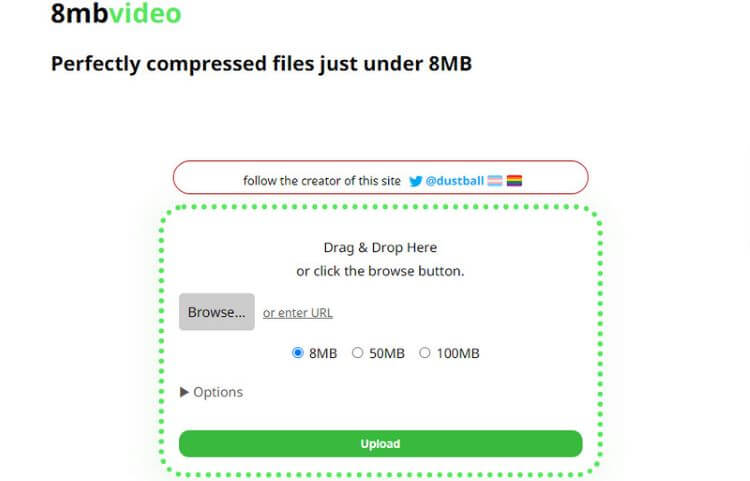 Step 2

Upload Video

Once you've clicked the button, you'll be led to click the Browse or enter the URL to upload your videos. Also, you can drag or drop the video to the box directly.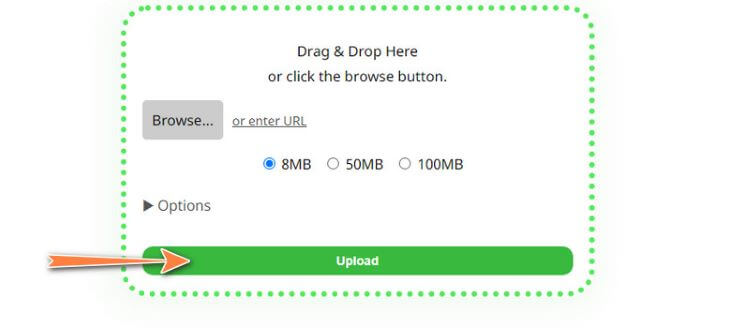 Step 3

Select Video Settings

After you've uploaded your video, you can then select your video settings. For any videos, you can choose to reduce them to 8MB, 50MB or 100MB, depending on how large you want the video to be. For more, you can click Option to choose.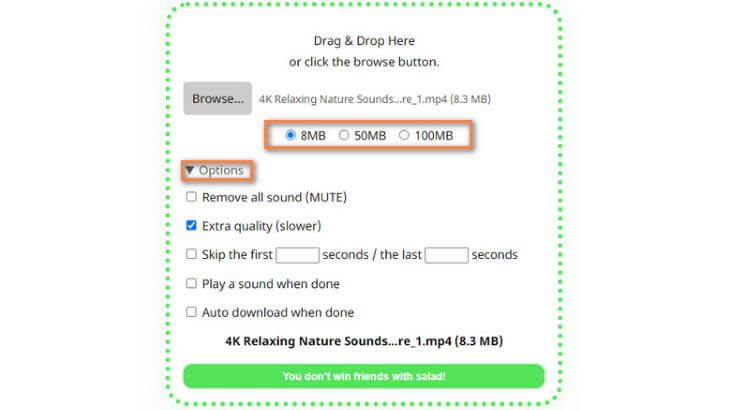 Step 4

Compress Video

After making sure which to choose, click the green button for 8MB video compressor to compress a video for you.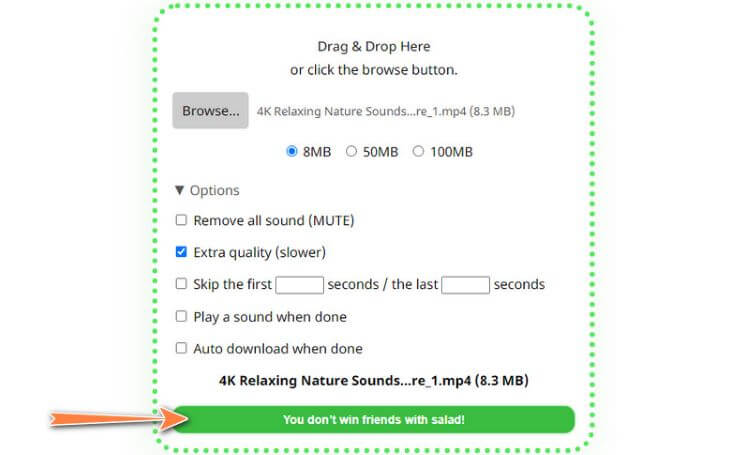 It's an online video compressor that is free of charge.
Compress video to 8MB is realizable.
Support to upload video in different forms.
It is limited to 8MB files, meaning longer videos may not be able to be compressed.
It offers no chance to preview the compression result.
The compressed 8MB video may not keep its quality.
Part 3: The Best Alternative to 8MB Video Compressor
Though 8MB video compresor is quite easy-to-operate for people who just need to compress several videos, it can be time-consuming if you have a lot in need. In such a case, you should need a desktop software that can compress batch videos for you in clicks. And the one here is iMyFone AnySmall.
Recommended to be a better alternative to 8MB video compresor, AnySmall here can not only compress multiple videos for you, but also save the compressed videos without losing their high quality. What's more, it can compress video to under 8MB, making it all the more worth trying!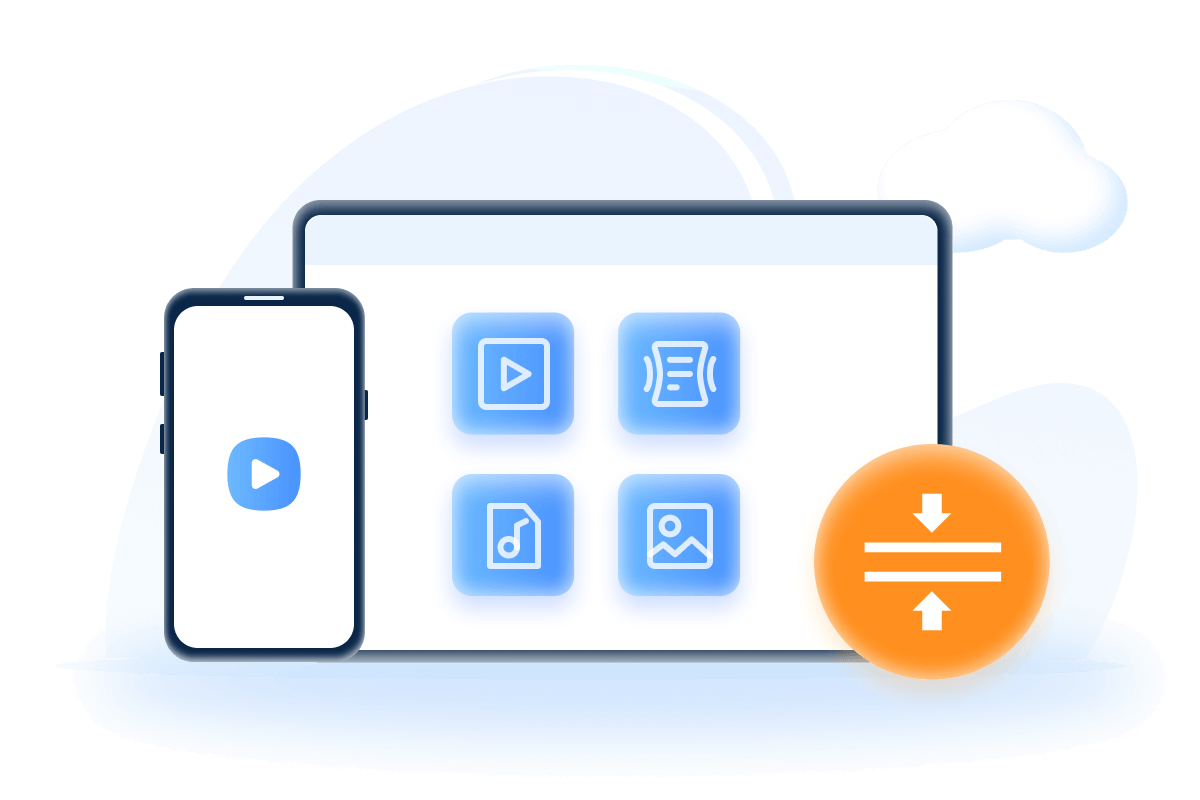 Main features:
Support to compress videos for Discord to bypass the video size limit.
Upload and compress unlimited videos at once but not individually.
Help to learn how to compress videos without causing any quality loss.
Customize video size and make them even smaller than the estimated size.
Steps you need to follow to compress videos using iMyFone AnySmall:
Step 1

Download and Install AnySmall to Upload Video Files

Download iMyFone AnySmall and install it on your computer. Launch it and add any video files you want to the window.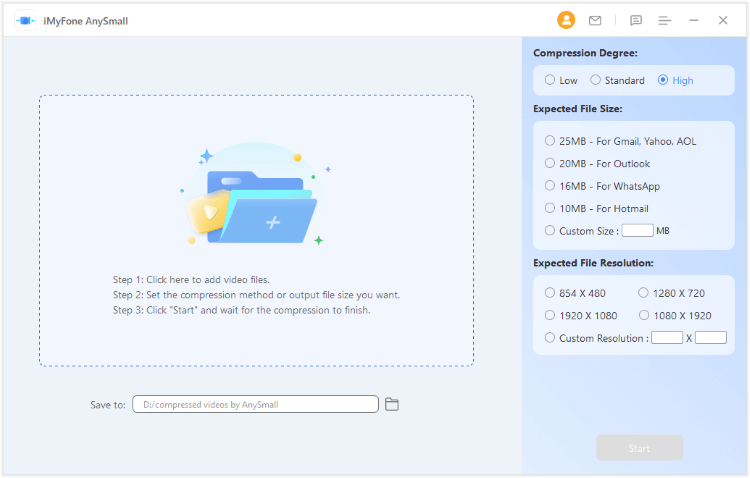 Step 2

Choose Compression Degree or Customize Size

Since the videos are added, check the settings on the right side. And The higher the compression degree, the more video size can be reduced, which can be reduced to 8MB and below.

Or, an easier way is to enter 8 under Expected File Size directly, through which your videos will definitely be compressed to the size you just enter. When it's all done, click to start.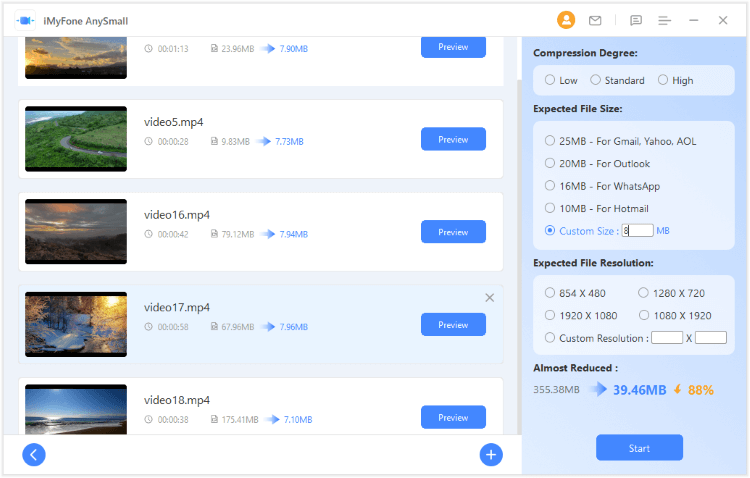 Step 3

Wait for Compression to Complete

Though you've uploaded multiple videos, the process won't take long and will finish quickly, you just need to wait for a few seconds.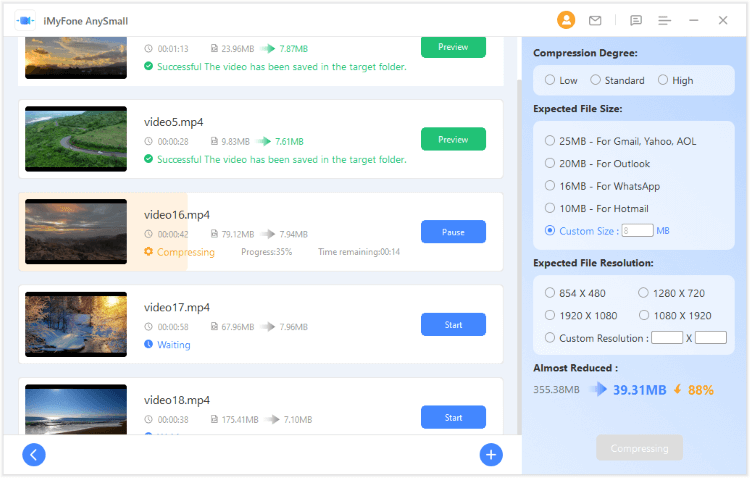 Step 4

Preview or Compress Videos Again

When the job is done, your compressed videos will be saved to your computer. After that, click to preview or add more videos to continue compressing.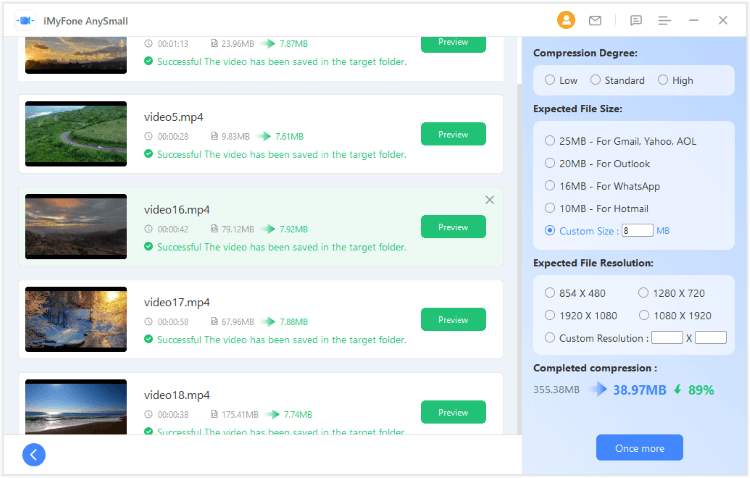 In 1 click, you can compress your large videos to 8MB and under, why not click to download AnySmall and have a try?
Compress videos in group while maintaining the high quality.
Customize video size to make your videos even smaller.
Support to preview the results directly when finishing the compression.
The free trial gives you chance to compress 1 video only.
Part 4: Hot FAQs about 8MB Video
1

Is 8MB video trustworthy?

It depends on the source. 8MB videos can be just as trustworthy as videos of any other size. However, it is important to make sure the video is coming from a reputable source and that it has not been altered or edited in any way.
2

How many seconds is 8 MB video?

8 MB of video is equal to 6.4 minutes, or 384 seconds.
3

How can I send a video above 8MB without Nitro?

You can send a video above 8MB without nitro by using iMyFone AnySmall, which provides you way to fulfill this idea.
4

What app can compress a video to 8MB?

iMyFone AnySmall is an app that can compress video to 8MB. It is available for Windows and support to compress videos smaller than 8MB easily.
Conclusion
Do you know better about this 8MB video compressor? Hope this article can give you the information you need. And though the 8MB video compressor is convenient for online usage, having a desktop software like iMyFone AnySmall can be a lot more beneficial. With its intuitive interface, its ability to compress many videos at a time can be exerted to the fullest. Click to download and compress video to 8MB or under now!