Discover the Best YouTube Video Downloader without Watermark
Category: Videos Maker
4 mins read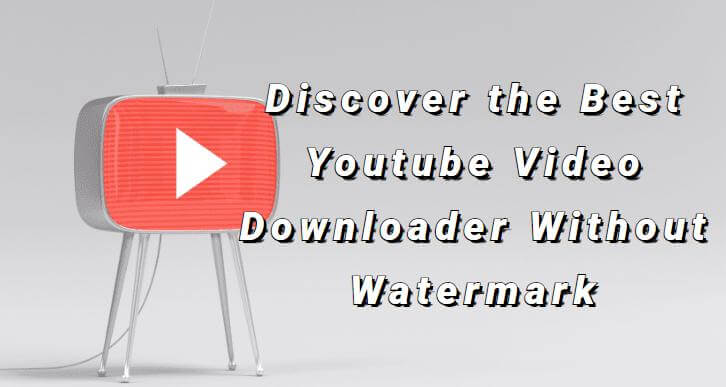 Are you looking for a reliable way to download your favorite YouTube videos without a watermark? Look no further, because, with the latest technology and software solutions, it's easier than ever before. From online tools to desktop programs, there are various options available that can quickly help you save those video clips and watch them whenever you want. iMyFone TopClipper is one of them. We're here to make life easier by giving you all the information you need so that you can find the best YouTube video downloader without a watermark. Whether this is for personal use or business-related needs, we have got it covered! Keep reading!
How to Download YouTube Videos without Watermark
Can't stand watching your favorite YouTube videos with a watermark on them? Then iMyFone TopClipper is what you're looking for! TopClipper lets you download and save YouTube videos without worrying about pesky watermarks by offering several quality settings, so you can select the one that meets your needs. You can take your favorite videos with you wherever you go with TopClipper, regardless of whether they're for personal, business, or educational use.
Step by Step Guide to save YouTube Videos without watermark on Windows by TopClipper
Step 1. Launch the iMyFone TopClipper app
iMyFone TopClipper can be downloaded, installed, and launched on your computer. You can download a watermark-free video by selecting "Download Watermark-Free Video".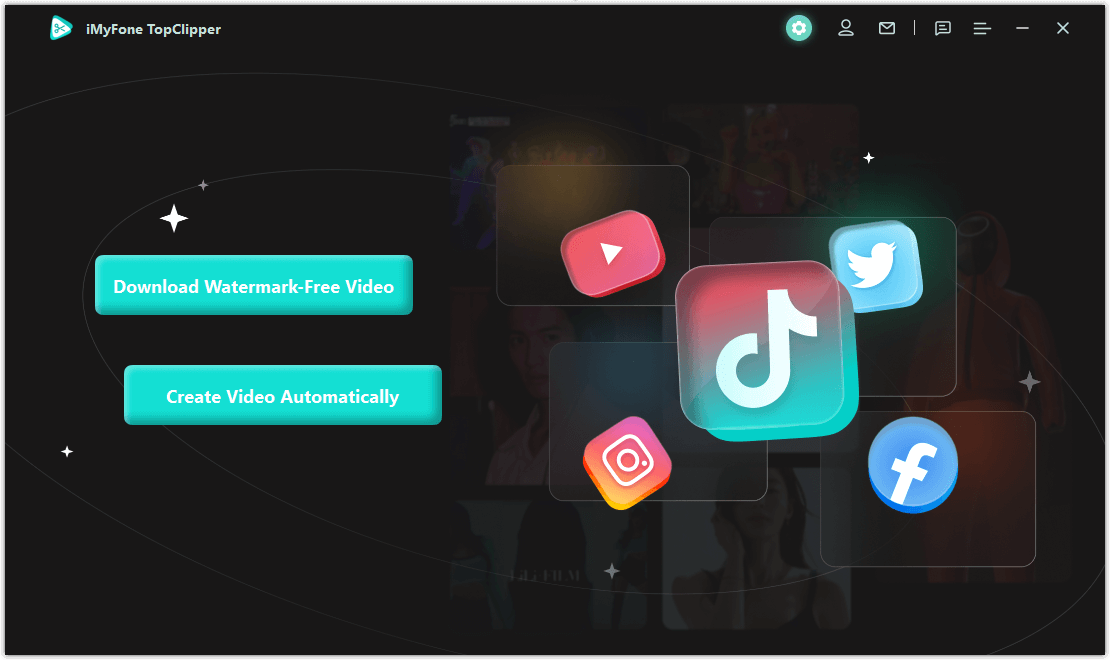 Step 2. Paste the URL of the video
Simply type in the URL of the video and select "Search", or you can access it directly through the video platform icon. With the iMyFone TopClipper's built-in browser, you can find and view your favorite videos. You can parse and download the video once the program recognizes the video and supports parsing.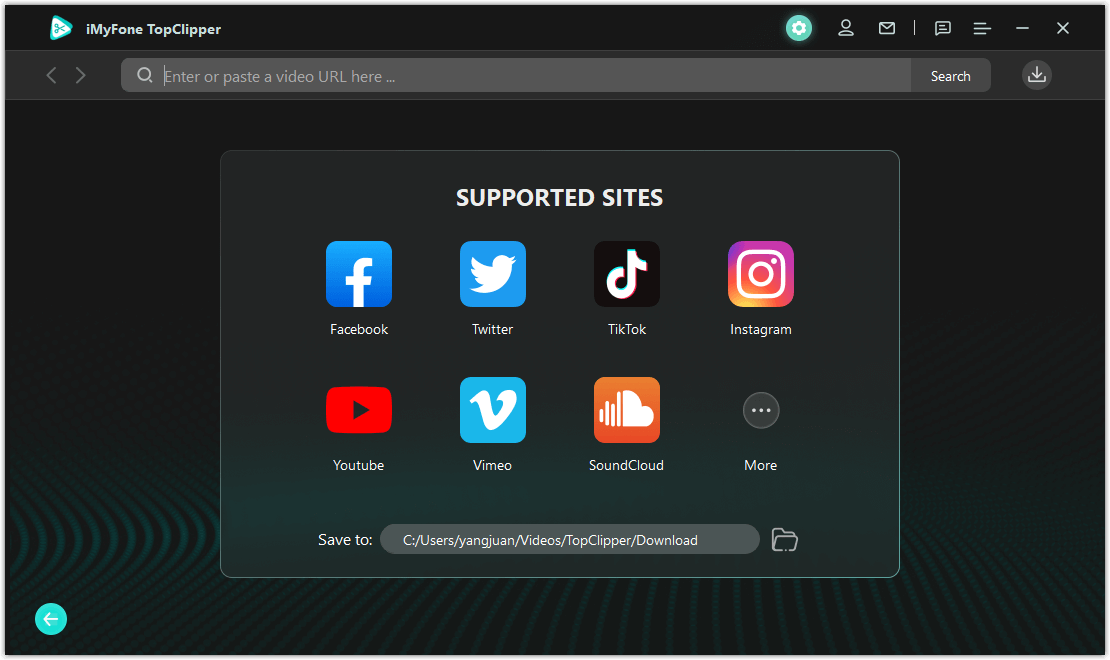 Step 3. Video parsing
For more information on parsing, click "Download". You can choose the resolution after the parsing is complete, and the video will automatically download and save.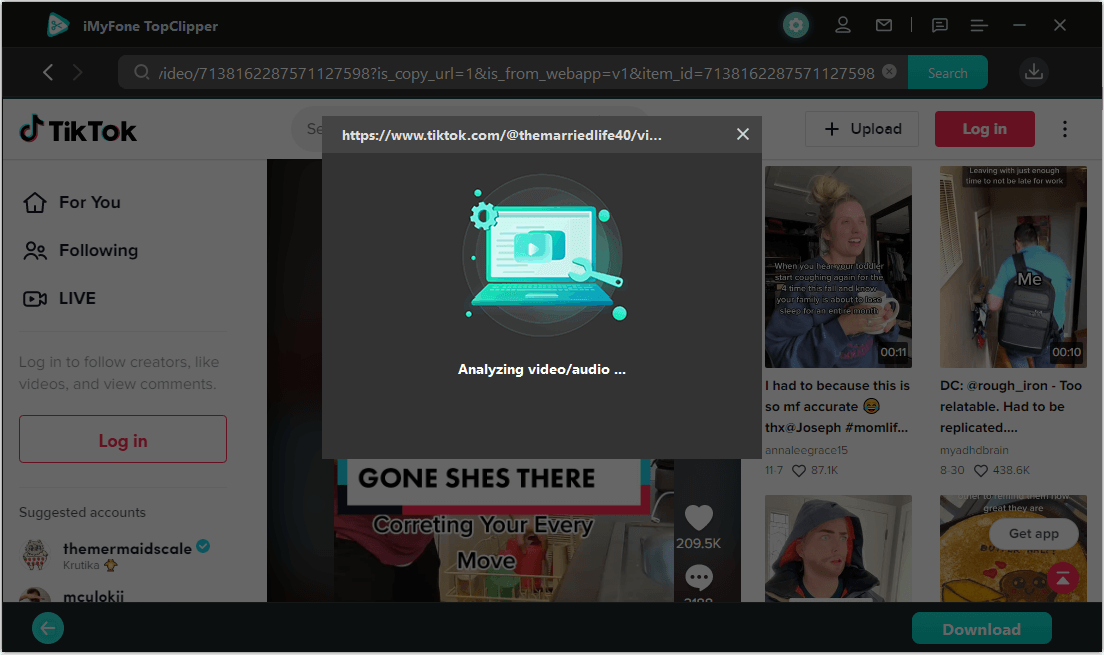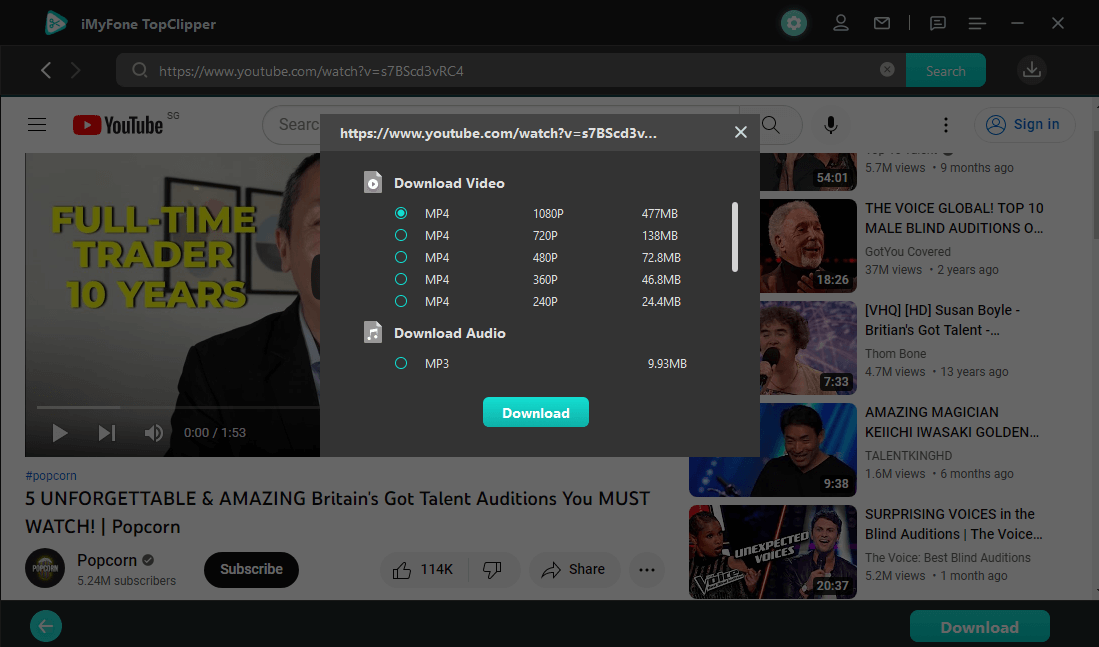 Step 4. Success in downloading
iMyFone TopClipper downloads videos at high speed for you in a few minutes, so please be patient. The video effect can be previewed directly by clicking "Thumbnail", or the automatically edited video can be edited by clicking "Start Creating". If you wish to edit the automatically edited video, simply click the "Start Creating" button.
As an additional option, the URL of the video can be pasted, then the link icon clicked in order to begin downloading the video.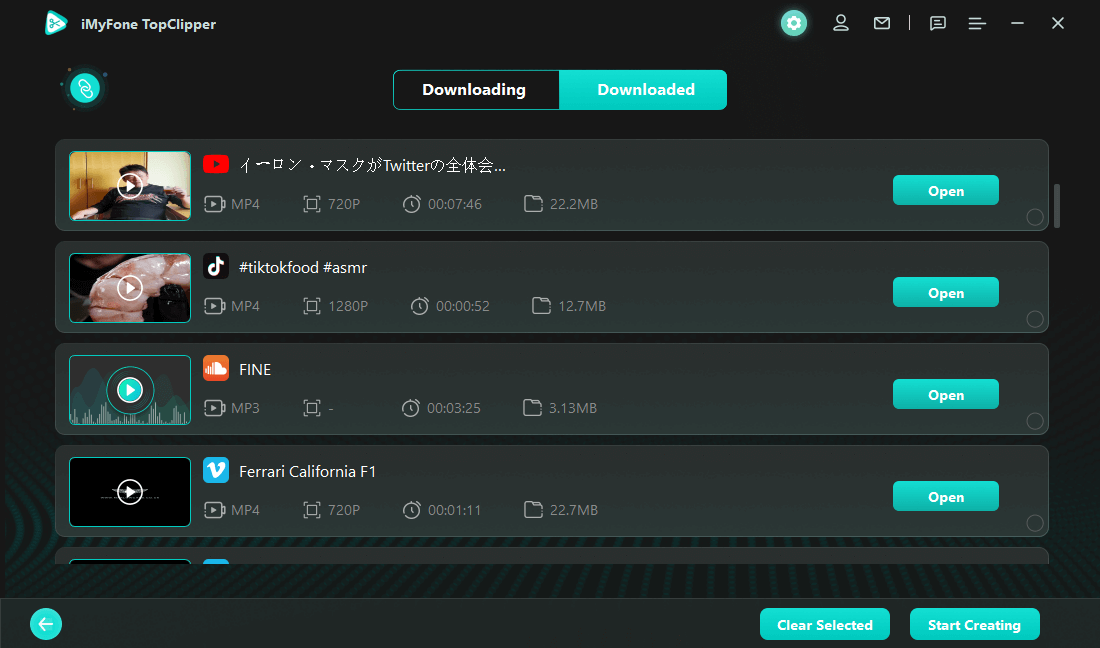 Step by Step Guide to save YouTube videos without watermark in Android by TopClipper
TopClipper's video downloading feature allows you to download watermark-free YouTube videos or audio for viewing or storing for use in content creation.
Step 1. Download videos using iMyFone TopClipper by clicking Download at the bottom of the screen.
Step 2. Please click on the Search button after you have entered the video link you are looking for into the input box at the top of the page.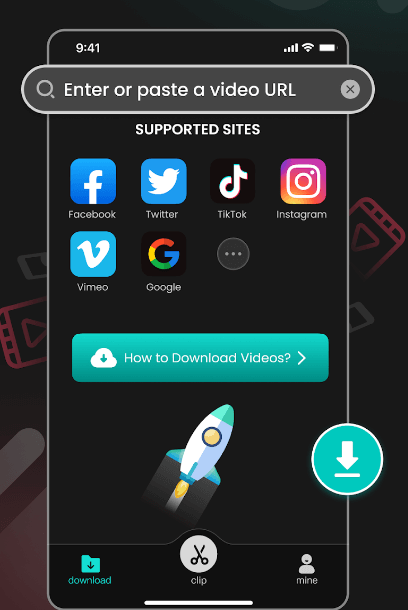 The iMyFone TopClipper program also provides other features, such as downloading videos with watermarks;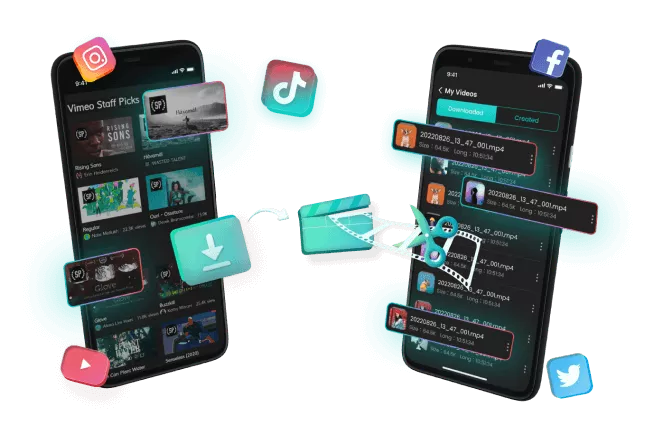 Key Fetures of iMyFone TopClipper
User-friendly Interface
You can download watermark free videos.
Free to use
Automatically edit Tik Tok or Youtube videos
Automatically Crop Brand-New Videos with Ease
Looking for a way to re-edit YouTube videos and make them go viral quickly? There's no need to spend hours on it anymore. TopClipper is a smart video maker that can automatically crop your new videos, so you don't have to do any editing yourself! Try it now and see how easy and fast it is to make your videos look like professional production!
With TopClipper, you don't have to worry about spending hours editing videos to get them just right. Our smart video maker can automatically crop your new videos for you in a matter of seconds, saving you time and effort in the process. Whether you're looking to create Youtube videos for your promotional purposes or you want to share them with the world, TopClipper is here to help!
Extract & Save Audio Freely
Have trouble extracting audio from videos? TopClipper will be a perfect solution for you. It can help you extract the sound from video and save it as audio in all popular formats with high quality.
With TopClipper, you can extract and save all popular formats of audio such as MP3, WAV, AAC, M4A, and others for free. Moreover, it also provides a wide range of output audio quality and file formats for you to choose from. Whether you have videos downloaded from online sites or offline videos, this program will help you extract the sound easily within seconds.
10% OFF Coupon Code: TC10OFF
FAQs for Saving YouTube Videos without Posting
1 How to download YouTube videos for free?——Using TopClipper
---
There are a lot of tools available, but TopClipper is one of the best YouTube video downloaders without a watermark. With a simple and fast UI, powerful features, and support for all modern browsers, it's easy to see why TopClipper is the top choice among so many users.
Whether you need to save your favorite videos for watching offline, or you're looking for a way to download content from YouTube so that it can be shared with your friends and family — TopClipper is the tool that you need. Plus, in addition to allowing users to save videos and music, this handy utility also allows users to extract audio from video files!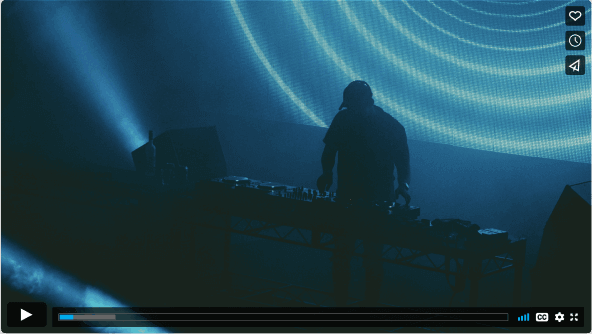 2 Which is the safest Android video downloader app?- TopCilpper
---
TopClipper is the leading app for quickly and easily downloading videos on your mobile device. With its powerful batch tool, you can download multiple videos at once with just a few taps. And thanks to its highly intuitive interface, iMyFone TopClipper is easy for anyone to use. Whether you want to download videos for offline viewing or share them with friends and family, TopClipper makes it quick and easy!
3 How to create an original Youtube video by just 3 steps?——Using TopClipper [Create Videos Automatically] Function
---
With TopClipper, you can process MP4 videos or videos with watermarks removed according to the parameters you set. The original video becomes a brand new video when pixels are changed in each frame.
1. Launch the iMyFone TopClipper app
Start iMyFone TopClipper by downloading, installing, and launching it. Upload a video file in MP4 format, and select "Create Video Automatically".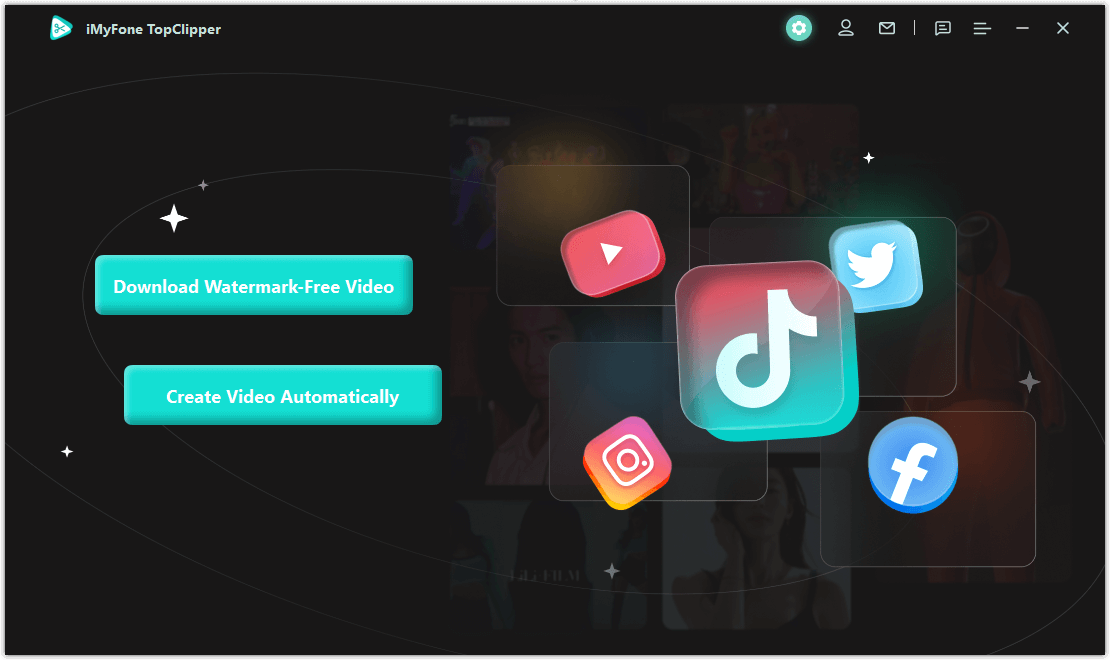 2. Create now
Your creation preparation page will appear once the video has been uploaded successfully. With a click of the "Start" button, TopClipper will automatically create an original video for you based on the basic information you entered.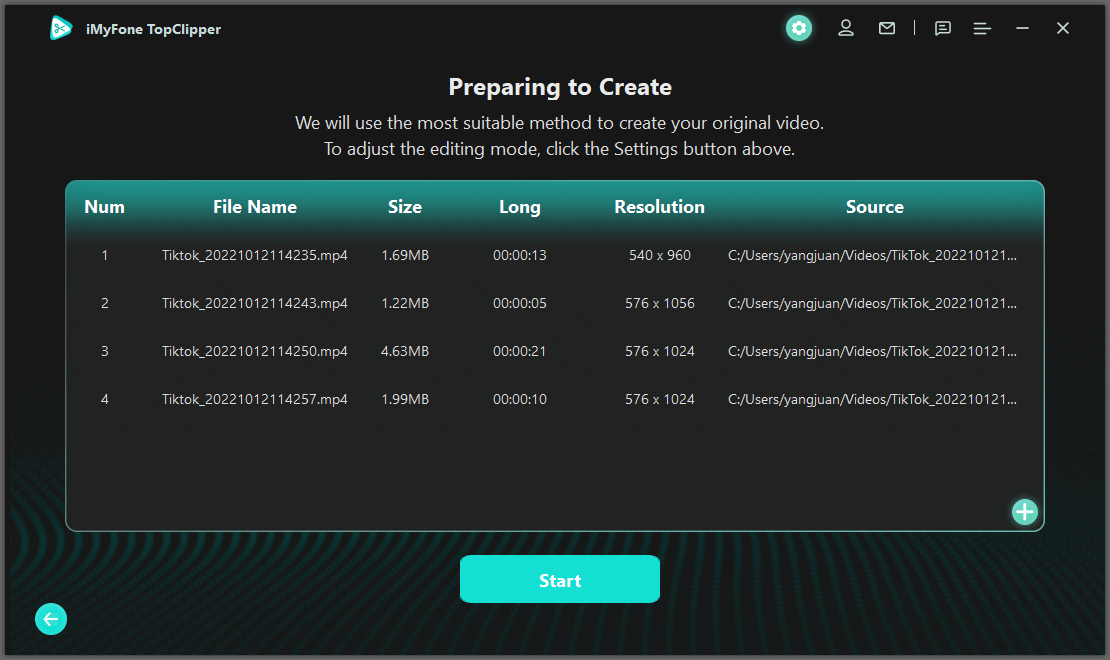 3. Process the video while waiting
The process of creating an original video takes only a few minutes, so be patient.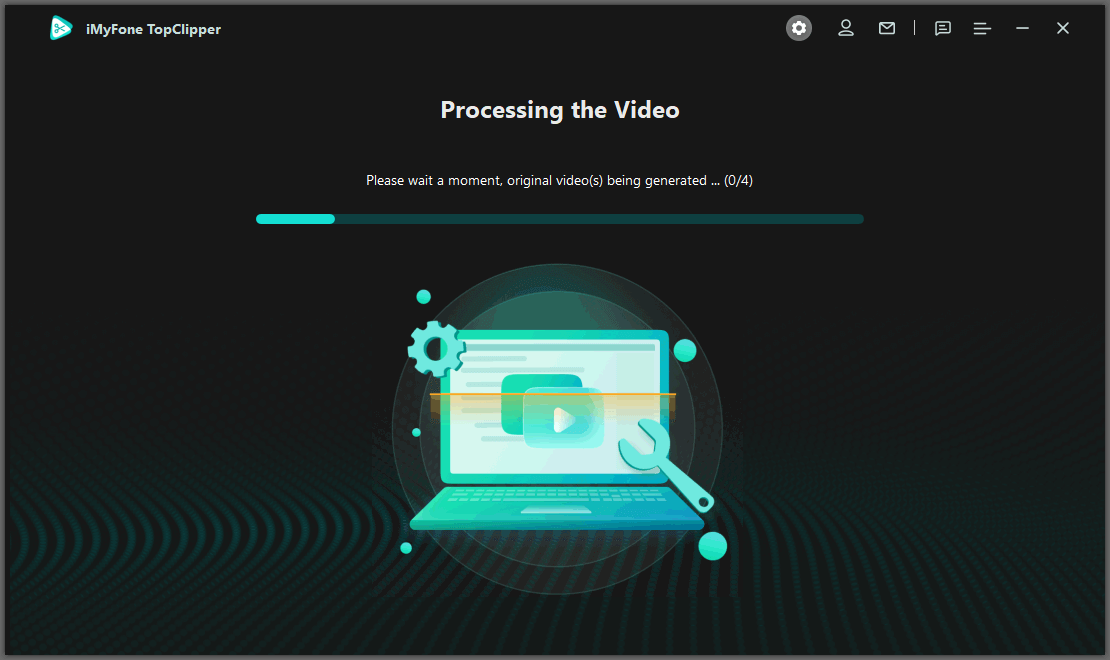 4. Video preview
To check the effect of the video processing directly after it has been completed, preview the video after it has been completed. After that, click "Save" to save it.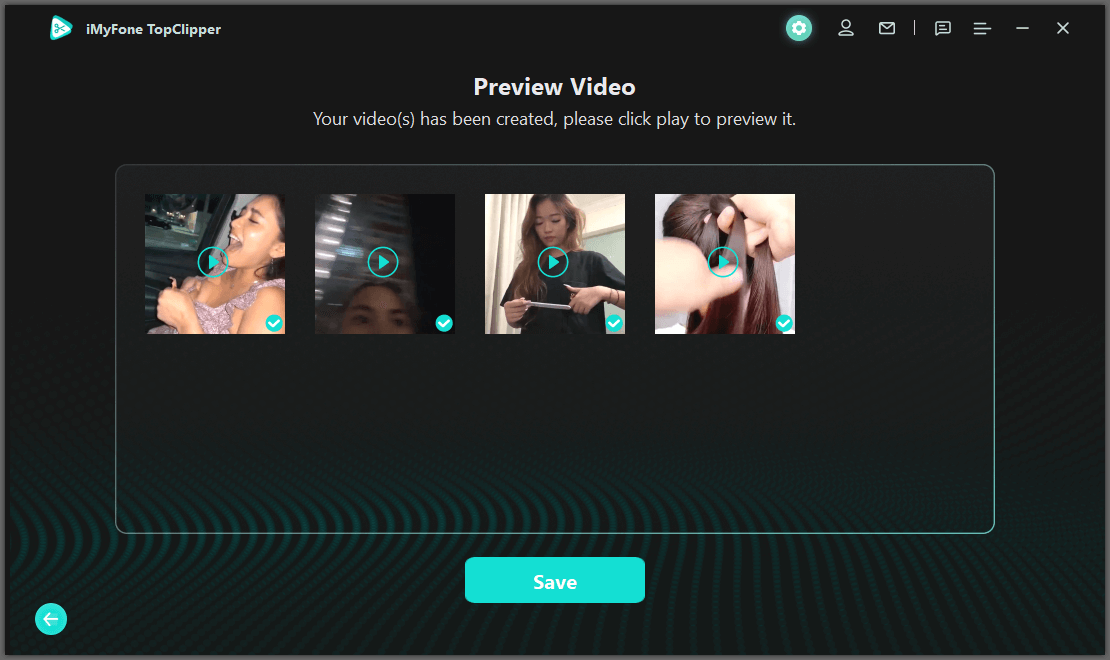 Conclusion
iMyFone TopClipper is the best YouTube video downloader without watermark on the market. It offers fast and reliable downloads of video in high quality with no limitations or annoying ads. With a few simple clicks, you can easily download your favorite YouTube clips to watch offline whenever you want! Try it out today and see for yourself why so many people have made TopClipper their go-to choice for downloading YouTube videos.