Most of the people around are trying hard to find the best way to convert PDF to Excel online free without email. Fortunately, converting a PDF into Microsoft Excel file is not that tough thing to do but it is tricky. However, PDF to Excel converter online free download without email can let you do this trick with ease.
Not only, these tools are easier to use but can bring convenience in your life. You can convert as many PDF files to Excel as you want with an online PDF converter to Excel without email. Here we have enlisted some trusted online PDF converters to convert PDF to Excel online free instant without email. Here we go!
Part 1: TOP 5 PDF to Excel Converters Online Free without Email
Do you want to know some of the best free PDF to Excel converter without email? Let's have a look at some top options given below in this regard.
Easy PDF is one of the most amazing online PDF to Excel converter without email. This can let you convert your PDF documents into Excel for free. Even more there is no need to download any software or enter your email address.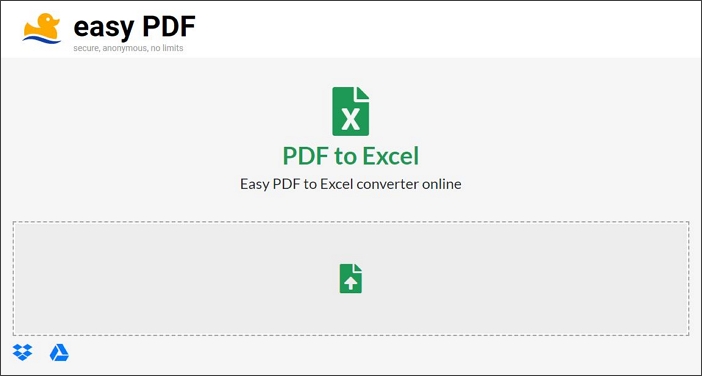 You just have to open Easy PDF converter, drag your PDF file to the tool box given on your screen. Easy PDF will start to extract data from a PDF file and transform it into Excel format without spending hours to do this. The converter is so quick and accurate in doing its job that will make it your favorite converter. Once the extraction process is completed, you will be able to download your converted file on the result page.
Pros
Advanced CRO Solution

Easy PDF comes up with an advanced CRO solution that will make sure that your Excel files will contain each column, row and retained data. Even more, it can also let you edit, add additional data anywhere you prefer.

Enhanced Compatibility

Converting any of your PDF files into Excel is just a piece of cake with this converter. But this is not all, Easy PDF offers 18 different functionalities that can enhance your overall experience of working with digital documents. Including images and Office Formats. Easy PDF can let you convert any of your PDF files on any machine whether it's your phone, Windows computer, Linux device or a macbook. You can use it anywhere.

Multi-functional Online PDF Converter

Easy PDF is the most amazing multi-functional PDF converter that can help you to enhance your management of documents in a more effective way. It has completely anonymous and free services make it different as compared to other online converters. It doesn't ask for any email address and surprisingly, you can enjoy unlimited conversions for free.
Cons
Easy PDF needs to improve its user-interface and focus on adding some new formats. It is because the web page you are going to see at a glance seems just like a basic web page with limited functionalities. There is a need to transform it into something attractive.
In some cases, Easy PDF doesn't remove watermarks from the converted documents. This can be a problem for the users who don't want watermark on their converted documents.
This is an amazing converter which will let you convert any of your regular and scanned PDF documents into Excel file. You can drag your preferred document here or can upload them directly from OneDrive, Google Drive or Dropbox as per your convenience.

You just have to upload the document you want to convert; the conversion process will begin automatically. Furthermore, you don't have to for hours to get a converted document. Because with PDFtoExcel.com, it is just a matter of minutes.
Pros
Quick and Easy Converter to Use

Even though the exact conversion speed will depend on the size of your file and server load, but still with PDFtoExcel.com it is super quick to convert your PDF files into Excel format. It is just a piece of cake to transform your preferred files within minutes.

Offers Full Document Conversion

This web-based converter has the ability to convert files with any size. No matter how complex data tables are there in your PDF file, these are going to be converted perfectly and can keep you from the stress of further formatting in the best possible way.

Support Extract Scanned Tables

It allow you to convert your scanned tables too. By using the latest technology, it can recognize data and numbers with accuracy. Ultimately, this can be an amazing scanned PDF to Excel converter online free without email.
Cons
The trial version of this converter is limited and with this you can make 5 conversions only.
Even the commercial version of PDFtoExcel.com is lacking OCR quality. It doesn't contain any protection option for your documents.
PDFconverter.com can meet your entire needs of converting a PDF file into Excel format. It can let you convert PDF to and from any popular file format including Excel files. This can help you in transforming anything from business invoices, sales and inventory reports to income statements, tax reports and much, much more.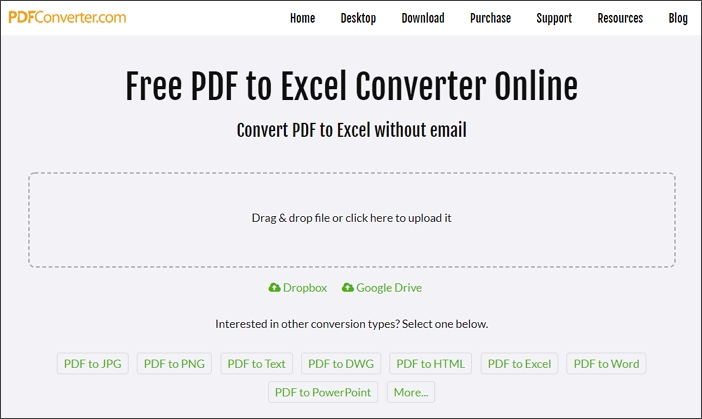 Most amazingly, there is no need to leave your email address to convert your documents in your preferred format. Rather it will let you as many PDF files as you find anonymously. It is because PDFConverter.com is the best online converter PDF to Excel without email. You just have to drop your PDF file and the rest of the job will be done by the converter itself. Within a few times, you will be able to get your converted document with ease. Yes, it is that easy.
Pros
Easily Accessible Anywhere

This amazing converter can let you enjoy an easier PDF to Excel conversion anywhere any time. you can use this tool on any device from your phone to desktop computer. It can also let you import PDF files from Dropbox and Google Drive directly to ensure more convenience.

Conversion Will Be Done in The Cloud

Thanks to PDFConverter.com, you don't need to install anything on your computer. Because your files will be sent to the server and you can easily download them to save once the conversion process is completed. 

Easier Way to Convert PDF into Excel

Not only can this PDF converter work on any of your chosen devices, this also comes up with a super simple and straightforward process of conversion. You can upload the file you want to convert via dragging or by clicking Dropbox or Google drive icon. Once the file is converted you will be able to see a download button to save your converted file on your device.
Cons
To get access to the full desktop experience, you have to purchase PDF converter Elite.
The premium version of this converter is too expensive.
SmallPDF is a light PDF to Excel converter online free without email that is equipped with various functionalities required for your document's conversion. Besides conversion, it can also let you perform functions like compressing, splitting and merging PDF files.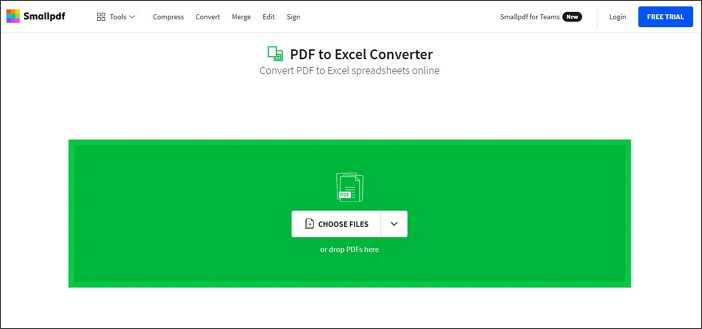 However, this tool can be the best for the users who have to deal with multiple PDF to Excel file conversions on a regular basis. All and all, the easier to use interface of this tool can provide you convenience and can boost the productivity of its users.
Pros
Accurate PDF to Excel Conversion

Small PDF has teamed up with the industry leaders to ensure top-notch conversion algorithms. So that it can become easier to enhance conversion accuracy in the best possible way. Overall, this instant PDF to Excel converter can let you resume your work within seconds.

Convert Your PDF Files to Excel Instantly

This online converter can let you export PDF documents quickly into Excel files. It will let you retain entire data into original format including every table, column, row and sheet.

Supports Offline Conversion

If you are the one who is looking for an offline conversion, then here it is. SmallPDF has a desktop version for its users to let them enjoy offline conversion facility.
Cons
Sometimes it can be difficult to upload and convert large files.
This tool doesn't contain robust capability in its desktop counterpart.
PDF2GO comes up with a conversion toolkit essential for every user. This best PDF to Excel converter online free without email id password can let you handle your PDF files conversion into Excel sheets on a regular basis. Overall, this is a simple and easier to use converter that can let you upload files through a web link, Google Drive, Drop Box, web link or even from your device.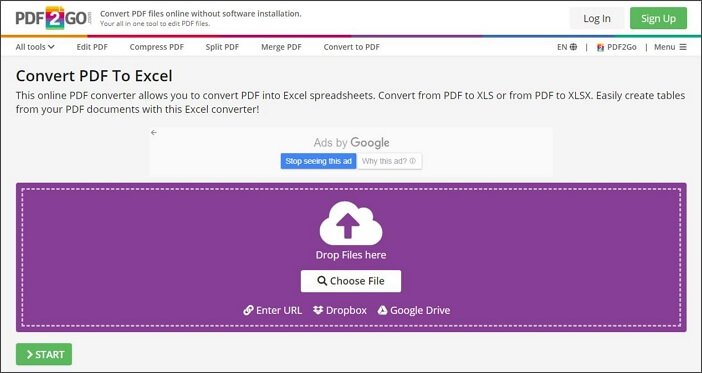 The layout of the PDF2GO converter is pretty diverse and colorful. Besides PDF to Excel converters, it has various other tools enlisted on its homepage from where you can use any of these tools with just a single click. It can let you complete the conversion process in three steps only, upload PDF, extract data and convert format, download Excel.
Pros
Safe PDF to Excel Conversion

When you are using a PDF2GO converter to convert your PDF files into Excel sheets, you can rest assured that your files are 100% safe. Because this tool is SSL protected and performs regular server cleanups to ensure your documents security.

Convert Your PDF Files from Anywhere

PDF2GO is an amazing tool which will let you convert your PDF files into Excel sheets from any smartphone, tablet, computer and laptop. It doesn't matter where you are or which device you are using, you can always convert your documents with just a working internet connection.

A Versatile Converter

This super easier and convenient converter is a complete toolkit to make your life peaceful. It doesn't only let you choose your files from multiple resources but can also let you do much more than just PDF to Excel conversion with them using different available tools.
Cons
Ad-based interface can cause irritation sometimes.
You will be unable to use sticky notes on this converter.
Part 2: Is It Safe to Convert PDF to Excel Online without Email?
If you are using a online converter that searched for trusted browsers like Google, Bing, etc. The answer to this question is Yes, it is safe to convert PDF to Excel online free without email. Not only your file names are being converted into some random names but regular clean up of online converters' servers can also ensure you the security of your documents. It means your files are going to be stored on the server for a temporary duration only. And once the conversion has finished, these files will be deleted from the server within 24 hours.
Tips to Choose the Safe PDF to Excel Online Converter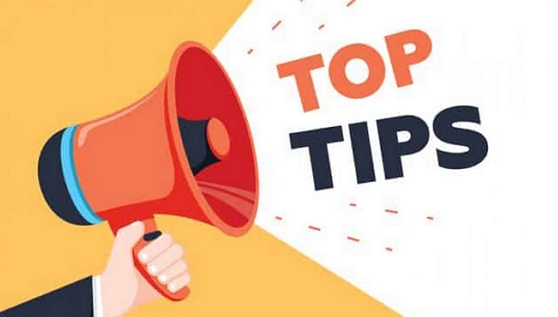 1 Ensured Safety
Whenever you are choosing an online converter make sure it is secure. See if your chosen tool offers regular server clean up and SSL secured to stay stress-free.
2 Quality Keeping Tool
If you want to convert existing PDF files into Excel, then it is important to choose a tool that is able to keep the file quality just like the original. Because, low quality files can never be presentable professionally and formally. So put your hands on the converter that can keep quality effectively.
3 User-Friendly Interface
A conversion tool can be considered the best only when it is user-friendly. Your chosen converter must come up with a layout that is easier to understand and navigate through. While, the conversion process takes a few seconds only to get done.
4 Simple and Easier to Use
Choose a file converter that is easier and convenient to use. Make sure to choose an option that doesn't require a tech savvy to operate it. Therefore, always ensure that your chosen converter has a simplified platform and process.
---
Conclusion
Without any doubt, PDF documents are the most common types of documents. But when you need to extract data from PDF files to Excel format, then you need to know how to convert PDF to Excel online without email.
However, above we have mentioned five different top converters that can make PDF file conversion jobs super easier for you. You can easily opt for any of the PDF to Excel online converter free online without email as per your needs and preferences. However, the tips to choose the best converter can also help you in making the right decision.