Want to recover Data from Buffalo NAS?
Buffalo NAS data can quickly be recovered using the right tool or software. Data loss does not matter because you can recover the data if the NAS is working and there is no hardware failure.
This article will share how to recover data from Buffalo NAS hard drive using a data recovery tool. We will also share the steps to recover the data.
Part 1. Recover Buffalo NAS Hard Drive Using iMyFone D-Back Hard Drive Recovery Software
iMyFone D-Back Hard Drive Recovery Expert is an all-in-one tool to recover lost data from any storage device. It can recover data from a NAS hard drive, SSD, HDD, SD card, USB flash drive, digital cameras, drone, or other storage.
The best part is that using the software is pretty straightforward. It is made according to beginners so that anyone can use iMyFone D-Back Hard Drive Recovery Expert without any hassle. There are only a few steps involved in recovering the data. With a few clicks, you will recover your data.
iMyFone D-Back Hard Drive Recovery Expert can recover Buffalo NAS hard drives. It is compatible with a wide range of NAS drives. And it can work on both Mac and Windows. It doesn't matter how much data you had in your Buffalo NAS drive; iMyFone D-Back Hard Drive Recovery Expert can recover everything.
It works in almost all scenarios of data loss. Whether you have accidentally/deliberately deleted the data from the NAS drive, there was a virus attack, the system crashed, the hard drive is corrupted, or for any other reason, the data can be recovered.
Main Features about iMyFone D-Back Hard Drive Recovery Expert:
More than 1000 file formats and types can be recovered using iMyFone D-Back. After scanning, it filters all these files and keeps them separately.
The algorithm is powerful enough to recover data from any drive. It also works at a breakneck pace.
The quick scan finds your files quickly. Then, the deep scan recovers more files from the drive. All your data is recovered without any loss.
iMyFone D-Back Hard also repairs your data. It detects the corrupted files in the scanning and repairs them for recovery.
The preview and scan of the data are accessible. You can do it as many times as you like. After satisfaction, you can buy the tool.
The software is very light and compatible with low-end computers.
Steps to Use iMyFone D-Back Hard Drive Recovery Expert for Buffalo NAS Drive:
Step 1. First, open your browser and iMyFone D-Back Hard Drive Recovery Expert. After downloading, install it on your computer. Make sure to download the compatible version according to your operating system.
Step 2. If your Buffalo NAS Drive is already connected, you can open the tool. Otherwise, connect the drive first, and then launch iMyFone D-Back. Look for the drive you want to recover on the main screen and click on it.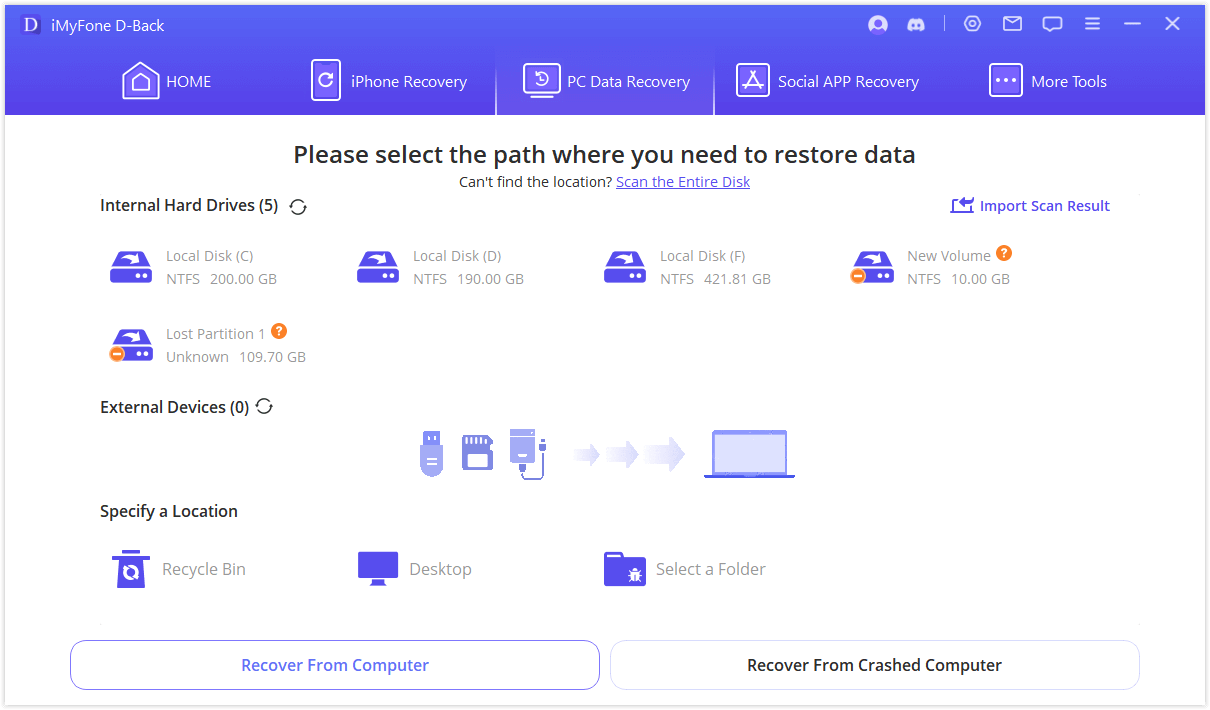 Step 3. iMyFone D-Back Hard Recovery Expert will run a quick scan on the Buffalo NAS Drive and run the deep scan. It will make sure all your files are scanned during the process. If your files are scanned, you can also stop the process in the middle.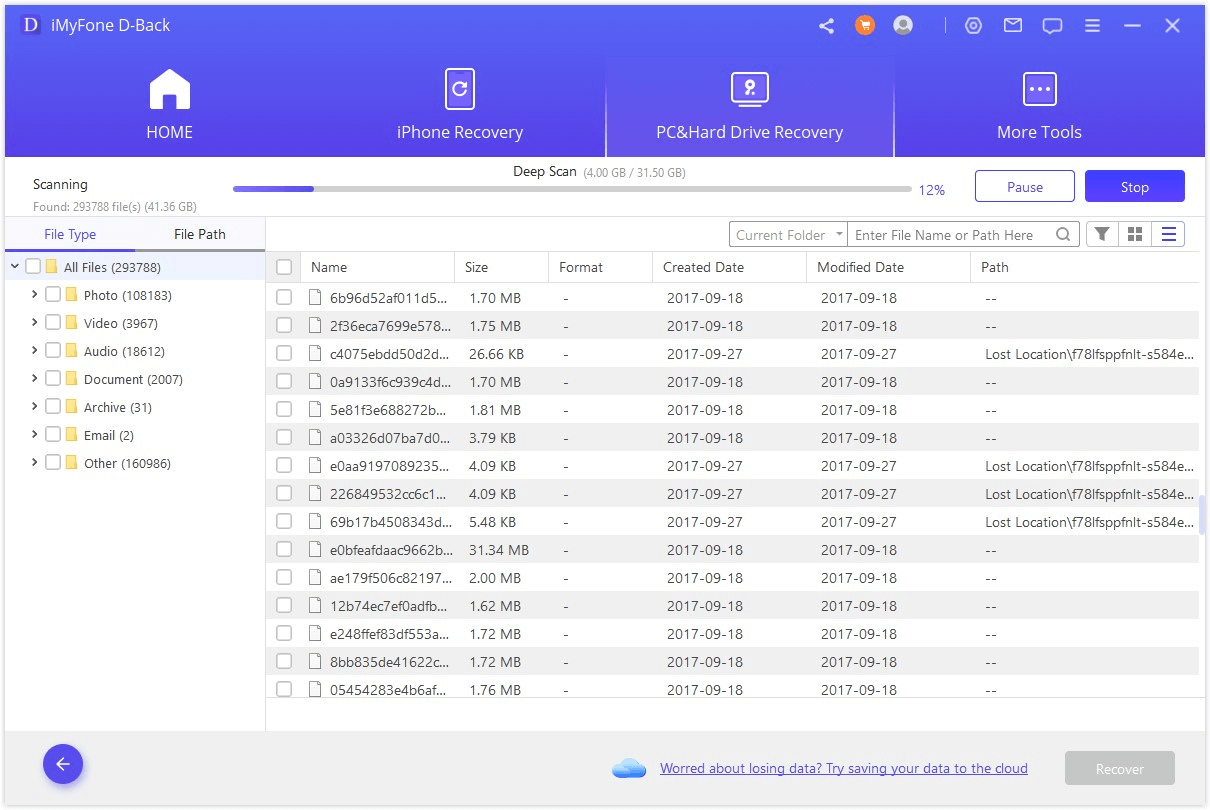 Step 4. The scanned files are organized according to their type and format. On the left, you will see the files according to their format. Select the files and click on Recover.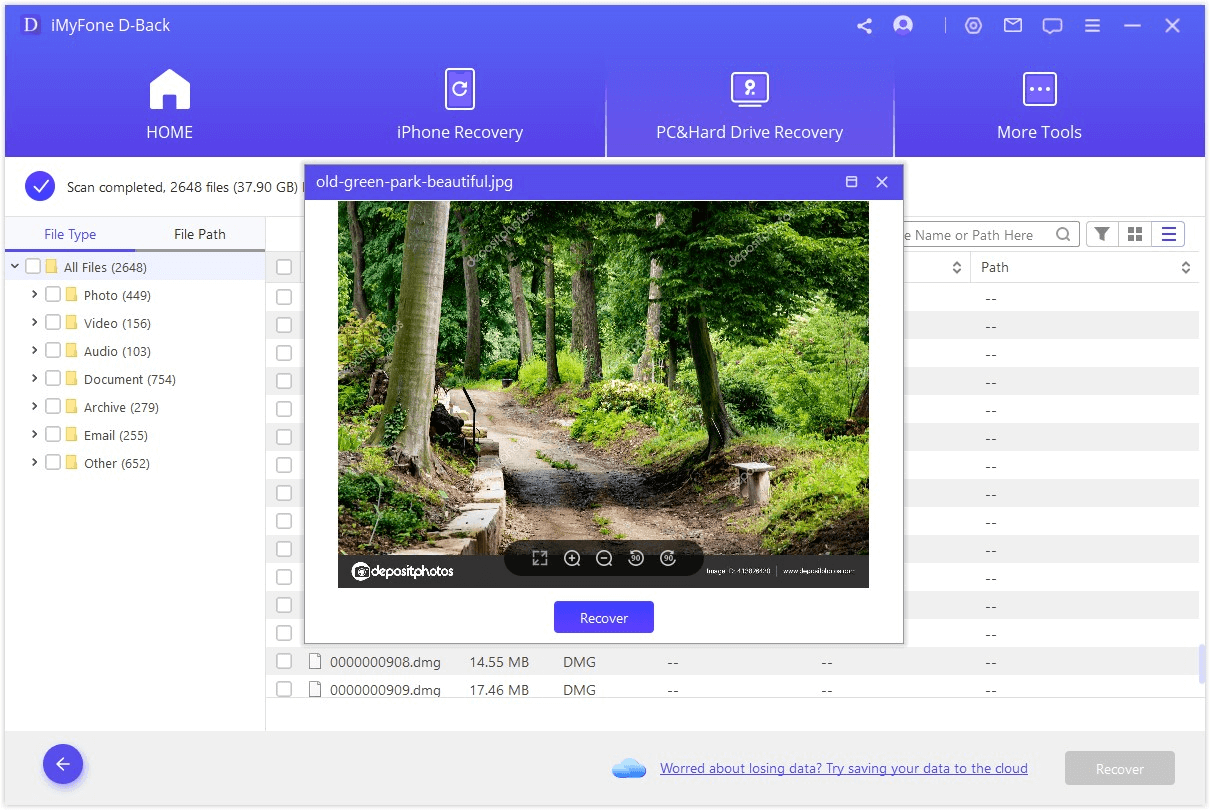 Step 5. Select the folder where you want to save the recovered files and click on OK. Wait for a few minutes and let the process complete. After that, you can check the recovered files.
Part 2. Something about Buffalo NAS
A NAS drive is Network Attached Storage that is connected to a network. Multiple NAS hard drives are connected to and accessed by a single central network.
Buffalo Technology is a famous manufacturer of NAS hard drives. Its NAS drives are commonly used for direct consumers as well as businesses. There are separate NAS drives for businesses and homes.
All NAS drives from the company are highly reliable and robust. These are meant to be used 24/7 and are of optimal quality. There are multiple hard drives in Buffalo NAS TeraStation and LinkStation. All Buffalo NAS drives use the XFS file system to store data. The total capacity ranges from 2TB to 40TB. Thus, these hard drives are for great data storage.
Like all NAS drives, Buffalo NAS Drives are also full-fledged computers. These are not like the standard SSDs and HDDs. Instead, they are pretty bulky as they have a built-in CPU and memory. Therefore, you can directly connect these drives to a network without any computer.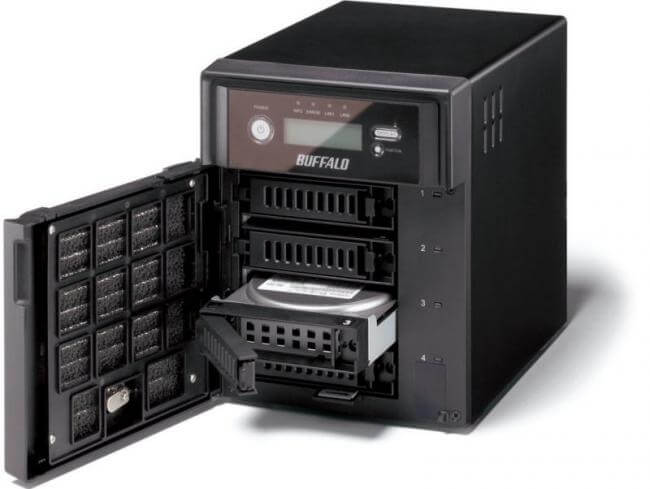 Buffalo NAS drives are suitable for storing large business files and data. These are ideal for securing data against cyber-attacks. The drives have a secure technology that prevents various malware, such as Ransomware. These offer top security. The business NAS drive also has a cloud backup to keep your data safe and sound.
Most importantly, the transfer rates offered by these drives are exceptional. Some also have a native port for fast data transfer, such as a 10GbE port. Undoubtedly, Buffalo NAS is secure, reliable, easy to use, and top quality. Users prefer these drives because of their extraordinary features.
Part 3. What Causes Buffalo Data Loss
Buffalo NAS Drives are very reliable and secure, but there are still various causes of data loss. Some of them are listed below:
Accidental Deletion

The first cause of data loss from a Buffalo NAS is accidental deletion. Sometimes, the data is accidentally deleted. It is pretty standard. The users can't even realize the data has been accidentally deleted as the drive can be accessed by a central network so that any user can delete data accidentally.

Failure of Hard Drives

There are multiple drives inside Buffalo NAS. If any of the drives fail due to any reason, the data will be lost. The data of the drive must be recovered.

Electrical Damage

Sometimes, the drives are damaged because of excessive voltage. It can be a cause of data loss. Due to any fault in the power system, the problem can happen.

Faulty Firmware

If your Buffalo NAS has faulty firmware, the data will be lost. The firmware issue must be solved to use the drive again.

Overheating

Once in a blue moon, the data is lost due to overheating. It is not common, but it is a cause. Due to extreme temperature fluctuations, it might happen.
Part 4. FAQs about Buffalo NAS Data Recovery
5.1 What file system does Buffalo NAS use
Buffalo NAS Drives use the XFS file system.
5.2 How do I recover files from a Buffalo NAS Drive
You can recover your files for a Buffalo NAS Drive using iMyFone D-Back Hard Drive Recovery Expert. It is a beginner-friendly and all-in-one data recovery tool. It is capable of recovering your data from Buffalo NAS drives as it is compatible with the XFS file system. It recovers all data through its quick and deep scan, and there won't be any data loss.
5.3 How much does it cost to recover data from Buffalo NAS
For data recovery, you need to use iMyFone D-Back Hard Drive Recovery Expert. There are three easy plans available. You can get the monthly plan for $59.95, the yearly plan for $79.95, and the lifetime plan for $99.95. Once you buy the premium, you can recover unlimited data. This is the only cost to recover data from Buffalo NAS.
Conclusion
If you have lost your data on Buffalo NAS, don't worry. The data can be recovered using iMyFone D-Back Hard Drive Recovery Expert. It recovers all your files without any hassle. You only need to follow the steps we have discussed, and your data will be recovered.