A USB drive that displays a constant error that needs to be formatted immediately is one of the most common data loss situations that most people face. In this article, we will guide our readers on how to recover deleted data from a USB that needs formatting with or without software.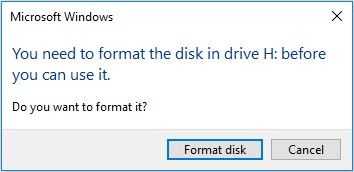 Part 1. Recover Data from USB That Needs Formatting  with Best Professional Software
You might find yourself in a fix if your USB drive suddenly goes corrupt and keeps giving you a warning message when plugged into the computer. Worry not; you can tackle this issue in a couple of ways.
The best way, however, is to use good data recovery software. Below, we will share two of the best options available and explain why it is a good idea to use them to recover data from USB that needs formatting.
Recovering lost data with iMyFone D-Back Hard Drive Recovery is super convenient for everyone, whether professional programmers or people who shy away from technology. With this fantastic tool, you can quickly recover all your USB data by following simple steps. Moreover, it has attractive features, which are the main reason for this software's popularity.
Main features of iMyFone Hard Drive Recovery:
iMyFone Hard Drive Recovery works with both Windows and Mac, which is why it has a diverse audience.
By using this tool, you can also recover your supposedly lost data from multiple other scenarios, damaged hard drive, computer/software crash, or accidentally deleted recycle bin content.
The best thing about iMyFone Hard Drive Recovery is that you can preview the files before downloading them and recover deleted items with 100% success.
It is a user-friendly tool that is simple and easy to use. With a primary interface and understandable content, this tool is famous among laymen and professionals alike.
iMyFone will work with multiple storage devices such as SD cards, hard drives, USB drives, and cameras as well.
It has a diverse range of supported formats. The most commonly used are images, videos, documents, archives, audio files, and HTML as well.
iMyFone Hard Drive Recovery Steps:
The best part about this tool is that you do not need any prior expertise. Following are the few simple steps that you need to follow torecover data from USB that needs formattingwith the help of Hard Drive Recovery.
Step 1: Open the iMyFone D-Back Hard Drive Recovery software and click on the USB flash drive.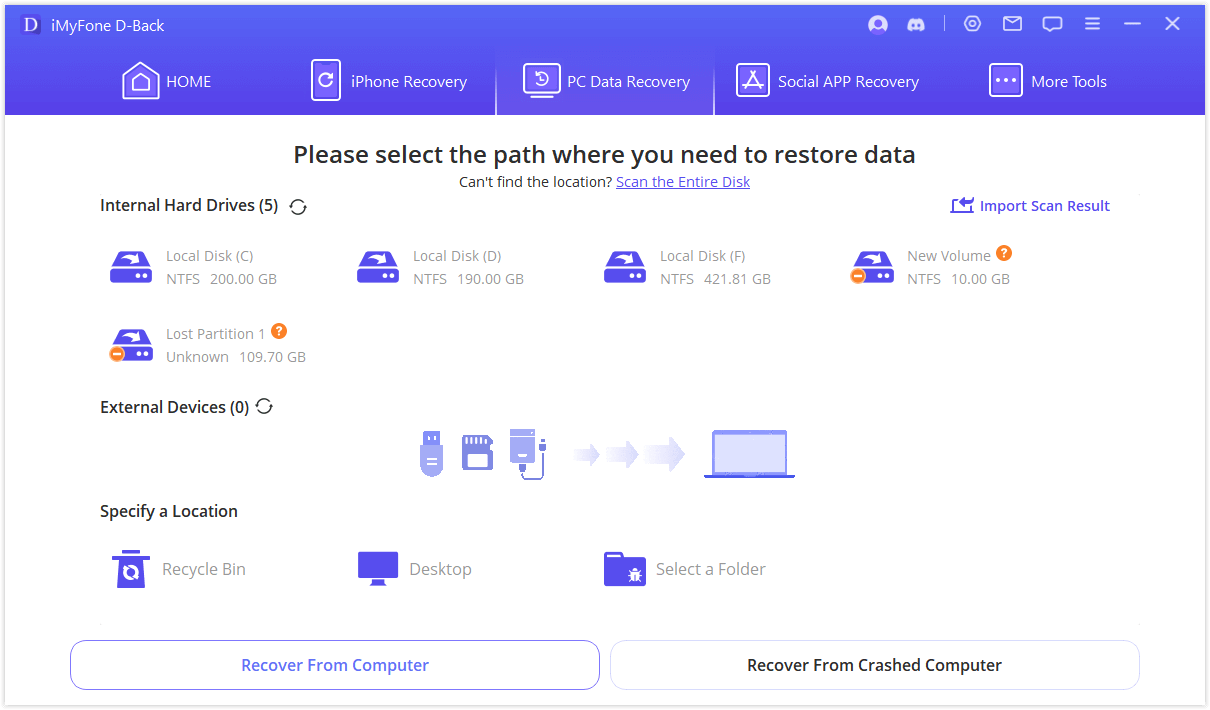 Step 2: Once you have done these steps, the software will start to scan your USB flash drive. Once the scanning is done, click on the files you want to recover.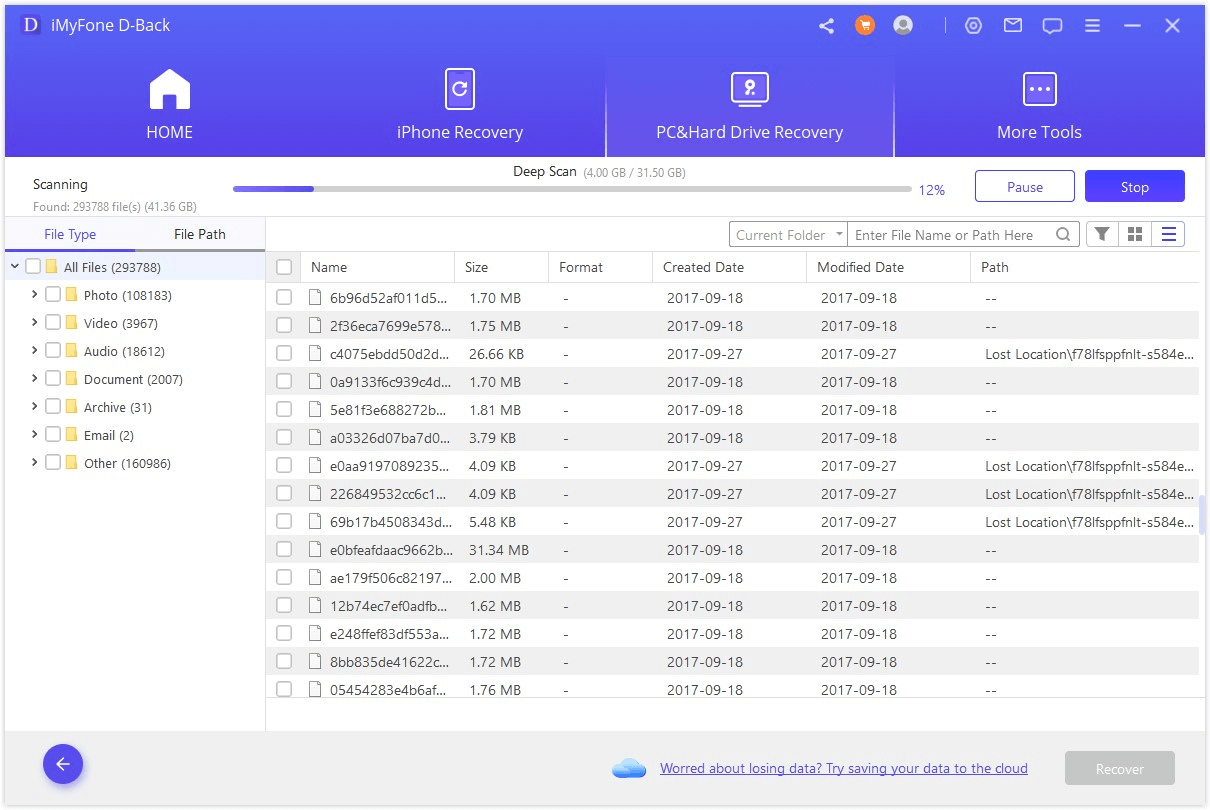 Step 3: Click on the recover button. Save the recovered file to your desired folder.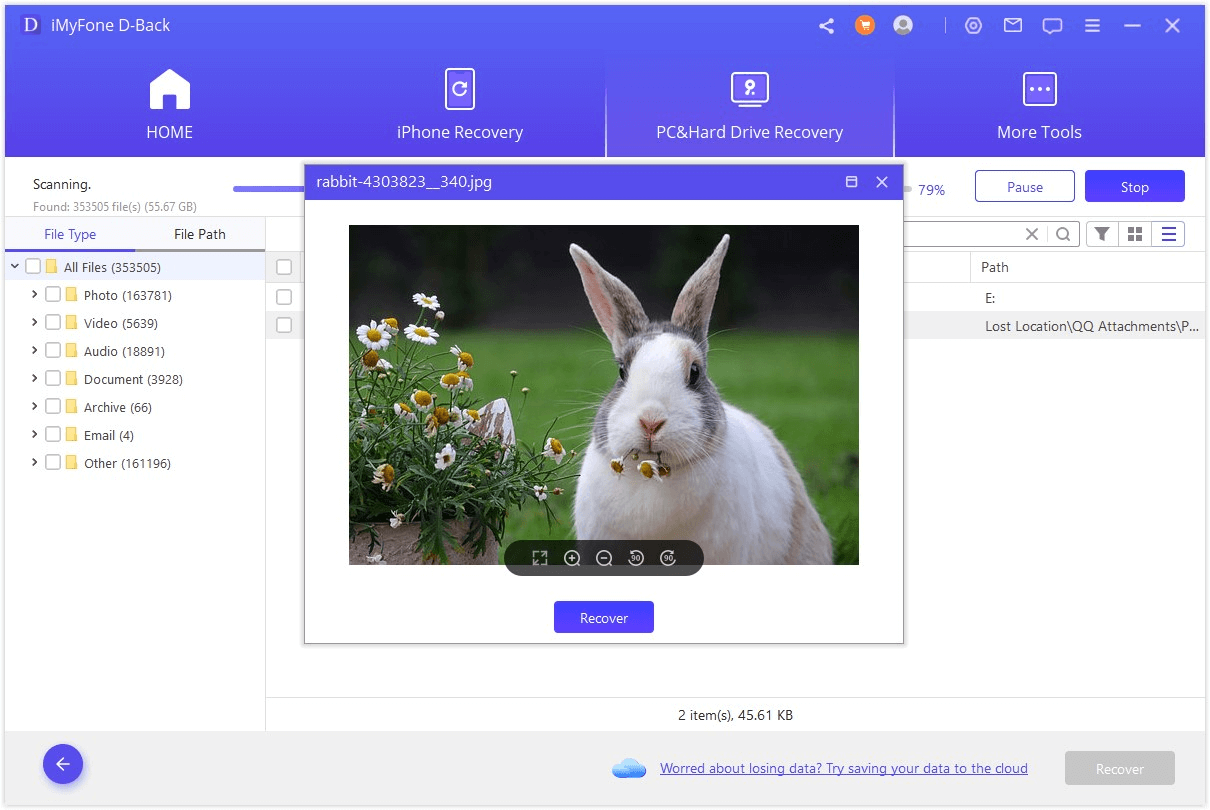 Part 2. Free methods to Recover Deleted Data from USB Flash Drive
Are you wondering, "how to get files off a USB that needs formatting?" If yes, here are all the answers you need. There exist dozens of tools and software that you can use to recover files from USB that need formatting. Unfortunately, most of these require you to pay some amount of money.
We have brought to you some ways through which you can carry out this process absolutely free of cost! Following are the two methods through which you can recover files from your USB absolutely free and with much ease:
Method 1: Restoring Deleted Files from USB Flash Drive Using CMD
CMD is one of the easy methods. If you're not willing to use any software or an online tool, you can try this method.
First, connect the external device (USB) to your computer. Click on the start menu and write "CMD" and press the Enter button.

Write "chkdsk E: /f" and press enter. (Please note that you can replace the "E" text with the name assigned to your USB drive".

Now, write "ATTRIB -H -R -S /S /D E:*.*" and simply press enter. (Again, you'll have to replace "E" with your flash drive alphabet" That's it. The process is completed.
Method 2: Restoring Deleted Files with the Help of Previous USB Versions
Another free method through which you can recover your deleted data in a USB flash drive is to restore previous versions of your deleted files by following these simple steps:
First, you have to access the folder where your deleted files are present in the USB flash drive. Then, you have to select the panel that says "Properties."

Next, you will be shown a pop-up that says "Previous Versions" and contains file history for your deleted items from restore points through which they can be recovered.

When you see the list of older versions that are available for your file, select your required version of the file and press the "restore" button in order to download it again on your computer. In order for this method to effectively work, you must customize File History settings to automatically back up so you can restore any deleted files anytime and anywhere.
Bonus Tips: Why Does My USB Say That It Needs to Be Formatted And How to Fix/Repair It?
There are a lot of reasons because of which you might be running into this unformatted error in your USB drive. Many people start wondering, "why is my USB saying it needs to be formatted" and find themselves very confused. Well, some of the reasons why your USB drive is giving an error are the following:
Removing the USB without clicking the "Safely Remove" button can cause your USB to become corrupt or start giving an error.
While data is being transferred or taken out of your flash drive, you must not shut down your computer.
Using a USB on unknown computers may lead to it acquiring a virus that corrupts it over time and may need it to be formatted.
If you are thinking,why is my computer telling me to format my USB? It is probably because of physical damages to the flash drive, aging hardware of the computer, or malware that has entered the computer.
If you're looking for ways to fix the corrupted USB, then there are many ways, but we're going to mention the simple method.
Connect your USB to your device.
Now, simply click on the tools options from the menu, and click check now. A screen will pop up with the two options. Select both the options and click on the start.
It will automatically detect and resolve the issue.
Once your file system is corrupted, Windows becomes unable to access the files stored in your USB file. One finds himself in a dilemma of how to fix a USB drive that needs formatting- which is indeed relatively easy to do with the available data recovery software of today's world.
Part 4. Faqs about Recover Deleted Data from USB that Needs Formatting
Following are the most frequently asked questions regarding USB formatting and data recovery. We have tried to give the most simple yet well-informed answers to all these questions, keeping in mind the requirement of our audience.
1. Can I Recover Permanently Deleted Data from USB Before Formatting?
Many people turn to Google for their questions regarding "how to recover USB files before formatting?" Basically, deleting a file from your USB flash drive means that the file is not removed from the drive physically. Only the storage space marked by it is shown empty. This is why you can always recover your desired files from the USB before they have been overwritten.
2. Can I Recover Data from a USB Stick without Formatting?
With the help of professional software such as iMyFone D-Back Hard Drive Recovery, you can now answer all your queries regarding "how to recover data from USB without formatting?" This software is quite diverse and lets you recover data.
3. How to Recover Formatted Files from USB Using CMD?
Command Prompt is a built-in default interpreter for Windows that helps you recover your lost data. However, this method requires you to insert some professional commands into your computer, which is something that laypeople cannot do. Instead of this hectic option, you can use iMyFone D-Back Hard Drive Recovery. You can use it even if you're a beginner.
Conclusion
Losing your data from a flash drive may seem like a huge deal- until you research and find out about free data software that is easy to use. In this article, we have shared some of the best ways to recover deleted data from USB flash drives.
Most users love iMyFone D-Back Hard Drive Recovery because of its simple interface and easy-to-use technology. The method through which you can recover your deleted items is also very convenient with the help of this software. You should download Hard Drive Recovery for all your data recovery needs because it is not just free but also provides you with 100% results which are desirable to any computer enthusiast.