Of late, my iPhone 11 misbehaves in that will randomly shut down and restart itself irrespective of the fully charged battery. The bug also keeps turning off my iDevice even when in the middle of watching movies or when replying to a message in the messaging app. Has anybody encountered  the same problem?
From that description, the problem might have been triggered by the software. The good news is that the iPhone 11 crashing can be solved. Keep reading this article until the end to be posted with effective troubleshooting tips on how to fix iPhone 11 crashing on iOS 16.
1. The Best Way to Fix iPhone 11 Crashing without Any Data Loss
There are several possible ways that can fix iPhone 11 "randomly shut down and restart itself" issue, the best and most effective one is using iMyFone Fixppo. iMyFone Fixppo is a powerful and dependable iOS system repair tool which helps you to various kinds of iOS and app issues like iPhone crashing, iPhone won't turn on, iPhone gets stuck in Recovery mode/Awith 100% success rate. Even the "Forgetting Password" issue can be fix by Fixppo, as you can use it to reset your iPhone without password. Moreover, it won't cause any data loss during and after the repair. Now follow the steps below to get the issue fixed.
First of all, download and install iMyFone Fixppo on your computer.
Step 1: Launch iMyFone Fixppo on your computer and select "Standard Mode" from the main interface . Then Connect your iDevice to the computer using a lightning cable. Click "Next".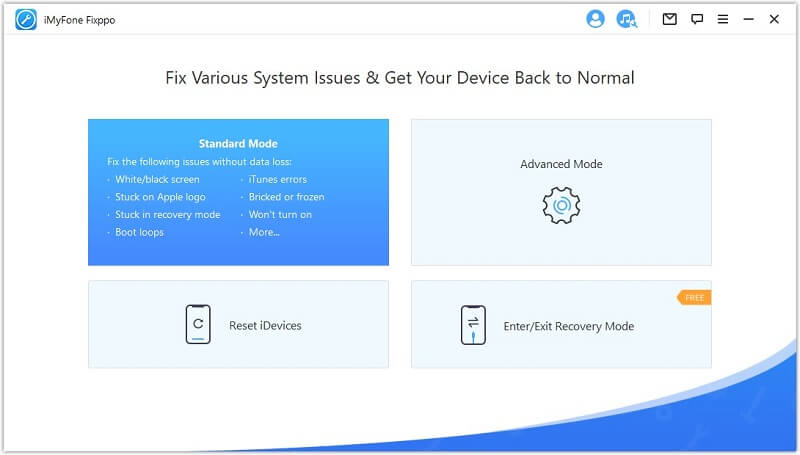 Step 2: The program will detect your device automatically, then it will display the matched firmware  for your device, you can simply click the Download button to start downloading the firmware package or you can choose the firmware version you desire and then click "Download".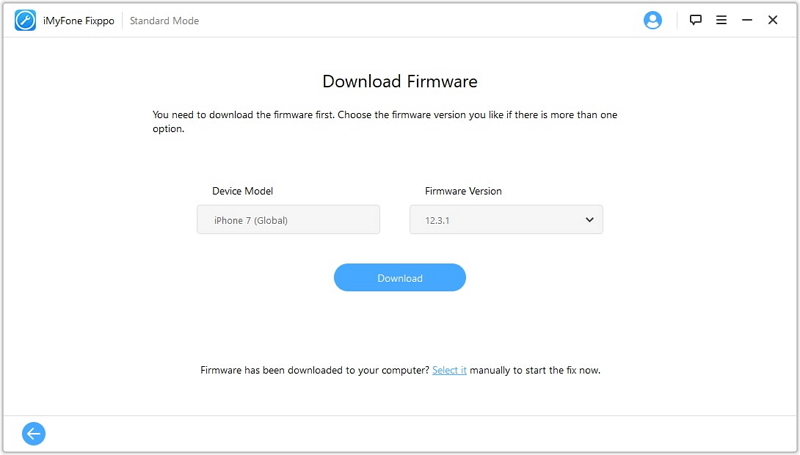 Step 3: Once  the firmware has been downloaded successfully,  click the "Start" button to initial the repair.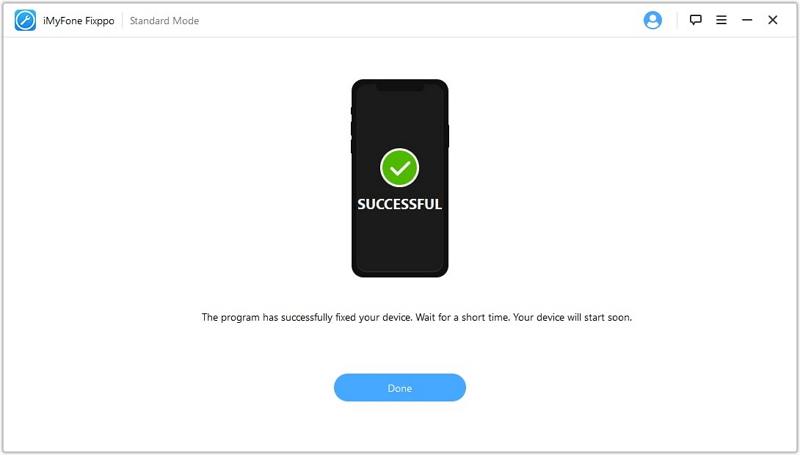 You'll be notified once the process completes. The iDevice will restart and iPhone 11 crashing should be fixed.
2. Force Restart
Performing a force restart to affected iPhone refreshes its system and could as well remove dump cache and erratic apps, in turn, improving the performance of your phone. Check out below to force restart iPhone 11:
Step 1: Press and release quickly the "Volume up" button.
Step 2: Press and release quickly the "Volume down" button.
Step 3: Press and hold the "Power" button until the Apple logo appears. Your phone should power on normally.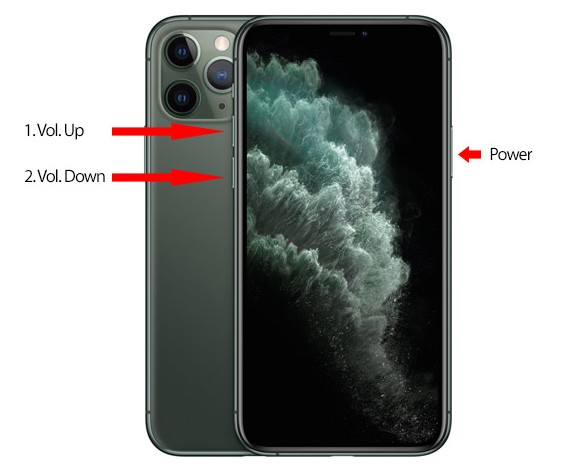 3. Free Up Some Space on Your iPhone 11
You may be surprised how this becomes part of an effective troubleshooting technique. It has become evident that some rouge applications together with malware and buggy updates hit hard on the phone performance, and the only way to eradicate this is to check and manage internal memory of your iOS device. Here are the steps:
Step 1: Go to the "Settings" app icon on the home screen and click on it to open.
Step 2: Click on the "General" option.
Step 3: Select "iPhone Storage".
After checking the size of the free space available, you may create more space by removing unnecessary apps, photos, music, and videos. Those unnecessary things may be the ones affected by bugs that affect the normalcy of the operating system causing the iPhone 11 crashing.
4. Reset All Settings on iPhone 11
Resetting all settings  will remove all the customized settings as well as those override settings after an update and take back your phone settings to the default values and options. Note that executing all settings reset will not interfere with your phone's data. Below is a guide on this:
Step 1: Go to "Settings" on your iPhone and select "General".
Step 2: Swipe down and select "Reset".
Step 3: Click "Reset All Settings" and key in your device passcode when prompted.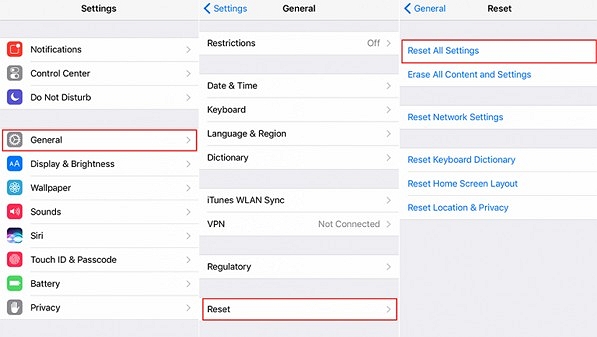 Step 4: Finally, press to confirm all settings reset. Once the process is completed the iDevice will restart. Check if the iPhone 11 crashing issue has been solved.
5. Factory Reset iPhone 11
Also, the issue might be resolved by factory resetting. But please be noted that performing factory reset will wipe away all the data on your iPhone. Therefore, firstly, you are supposed to back up the data to iTunes or iCloud. If you have done so, give this a shot with the following steps:
Step 1: Launch the "Settings" app from the home screen and select "General".
Step 2: Swipe over general options downwards then select the "Reset" option.
Step 3: Select "Erase all contents and settings" and provide the right passcode of the iDevice once prompted.
Step 4: Press to confirm all the settings reset. When the reset is completed the device will reboot automatically. Apply the default configuration.
6. Restore your iPhone 11 via Recovery Mode in iTunes
Your iPhone 11 crashing may be happening due to a major iOS flaw and for that reason, you haven't been able to rectify up to this point. This is clear that you require a more advanced and powerful troubleshooting technique to deal with the complex system error. Opting to perform a recovery mode restore in iTunes will facilitate a complete recovery from the previous backups that you had created before upgrading to iOS 16.
To employ this fix, you are supposed to have the latest iTunes installed on your computer. Also, it is important to make sure your computer runs on the latest operating system compatible with your iPhone 11. If all these are met, turn to the following steps:
Step 1: Connect your iPhone 11 to your computer using a lightning cable. iTunes will automatically recognize your iPhone and once back is secured proceed to the next step.
Step 2: Press and release the "Volume up button" and the "Volume down" button sequentially.
Step 3: Press and hold the "Power" button once prompted with connecting to iTunes. Continue pressing the button when the Apple logo appears for you to enter the recovery mode state.
Step 4: Once the Update and Restore option appears, select "Restore" under the "Summary" Tab.  Do not disturb the process until it's complete.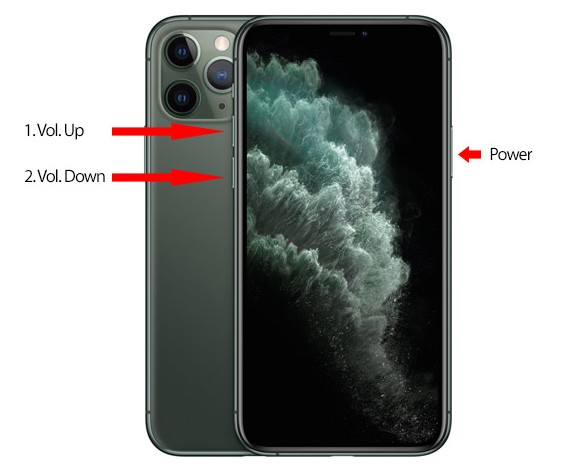 Conclusion:
All the fixes in this article are effective. If even with the use of iMyFone Fixppo your iPhone 11 crashing fails to be rectified it may be due to faulty hardware. Connect to the nearest Apple service centre and have it checked on your behalf.