Well, storing excessive data on your iPhone may bring unpleasant consequences. If you wonder whether full storage can affect iPhone or not, have a quick check below:
It might force your iPhone to act abnormal and consequently;
The iPhone may stuck on apple logo if storage is full;
The iPhone storage is full and it shut down;
The iPhone with full storage won't turn on.
So this is the thing that's happening in your situation, where your iPhone memory is almost full and is now affecting the performance of your iPhone. Since no one wants to lose their precious data, it is hence imperative to find a feasible solution for saving the data and getting the iPhone back to normalcy.
With this article, we have featured some trustworthy options that will help you to serve the purpose and reboot your iPhone when it shuts down since storage is full.
What to Do before Fixing iPhone with Full Storage Won't Turn on?
You get get the effective operation by watching this video
1.1. Check If You Can Clean iPhone Storage on Computer
To get rid of this problem that iPhone turns off for no storage, you can try deleting iPhone data like pictures on your computer. This method may not work in some cases since the iPhone may not be able to connect to a computer.
Connect your device to a computer and turn down iTunes.
Access your iPhone as an external storage device and open the DCIM folder (the default camera photos folder).
Now, start deleting unnecessary photos and videos to free up space. Though, your iPhone might reboot a few times, keep trying to delete more pictures.
Once you free up a considerable amount of space, the iPhone will startup.
Now, you need to connect your device to a stable Wi-Fi network and backup your iPhone on iCloud. Or you can sync it with iTunes and then empty the folder.
Your iPhone will work normally.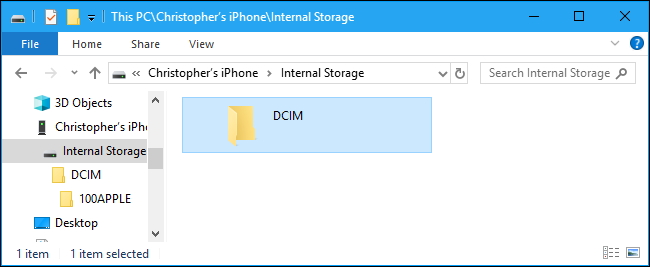 If you can't clean your iPhone's memory using the above methods, we recommend using a professional iPhone data cleaning tool.
Part 2. How to Fix iPhone Out of Storage Won't Turn on
2.1. Use a Professional Tool to Fix The "iPhone Memory is Full and Won't Turn on" Issue
iMyFone Fixppo is a reliable tool to fix various iOS issues. It fixes crucial iOS issues including the problem that the iPhone won't turn on since it is out of storage.
Moreover, you can also use it to fix other iOS problems such as iPhone stuck on boot loop/recovery mode/white screen, iPhone photos have mosaics and so on. It is very easy to use and even the latest iOS 15 is also supported.
You can fix the "iPhone full storage won't turn on" problem in just a few minutes. Here is the step-by-step guide:
Step 1: Install and launch iMyFone Fixppo on your computer and get your iPhone connected with a USB cable to the PC.
Step 2: Select the 'Standard Model' and follow the onscreen instructions when prompted for entering 'DFU/Recovery Mode', so that the software will initiate fixing your iPhone.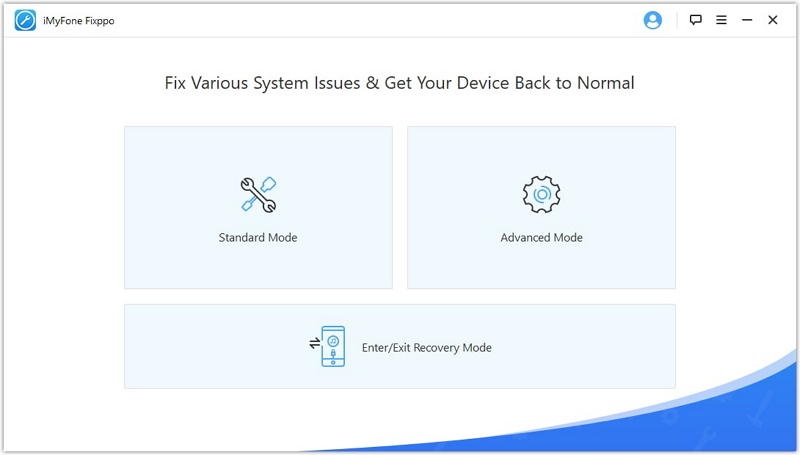 Step 3: After entering the DFU/recovery mode, the tool will automatically detect the latest iOS version for your device. You need to download it by tapping the 'Download' button.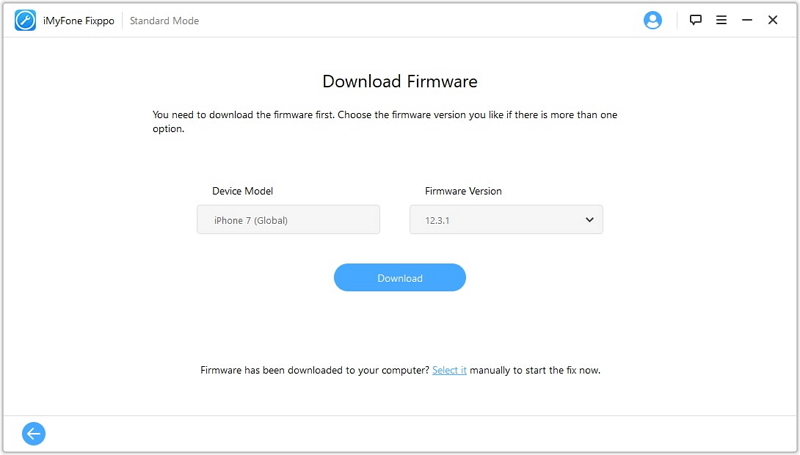 Step 4: Tap the 'Start to Fix' button once the firmware downloading is complete. Once iMyFone Fixppo fixes your iOS issues (iPhone turns off for no storage), your iPhone should restart as normal.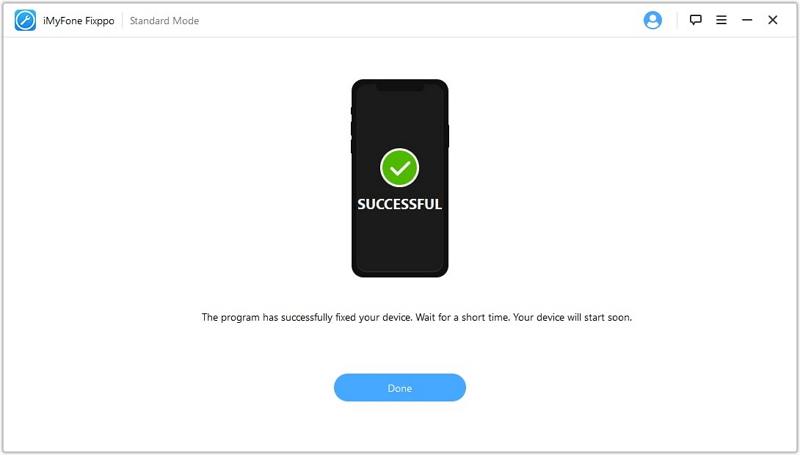 2.2. Use iTunes to Restore iPhone If iPhone Storage is Full and Cannot Start
If your iPhone won't start since it is out of storage, you can take the help of iTunes and restore your device.
iTunes usually helps to get your device issues sorted, and all you need to do is to put your iPhone in recovery mode. Here are the steps to restore the device using iTunes:
Step 1. Make sure to update iTunes on your PC to the most recent version and quit it if there is an open session of iTunes. Connect your iPhone with the PC and follow the guide below to put your device into recovery mode. Then allow it to connect with iTunes.
For iPhone 6S and older/iPad/iPod touch, you need to push and hold the 'Home' and 'Top' (or Side) buttons together until you see the 'connect to iTunes' screen.
In iPhone 7/7 Plus devices press and hold the 'Side' and 'Volume Down' buttons concurrently until the 'connect to iTunes' appears on the screen.
For iPhone 8/8 Plus/X/11/12/13, instantly click and release the 'Volume Up' key and then the 'Volume Down' key. Press and hold the 'Side' button until you see the 'connect to iTunes' message on the screen.
Step 2. Click on the 'Restore iPhone' button after that and iTunes begins reinstalling the iOS and making your device work like normal.
Note
This will erase all the data stored on your iPhone. Therefore, make a backup of your data before performing this method if you can.
Step 3. As soon as the 'Restore' process gets completed, you need to set up your device again from scratch.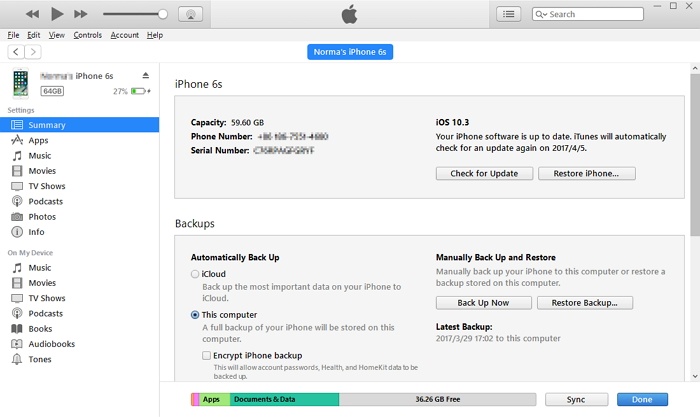 2.3. Restore The iCloud/iTunes Backup You Need If iPhone is too Full to Turn on
If you do not want to use the above two ways to solve the problem of insufficient capacity of your iPhone, and you are ready to directly replace a new iPhone with large capacity, you can choose this method.
The idea is to restore the data you need from your previous iTunes or iCloud backups to your new iPhone.
For this purpose, iMyFone iTransor is an ideal tool that can efficiently help you to partially restore your data depending upon your requirements. It can selectively restore iTunes/iCloud/iMyFone backup and extracts more than 20 types of data from backups in just a few simple steps.
Step 1: Install and launch the software on your computer and tap on 'Restore Backup to Device'.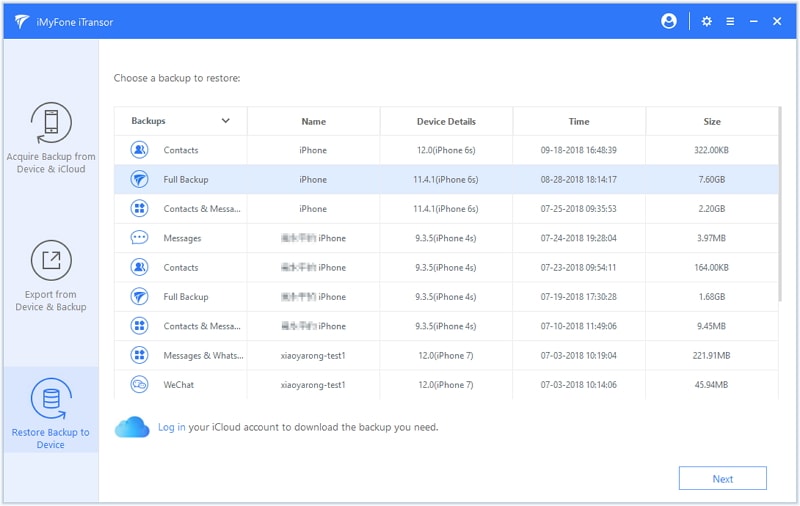 Step 2: From the list of backups, choose a recent iTunes backup and then tap 'Restore Partial Backup'. Click 'Next' to navigate to the following screen and select the desired data types to restore.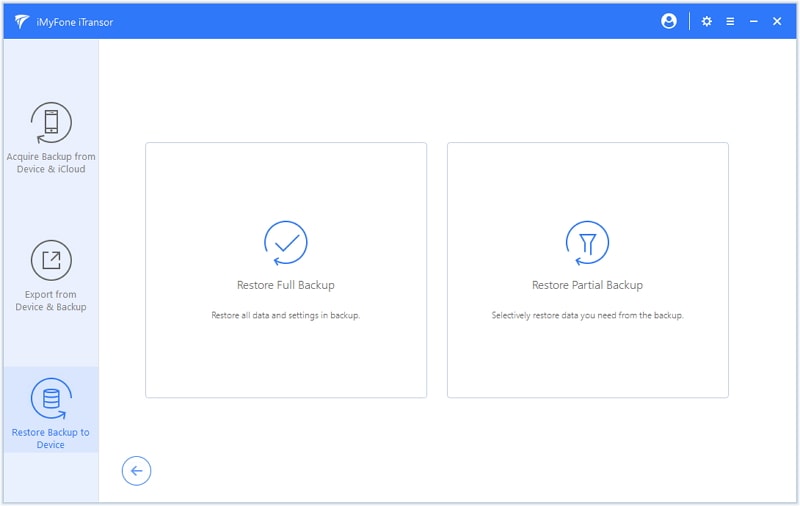 Step 3: Again tap 'Next' to initiate the scanning process that takes a while to finish. Preview the scanned data and then select them to restore.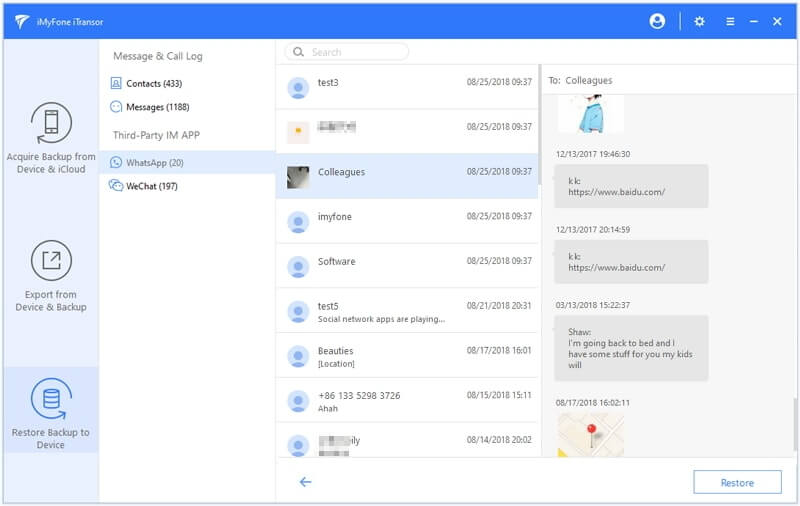 Step 4: Click 'Restore' to get the data restored on your iPhone soon.
Note
Up to now, this software supports full backup restore and partial backup restore. But the partial backup restore function only supports 4 data types: WhatsApp, WeChat, contact and message.
FAQs about iPhone Storage
1. How to Check iPhone Storage Capacity?
To view the iPhone capacity, you can go to Settings > General > [Device] Storage to check it.
2. What Do I Do When My iPhone Storage is Full?
If your iPhone is running low on storage space, the system will automatically release some of that space when you install apps, update your operating system, download music, and so on.
However, that will be very limited, so you'd be better choose a professional iPhone data eraser to free up more space.
3. Do I Need to Buy iCloud Storage for iPhone?
If you do not want to buy iCloud space, you can do some adjustments according to the official storage space optimization suggestions.
If you don't want to buy iCloud space or switch to a new device, you can use the iPhone backup tool to save the data you need locally and free up more memory.