Question
I have an iPad Pro and out of the blue, my iPad is disabled and won't connect to iTunes. The iPad screen is displaying 'iPad is disabled connect to iTunes'. When I connect to iTunes, it is asking for entering the passcode to use iTunes. How can I fix it? Please help!
iPad can be disabled if you or someone else has multiple wrong passcode attempts. This is a severe headache if you unfortunately never did a backup of your iPad or haven't backed up your iPad for a long time. Here we will answer some common questions for these people who's iPad gets disabled and won't connect to iTunes. Also, we will tell you how to enable the disabled iPad at the end.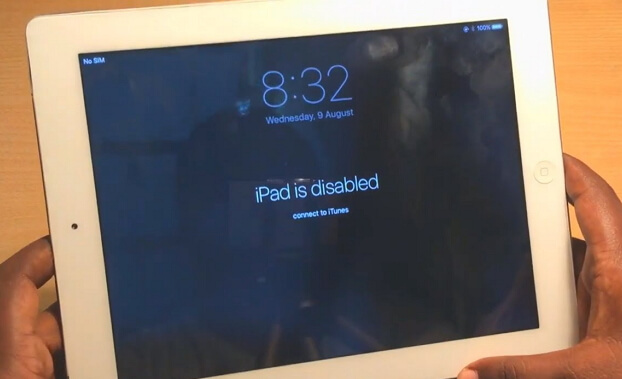 1. Why iPad Won't Connect to iTunes When It Is Disabled?
The first reason is that your iPad will be required to be unlocked state so that iTunes can access the data on it. If your iPad is disabled and you connect it to iTunes, generally iTunes will ask you to enter the password for your iPad in order to proceed to the next step. This is the most common reason why the iPad won't connect to iTunes when it is disabled.
The reason that the iPad isn't recognized on iTunes might be that you haven't trusted that computer on your iPad. iOS devices upon getting connected to iTunes for the very first time will be asked to confirm the connection between device and computer by choosing 'Trust this Computer'. It further enables iTunes to access the data on your device. Until you erase a device or alter the computer you trust, the computer stays trusted which implies that the device will get connected without any pop-up on connecting next time. However, you are not able to do that when your iPad is disabled.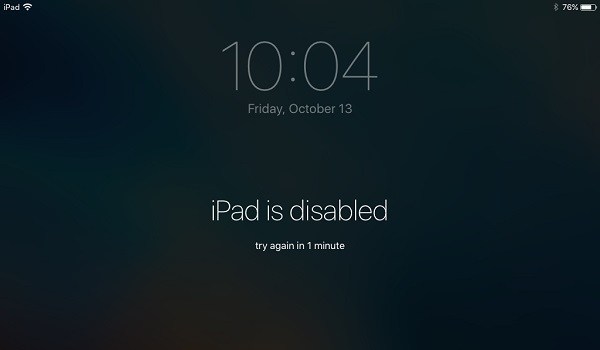 2. Can You Save the Data on Your iPad?
Well, in this scenario, you will only be able to recover the data that you have already backed up using iCloud or iTunes.
If your iPad trusted a computer, it can help you sync your device data, access them, and create a backup on PC. That's why iTunes can access the data on some devices even if they are disabled only if it has trusted the computer before. However, sometimes, iTunes still cannot access the data on a disabled iPad that has trusted the computer before, because iTunes requires you to enter the password for lock screen in order to proceed to backup the device.
Update: Now, all disabled iPad, iPhone and iPod touch cannot be backed up or accessed.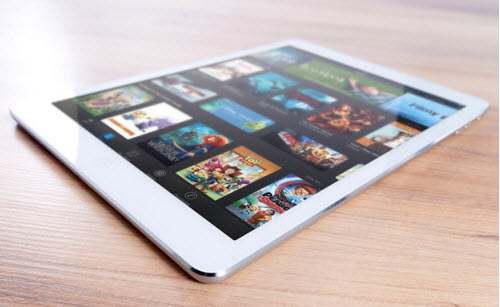 3. How to Enable a Disabled iPad
If you've triggered the iPad to be disabled and won't connect to iTunes due to multiple failed attempts to enter the correct passcode, the only way to get through it is to remove the password together with the entire data on the iPad to make it work like before. That implies, all your data and iPad settings will be entirely wiped out. Now, we would like to tell you how you can remove the password.
Use a Password Removal Tool to Unlock iPad
The easiest way to fix a disabled iPad is by using iMyFone Fixppo. If your iPad is disabled and won't connect to iTunes, iMyFone Fixppo 100% helps. It unlocks locked iPad using the Advanced mode. With a few minutes, your iPad will get back to normal. It is very popular and trusted by millions of people because it guarantees a positive result.
It has a very user-friendly interface. You can definitely unlock your iPad with several clicks.
It provides all firmware versions that are available for your iPad, so you don't have to install the latest firmware.
It comes with Mac and Windows versions. Almost all iOS/iPadOS and tvOS versions and iOS devices are supported, even the latest iOS/iPadOS 16.
It is completely risk-free and easy to use.
Now you can download the program and follow the step-by-step guide to unlock your iPad.
Step 1: Install and then launch the software on your PC. Connect your iPad to your computer and click 'Advanced Mode' on the iMyFone interface.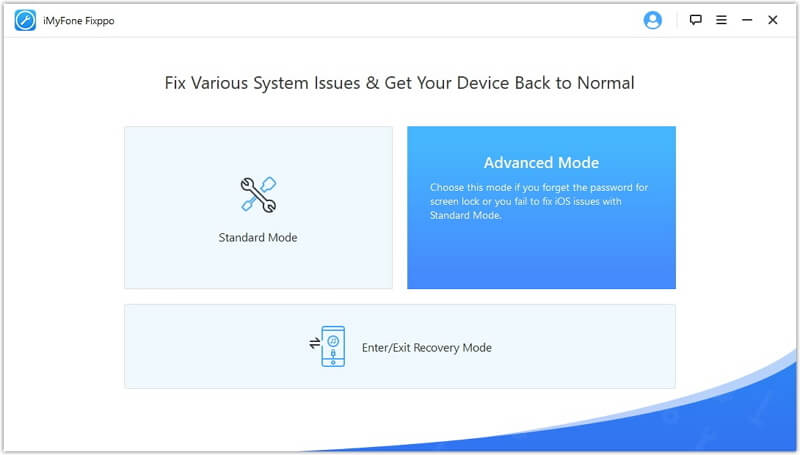 Step 2: A prompt pops up asking you to put the iPad in DFU mode/recovery mode. You need to tap 'Start' to initiate the repair process. Follow the onscreen steps to enter DFU mode on your iPad. You can also try to put your device into recovery mode.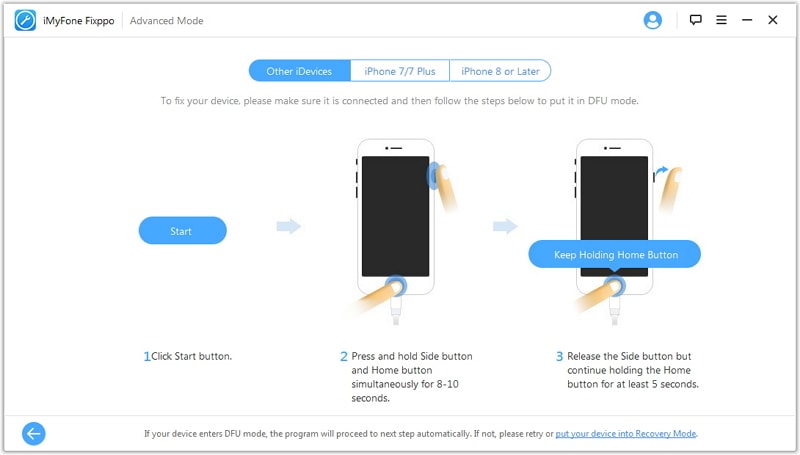 Step 3: After entering DFU or recovery mode, the software automatically detects the iPad. You can now choose a firmware that you like if there is more than one option. Click 'Download' to download the firmware for the iPad.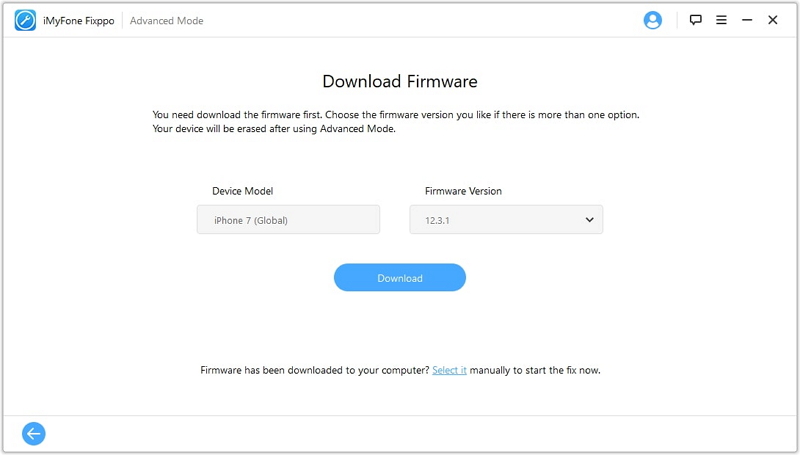 Step 4: As soon as the firmware is downloaded on your iPad, the software automatically starts fixing your iPad and unlocks it. Once you are done, the iPad can be activated and will work without a screen lock.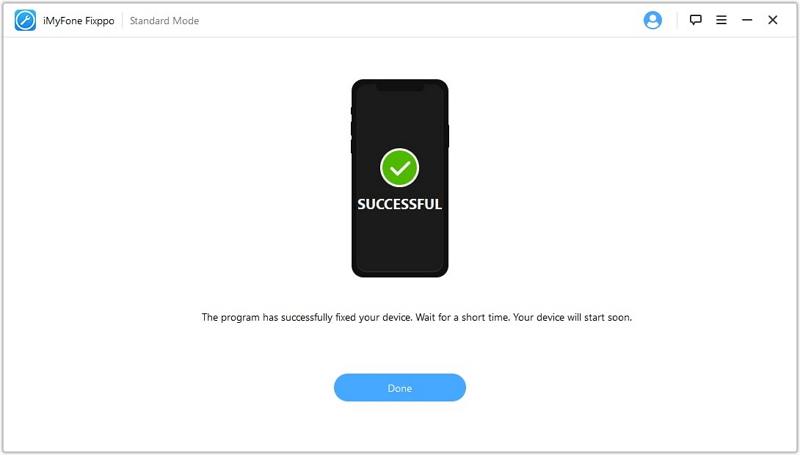 If your iPad is locked now, just download iMyFone Fixppo to enable your disabled iPad by following the above simple steps. This tool has already been trusted by millions of users around the world.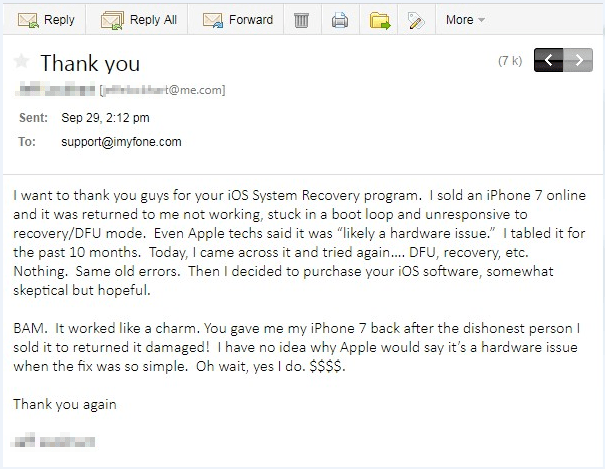 4. How to Factory Reset iPad without iTunes
First of all, we definitely recommend iMyFone Fixppo. It is the most efficient way to factory reset iPad. You don't need to operate on your iPad, nor use iTunes. The steps are the same as the above steps on how to enable a disabled iPad.
Your iPad can also be factory reset using the 'Find My iPad' feature. With this feature, you can factory reset it remotely from anywhere.
Note
In order to use 'Find My iPad' feature to factory reset your iPad, you must have logged in to your iCloud account with Find My iPad option turned on. Internet connection is important to factory reset the iPad using this method. If it cannot connect to WiFi or cellular data, the iPad cannot be erased.
Now, use a computer or another iOS device with iOS 8 or later versions and follow the steps as mentioned to fix your disabled iPad that won't connect to iTunes.
A step-by-step guide to erase iPad by using 'Find My iPad' :
Launch any web browser (Chrome, Safari, Firefox, or Internet Explorer) on your computer and go to www.icloud.com. You can also open Find iPad/iPhone on another iPad or iPhone. The steps are similar--find the device and erase it.
Upon being prompted, log in to your iCloud account and tap 'Find My iPad'. Verify your iCloud password if you are asked to.
After seeing the map with all your iOS and Mac devices, tap 'All Devices' found on the top part of the screen. From that list pick your iPad.
On the upper-right corner of the browser you will see a window having three buttons: Play Sound, Lost Mode and Erase iPad. Click 'Erase iPad' here and confirm the selection.
Once you confirm your selection, the iPad gets erased.