How to Soft/Hard/Factory Reset iPhone of All Models
Category: iPhone Issues
4 mins read
As a big fan of iPhone, you want your device to function as perfectly as possible. However, many users may come across a situation where their phones start lagging or even freezing. In this case, most of them can do nothing but resort to resetting their iPhones.
This seems to be a good idea. Nevertheless, users get confused about how to reset iPhone mainly because they haven't done that before. More importantly, they fear that data on iPhone may be corrupted for their erroneous operstions. Whatever the issue is, you have nothing to worry about because this article covers all methods to tell you how to reset all iPhone models.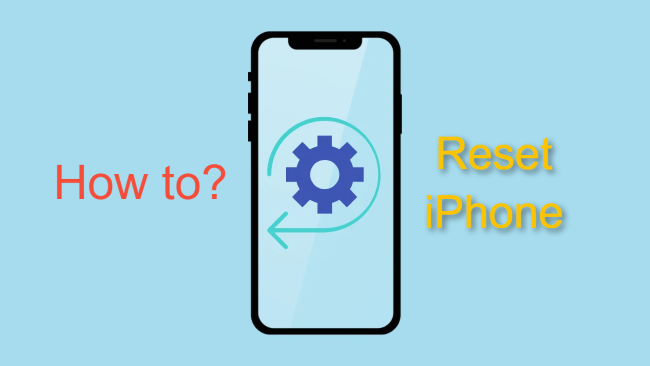 Part 1: Differences among Soft Reset, Hard Reset and Factory Reset
First of all, let's go ahead and see what are the different kinds of resetting methods you can perform on iPhone and what differentiate them: There are three ways to reset an iPhone, namely: Soft Reset, Hard Reset, and Factory Reset.
They can be applied to different occasions and their operations also vary greatly. Here's a clear comparison among all these methods.
What is it
When to use it
What will happen
Soft Reset
A soft reset is the simpliest way to power a device off and you should manually restart it again.
iPhone runs slowly
iPhone overheating
iPhone behaves oddly
Your iPhone will be restarted with minor problems solved.
Hard Reset
A hard reset can stop all background activities from running and restart your iPhone automatically.
iPhone freezes
iPhone reboot loop
iPhone app get stuck
iOS glitches on your iPhone
Your iPhone will be abrupted rebooted with bugs fixed.
Factory Reset
A factory reset will erase all data on your device and reverts it to its original state.
You want to sell or give away your iPhone.
You can't unlock your iPhone by any means.
Serious technical problems with your iPhone that can't be fixed.
All data and settings stored on your iPhone will be erased.
Now that you know what these techniques are and what they do let's see how to use them in different situations effectively.
Part 2: How to Soft Reset iPhone
Soft reset iPhone is such a straightforward and easy way to reboot your device that you can perform at home without any cost. If your iPhone suddenly runs slowly or is heating for no reason, try soft reset.
However, not all iPhone models perform this soft reset operation in the same way. And if you're wondering how to soft reset iPhone if you have more than one iPhone devices, please check below.
Steps to soft reset iPhone 8 series and earlier (iPhone with the Home button):
Press and hold the Sleep button at the top/right side of your device until you see slide to power off.
Drag the slider to the right and your device will be shut off.
Now press the Sleep button again until you see the Apple logo appears.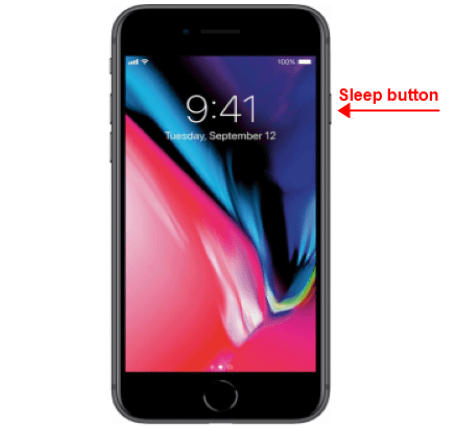 Steps to soft reset iPhone X and later (iPhone with the Face ID feature):
Hold either the Volume Down/Volume Up and Side button at the same time (Volume Up works as well, but that could accidentally take a screenshot, so the down button is more straightforward).
Wait until the Power-Off Slider appears, drag it to the right to shut down your iPhone.
After your device is turned off, wait for 30 seconds or so before you press and hold the Side button again.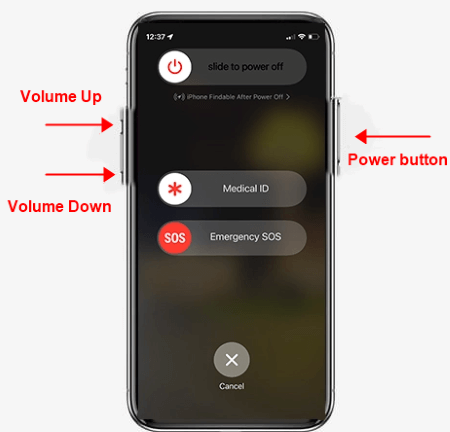 Part 3: How to Hard Reset iPhone
If your iPhone stuck on restore screen or won't turn on past Apple logo, hard reset your iPhone may help to fix the problems and is always recommended to fix these iOS-related bugs on your iPhone. Likewise, The ways as to how to hard reset iPhone vary depending on the iPhone model you have. Here's a detailed list of ways you can follow to physically hard reset iPhone of all models:
Hard Reset iPhone 6/5/4 series and earlier (iPhone SE 1st generation included):
Hold the Power button on the top or the right side and the Home button simultaneously.
Keep holding until the Apple logo appears.
Let go once this happens (or your iPhone may go into restore screen), then your iPhone will restart.
Hard Reset iPhone 7/7 Plus:
To hard reset iPhone 7 and iPhone 7 Plus, simply hold the Volume Down button and the Power button at the same time, release both of them when you see the Apple logo.
Hard Reset iPhone 14/13/12/11/X/XS/XR/8 series(iPhone SE 2nd generation and later included):
Quickly press and release the Volume Up button.
Quickly press and release the Volume Down button.
Press and hold the Side button and let go as soon as you see the Apple logo.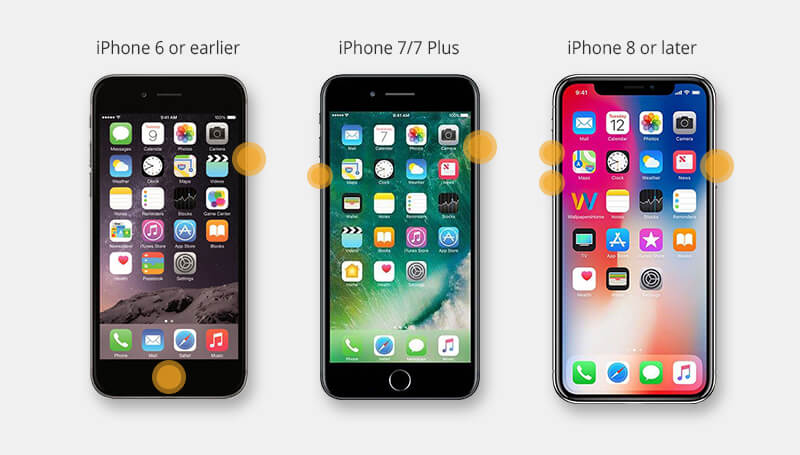 Part 4: How to Hard Factory Reset iPhone (5 Ways)
The last and the most complicated resetting technique for you to know how to reset iPhone is the factory reset. This kind of reset will erase all data of your device. And one of the methods given below can repair and install the latest iOS version if there is something wrong with the system. If you're looking for how to factory reset iPhone, here are all the methods for all models:
4.1 Factory Reset iPhone without Password/iTunes/Alternative Device
If you forget the password of your no longer use iPhone or you just want to erase all data without entering your device, then you should know how to completely factory reset iPhone without password. In this case, there is no other methods that can be more easy-to-use than by using iMyFone Fixppo.
It can reset iPhone to factory settings in a moment. What's more, it can repair your system to prevent present or future errors and update your iOS to the latest version. Follow steps and learn how to hard factory reset iPhone with iMyFone Fixppo.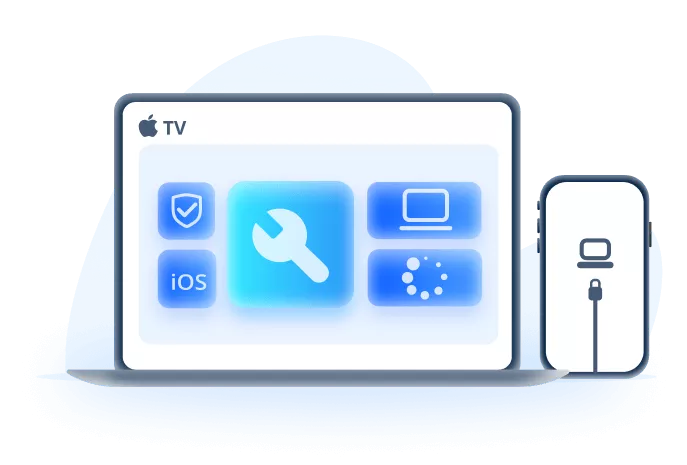 Key Features:
Support to reset your iPhone in 4 simple clicks if you forget the password.
You can wipe your iPhone completely before selling or sending to others.
Compatible with all iPhone models without any limitation.
I want to watch how to factory reset iPhone without passcode and iTunes: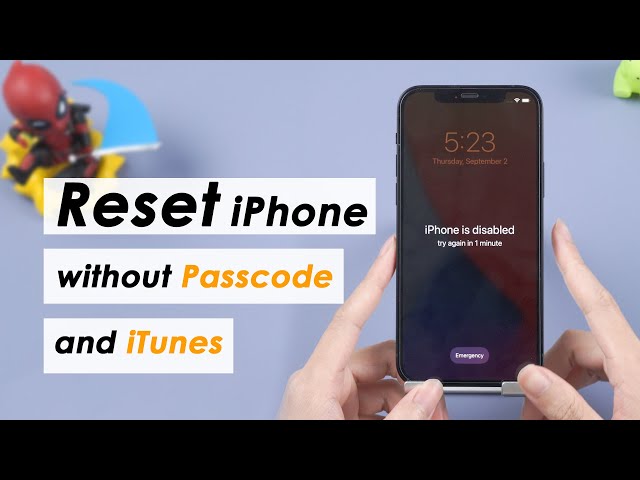 Now, you should know how to factory reset a locked iPhone, please keep reading with more details and thorough steps.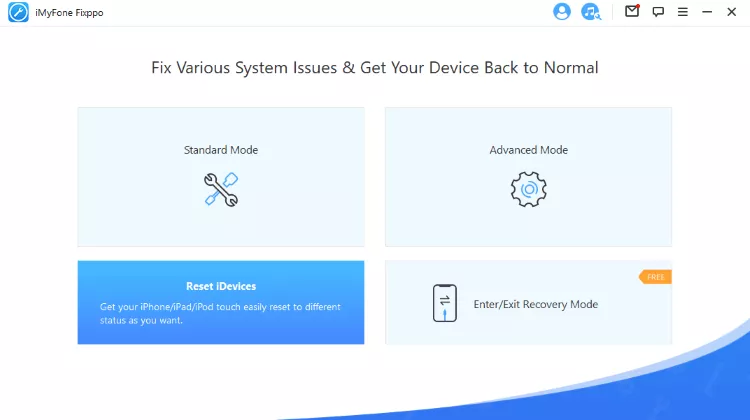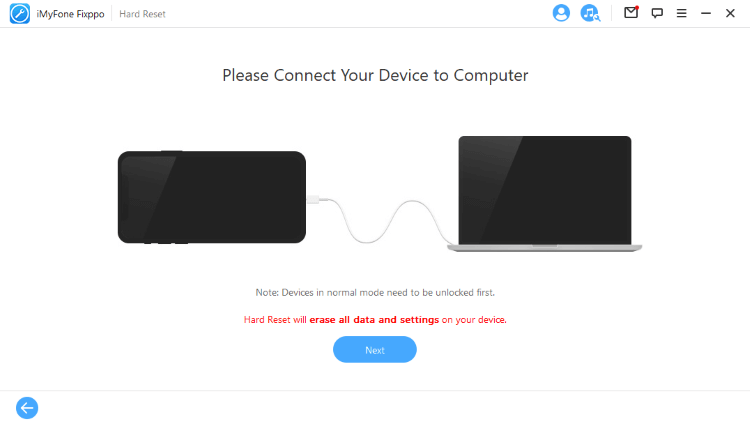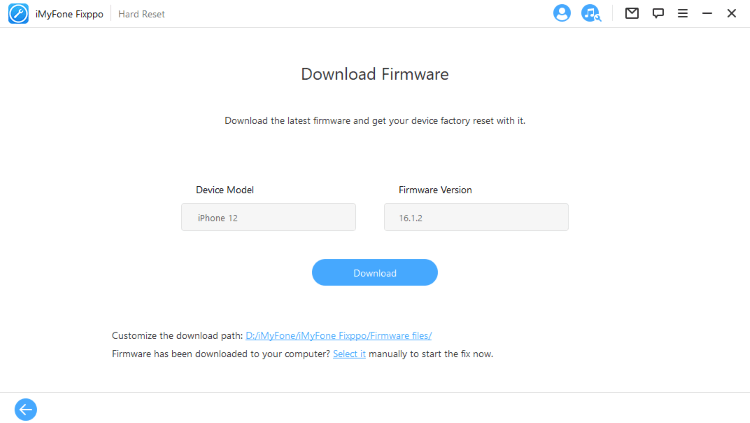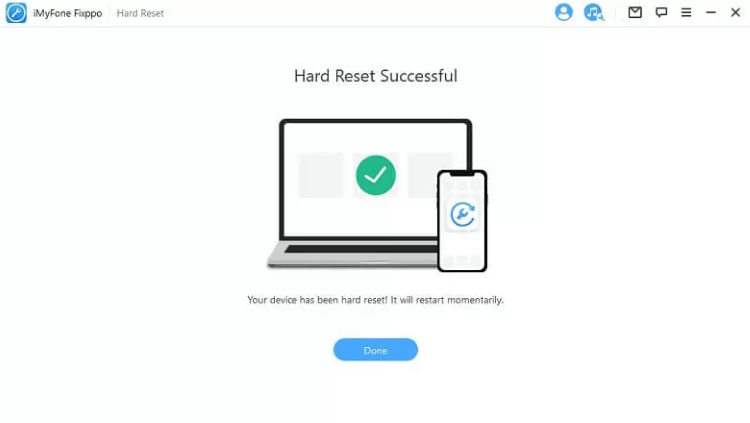 When the process is completed, your device should be fully reset without having a passcode. Now you can set up as a new device.
4.2 Factory Reset iPhone in Settings
To hard reset iPhone, you can also do that directly from settings. In this case, you should be able to remember your iPhone passcode and make a back up in advance.
Go to Settings>General>Transfer or Reset iPhone>Erase All Content and Settings. Enter the passcode to begin erase all data on iPhone.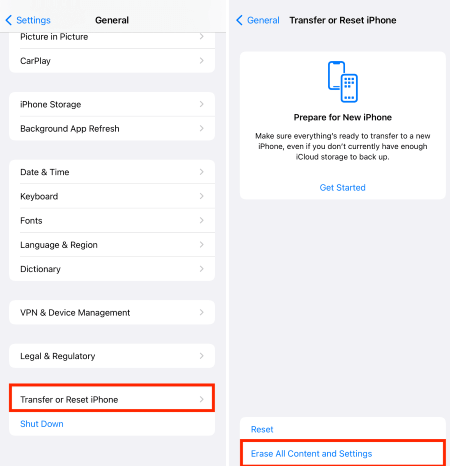 4.3 Hard Reset iPhone via iTunes
As usual, you can learn how to hard reset your iPhone by using iTunes. However, there may be breakdown during the process, if you want to try this method, please make sure to follow the steps correctly:
1: Connect your iPhone to the computer and open iTunes of the latest version.
2: When your device is dected, which won't be long, tap on the phone icon appears on the screen, then tap the Summary option.
3: Then you can see two options on the screen , you can choose whether to update or restore. In this case, you should choose Restore.
4: After that, keep moving on by tapping to confirm more information. Then iTunes will start to download the firmware, wait for it to complete and begin the process.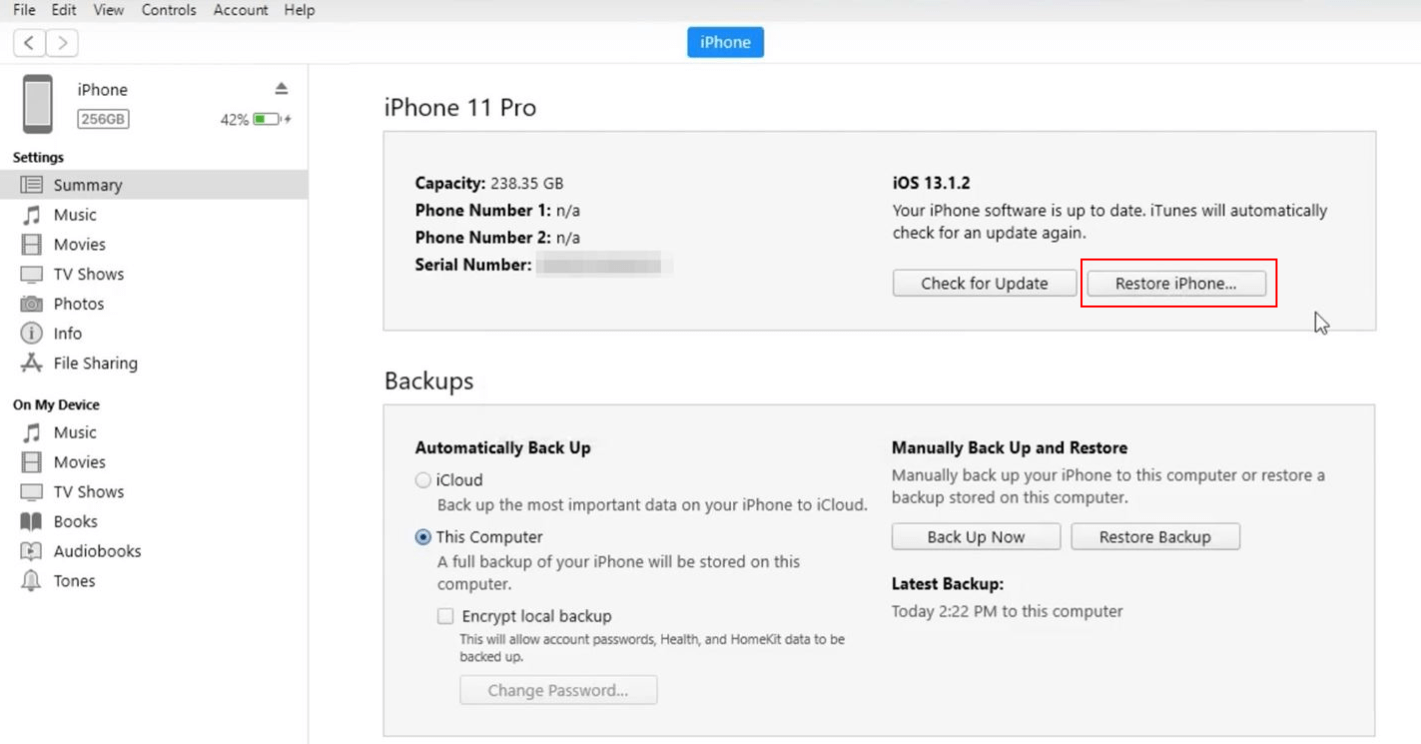 4.4 Hard Reset iPhone in iCloud
If you still want to factory reset locked iPhone without iTunes, try to do that by using iCloud. Though it's not hard to perform this operation, there is one requirement: the Find my iPhone feature must be enabled. If everything is ok with you, follow steps below:
1: Connect your iPhone to the computer and go to iCloud.com.
2: Log in to your Apple ID and passcode, then click on the Find iPhone option.
3: Select All Devices' Info window on the top and choose the device you want to hard reset.
4: Tap Erase iPhone. For verification it will ask for your Apple ID password. You can also answer security questions if you are using a trusted PC, or you can enter the verification code sent to your other Apple device.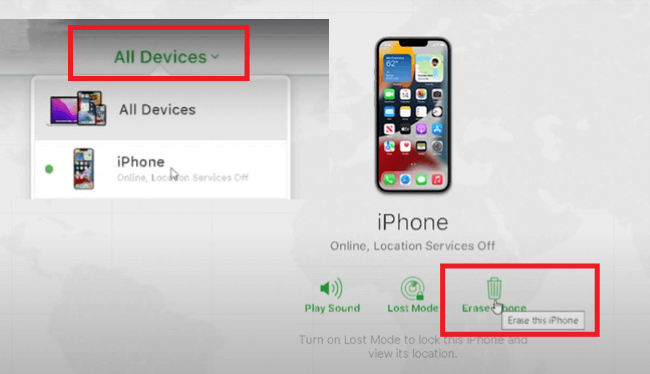 4.5 Hard Factory Reset iPhone without Computer
Here is the last solution you can get help from if you don't have a PC to achieve this factory reset operation. You can make it happen through Find My app on your alternative iPhone.
One thing you need to pay attention to is that: If your wait-to-be-reset iPhone is locked, which is often the case, please insert the SIM card to this alternative iPhone so that you can get the verification code needed later. Now, let's see how to perform factory reset on iPhone with Find My app:
1: Open the Find My app on the other iPhone and click on Go To Settings to log in with the Apple ID and the password of your locked iPhone.
2: Once you're finished, click Next, enter the verification code sent to your another phone then wait for your iPhone to sign into iCloud.
3: Go back to the Find My app, click on your locked iPhone. Scroll down to find Erase This Device option. Click continue, and then the Erase option. Enter your Apple ID password again and click erase.
4: After that, please wait patiently for it to hard factory reset your iPhone to its original state.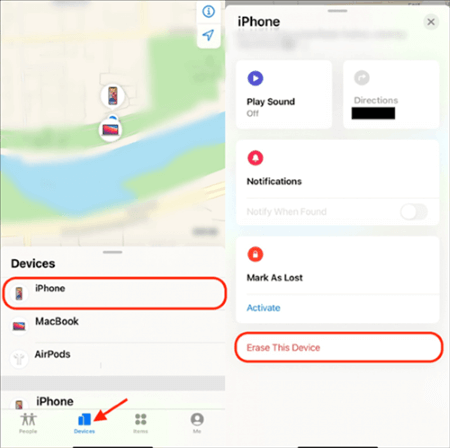 Conclusion
We hope this article can help you understand more about when and how to reset iPhone by using different methods. If you are looking for a tool that can guide you to factory reset iPhone without password/iTunes/alternative device, you must try iMyFone Fixppo. With Fixppo, you can reset iPhone to factory settings without hassle, try it now!
Limited Time 10% OFF Coupon Code for iMyFone Fixppo:YTR5E7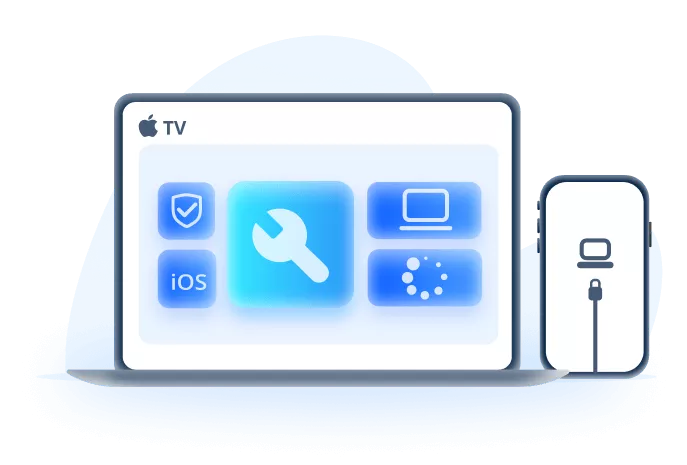 iMyFone Fixppo Key Features:
Fixes iPhone problems like iPhone stuck on hello screen or top of iPhone screen not working.
iOS issues can be dealt with easily with all your data remain intact.
You can reset iPhone to factory settings if you want to sell it.
It's beginner-friendly that requires no special skills.