iPhone Stuck on the Apple Logo with Loading Bar, How to Fix?
Category: iPhone Issues
8 mins read
I recently updated my iPhone 7 to iOS 16 and now it's stuck on the Apple logo with a progress bar which fills nearly the end but freezes just as it's about to complete. I have more than 5000 photos on my phone. I cannot lose them. Can anyone help?
An iPhone stuck on update bar is quite common. The problem can occur when you update your iOS version, no matter you are updating your iDevice to the newest iOS 16 or other verison.
Sometimes, the Apple logo with a progress bar or loading bar also appears when you restore the iPhone. The good news is, such problems like the iPhone update bar not moving or your iPhone stuck on the Apple logo with the loading bar after restoring can be fixed with the methods mentioned in this article.
1. Charge iPhone to Fix iPhone Stuck on Update Bar
As the number and size of files can affect the progress bar, it will look like that your iPhone is stuck on Apple logo with loading bar if you have lots of data on your phone, and it will consume extremely high power. Therefore, it is a good idea to connect the device to a power source and leave it there for a longer time. Chances are that your iPhone is stuck on update bar because of the low battery.
To check whether your iPhone has low power when it is stuck on apple logo with loading bar, you can press any button on the device to see if there is updating massage like "iPhone will restart when update completes". If this message pops up, charing your iPhone can solve this problem easily.
If the progress bar remains on the screen for too long (over an hour) you can try next solution.
2. Force Restart iPhone to Fix iPhone Stuck on Apple Logo with a Loading Bar
Force restarting iPhone is one of the most general way to fix the iOS issues. In some cases, this method works perfectly and save those malfunctioning iPhone in a simple way. And you can follow the steps below or watch the video to perform a force restart on your iPhone.
For iPhone 8 or later models (including iPhone 12/11/X):
Quickly press and release the Volume Up button and then Volume Down button. Finally press and hold the Side button until you see the apple logo.
For iPhone 7/7 Plus:
Press and hold the Volume Down button and Side button altogether. Don't release them until the apple logo appears on the screen.
For iPhone 6 or earlier models:
Press and hold the Home button and Side button at the same time. Let them go when you see the apple logo.
3. Fix iPhone Stuck on Update Bar via a Third-party Tool (No Data Loss)
If your iPhone never bypasses the Apple logo with loading bar after several hours, then it cannot finish the process by itself and there might be something wrong with the software on your iOS devices.
That's why you need a system repair tool to install the firmware in a proper way and repair the iOS system. For this purpose, we recommend you to use the iMyFone Fixppo iOS repair tool which is a comprehensive solution that can help you fix all issues that may affect your iDevice (iOS 16 and iPhone 14 included). Besides, if you unfortunately forgot your iPhone's password, Fixppo can help you reset iPhone without password under personal use.
All the data on your device will be kept after the fix.
A 100% success rate is promised to fix all the system issues.
Compatible with all iOS devices and iOS versions (including iPhone 14 and iOS 16).
Easy to use and highly effective in system repair.
Limited Time 10% OFF Coupon Code for iMyFone Fixppo: FARTT91
The following is a step-by-step guide to help you use Fixppo to get your device out of the Apple logo with update bar. And you should download and install the program to your computer in the very beginning.
Step 1: Launch the software and select the "Standard Mode" on the main interface. After that, connect the iPhone to the computer and hit "Next".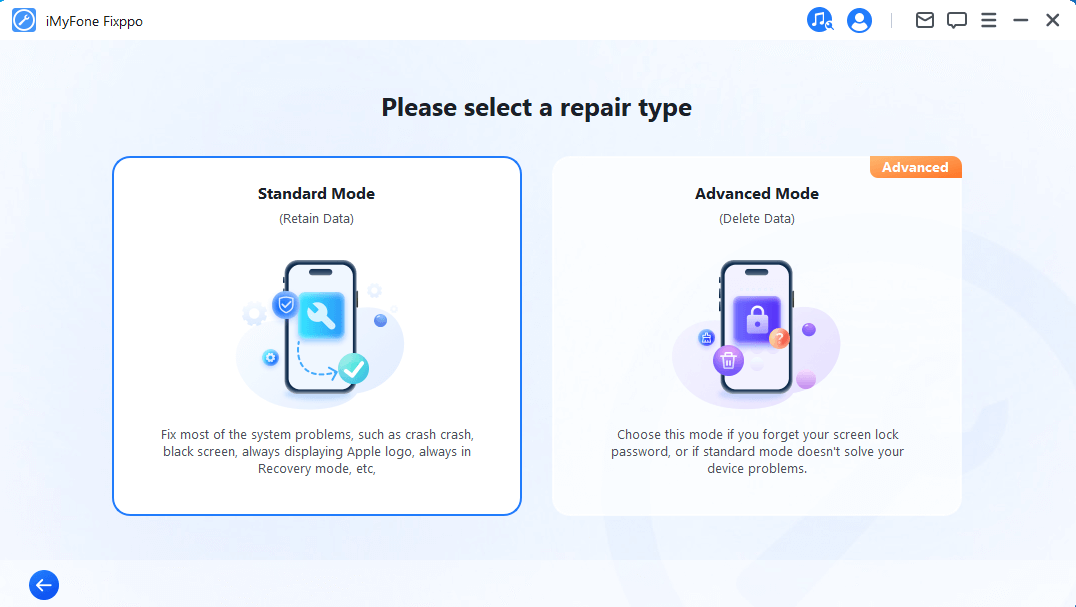 Then the program will prompt you to put the device in DFU mode. Click "Start" and then follow the on-screen instructions to put the device in DFU mode. If you are unable to put the device in DFU mode, the program will guide you to put it in Recovery mode.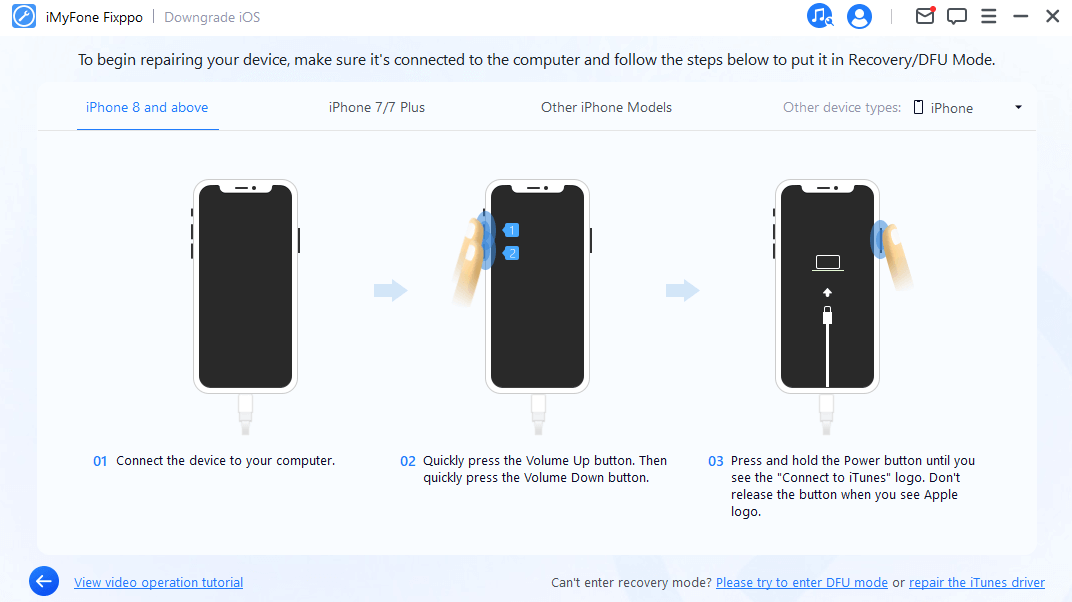 Step 2: Once the device is in recovery mode or DFU mode, you need to download the firmware that corresponds with your device. The program will show you all the suitable versions. Simply choose a version and click "Download" to download the firmware.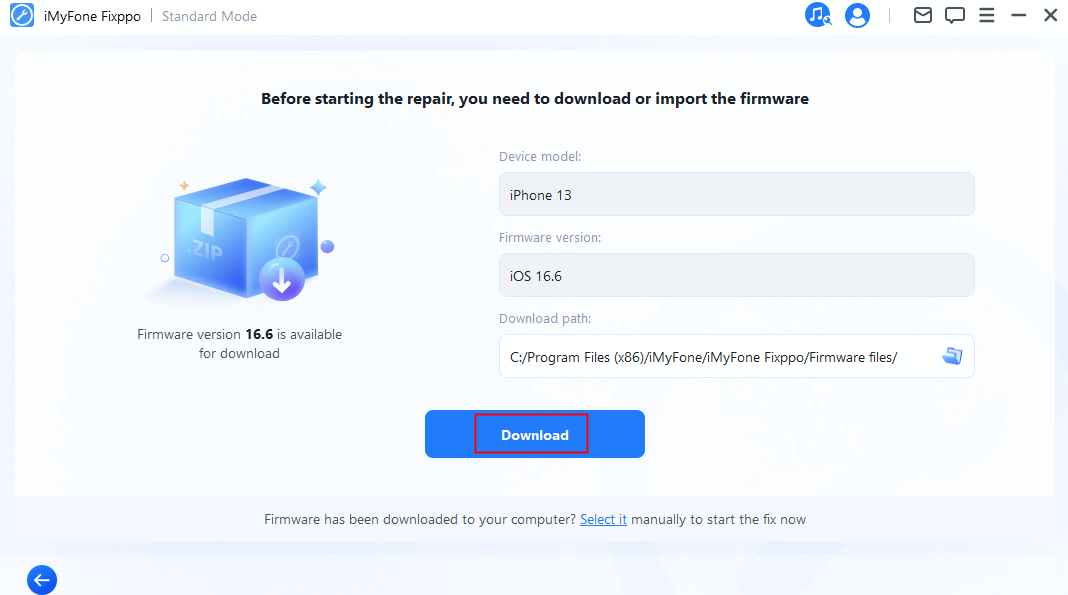 Step 3: After the firmware download is complete, click "Start" and the program will begin fixing the device. The whole process will take no more than a few minutes and your device will go back to normal. All your data will be kept.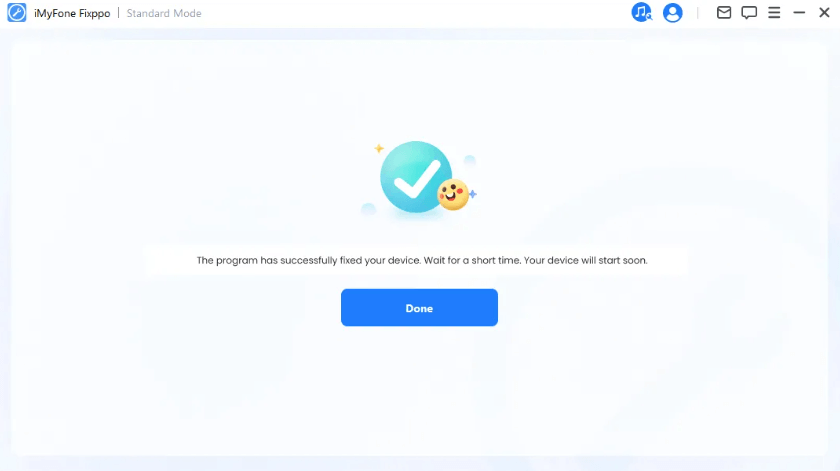 It can not only fix the iPhone stuck on Apple logo with loading bar (also known as update bar or progress bar), but also repair the devices stuck on the Apple logo, black/white screen, flashing Apple logo, and even a device that is stuck in DFU/recovery mode. For its positive results, it wins good feedback from users. If you have the same problem, download Fixppo to have a try now.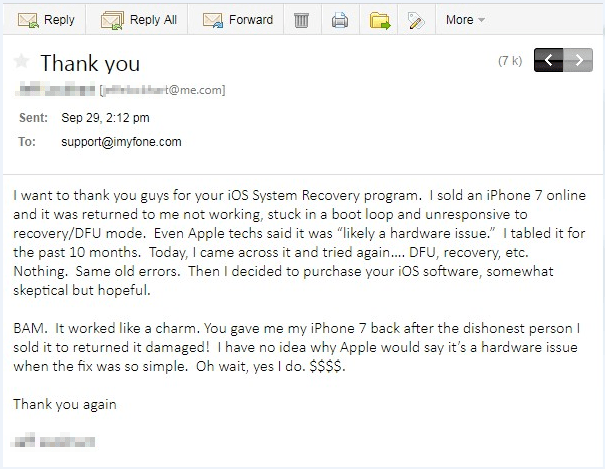 4. Restore iPhone with DFU/Recovery Mode via iTunes to Fix iPhone Update Bar Not Moving (Data Loss)
Another way to fix the iPhone stuck on the update bar is to put it in DFU/recovery mode and restore it. This will erase everything on your iPhone. Please think twice before you try this method. And if you have backed up your iPhone before, you can restore the previous backup to reduce the data loss.
If you update or restore the iPhone via iTunes/Finder and then the iPhone gets stuck on update bar, you can configure sync options, and you can sync content, the process is complete. Leave your device connected to your computer and wait for the migration process to finish.
Here is how to restore iPhone with DFU/recovery mode via iTunes.
Step 1: Connect the iPhone to the computer and launch iTunes (Make sure your iTunes is up to date); if you are using Mac running macOS Catalina and above, just open Finder.
Step 2: Put your iPhone into DFU/recovery mode. You can follow the detailed steps in this video.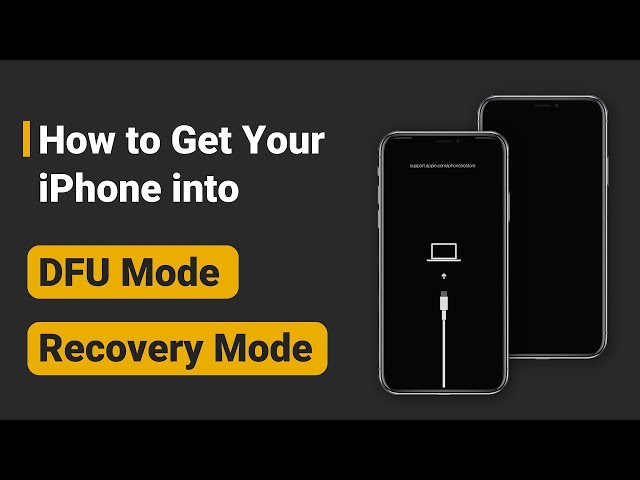 Step 3:
After entering DFU mode, a window will pop up on iTunes/Finder screen to let you restore your iPhone. Click "OK" and then "Restore iPhone" to restore your iPhone to factory settings. After the process is complete, the device should be back to normal.
If you put your device into recovery mode, then you can see two buttons on the screen, choose "Restore" and wait for about half an hour.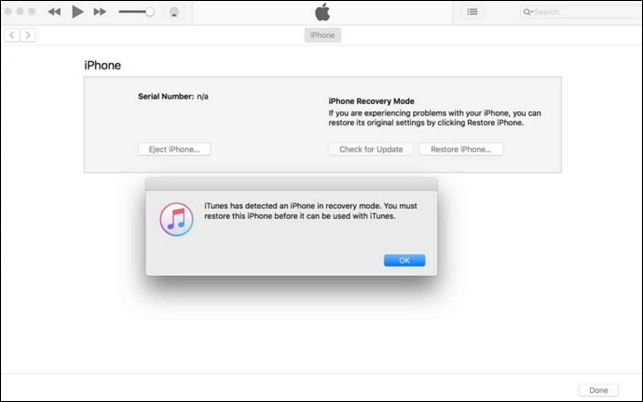 After your iPhone bypasses the apple logo with update bar, you can restore the latest backup via iTunes.
Conclusion
If you don't want to lose your data or have no backup before, we recommend you to use iMyFone Fixppo (iOS 16 and iPhone 14 supported). It applies different technology from iTunes which can avoid many iTunes errors. It is also a trustworthy tool recommended by many famous websites around the world.

If you know any other solutions to fix iPhone update/loading/progress bar not moving, feel free to leave a comment below. And if you want to explore more solutions for iPhone update issues such as death of black screen, this article will help you a lot in any case.