iMyFone Fixppo
Help to get rid of iPhone stuck on Hello screen in 4 clicks.
Question
Hi, I got a brand new iPhone 14 which was updated to iOS 16. I tried restoring it with a recent backup of my old iPhone X. But the iPhone got stuck on "Hello" screen loop overnight and it happens to be a never-ending vicious loop. Any ideas about how to fix this?
It's true that many users have come across this problem when they try to restore their iPhone data from iTunes but found their iPhone stuck on Hello screen. And the brand new iPhone 14 is no exception. I've run into this problem once and know how sad and terrifying it can be. And the good news is there remain several solutions that you can try. Keep reading this article to put a stop on this annoying loop with the most effective methods.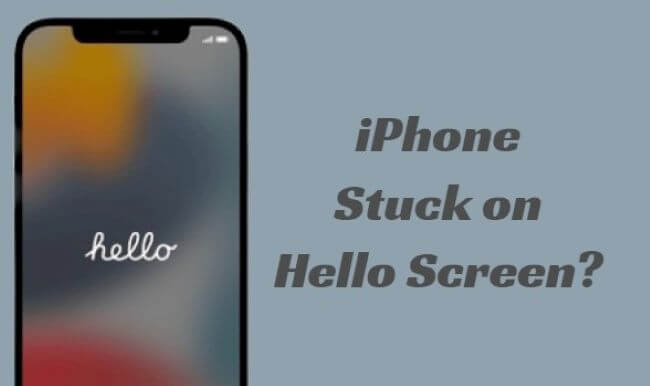 There are 8 ways to fix the iPhone stuck on Hello screen issue and three of them are related to using the iTunes. In order to give you a clear and brief understanding of them, we will provide a comparison table.
1. Recharge Your iPhone until the Battery Runs Out
While the iPhone is stuck on Hello screen, the first thing you can to is to wait until the battery dies completely. And when you notice that your device is turned off automatically, try plugging in your device to a power source to recharge it. Wait for a while and check if your iPhone is stuck on Hello screen or not.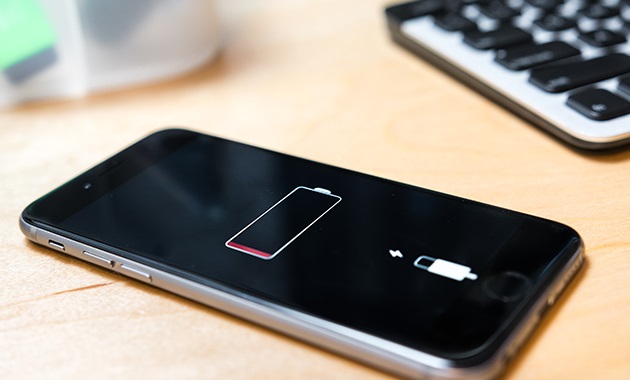 ---
2. Remove the SIM Card and Re-insert
If your iPhone is still stuck at Hello screen, you can try to remove the SIM card, through which your iPhone is given a chance to retrieve signal and get back to the interface. After the SIM card is removed, close your iPhone, re-insert it back to the slot and reboot your iPhone.
Since it's said to be working for many customers, you should try it as well. But if it fails to perform, you can keep reading with other useful solutions luckily.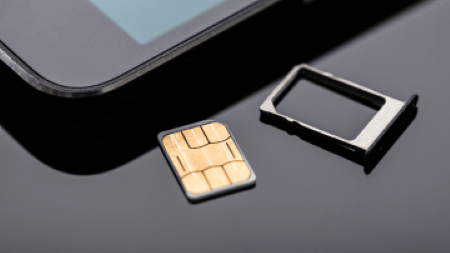 ---
3. Force Restart iPhone
When your iPhone stuck on Hello screen, you can simply force restart your device and give a new start to it. This will most probably resolve your issue. To do this, follow the detailed tutorial mentioned below.
iPhone 6 or earlier:
Keep the Power key and the Home key down for about 8-10 seconds till you see the Apple logo on your screen.
iPhone 7/7 Plus:
Keep the Volume Down and Power key holding for nearly 8-10 seconds till you see the Apple logo on your screen.
iPhone 8/X/11/12/13/14:
Hit the Volume Up key, repeat the same with Volume Down key and then hold down the Power key until you get to see the Apple logo.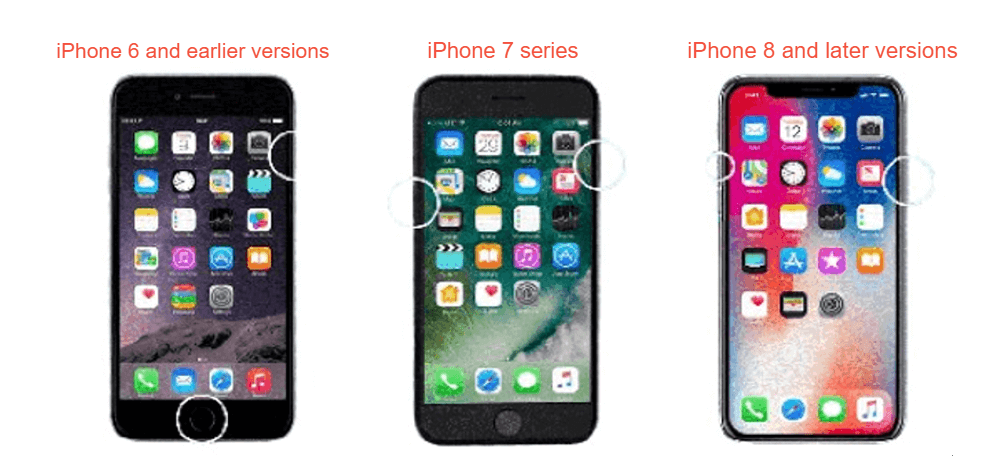 ---
4. Bypass Hello Screen on iPhone without Data Loss
In case you find the above three simple methods not useful to you, the best choice that you can have in such a case will be iMyFone Fixppo iOS System Repair, which promises to fix you iPhone stuck on Hello screen problem without any data loss in 4 steps.
Key features of iMyFone Fixppo:
4 steps to fix your iPhone problem without data loss.
Allow to enter Recovery Mode for free needed for fixing the iOS problem whether via Fixppo or iTunes.
Support all iPhone devices (iPhone 14 included) and all iOS versions (the iOS 16 included).
Fix almost all iPhone issues you would meet in the daily life with 99% success rate.
A better alternative to iTunes in restoring or resetting iPhone.
How to Fix iPhone Stuck on Hello Screen issue via iMyFone Fixppo
Step 1: Launch iMyFone Fixppo
Install iMyFone Fixppo to your computer. Open it and choose its Standard Mode. Then connect it to the computer via USB.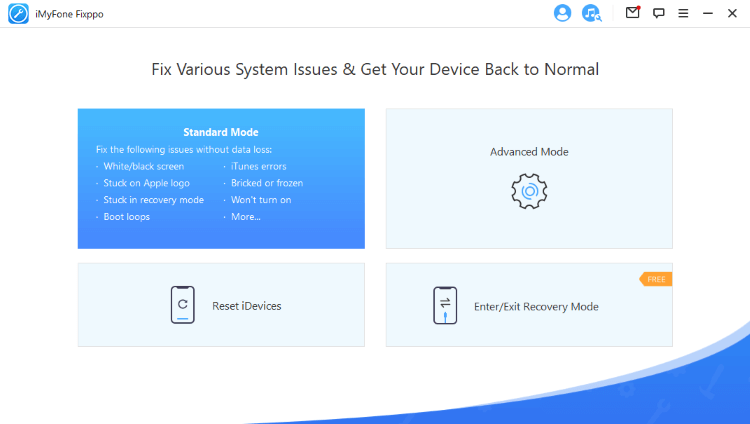 Step 2: Put iPhone into Recovery Mode
In this step, you would either be prompted to enter the next step or put your iPhone into Recovery Mode/DFU Mode first before going to the next step.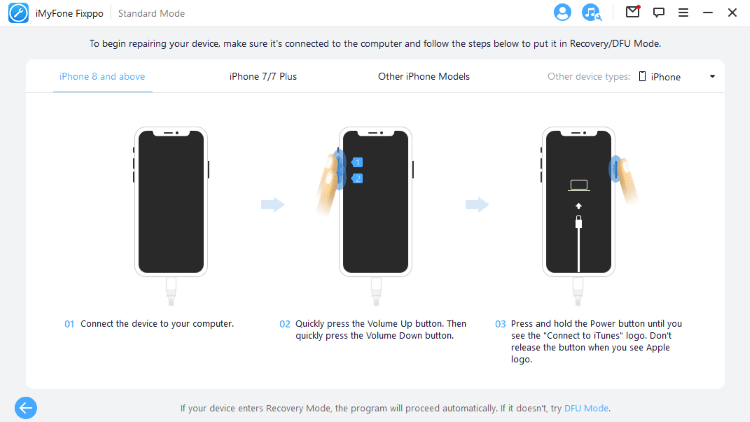 Step 3: Download firmware package
When your iPhone is in either mode successfully, you can get it detected by Fixppo with information showing up on the screen. Click on Download button to get the firmware for the device that is necessary for the fixing process.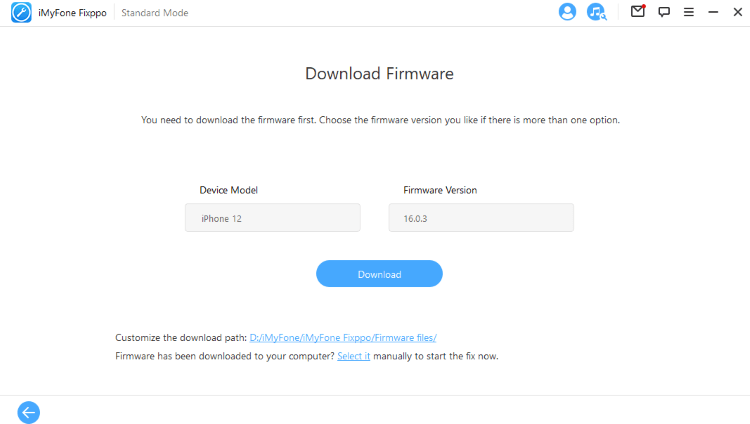 Step 4: Start to fix and finish successfully
When the firmware is downloaded, please click on Start button to let your device go through the repairing process, which will take you only a few minutes. After that, you can see that your iPhone is no longer stuck at Hello screen.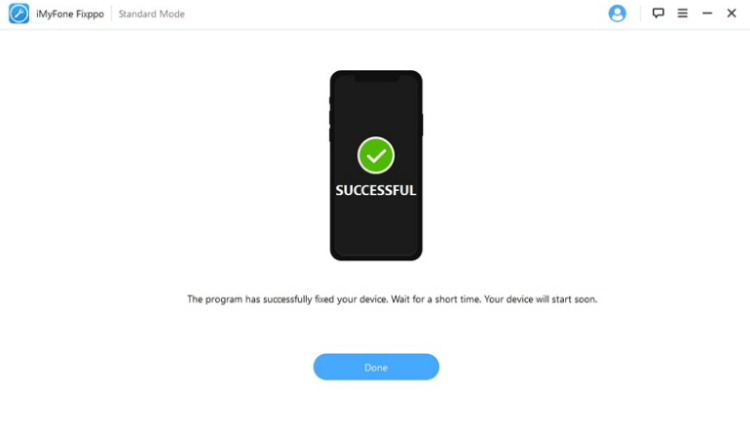 People Also Ask:
How do I bypass the Hello screen without the home button?
If the home button is fine but only your iPhone stuck on Hello screen, you are supposed to depend on Fixppo.
If the home button is broken, it should be hard for you to perform many methods. In this case, you can try Fixppo to enter the recovery mode required in many fixes for free. After that, you can begin to fix the Hello screen problem and get your home button fixed later.
---
5. Restore iPhone via iTunes (Erase iPhone)
Here I offer 3 other methods that should work to help you get out of this iPhone stuck on Hello screen problem. All these 3 methods rely on iTunes, so download iTunes to your computer first is the first step. However, please note that these 3 will result in erasing everything from your device, unlike the above methods.
1. Connect your device to the computer and open iTunes.
2. Click on the iPhone icon on the screen, and hit the Summary option.
3. Your device's info will now be shown, click on the Restore iPhone.
4. You now should click to confirm other information, after that, iTunes will begin to restore your iPhone and clear all data from your device.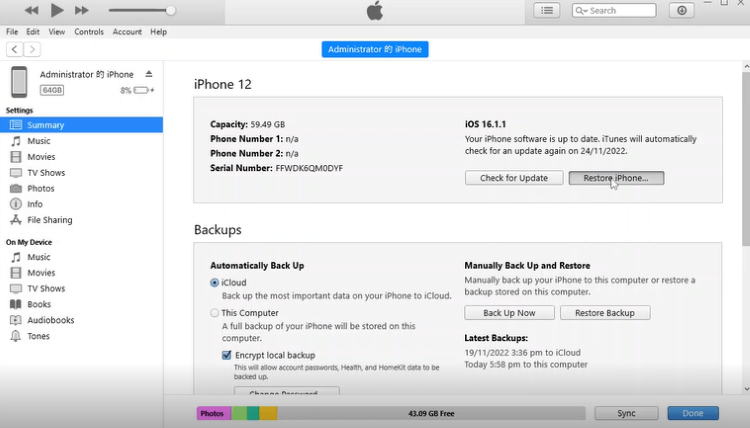 ---
6. Enter Recovery Mode to Restore iPhone
Watch this video on how to put your iPhone into Recovery Mode/DFU Mode first.
Since restoring the device using iTunes can be helpful to solve many problems, you can also follow this tip when iPhone stuck on Hello screen no matter your phone is running iOS 16 or earlier versions.
1. Open iTunes in your PC and connect your device via a lightning cable.
2. Now, you may follow to get your device into Recovery Mode, which can be realized by following steps in the third part: Force Restart iPhone. However, remember to keep holding the Side button and release it when you see the Connect to iTunes logo rather than the Apple logo.
3. Then iTunes will recognize your device and you should choose Restore option but not Update to begin to fix your iPhone.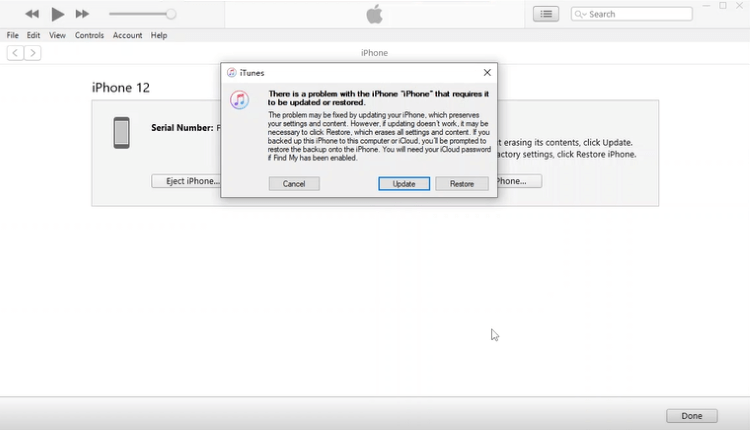 ---
7. Use DFU Mode to Restore iPhone to Factory Settings
If the Recovery Mode fails to help you out, you can enter DFU Mode - the advanced way to use iTunes and get rid of this iPhone stuck on Hello screen problem.
1. Likewise, use a lightning to estabish connection between your iPhone and computer, then open iTunes.
2. Now, get your device into DFU Mode. Press and release the Volume Up and Down button, then press the Side button until the screen goes black. Then press the Volume Down button at the same time for 5 seconds or so, release the Side button and hold the Volume Down button for another 5 seconds.
3. If you see the Apple logo, it means you're holding the button for too long and you should retry. Then you can follow the procedures introduced in the last part to fix the Hello screen issue.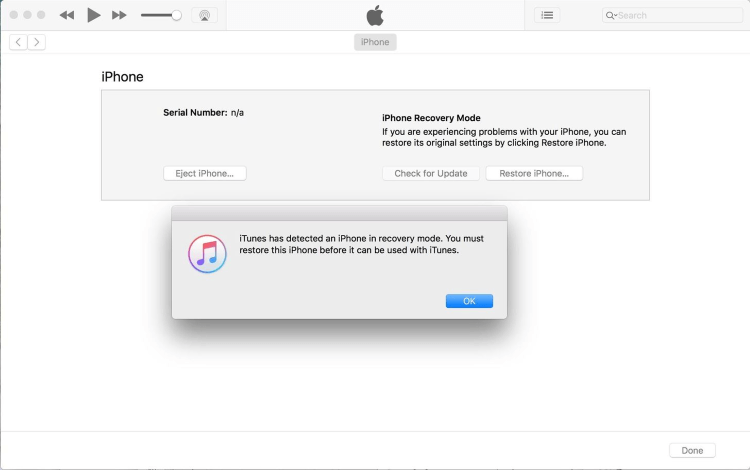 With the instruction, you should enter DFU Mode now, but if it's not working, see the guide >>.
---
8. Contact Apple Support
If you've tried the above methods, I'm sure you don't have to go through this solution. But if you should meed, you can also contact the official and detail your problem to them by going to the App Store, which can be more time-consuming and cost more.
However, if you prefer this way, don't remember to book an appointment first before heading to the team and get your iPhone fixed.
Conclusion
Now you may have totally understood the pros and cons of the above 8 methods. We really hope you can choose a suitable and effective way to solve the iPhone stuck at Hello screen issue quickly and safely. And don't forget to try iMyFone Fixppo, the real time and money-saver in this iPhone problem.