Screen locks on smartphones and devices are an essential feature to keep it secure and to prevent unauthorized access. However, what happens when someone forgot Android Pin? It might make you panic but don't distress as there are solutions to regain access to your device even if you forgot the Pin.
Here are the best solutions to help you in case you forgot Android Pin and to show you how to easily unlock your device.
Part 1: Best Solution – Unlock with iMyFone LockWiper (Android)
iMyFone LockWiper (Android) Screen Lock Removal Tool is the best tool available to unlock your device in case you have forgotten the Android Pin.
The essential feature of the software is that it can unlock the device for which you forgot Android PIN in a few simple steps and just 5 minutes. It's reliability and success rate in unlocking the device makes it the best solution. The interface is easy to use, cost-effective and 100% secure.
Features of iMyFone LockWiper (Android)
Supports All Kinds of Screen Locks – It helps to remove PIN, password, pattern, fingerprint and face lock.
Supports 6000+ Android Devices –  Samsung, LG, Huawei, Motorola etc.  phones and devices.
Easy to Use - This software is user-friendly and easy to use. No any tech knowledge required.
Suitable for Various Situation – when you forgot password, enter wrong password too many times, etc.
Steps to Unlock Android Screen PIN
Step 1: Launch iMyFone LockWiper (Android) on your PC and click Start to begin.

Step 2: After connect your device to it, it will automatically load your device information. Confirm you device information on the screen and click Start Unlock.

Step 3: Wait a few minutes to download and send the data package to your device. 

Step 4: Reset your device by following the instructions on the screen.

Step 5: Wait a few second to remove the screen lock.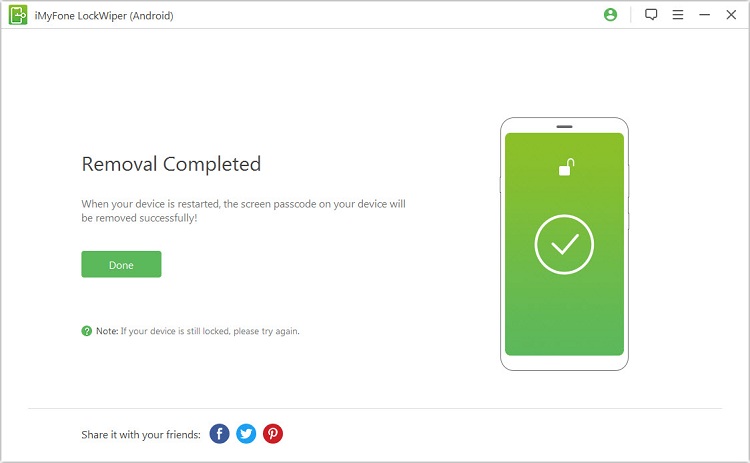 It's easy than you think to remove a forgotten Android PIN on your device and you can now use it without PIN. You can also check here to get the full guide and know more about this tool.
---
Part 2: Other Helpful Solutions When You Forgot Android PIN 
Every person using a smartphone ensures that the device is always locked to keep all the personal data protected. The most widely used method of protecting the device is screen lock by Pin. As these days everything has a password it is very likely to forget it, and sometimes it happens with the devices too, and you simply forgot Android Pin. What do you do? There are other helpful solutions as well for you try in case you forgot Android PIN.
1. Try to Find My Device (Android 5.0 and later)
Earlier Google's Find My Device web application was an easy solution for users to change the lock screen PIN. However, with stricter security by Google, this solution is no longer available to change the PIN in Android 5.0 and later. Unfortunately, this means that there is no in-built method to reset the PIN or to unlock the device.
For Samsung users, it is still a possibility if you have registered your device with Samsung Account. By using the Samsung Find My Mobile feature, you can reset the screen lock PIN.
Steps to unlock Android PIN with Find My Device
Step1: Go to Samsung's Find My Mobile website. Enter the linked Samsung account credentials to sign-in.
Step2: Choose your Samsung phone from the list devices.
Step3: It will pop-up the unlock device screen remotely.
Step4: Agree and click on the "Unlock" button again.
Step5: Wait for a while as the device unlocks remotely.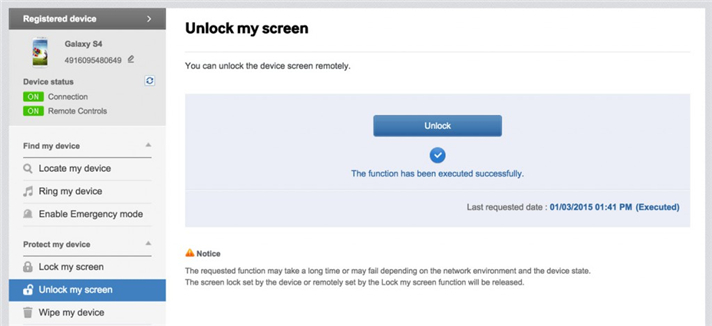 ---
2. Try Google Account
When you forgot Android PIN, you can try unlocking the device using Google Account. This feature is available for Android 4.0 or older versions and is only possible when you remember your Google Account credentials.
Steps to unlock Android PIN with Google Account
Step1: On the Android device enter a wrong PIN five times.
Step2: On-Screen tap on "Forgot Password" option.
Step3: It will take you to the screen to add your Google account username and password.
Step4: Sign-In and choose a new password and unlock your device.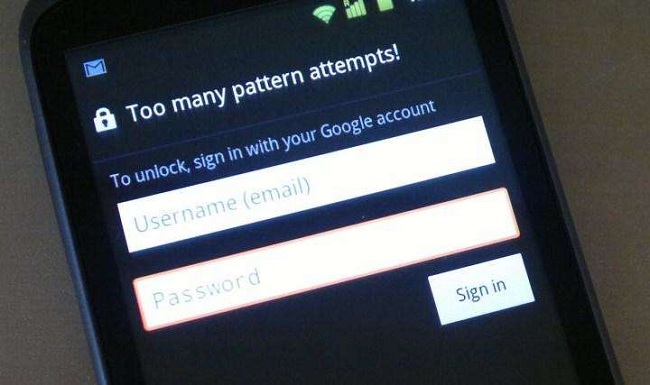 ---
3. Using Factory Reset
When all else fails, the last resort is Factory Reset to unlock screen lock PIN from Android device. Restoring the factory settings is a universal method and can prove to be helpful in the event when you forgot Android PIN.
However, this method should be used as the last option only after everything else has failed because with this there is a chance of data loss that's not synced to Google Account.
Steps to unlock Android PIN with Factory Reset
Step1: Turn off the Android device by long pressing the Power Key.
Step2: Now press the Volume Keys and Power buttons to enter the recovery mode.
Step3: When in Recovery Mode use the Volume Keys to scroll to the "wipe data/factory reset" option and then using Power key select this option.
Step4: Confirm your selection by selection "Yes."
Step5: Wait for a few seconds as the device goes into factory reset mode and reboots.
Step6: Once the phone is powered on, go to settings and set a new PIN for your Android device.
Note: Different Android devices may have different step to put it into recovery mode.
---
Conclusion
If you were ever in a situation when you forgot Android PIN for your device, it is recommended to use iMyFone LockWiper (Android) screen lock removal tool to remove Android screen lock PIN. It is the easiest, fastest and safest tool available that not only unlocks the device but also provides complete data protection and safety. It is the best solution out of all detailed above.