The lock feature on your phone is designed to add security and privacy to you as a user. However, for some reasons like forgetting your PIN or password, you may be locked out of your phone and you may find ways on how to bypass the lock screen. If you are constantly asking yourself "What should I do if I locked myself out of my phone?", this article will provide 4 solutions to your problem and some preventive tips to help you deal with such situation.
Part 1: What to Do When I Locked Myself Out of My Phone?
In response to the problem of "I Locked Myself Out of My Phone", we have collected 4 methods to solve this problem. After trial, all these methods have been proved to be very effective. The following are detailed operating instructions.
1

Break into the Locked Phone with iMyFone LockWiper (Android)
---
The iMyFone LockWiper (Android) Phone Unlock Tool  is a tool that can help you access your locked Android device in case you were locked out and you cannot bypass the lock screen. The professional Android phone unlocking software enables you to access the locked phone without password no matter you come accross a broken screen, malfunctioning scanner, or a locked second-hand phone. The main features of this program include the following: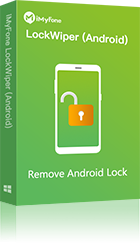 1,000,000 Downloads
Features of iMyFone LockWiper (Android)
Quick, easy, and convenient to use, enabling you to bypass your Android screen lock in less than 5 minutes.
Work on almost all Android phones and tablets, including Motorola, Lenovo, Samsung, LG, Huawei, and more.
Unlock any type of lock format, such as PIN, pattern, password, and fingerprint.
98% high success rate - provides specific unlock solution to device of specific model.
Steps of Breaking Into Locked Phone with iMyFone LockWiper (Android)
Removing the screen lock on an Android phone with iMyFone LockWiper (Android) is es easy as 1-2-3. Even technical green hands can successfully break into a locked Android phone with the powerful tool in no time.
Step 1: Download iMyFone LockWiper (Android) for free and launch the program on your computer. Choose the Remove Screen Lock mode and then click Start.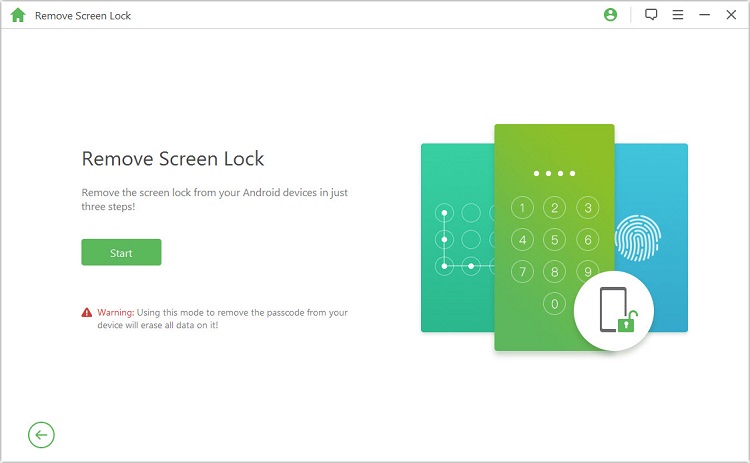 Step 2: Connect your Android phone to the computer with a USB cable. Verify the device information click Start Unlock to proceed.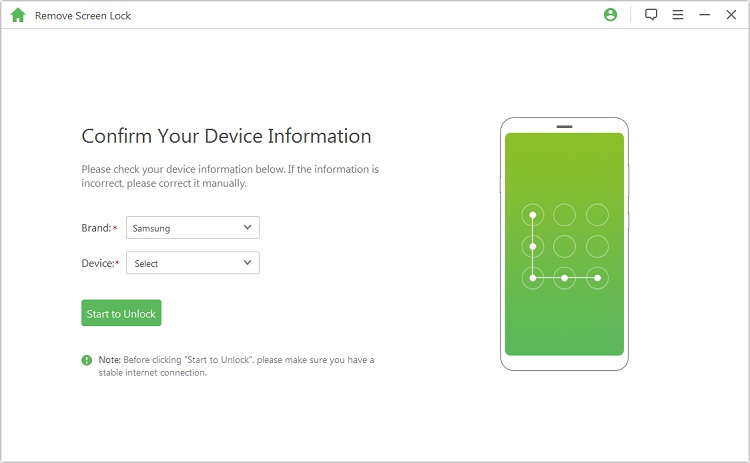 Step 3: Wait as the program downloads and sends a specific data package to your device to bypass the lock screen.
Step 4: Follow the onscreen instructions that will enable to reset your device and remove the lock screen.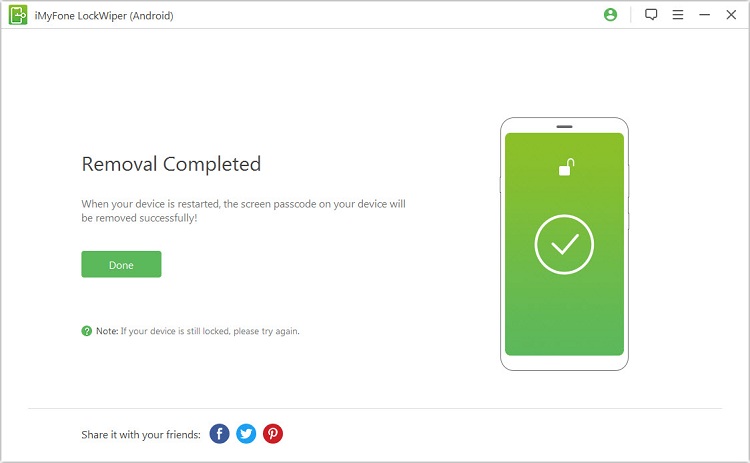 That's how easy it is. So, the next time you say, "I locked myself out of my phone," you know where to turn to!
2

Reset a Password to Unlock Your Phone by Android Device Manager
---
Another tool you can use is the Android Device Manager (ADM) in unlocking your phone when you got locked out. The ADM is a tool that enables you to remotely and temporarily access your Android phone during emergency cases. To use the ADM, follow the steps below:
Step 1: Go to the Android Device Manager website and login using the Google login details associated to your locked phone.
Step 2: Choose the device you want to unlock, You will see a confirmation box with the options: Ring, Lock, and Erase. Click Lock.
Step 3: You will be asked to enter a temporary password. Input a new password and confrrm it.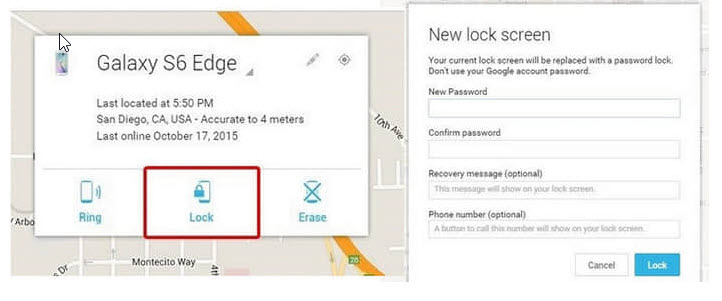 Step 4: On your Android phone's lock screen, enter the temporary password to access your phone.
Note
Before you use this approach, be sure that Android Device Manager is enabled on your locked phone and you're using the same Google login account.
3

Bypass Samsung Phone Screen Lock by Samsung Find My Mobile
---
Another solution you can take advantage of when you lock yourself out of your phone is the Samsung Find My Mobile program or its online service, especially if you are using a Samsung device. Samsung Find My Mobile is a web-based program integrated to a mobile app and designed to locate a lost or missing Samsung phone.
Step 1: Go to Samsung Find My Mobile website.
Step 2: Login to your account by using your Samsung account login details.
Step 3: Choose the device you wish to unlock from the device list.
Step 4: Click Unlock to confirm the operation to unlock the selected phone.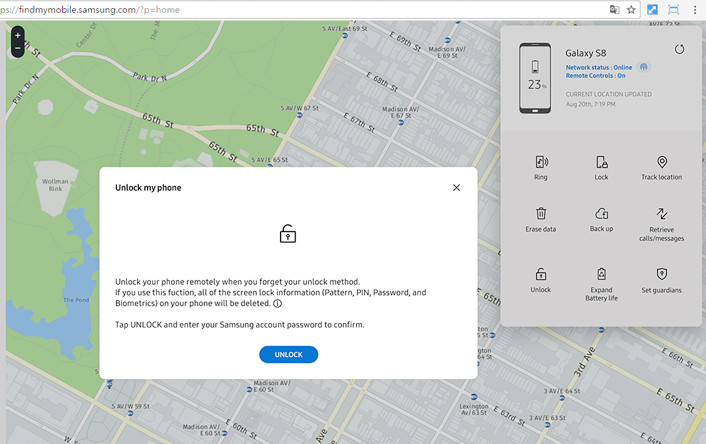 Step 5: Here you will type your Samsung account password, and then click Next. Your phone has been unlocked.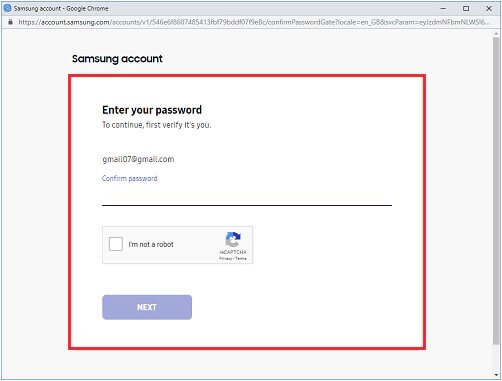 Note
You can only use this approach if you have a Samsung mobile phone and if the Find My Mobile app is enabled on your locked phone. Otherwise, this will not for your phone.
4

Reset Your Pattern Using "Forgot Pattern" - Android 4.4 or Lower Only
---
If your phone is using an Android system version of 4.4 or lower, you can use this approach to reset your pattern and access your locked device. To do this, follow the steps below:
Step 1: Try unlocking your phone several times using an incorrect pattern. This should bring up the Forgot Pattern link.
Step 2: Tap Forgot Pattern.
Step 3: Login using the Google account details associated with your phone.
Step 4: Reset the screen lock by introducing the new pattern or password.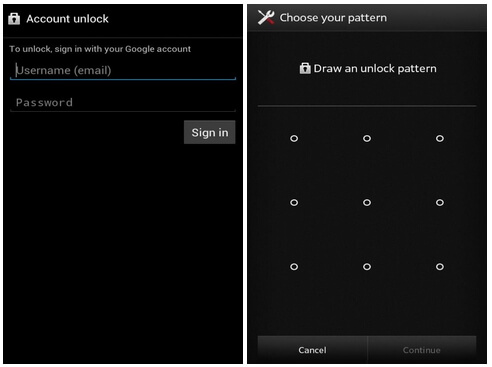 Step 5: Access your phone with the new pattern or passcode.
Note
This will only work for device running Android 4.4 and lower versions. And this method does not work for other security option like face recognition or fingerprint lock.
Part 2: What to Do to Prevent the "I Locked Myself out of My Phone" Situation in the Future?
Getting locked out of your phone is a normal situation to be in - especially if you forget your password, your mobile screen is broken, or the fingerprint scanner is malfunctioning. If you find yourself always saying, "I locked myself out of my phone," it's time to follow the preventive steps below:
Regularly back up the content of your phone, so that you'll still have access to your data.
Switch on a biometric alternative on locking your phone, such as fingerprint or face scan. You'll still need a core password to secure the phone, but it makes unlocking faster.
Use Smart Lock to have the PIN code disabled when your phone is in a trusted location or connected to a trusted Bluetooth / WiFi.
Conclusion
Getting locked out of your phone brings major inconvenience. If ever you find yourself in this situation, make sure to refer to the above solutions and choose one that will work best for you. The iMyFone LockWiper (Android) tool is the top choice of many mobile users because of its convenience and ease of use. The free trial is worth trying!