As WhatsApp is one of the most popular messaging apps in the world, it's probable that many users will have run into this issue and seeking a solution. If somehow you've deleted your messages and want them back, there are ways you can restore them to your Huawei device.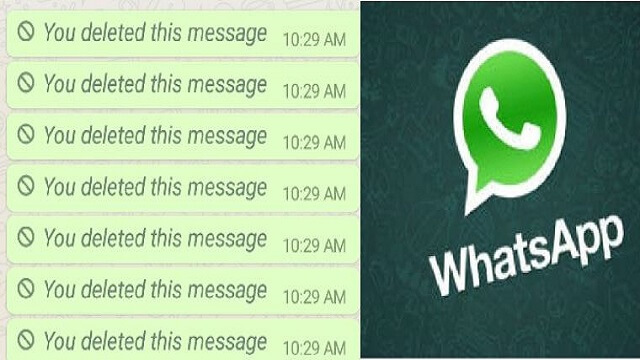 In this article, we're going to examine a few methods you can use to recover deleted messages on WhatsApp. Some of these methods require the use of the backup features on your device, while others do not. Keep reading to learn everything you need to know about how to recover deleted messages from WhatsApp on your Huawei phone.
Method 1. Retrieve Deleted WhatsApp Messages on Huawei Phones via Local Backup
If you were lucky enough to have the foresight to run backups of your WhatsApp data, then you can actually restore deleted messages by using your device's local backup. Interestingly enough, WhatsApp actually runs a backup of all your messages every day at 2am. It is to help prevent users from being unable to retrieve accidentally deleted messages and conversations.

These backups will be saved and stored on your internal storage or an SD card on your phone, if you have one. Typically, only the last seven days of messages are stored on local backups, so if you're trying to restore messages sent in the last seven days, this method will work for you.

To restore deleted messages through your local backup, follow these steps:

Step 1. Open your phone's File Manager.

Step 2. Find your internal storage or your SD card, then navigate to the folder titled WhatsApp select and open it.

Step 3. Next, select the Databases option to open the corresponding file. This is where you'll find the local backup for your WhatsApp messages.

Step 4. Tap and hold the backup that you would like to restore to your phone, then tap the three dots in the right corner to rename it. Use mgstore.db.crypt12 as the file name.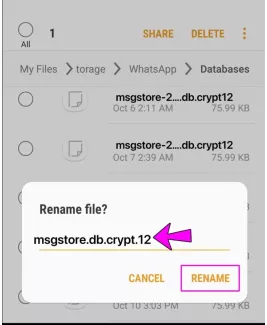 Step 5. Navigate to your phone's home screen, tap and hold on the WhatsApp app icon, then select Uninstall.
Step 6. Redownload WhatsApp to your phone and initiate start up. At some point while setting up the app, it will prompt you to restore your messages. Select the Restore option and your deleted messages will be restored.
Method 2. Recover Deleted WhatsApp Messages on Huawei Phones via Cloud Backup (Google Drive)
If you have a Google account, you can also choose to have WhatsApp backups directly to your Google Drive. This allows you to safely store your messages in a secure area that can easily be restored if needed. By using your WhatsApp backup on Google Drive, you can restore deleted messages to your device. This process is actually pretty simple and will only take a few steps to complete.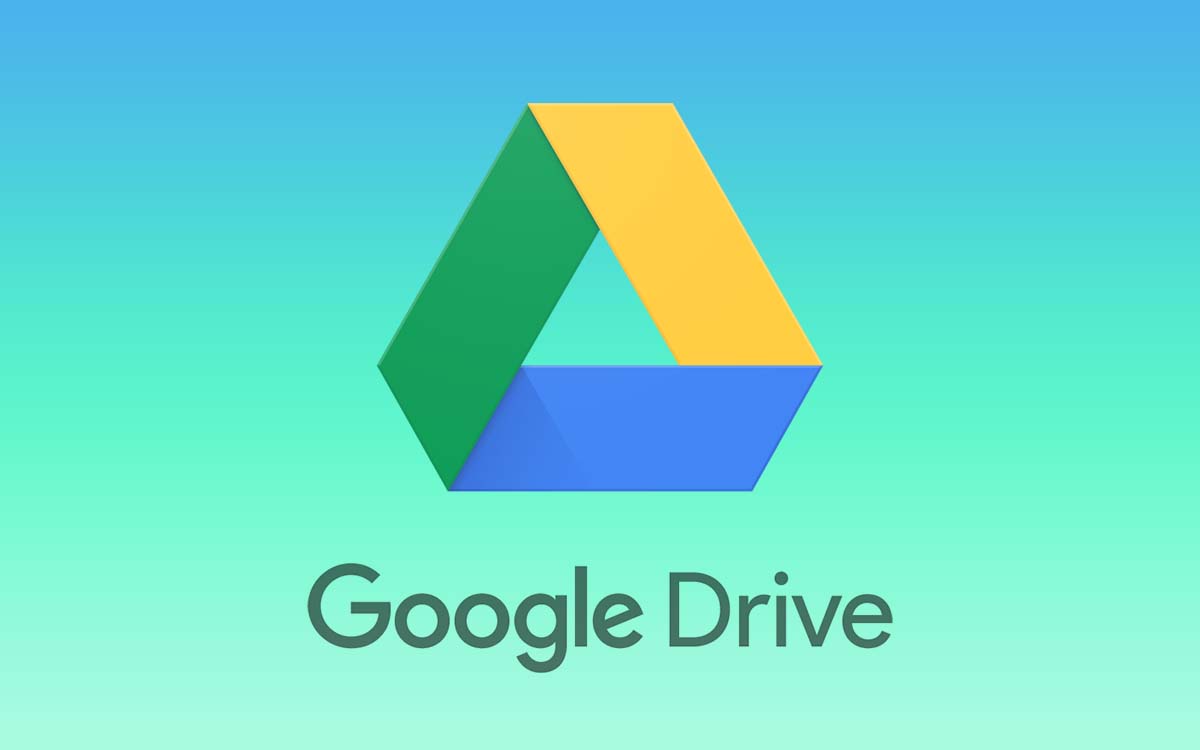 Follow these steps to do so:
Step 1. Find WhatsApp in your app drawer.
Step 2. Tap and hold on the WhatsApp app icon to pull up the options menu. Select the Uninstall option to uninstall the app.
Step 3. Next, navigate to the Google Play Store and redownload WhatsApp. After it has been installed, move to the next step.
Step 4. Upon start up, WhatsApp will ask if you want to restore your messages. Select Restore and your messages will be restored from the backup stored on your Google Drive.
Remember that you need to have made a backup of WhatsApp data to your Google Drive beforehand. This will only work if the backup was made on an Android device, not an iOS device. If you did this before, then you will be able to use this method to restore deleted messages to your Huawei phone.
Method 3. Read Deleted Messages on WhatsApp with iMyFone ChatsBack
iMyFone ChatsBack is also another way you can recover deleted messages from WhatsApp. ChatsBack is totally different from method 2, by using ChatsBack for recovering deleted WhatsApp messages, you don't need to uninstall the app.
It can also provide you the following functions:
Recover lost/deleted WhatsApp messages and attachments directly from iOS/Android device, Google Drive backup or iTunes backup.
Preview recoverable WhatsApp data before performing the final recovery.
Get deleted WhatsApp & WhatsApp Business data to iPhone/Android device and recover WhatsApp data to PC as HTML/PDF/Excel/CSV files.
Compatible with the newest iOS/Android phone models as well.
To use this app to read deleted messages, you can follow the following steps:
Step 1. Install ChatsBack on your computer and select the mode that applies to your situation.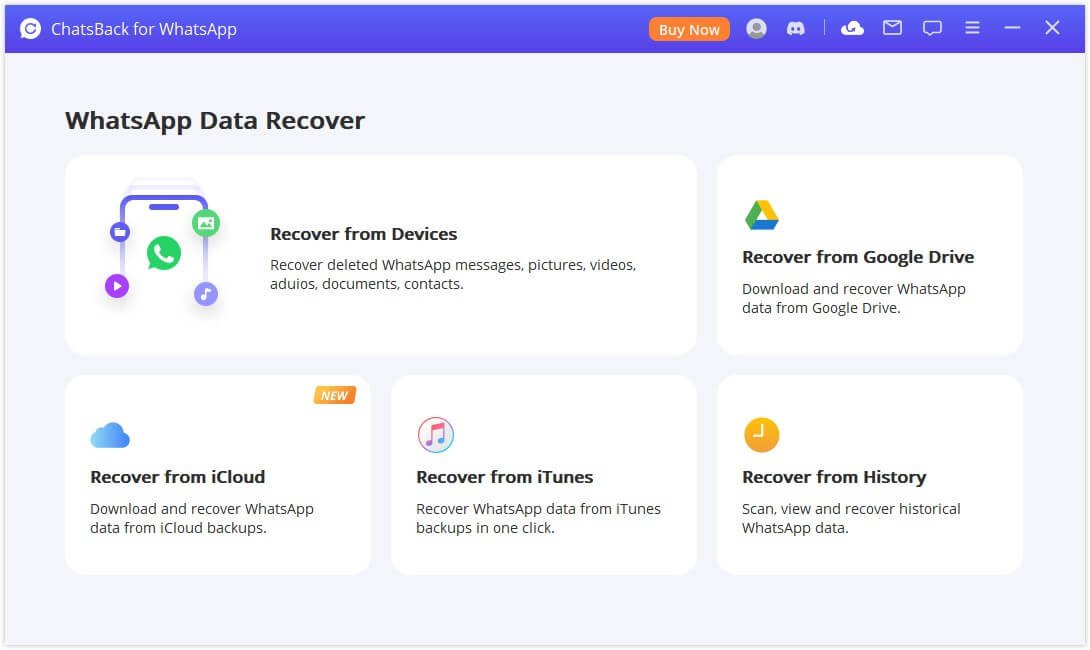 Step 2. Next, connect your device to your computer. You can do this using a USB cable. Select rust this computer when the prompt pops up.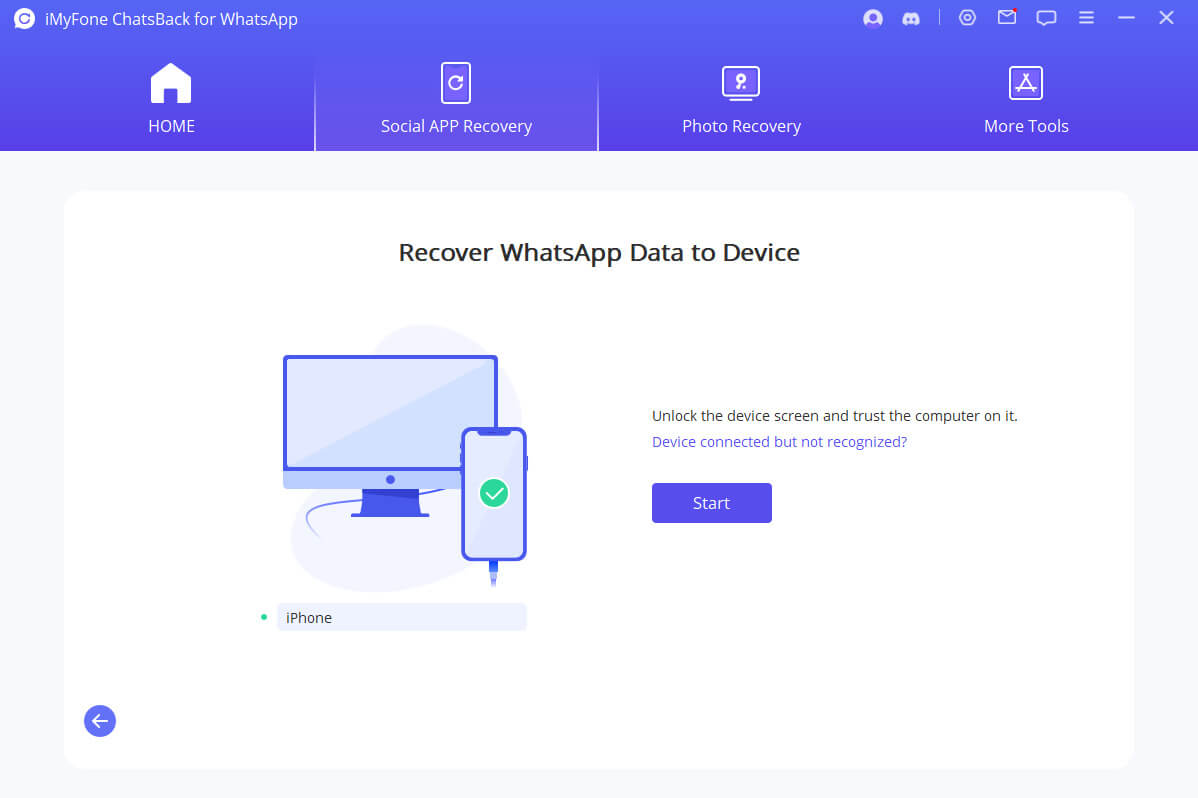 Step 3. Select the WhatsApp data type you want to recover messages from, then hit OK.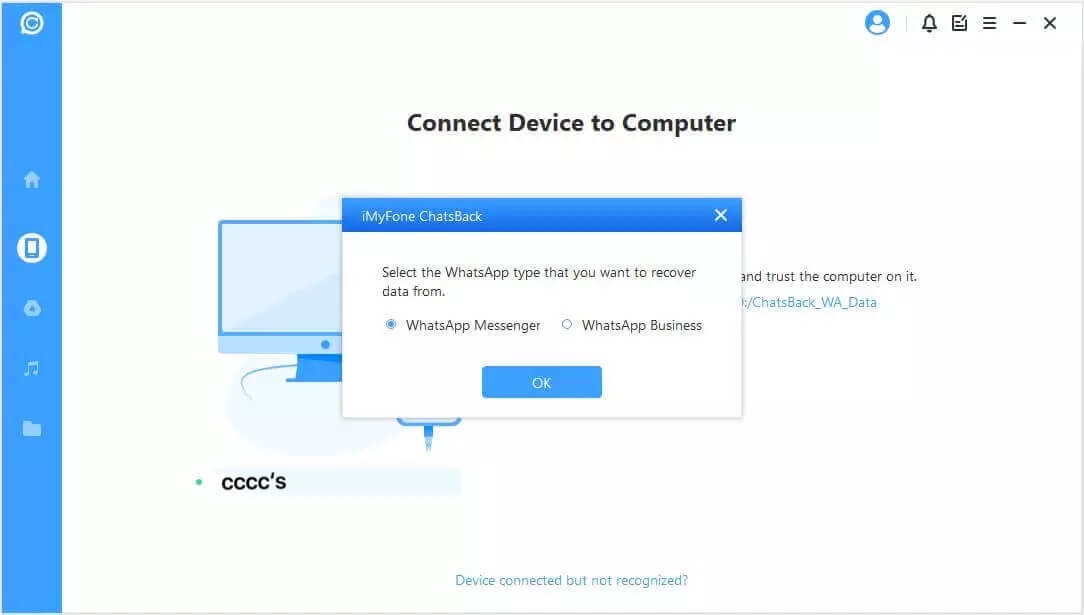 Step 4. Choose Restore to PC or Restore to Device depending on your preference, then click Start to proceed.
After following these steps, you'll be able to recover all past messages sent on your WhatsApp account, including those that have been deleted by other senders. You can also use this method to restore deleted WhatsApp messages to another Android device or to an iPhone.
Bonus Tip:How to Backup WhatsApp Messages to Huawei Cloud?
Here's a bonus tip for all you Huawei phone users out there; you can also backup yur WhatsApp data on the Huawei cloud. This is nice and convenient because it doesn't require you to use another cloud service or other app to recover your data.
To make a backup of your WhatsApp data on the Huawei Cloud, follow these steps:
Step 1. Navigate to Settings, then tap your Huawei ID.
Step 2. Tap on the Cloud option, then click on Enable Cloud Backup.
Step 3. Next, navigate to Backup Options and go to App Data.
Step 4. Here, you can enable WhatsApp and this will make sure your WhatsApp data is backed up on the Huawei cloud.
Conclusion
On a Huawei phone, it is true that the processes of backing up and restoring WhatsApp deleted messages will be more difficult than the other types of phones. But don't worry, by following the methods and steps we've outlined above for you, you should be able to restore any lost data to your Huawei phone without any problems.
By the way, for more WhatsApp tips, we are highly recommend you to free download iMyFone ChatsBack to help you find back deleted WhatsApp data efficiently.