Samsung Secure Folder is a secure location on your phone where you may keep data, images, movies, and programs that are only visible to you; however, they are susceptible to loss for various reasons. Consequently, when such terrible events occur, they might end up being a nightmare for you.

But no need to be concerned as you are at the right place. This article will significantly assist you in recovering Samsung data. This article will show you how to recover deleted photos from a secure folder without a backup with the help of the iMyFone D-Back (Android) and provide you with other helpful information on Samsung secure folder data recovery.
Recover deleted photos from Samsung secure folder is not easy, our editor recommend D-Back for Android, it has the highest data recovery rate, Download D-Back for Android free now.
Part 1. Recover Deleted Photos from Secure Folder without Backup
The main concern is how to recover deleted photos from a secure folder without backup. Although it may appear complicated to retrieve data from a Samsung secure folder without backup, it is not with an effective data recovery software like iMyFone D-Back (Android).
It is one of the most straightforward and efficient methods for recovering data that has been lost or destroyed. This advanced Android data recovery tool can effectively recover any data from Android devices that have been lost or is inaccessible.
iMyFone D-Back (Android) Features:
It scans the chosen location on the Android phone for missing data and restores it promptly.
Contacts, texts, images, WhatsApp data, audios, videos, call logs, files, and other data types may be recovered selectively using the software.
It has three recovery ways for Android devices: data recovery straight from the device, data recovery from a Google backup, and data recovery from a broken device.
You may preview files before recovering them with this program, confirming that you receive precisely what you were looking for.
It can recover data on both rooted and non-rooted Android smartphones.
It lets you recover and export erased data in CSV, HTML, and VCF formats to your PC.
Let us start recovering deleted photos from a secure folder without a backup. Follow the simple steps given below to complete the process:
Step 1: Download and install the software
First of all, download the program on your device. After that, double-click the downloaded file to install and launch it on your computer.
Step 2: Choose the preferred mode of recovery
When you first launch the software, you will get the following interface, which allows you to choose your preferred data recovery mode. To recover lost images, go to Android Data Recovery.
Step 3: Connect the device
Now connect your Samsung smartphone with the secure folder from which you want to recover pictures.
Step 4: Scan and Recover
Once you have chosen a location, the program will run a thorough scan of the folder and display a list of the files. To recover deleted pictures, just follow the software's on-screen instructions, pick the files, preview them, and click on recover.
Part 2. Pro Tip about Samsung Secure Folder Backup
Samsung Secure Folder is an encrypted location on your phone where you may keep sensitive and confidential photos and other files. The service keeps all of your data private, providing you peace of mind that no one will see them.
However, this data is still at risk of being lost. In this instance, having a backup of your Samsung secure folder will substantially assist you in quickly recovering your lost data. Let us look at how you may do this and how having a backup can aid in data recovery.
2.1 How to Backup Secure Folder Samsung?
The Secure Folder is a private, secure location separated from all other forms of access. However, you may lose some vital data saved in it for various reasons, so backing up the Samsung secure folder is a good idea.
These easy steps will allow you to accomplish Samsung secure folder backup on your phone.
Step 1: Open the Secure Folder on your phone by entering the password. After opening Secure Folder, you will see the following interface. Click on the three dots.
Step 2: Go to the settings. And then click backup and restore.
Step 3: Now select add account and sign in.
Step 4: After that, you will be sent to the Backup and Restore the main screen, where you may choose to back up Secure Folder data.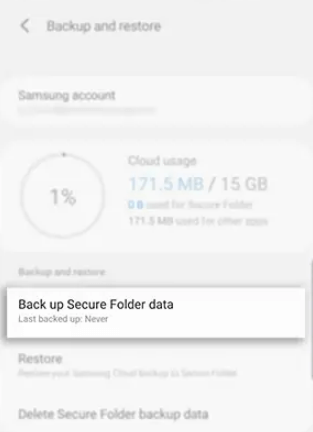 At last, you will be presented with the contents you want to backup; click on backup and proceed.
2.2. How to Recover Deleted Videos from Samsung Secure Folder with Backup?
One of the key challenges is the recovery of lost videos. If you wonder how to recover deleted videos from Samsung secure folder, follow these simple steps.
Step 1: Go to the settings of the Samsung secure folder.
Step 2: You will face the following interface; select Backup and restore and click Restore in the next step.
Step 3: Select the device where your data was stored.
Step 4: You will be presented with the list of contents present in the device; select the type of content you want to recover, click on the restore button, and proceed forward.
Part 3. Faqs about Samsung Secure Folder
01

Is Samsung's secure folder private/safe?
Whether Samsung Secure Folder is safe or not is a major concern. It is a secure location on your phone where you may keep important files that are only visible to you. All of your important files are kept confidential by the service.
The folder is secured using Samsung Knox, a defense-grade security infrastructure that ensures the safety of your data. You may apply a passcode or biometric lock to keep your data private from prying eyes.
02

Where is Samsung secure folder data stored?
Samsung secure folder data is stored in your phone and can be accessed through the app by entering the passcode or fingerprint.
03

How to move photos from the gallery to a secure folder?
All you have to do is follow these simple steps to migrate your existing photos from the Gallery app to the Secure Folder:
Open the Gallery app on your phone.
Choose the photos you want to send to the Samsung Secure Folder from the drop-down menu.
At the upper right of the screen, tap the three dots.
Tap 'Move to Secure Folder', and your photos will be transferred.
04

How to access Samsung secure folder from pc?
There is currently no method to access your Samsung secure folder from your PC due to security concerns and keep it private and secure. Even if you are signed onto your Samsung account, accessing the Samsung secure folder from a PC is not feasible.
05

How to make Samsung secure folder backup to PC?
There is no authorized way to access Samsung secure folder from the PC or backup your Samsung secure folder to your pc. You can not access your Samsung account even if you are logged in from your computer. The main reason for this may be to avoid hacking and improve security.
06

How to move items from the secure folder Samsung?
Are you wondering how to move items from a secure folder Samsung? All you have to do to get your data out of the Samsung secure folder is follow these simple steps:
The first step is to open the Samsung secure folder from your home screen and select the option from where you want to move your files.
Once you have opened the folder, select the files you wish to move.
As soon as you are done selecting the files, tap on the menu in the upper right corner of your screen and select the option 'Move out of Secure Folder.'
Now you are almost done with it. The process of moving data out of the Samsung secure folder will be started, and you will have to wait for some moment to get it completed. The selected data will then be saved in their original location.
Conclusion
Samsung secure folder protects your data in a safe and private location, so you do not have to be concerned about its safety. However, the data saved in the Samsung secure folder may be lost in some cases. If you have a backup of all your information, you can simply retrieve your data; thus, it is always a good idea to have one.
However, if you lose data without a backup, recovering it might be challenging, but the procedure becomes convenient and straightforward with the help of effective data recovery software.
You may rely on the iMyFone D-Back (Android) to recover vital data from Samsung in a safe folder that does not have a backup. Its top-notch features will assist you in recovering essential files and data that have been deleted from your Secure Folder in no time.