WhatsApp is undoubtedly the most used messaging app worldwide. It has an approximate monthly user of 2 billion. Due to its popularity, it has been adopted for chatting about personal and business matters.
However, given different instances, many users cannot find their messages again. One of the common instances is mistakenly deleting the message.
Finding oneself in this situation can be very regretful. But then, relax. WhatsApp is designed so that users can access their messages even when it has been deleted or lost. This post shows how Android phone users can recover deleted WhatsApp messages on Android without backup. If you need restore deleted WhatsApp messages on Android phone, our editor recommend iMyFone ChatsBack to best WhatsApp recovery solutions, Download iMyFone ChatsBack free now.
FAQs about
Android

WhatsApp Messages Recovery

Losing your WhatsApp message can be disheartening. But these questions about losing WhatsApp messages should put your mind at rest.
Q1. Where Is WhatsApp Chat History Stored in Android?
WhatsApp chats are stored locally on Android phones. This structure makes it possible for Android phone users to access their WhatsApp chat history using the My Files or other File Manager Apps. You can store the file in the Root (or Device) storage or inside SD Card. In Root Storage, the navigation path is: Device Storage → WhatsApp → Database. The direction to the backup file on SD Card storage is similar to that of Root Storage: SD Card → WhatsApp → Database.
Q 2. Can I Get back Deleted Messages on WhatsApp Android?
Yes, deleted messages on WhatsApp Android phones can be gotten back by you. This statement is true because WhatsApp messaged are locally backed up on Android mobile devices. Therefore, by using a recovery tool or accessing the message backup, deleted messages on WhatsApp Android can be retrieved by you.
You can recover deleted WhatsApp message(s) using different means. However, the recovery of deleted WhatsApp messages is not limited to accessing your chat backup files alone. You can also use other tools to recover your deleted WhatsApp message on Android. Below, three of those methods are shown. In addition, the list contains a tool for the retrieval of deleted WhatsApp messages.
Method 1. Recover Deleted WhatsApp Messages Without Backup on Android Phone
Here is how to recover WhatsApp messages deleted on Android without backup. iMyFone ChatsBack is one of the most prominent online tools for recovering WhatsApp messages deleted accidentally.
Come with the highest success rate of WhatsApp messages or voice messages data recovery on

Android

.
Can recover message data from a Google backup in the most efficient manner.
Recover your lost WhatsApp messages, images, videos, contacts from

Android

in various scenarios, even from broken devices.
Finally but most importantly, its extremely safe and secure.
Other methods listed in this post require uninstalling your WhatsApp. Here are the steps on how to recover deleted WhatsApp messages on Android without uninstalling:
Step 1. . Launch the program on your computer. Connect your phone to the computer and select Recover WhatsApp Data from Device Storage.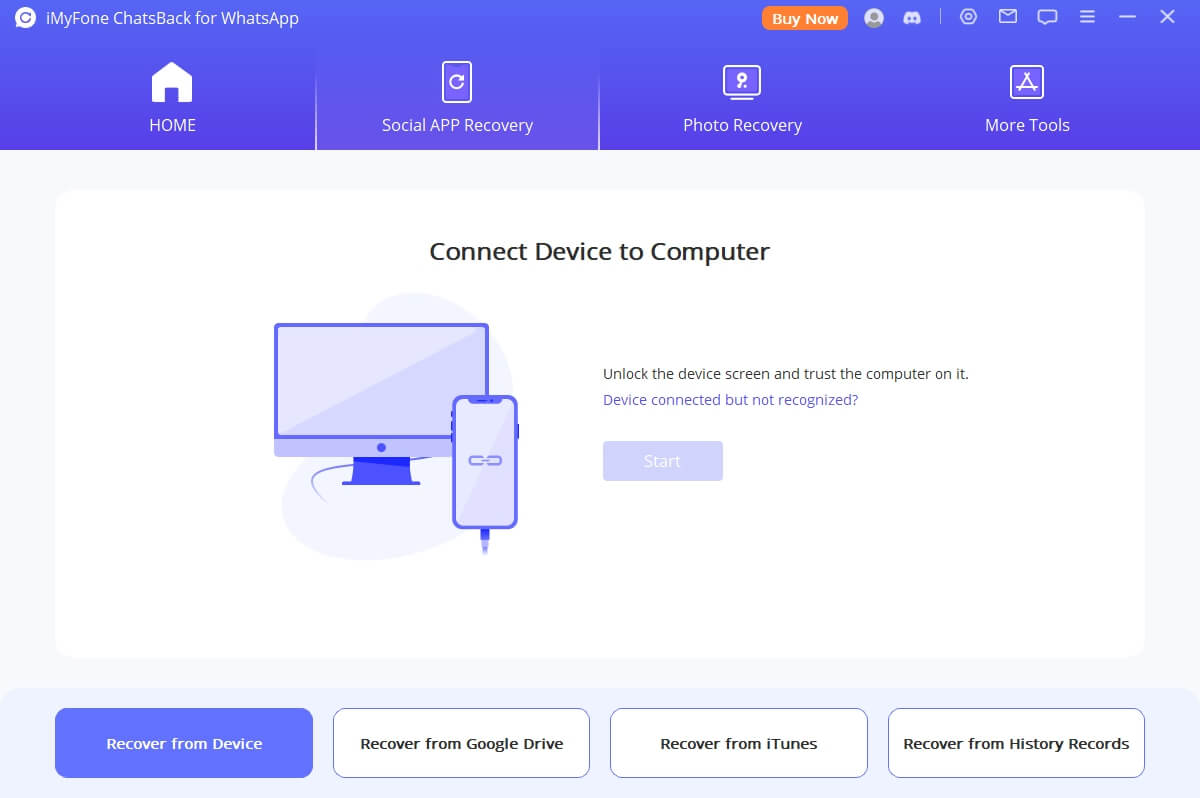 Step 2. Click Start to scan your device. Enter your phone number and SMS message to verify your phone number after scanning.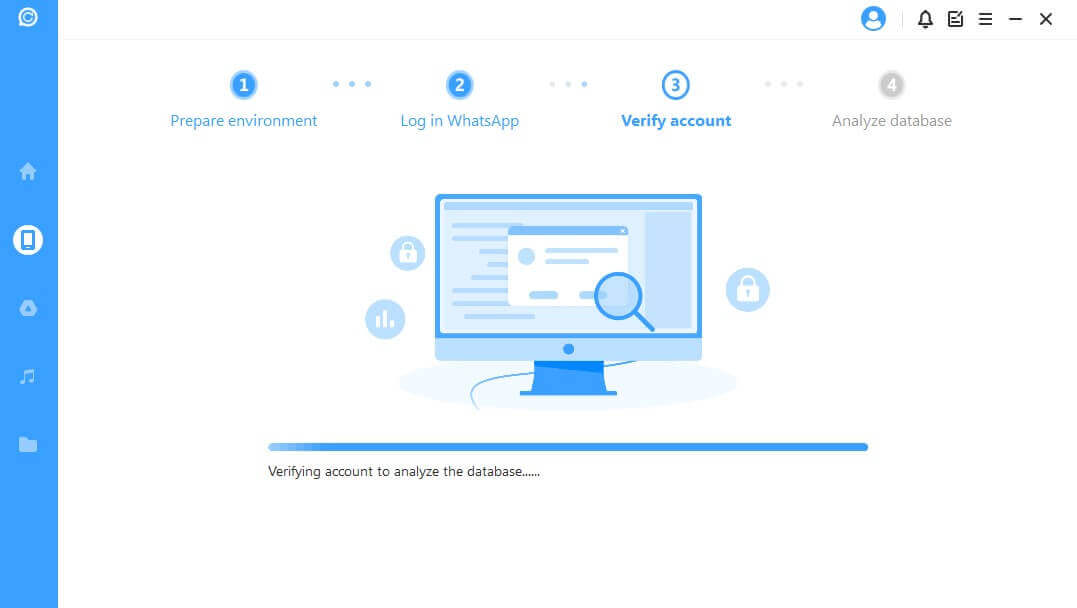 Step 3.Select the WhatsApp messages that you wish to recover after analyzing the database. Choose recover the WhatsApp messages to the computer or your device and click the corresponding button. You can also preview the WhatsApp messages before recovering.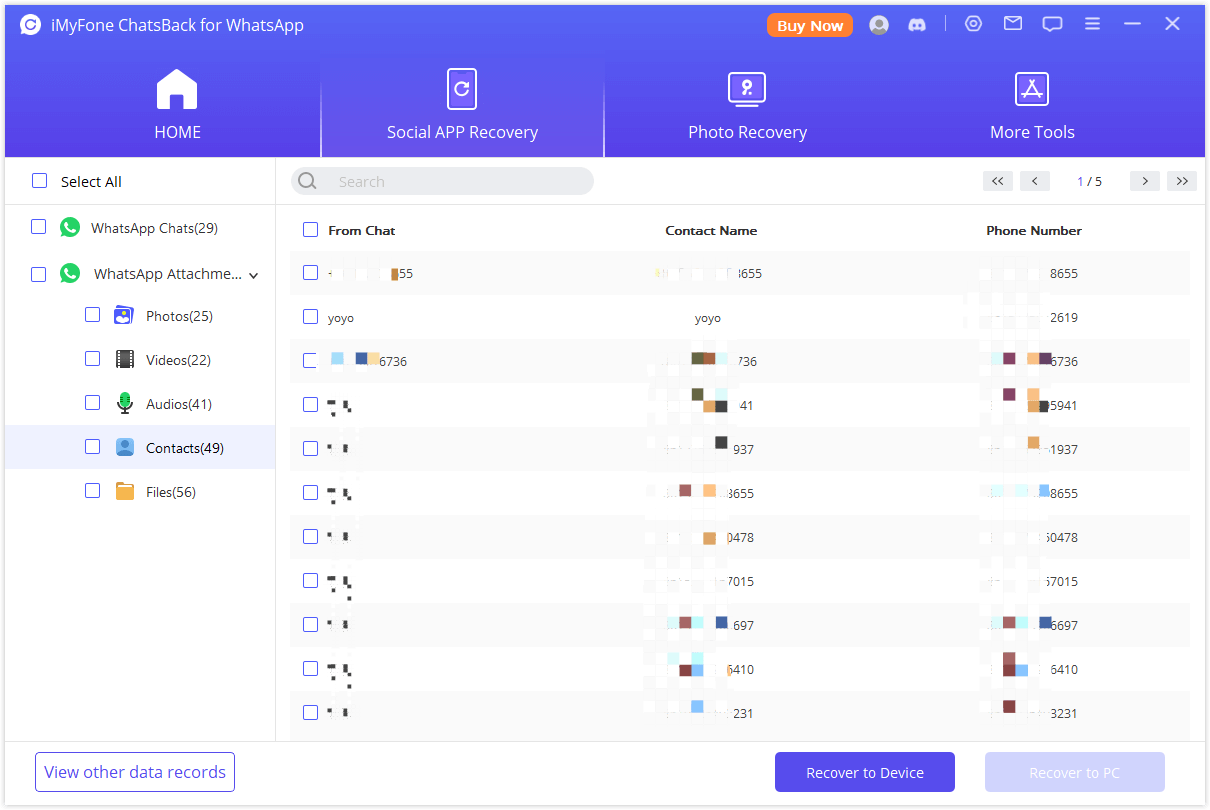 Method 2. Recover WhatsApp Messages Deleted on Android via Google Drive Backup
You can recover WhatsApp messages online through Google drive storage. This storage is where a duplicate of your local backup file is stored. Here is how to recover deleted WhatsApp messages on Android through Google drive backup.
Uninstall your WhatsApp application from your Android device.

Do this by holding down the WhatsApp icon of your Android phone, then select the Uninstall option.
You can also go to your Android phone Settings app, select the list of applications, and then remove – WhatsApp – app.)

Open your Android Google Play Store and download and install the WhatsApp application.

Set up your Android device with your phone number (used for the account with a deleted message.) You will be asked to include Your Name, display picture, and a short About for your profile.
After the setup, the app will prompt you to restore all your messages. Tap the Restore option. This will restore all your messages from Google Drive, including the chats that you accidentally deleted.
Method 3. Retrieve Deleted WhatsApp Messages via Local Backup on Android
All messages are locally backed up, so users refer to these backed-up chats when they accidentally delete them.
Open the File Manager application on your Android device and navigate to the backup file for your messages depending on where it is stored.

For Root Storage: Device Storage → WhatsApp → Database
For SD Card: SD Card → WhatsApp → Database

There are a couple of files in the folder. First, select the msgstore.db.crypt12 file – which is your most recent message backup. Next, tap the three vertical dots – hamburger icon – or more options button at the top right corner or in the taskbar at the bottom of your screen. Finally, pick rename from the option to change the file name to msgstore_BACKUP.db.crypt12. By renaming this file, you are preventing it from being overwritten.

Apart from the msgstore.db.crypt12 file, there are other files in the msgstore-YYYY-MM-DD.1.db.crypt12 file name format. Among these other files in your Database folder, find the most recent file and rename it to msgstore.db.crypt12.

Open your Android device's Google Drive application > navigate to your WhatsApp backup > delete your WhatsApp backup. By deleting your Google Drive backup, your phone will be forced to restore messages using your local backup upon reinstalling.
Uninstall and reinstall the WhatsApp application. After setting up your account using your phone number, the application will prompt you to restore all your messages. Click Restore to begin the process.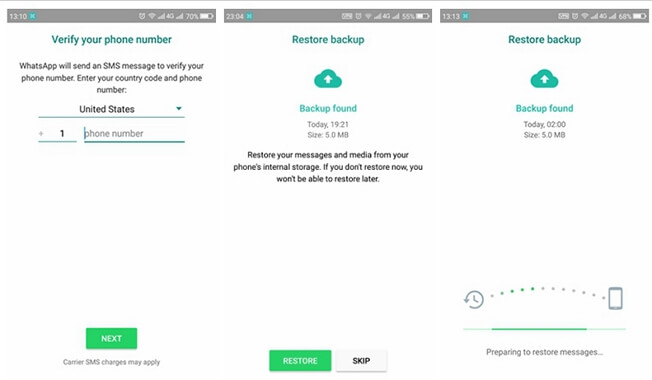 Tip: Back up Your WhatsApp Messages to Google Drive Regularly
If you always sent and receive important messages via WhatsApp, it is necessary to back up WhatsApp Messages to Google Drive. Here is how to use Google Drive to back up WhatsApp data automatically.
Open WhatsApp and click More(the three dots) on the upper right corner.
Tap Settings > select Chats > click Chat backup > select "Backup to Google Drive" and tick any choice other than "Never."
Select an old account or tap Add Account to create a new account for your WhatsApp backups. You may also choose the network to use for backups by taping "Back up over".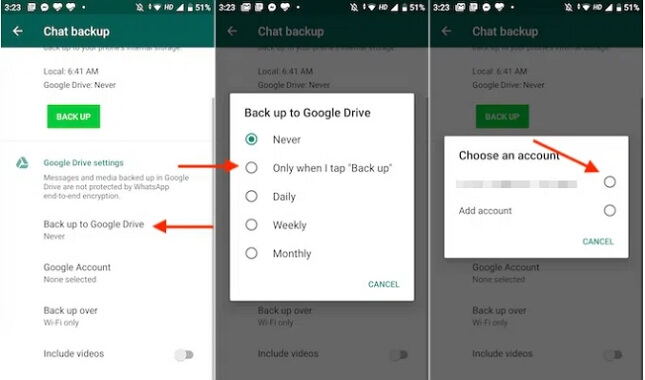 Conclusion
WhatsApp is a popular chatting medium. It was designed for users to access messages through its daily backup feature. I have illustrated three methods on how to restore WhatsApp chat on Android devices. However, WhatsApp message recovery is not limited only to local or cloud backups. Other tools give you access to deleted messages like iMyFone ChatsBack.