Question
My flatmate deleted a contact and the phone number from WhatsApp when she was angry. She's now wanting to recover it, if she can. Does anyone know if you can recover deleted numbers from WhatsApp?
If you want to recover deleted WhatsApp contacts and use an Android terminal, several solutions are available to you. For example, you can try to restore your phonebook through Gmail or rely on applications to recover deleted data, which is explained below. Our editor recommend iMyFone ChatsBack to get back deleted WhatsApp contacts, it can preview recoverable contacts before recovery, it also support iPhone, Download ChatsBack free now.
Method 1. Recover WhatsApp Contacts on Android from Phonebook
If you find that all of your WhatsApp contacts disappear from the selected contact list, it may be a minor mistake.
You can try these little tricks to find and fix the error:
Make sure the contact uses WhatsApp Messenger and has their phone number in their phone book.
Make sure WhatsApp has access to your phonebook.

Make all your contacts "not visible" and then "visible" to force an update of the contact list on your Android. Then open WhatsApp, go to the contact list and click "Update".
If the above tricks don't work, turn off your phone to remove the SIM card and reinsert it. Then restart your Android. This could solve your missing contacts problem or newly added contacts not showing up on WhatsApp.
Method 2. Restore Deleted WhatsApp Contacts on Android without Backup
IIf you didn't find the lost WhatsApp contacts from your phonebook and have no backup, you may need to use a third-part data recovery software. iMyFone ChatsBack is nice choice for you. It can help you recover lost contacts with a couple of clicks.
Come with the highest success rate of WhatsApp contacts recovery on Android.
Can recover WhatsApp contacts from a Google backup in the most efficient manner.
Support to export and restore WhatsApp contacts to devices and computer..
Finally but most importantly, its extremely safe and secure.
Here is how to use the software recovery tool to recover deleted contacts from whatsapp on Android without backup.
Step 1. Launch the program on your computer. Connect your device to the computer and select Recover WhatsApp contacts from Device Storage.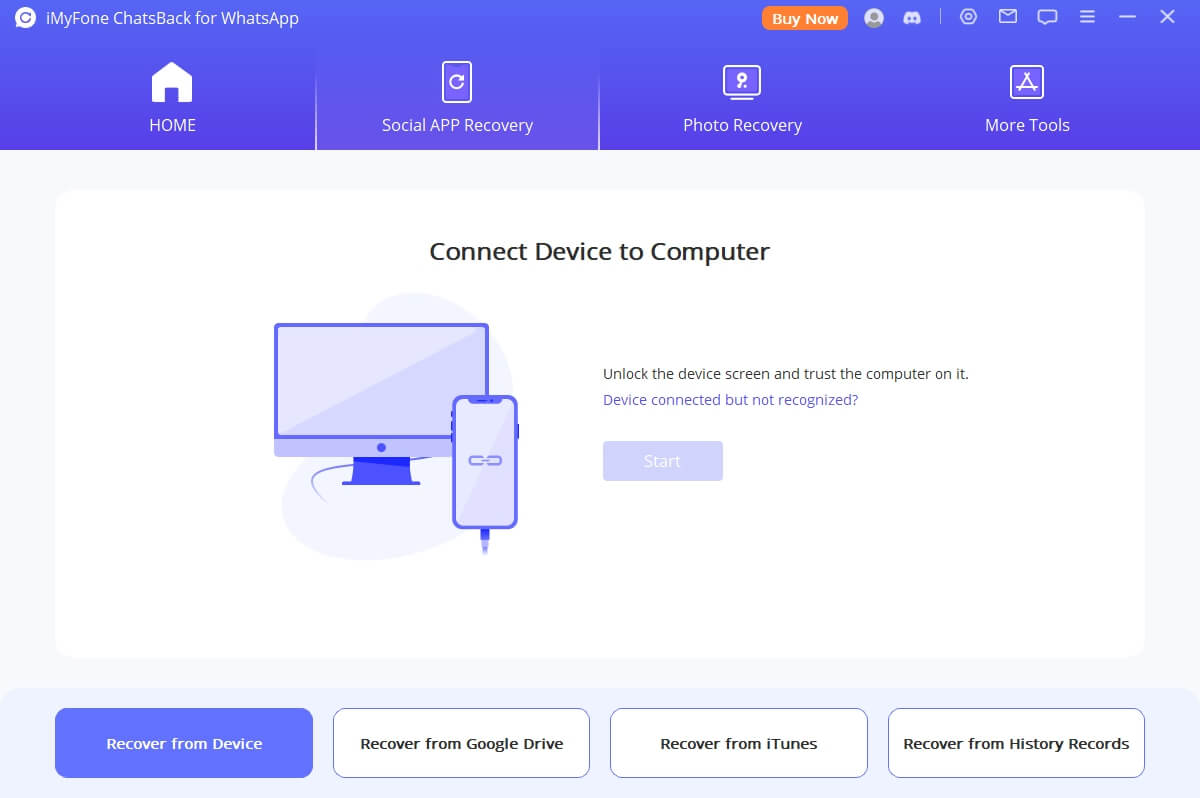 Step 2.Click Start to scan your WhatsApp contacts. Enter your phone number and SMS message to verify your phone number after scanning.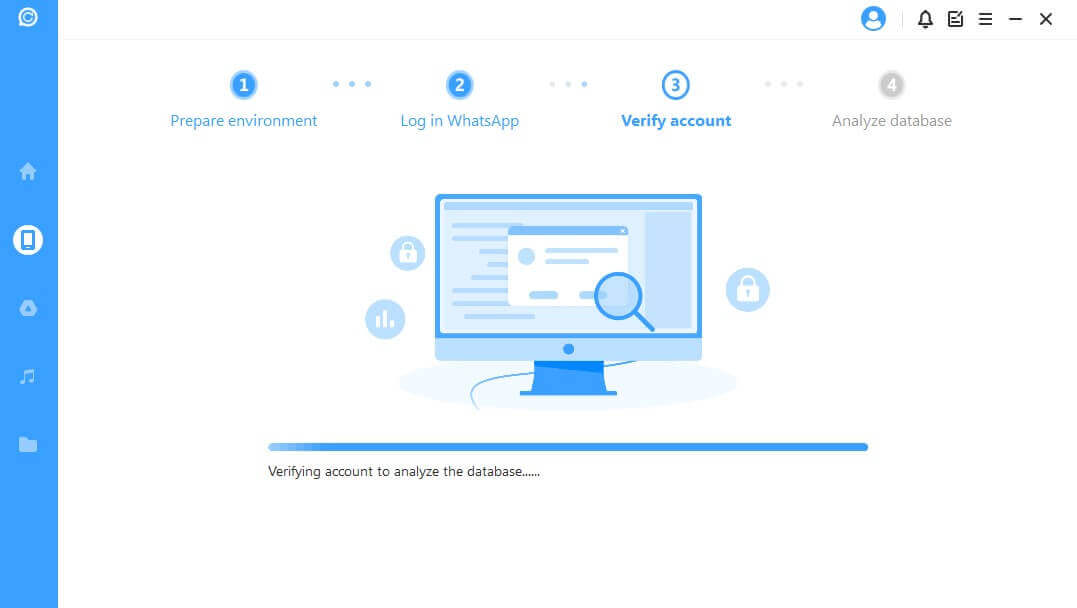 Step 3. Select the WhatsApp contacts that you wish to recover after analyzing the database. Choose recover the WhatsApp contacts to the computer or your device and click the corresponding button. You can also preview the WhatsApp contacts before recovering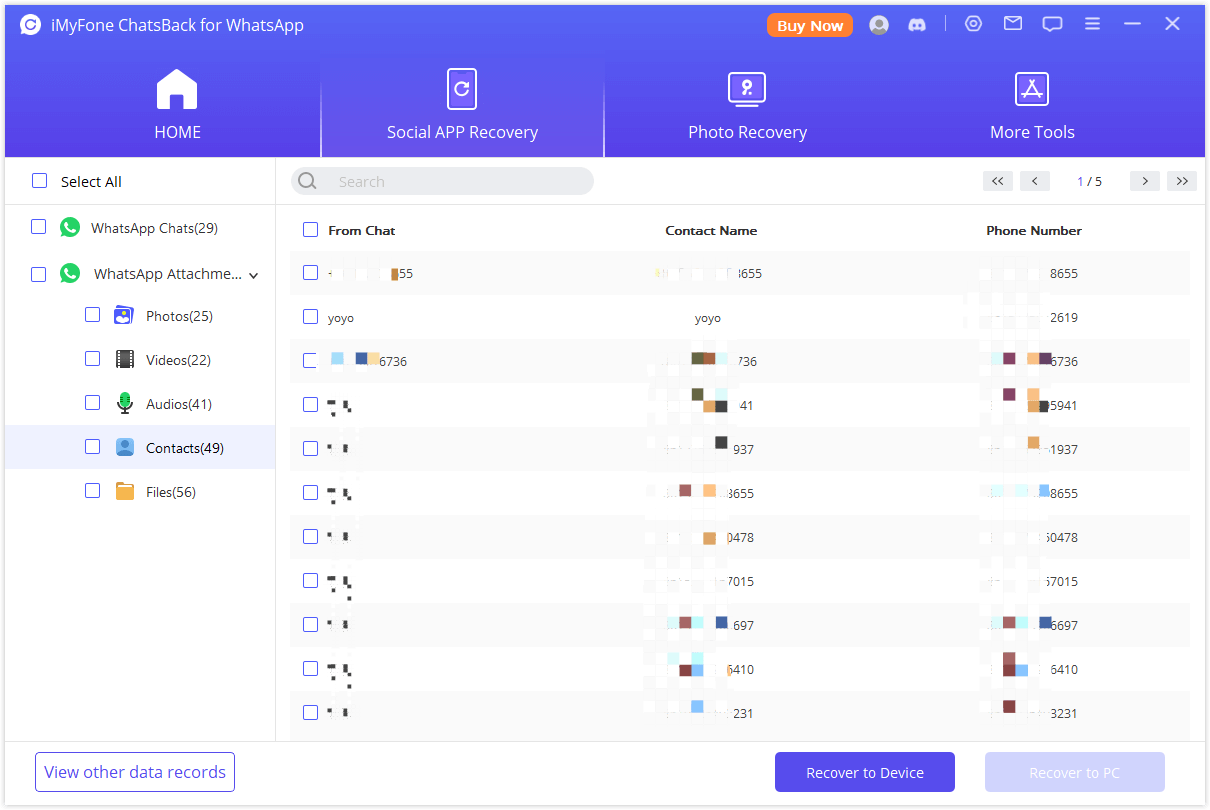 Method 3. Retrieve WhatsApp Contacts on Android from Backup
If you have backup your WhatsApp contacts on Android, you can restore WhatsApp contacts from a backup file on Android. Unlike restoring a local WhatsApp backup from your phone storage, which requires you to repair the entire backup file and replace your current WhatsApp data, this tool allows you to selectively choose all call logs to be restored to your phone without any existing data to delete.
1. Restore WhatsApp Contacts from The Gmail Address Book
If you have turned on Google contact synchronization on your phone, you can restore your address book to a previous state. To check if your phone syncs the contacts with Google, please open Android Settings, go to Account > Google, select your Gmail address, and check if the Contacts option is enabled. If it is, the method will work for you.
Here is steps of restoring a Gmail address book:
Log into your Gmail account via the web.
Click on the Gmail in the top left.
When the dropdown appears, select Contacts.

In the top-level navigation, select More.
When the dropdown appears, select Restore Contacts.
2. Restore WhatsApp Contacts from PC
The method only works when you have backed up your contacts to the computer before deleting the contacts you need. In this case, all you need to do is retirve the contact via the same program you used for data backup.
3. Restore WhatsApp Contacts from Google Drive Backup
For Android users, one solution to backup and restore WhatsApp contacts is to use Google Drive. This would be a native solution for Android device users, Contacts in Google Drive. You can follow these basic steps to backup WhatsApp contacts to Google Drive.
Uninstall and then reinstall the WhatsApp app using the same device.
Start WhatsApp and accept the terms and conditions. Sign in to your account using the same phone number and ensure the device is connected to your Google account (where the backup is stored).
The application will automatically detect the backup and ask you to restore it. Tap the Recover button and wait a moment for your contacts to appear.
FAQs about WhatsApp Contacts
We list some FAQs about WhatsApp contacts. If you also have the same questions, don't miss the part.
Q1. How to Restore WhatsApp Contacts' Names on Android?
If your contact numbers show instead of their names, you may need to reset WhatsApp syncing with your contacts.To do this, open your phone's settings, then tap Users & Accounts> WhatsApp. Tap REMOVE ACCOUNT> REMOVE ACCOUNT, then tap the new chat icon> More options> Refresh.
If the above steps don't work, your phone settings may be preventing WhatsApp from working correctly.
If so, try the following: Open your phone's settings, then tap Apps & notifications> WhatsApp> Permissions. Make sure all permissions are enabled.
Q2. How to Recover WhatsApp Contacts from Lost Phones?
If you have backed up WhatsApp contacts before the phone is lost, you can make it. You need sign in to your account on another phone by entering the same phone number and ensuring the Android device is connected to the Google account where the backup is stored. WhatsApp will detect the existing backup and ask you to restore it. Tap on the "Recover" option and wait a few minutes for the contacts to appear.
How to Recover WhatsApp Contacts on A New Phone?
If you have backed up WhatsApp contacts on your old phone, you can follow the steps to restore the contacts from the backup.
Q4. How to See Blocked Contacts on WhatsApp?
On the screen, select Account> Privacy, then the Blocked Contacts at the bottom of the screen and voila: you have access to the list of numbers you have blocked in WhatsApp.