Due to the emergence of a large number of AR games, such as Jurassic World Alive, Pokemon GO, Harry Potter, Ingress Prime, etc., our original game world has been completely changed, making our virtual game world more real than real. Among them, the game Jurassic World Alive has attracted widespread attention around the world.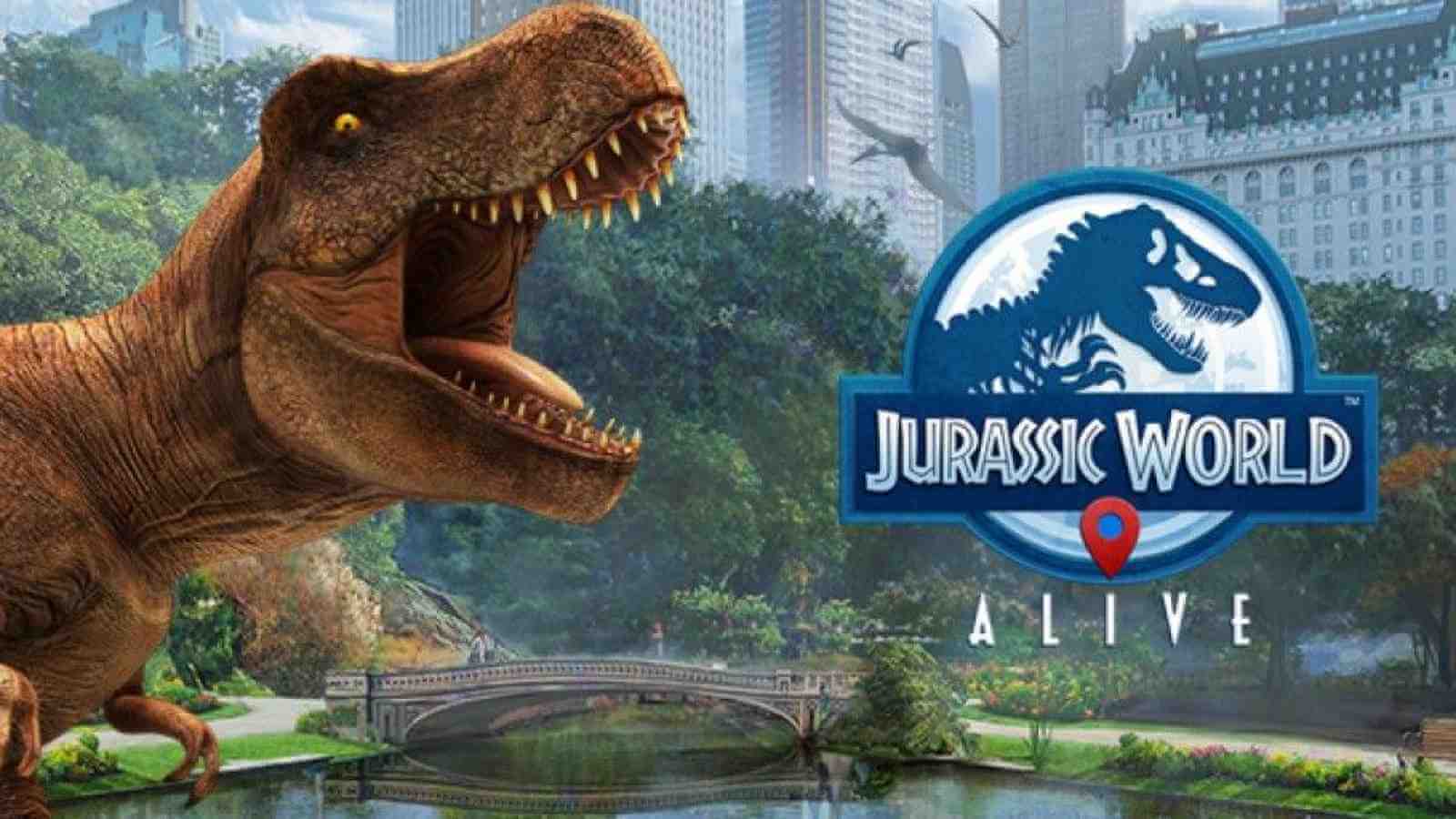 If you're also an avid Jurassic World player, you've come to the right place today. The game is known to encourage us to go out and collect more dinosaurs, but it certainly wasn't the easiest job for us. To overcome this, players often wonder if they can use the Jurassic World Alive cheat tool on their phones. In fact, in reality, many players are participating in the game in this way. In this guide, I'll let you know about some of the best faking GPS Jurassic World Alive solutions that you can easily use.
Part 1: What's Jurassic World Alive?
The makers of Jurassic World Alive develop game-based features based on GPS location technology to enhance the sense of interaction with you. The game allows you to explore the map, using your device's GPS to discover the location of dinosaurs to collect rare and powerful species. Players need to collect the DNA of different dinosaurs in an effort to become the guardian of the dinosaur DNA samples.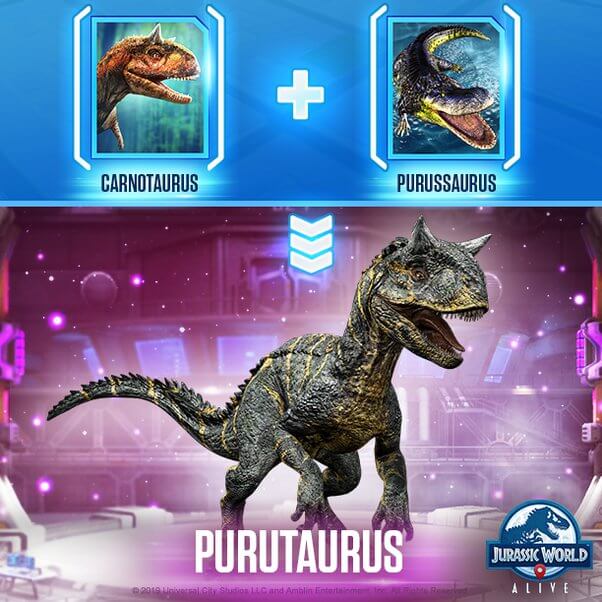 Booming in AR technology, Jurassic World Alive allows you to race against live opponents using the AR camera feature to take photos of dinosaurs. Attractive game mechanics and a tight gameplay experience are the distinguishing features of this well-thought-out game.
Jurassic World Alive encourages players to go out and discover different kinds of dinosaurs scattered around the world. Compared with other AR games, this game is more in line with the interests of many players and promotes a cooperative experience between users and the game. In the game, you can collect as many dinosaurs as you want, but only if you go out on foot or travel. After collecting a certain amount of DNA samples, you can mix the DNA samples you have and use them to create your own unique hybrid dinosaur. Besides, you can also join different areas to fight other dinosaurs and players.
Part 2: How to Fake GPS Location on Jurassic World Alive?
Before I show you how to spoof in Jurassic World Alive, let's take a look at what a spoof in this game can do for you: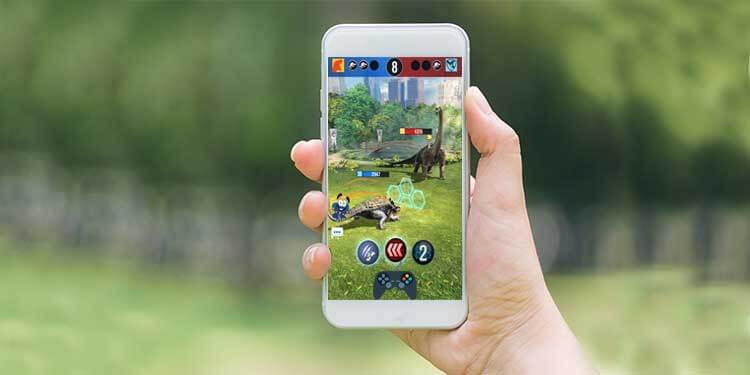 Bad weather may prevent you from going out or traveling, but that doesn't mean you have to stop collecting DNA.
You may be another grounded teen or a teen who cannot spend a lot of time outdoors. Let none of this stops you from playing this fascinating game.
Laziness and leisure time often make us want to stay at home and not go anywhere. You don't have to walk miles and leave for hours to play this game. This will allow you to enjoy the game while lying on the couch at home!
Augmented reality combined with location spoofing is a favorite for location-based gamers like Jurassic World Alive, Pokemon GO, Harry Potter, Ingress Prime, and more. Hurry up and learn these techniques to use to improve your game!
Way 1

By Using iMyFone AnyTo Location Changer
---
In this game, dinosaurs are in more information, and it is important to get information by participating in the game. iMyFone AnyTo can change the location of your device, giving you more flexibility when playing location-based games like Jurassic World Alive.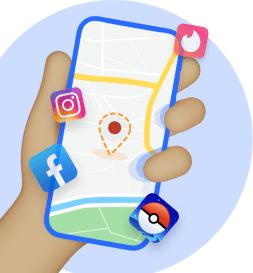 Change GPS Location on iOS/Android
Location Changer - you can change your device's GPS location to any place when playing location-based AR games.
Create Routes with Customized Speed & Pause Anytime.
Historical Records - save the historical spots.
Let's see how to use the program:
Step 1: Setup iMyFone AnyTo
Click the Try It Free button below to install iMyFone AnyTo on your computer. Then open it and click Get Started. Connect your phone to the PC via USB. Click Trust on the device for the prompt.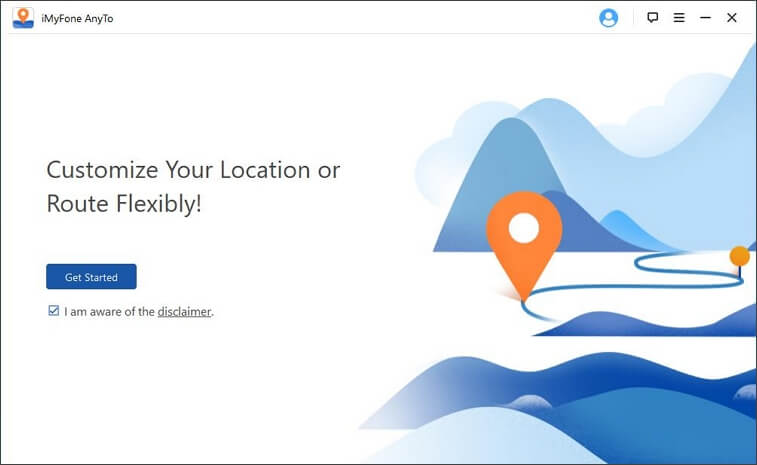 Step 2: Select Teleport Mode
After your map has loaded, it will show where you are on the map by default. choose Teleport Mode in the top right corner, the third icon.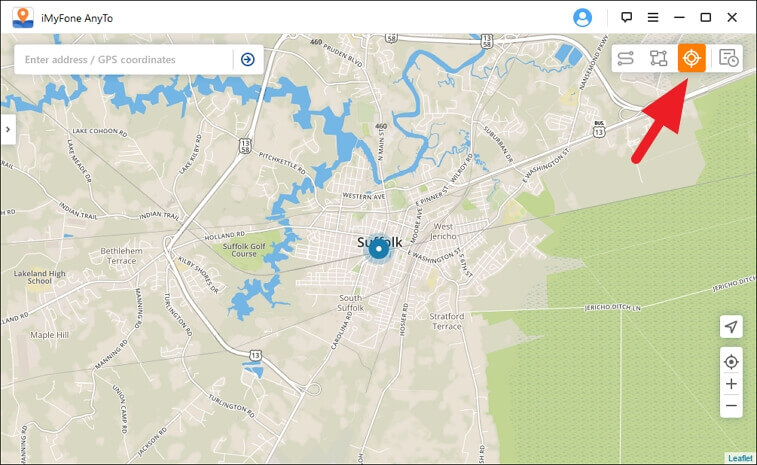 Step 3: Select an address for Jurassic World Alive Spoofing
Now on the map, just pinpoint a place that you hope you were there. Let's say, Vancouver.
You can drag and pinpoint Vancouver on the map, or search Vancouver in the Search box. Then this Pogo spoofer will show the infomation including address, coordinates and the distance. You can zoom in and out the map to locate your place.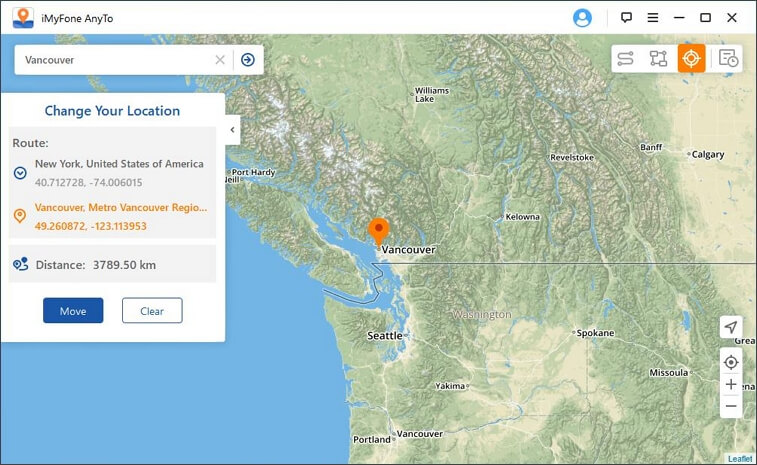 Alright! Now just click on the Move button. You can see the location is changed to the new place instantly.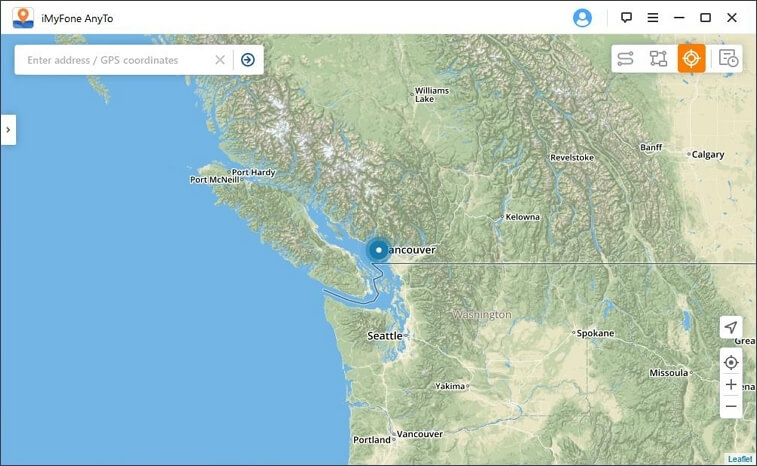 Open Jurassic World Alive, you will find that you have successfully spoof your location in the game. Now that you have started, you can continue exploring the application and its wide set of benefits for the avid Jurassic World Alive player.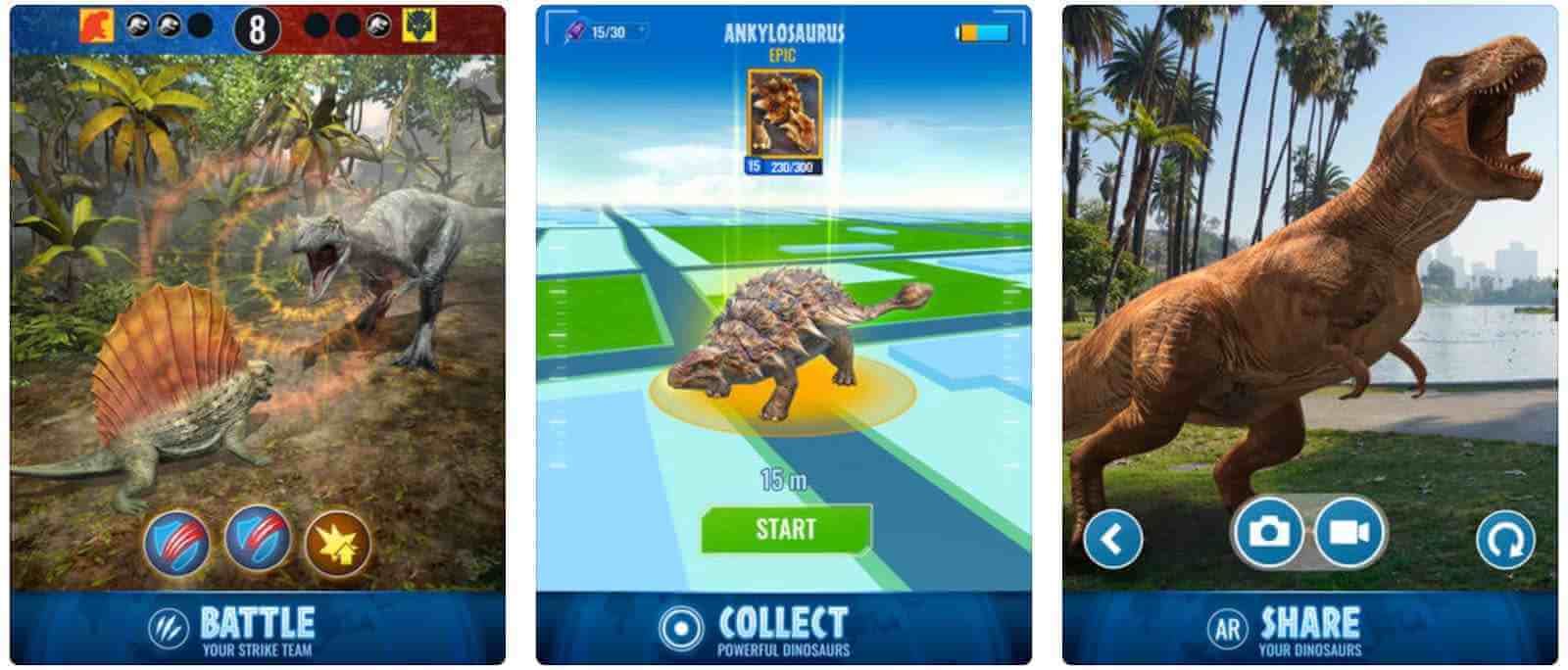 Good luck!
Pros
Change the GPS location with one click.
Choose to speed up or slow down your walk on yourself.
Plan imaginary journeys with multipoint mode on the route planner.
Cons
Based on PC or Mac, so your phone or tablet must be connected to the computer.
So you can also use this brilliant tool to create virtual routes to move along in the game, while you are just sitting home (see the guide >> ).
Way 2

By Using JWAlive++
---
JWAlive++ Jurassic World live spoof hack, it has the ability to spoof your current location. This hack is similar to the Pokemon Go hack. With JWAlive++ you can take your character to different locations and it will automatically collect DNA and give you a report.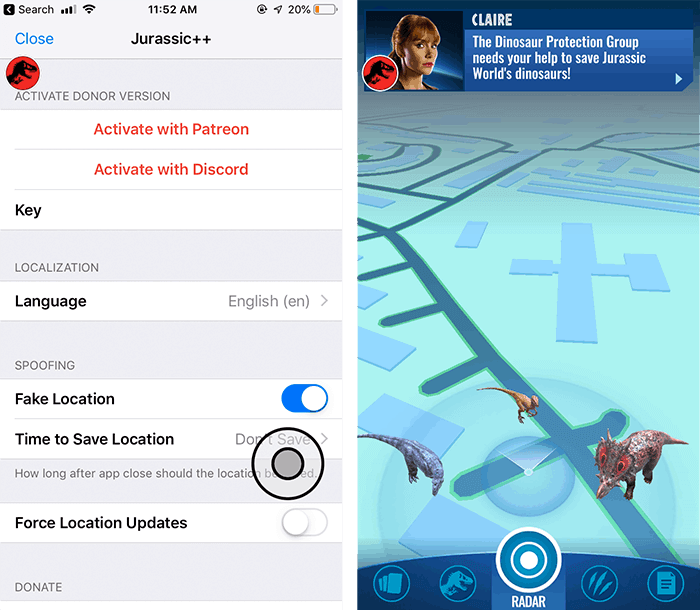 Action Steps:
Step 1: Download the JWAlive++ .IPA file.
Step 2: Download Cydia Impactor to your PC and install it.
Step 3: Now connect your iOS device with the PC where you have Cydia Impactor installed. Before connecting your iOS device, you need to make sure you have iTunes pre-installed; if you are signed out of iTunes, log in with your iTunes ID before connecting your iOS device.
Step 4: Launch Cydia Impactor on your PC.
Step 5: Drag and drop the JWAlive++ .IPA we downloaded in the first step into the open Cydia Impactor. It will ask you to confirm your iTunes account details. Check the details and confirm.
Step 6: Wait for the installation to complete. After that, open the Jurassic World Alive app and play the game. Walk around in the game from the comfort of your couch.
Pros
Customizable movement speed and path.
spoof to different locations at once.
Cons
Due to Apple restrictions, the software is reinstalled every 7 days.
When teleporting too far from a location in a shorter period of time, a soft ban or account suspension may occur.
Way 3

By Using GPS JoyStick
---
Fake GPS Location - GSP Joystick is another great app. The joystick will save you the day. Using the program, you can select your current location, specify location routes and paths, and more.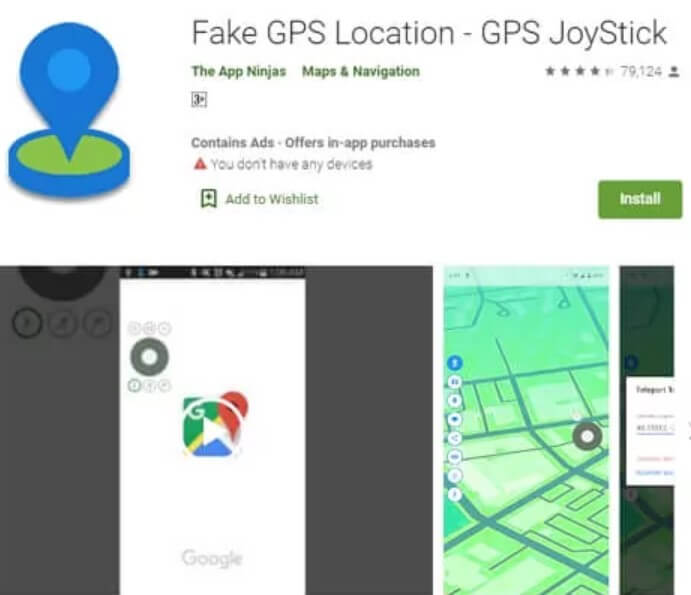 Action Steps:
Step 1: After installation, go to Settings > About Phone > Software > Version Number (tap 7 seven times) to activate developer mode, then go to Settings > Developer Options > Mock Location (tap 7 seven times) (Allow).
Step 2: Open the app and choose location, speed and other settings.
Step 3: Enjoy Jurassic World Alive by teleporting to the location or simulating any action.
Pros
Software runs smoothly.
The operation process is clear and easy to understand.
Cons
Only supports Android devices.
Compatibility is limited.
Way 4

By Using VPN App-NordVPN
---
Usually, when you use the internet, your device is constantly exchanging data with other parties and hovering over the network. If you use a VPN, it establishes a secure connection between you and the Internet. NordVPN is a good solution to this problem. Let me tell you how he did it.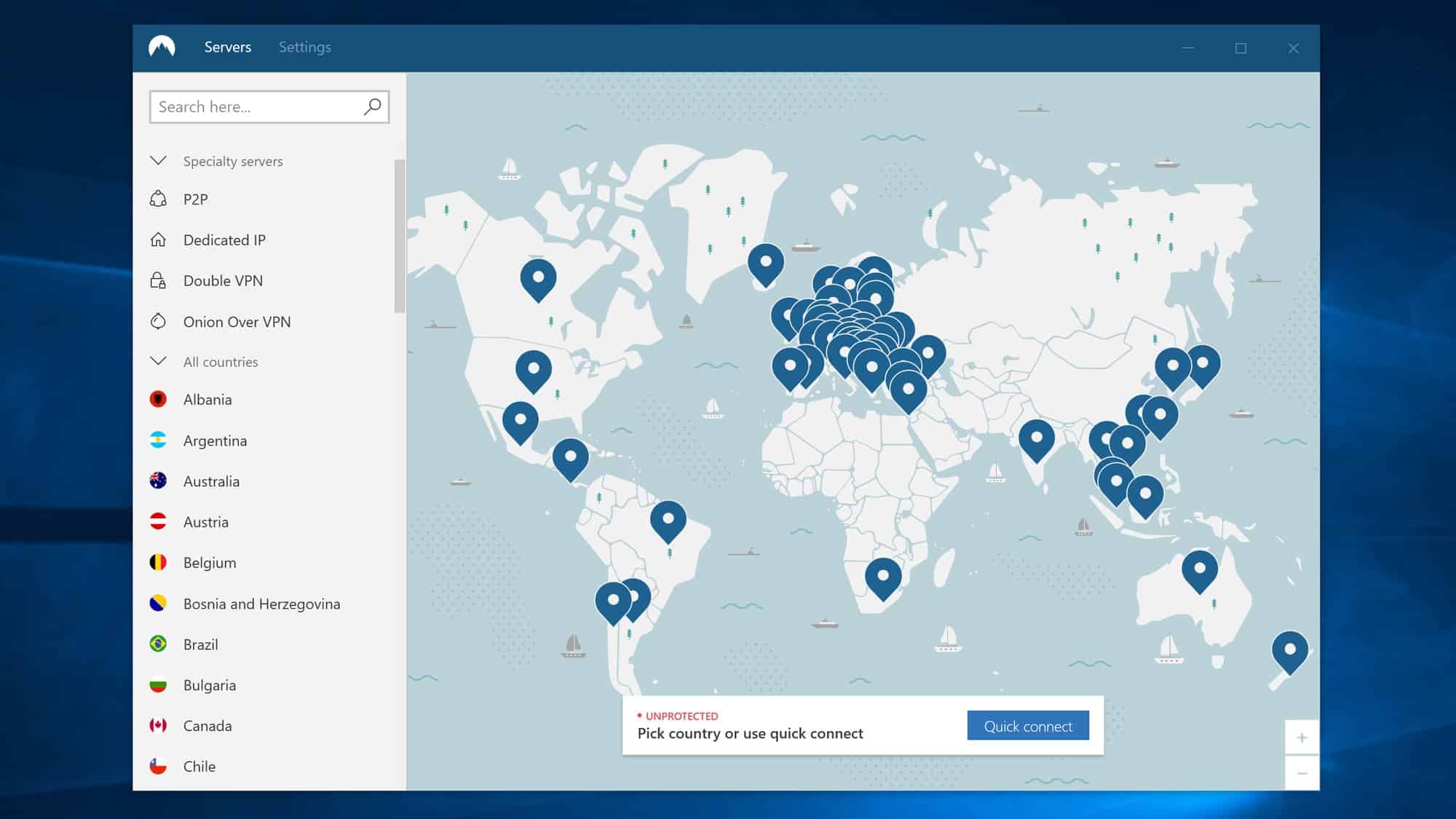 Action Steps:
Step1: Download and install the VPN for your device or PC.
Step2: Login or register your Netflix account.
Step3: After logging into your account, connect the VPN to the server in the country that has the Netflix content you want to watch. You can also select a server from the list of countries on the left menu, or click on it on the map.
Step4: After a few moments, the status will change to Connected and the location and IP address of the server will be displayed.
Step5: Sit back and enjoy your Jurassic World Alive!
Pros
Huge server selection.
Smart Play Technology.
Cons
Way 5

By Using Faking Location Hard Device
---
It is basically a dongle that can be plugged into your phone and therefore, for this, you don't need to have an extra PC with you. You can simply connect the device with your PC and you are good to go!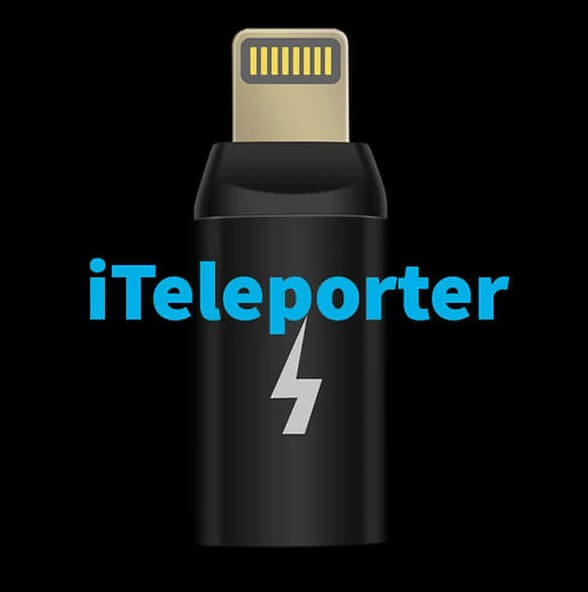 Pros
No need to jailbreak your device.
Cons
Doesn't work with an Android device.
FAQs about How to Fake GPS Jurassic World Alive
---
1 How to connect GPS to Jurassic World Alive?
Do this by going to your device's Settings > Privacy > Location Services > JW Alive and selecting "Allow location access using apps". Finally, make sure your device is not in airplane mode when playing Jurassic World Alive.
---
2 Do GPS location spoofers work in all AR games?
Yes, GPS location spoofers work with most AR games. AR games on the market are basically based on GPS location functions, such as Pokemon Go, Ingress Prime, etc. can use GPS location cheaters to cheat.
---
3 How do you quickly level up in JW live?
For free players, the fastest way to level up is to fight and then use in-game money to open the incubator. Once you run out of money, go out and collect DNA and coins. But since you can buy DNA and coins for real money, this will be the fastest way to level up.
---
Conclusion
Now you can easily spoof your location when you know five different solutions to fake GPS on Jurassic World Alive. As you can see, iMyFone AnyTo is a convenient and easy-to-use app. It is one of the most reliable Jurassic World Alive spoofing tools for iPhone and Android devices, and can also be used to change your location on other apps.