User Guide of iMyFone AnyTo
Can I change my location on iPhone/iPad? How can I customize the route without walking when playing AR games? With iMyFone AnyTo, you can spoof GPS location on your iOS device flexibly and easily. Meanwhile, you can use Two-spot Mode and Multi-spot Mode to simulate GPS movement with customized route. Below is the video tutorial about how to do it.
Quick navigation:
0:12 Teleport Location with Teleport Mode
1:09 Simulate GPS Movement with Two-spot Mode
1:46 Simulate GPS Movement with Multi-spot Mode
Part 1. Get Started
Step 1:

Launch iMyFone AnyTo

Install and launch iMyFone AnyTo on your computer. Click Get Started.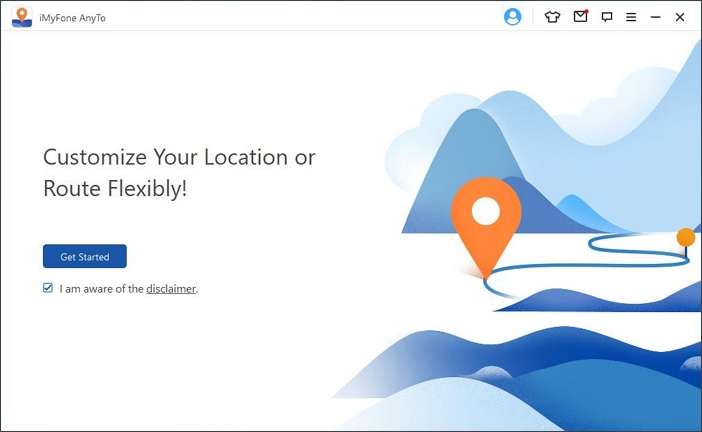 Step 2:

Connect Your Device
For iOS device
Connect your iOS device to the computer via USB cable. Next, unlock the device. Tap Trust on your iPhone when it asks you to Trust This Computer. Enter the screen passcode again to complete this process.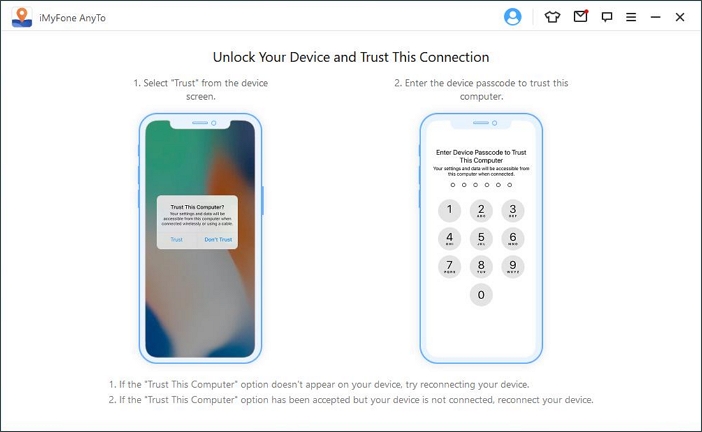 For Android device
If you didn't see the guide for your Android phone brand, or the guide is inaccurate, it doesn't mean that your Android phone is not supported.
At this time, you can follow the following steps to configure your mobile phone:
1. Make sure your device's USB computer connection option is MTP (Media Transfer Protocol) or PTP (Picture Transfer Protocol) and your device is connected to the Internet and has GPS enabled.
2. Go to "Settings" > "About Phone" > "Build Number" and tap 7 times to open developer mode.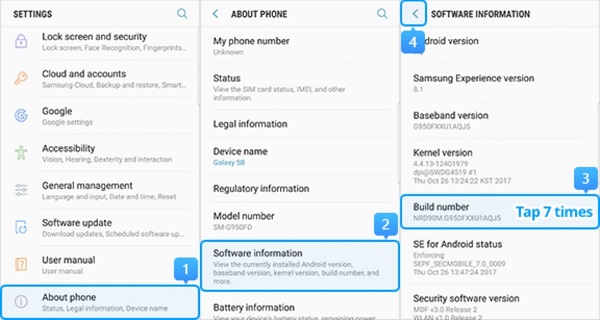 3. Then go to "Settings" >"Developer options", turn on "Developer options" and "USB debugging", and trust debugging from the computer in the popup window. If you don't see the popup window, you can click "Show Again" on the screen. Some Android phones will also need to turn on "Allow to install apps via USB".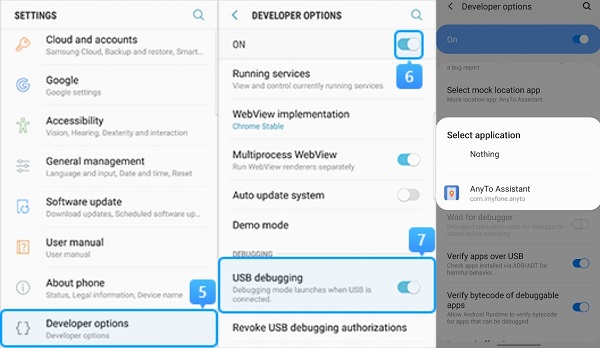 4. Then AnyTo will install "AnyTo Assistant" app on your Android phones. You don't need to open it manually at any time.
5. Finally once the installation is complete, go to "Developer options" > "Select Mock Location app", and select "AnyTo Assistant".
Note: If you cannot find the corresponding Settings, you can directly search the corresponding items in the search box inside the Settings.
Step 3:

Load the Map

It will begin to load the map. After the map is successfully loaded, you can find your location on the map.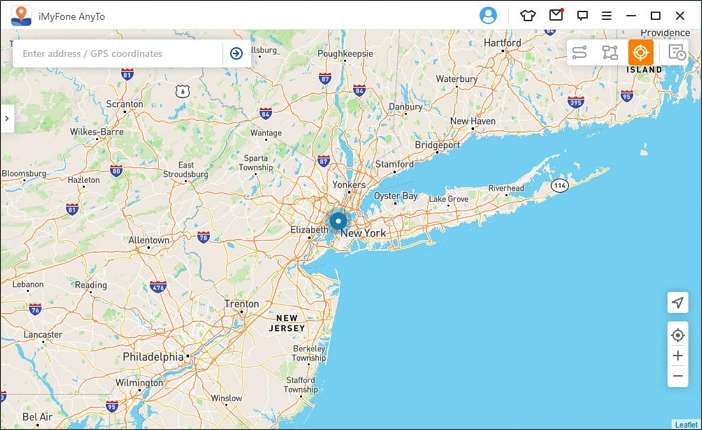 Part 2. Change GPS Location to Anywhere with 1 Click
Step 1:

Select A Destination on the Map

Choose Teleport Mode at the upper right corner (the 3rd one). Now you can zoom in and out the map by scrolling the mouse, and select a destination. Or you can enter the address/GPS coordinates at the upper left corner to search your destination, for example, Vancouver.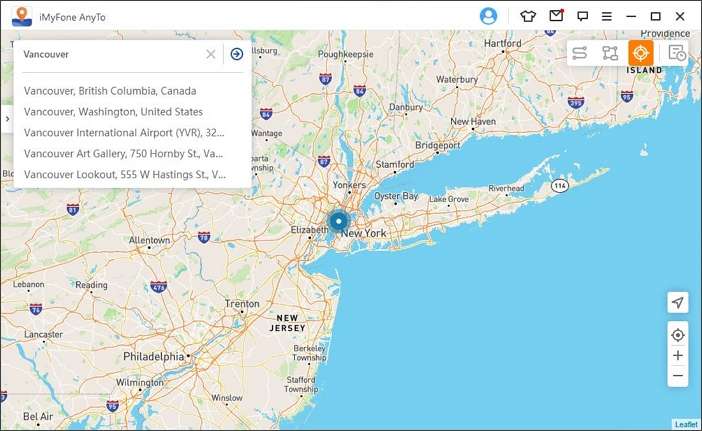 Step 2:

Change GPS Location with 1 Click

As you select a destination, the sidebar will pop up. It shows you the destination information including the place name, coordinates, and the distance. Click Move.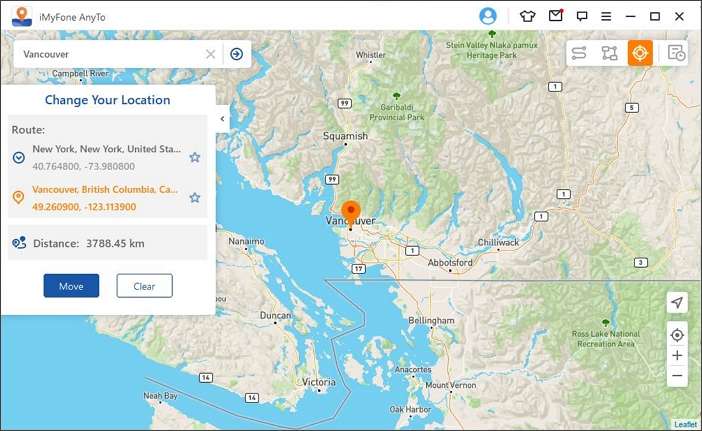 Your location will be changed to Vancouver immediately. The all location-based applications on your iPhone will be changed to Vancouver as well.
Location displayed in iMyFone AnyTo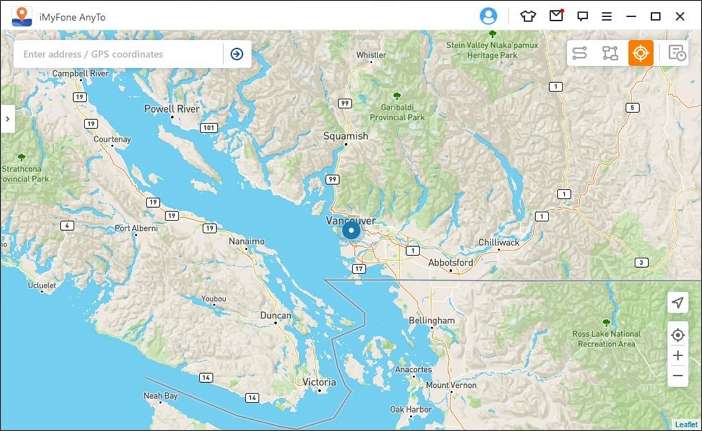 Location displayed in your iPhone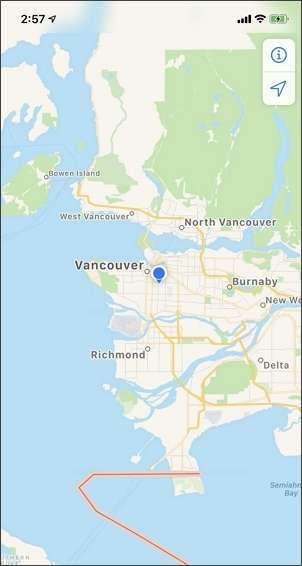 Note: If you want to recover your location, you can just restart your iOS device to acquire the real location.
The places you have ever been to with iMyFone AnyTo will be collected in History Records at the top right corner. You can reach the same places with one click next time.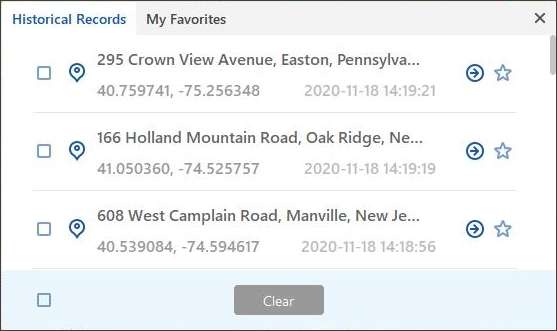 You are allowed to save your favorite locations as bookmarks for further use. All your favorite locations will be collected in My Favorites for quick use.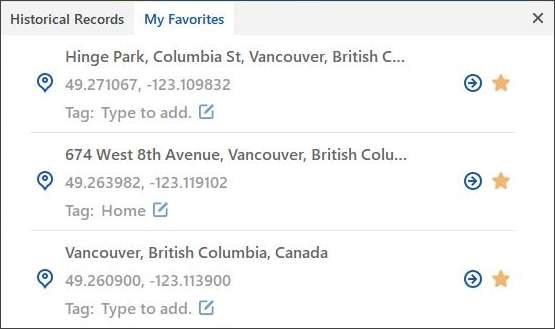 Part 3. Simulate GPS Movement with Customized Route - by Two-spot Mode
Step 1:

Choose Two-spot Mode

If you want to customize a route, you can select Two-spot Mode at the upper right corner (the 1st one).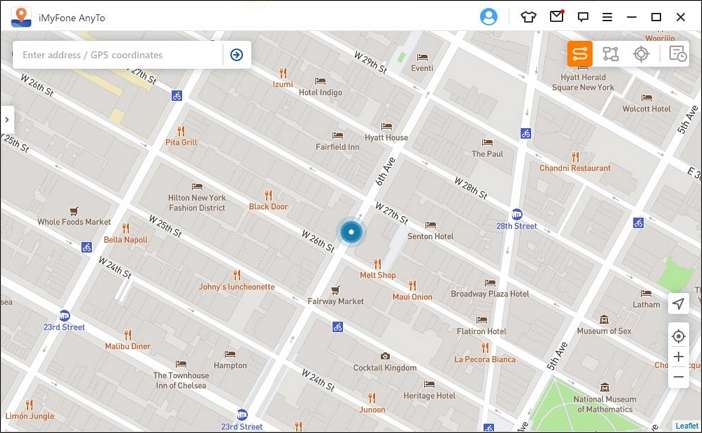 Step 2:

Plan Two-spot Route

Pinpoint a location on the map as your destination. You can also choose a destination by entering the address or coordinate in the Search box. The chosen destination will be added in the sidebar. You can see the place names and the coordinates of your current location and the destination.

You can now set up the number of times for the virtual route to move back and forth between the two places. Drag the Speed bar to customize your moving speed.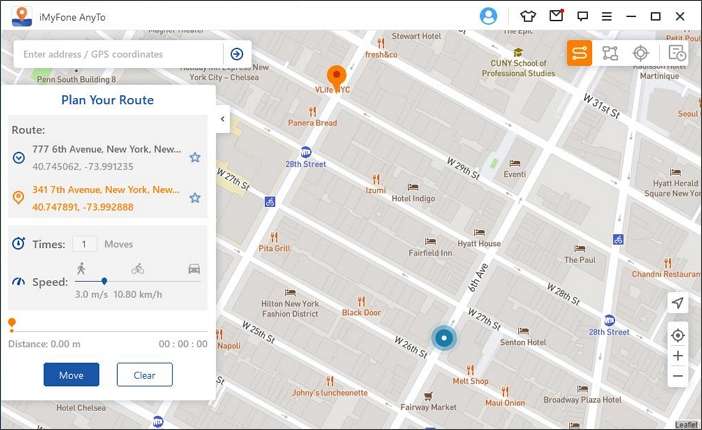 When it is all set up, click Move to start simulating the movement. You can see the distance and time change as it moves.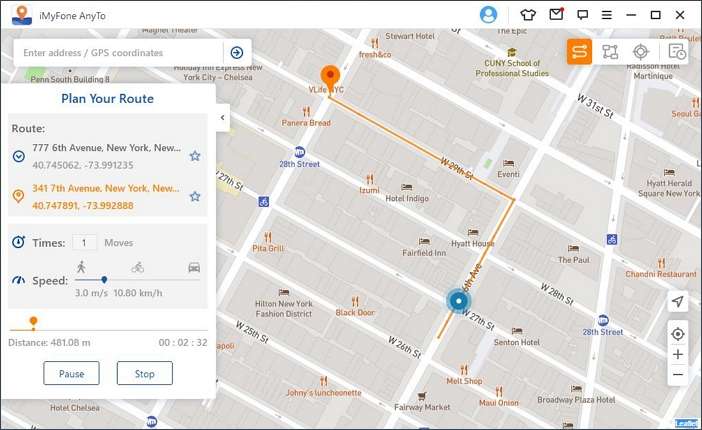 As it moves on the map, the GPS on your iOS devices moves without lag. When it finishes, it will pop up a prompt Completed!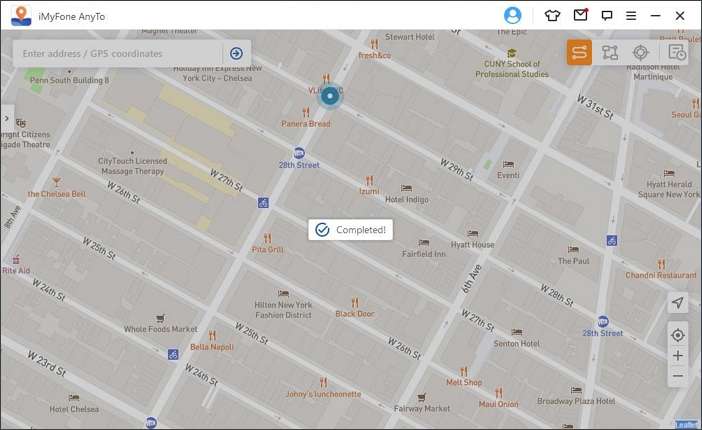 Part 4: Simulate GPS Movement with Customized Route - by Multi-spot Mode
Step 1:

Choose Multi-spot Mode

If you want to plan a route with multiple spots, you can select Multi-spot Mode at the upper right corner (the 2nd one).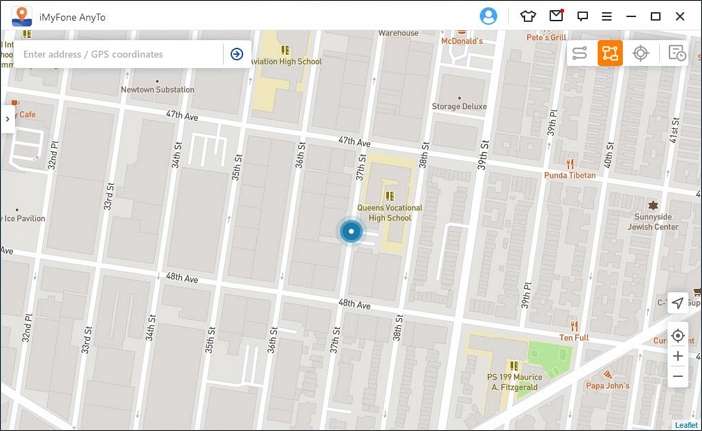 Step 2:

Plan Your Multi-spot Route

Select different spots one by one on the map that you want to pass by. Or enter address/GPS coordinates to set the spots.

Set the number of round trip times by entering the number. And set the speed by dragging the Speed bar. After the Times and Speed are set up, click Move to start the journey.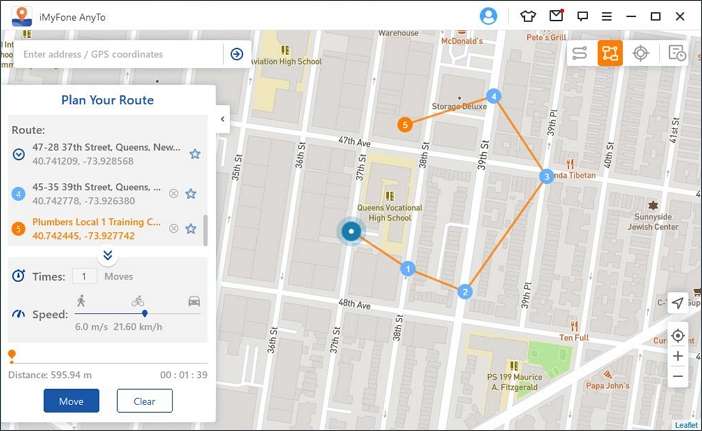 iMyFone AnyTo will simulate the movement with the speed that you set. You can enjoy all location-based AR games without any walking!
When it finishes, it will pop up a prompt Completed!
Note: In order to avoid the game developers thinking that you are spoofing location, you'd better to choose the destinations along the specific roads.