Things about Pokémon GO Adventure Sync You Should Know
Category: Change Location
3 mins read
If you've been playing Pokemon Go for a while, you may have come across the Adventure Sync feature in the game. It's a pretty unique feature that you may not find in any other game right now. To put it in simple words, when Pokemon GO Adventure Sync is enabled, you'll receive certain rewards & in-game credits, even when you're not playing the game.
The key idea behind this feature is to encourage people to get more physical activity and stay fit. However, ever since its release back in November 2018, Adventure Sync has forced players to raise several queries. While some players don't know how to enable this feature, others are skeptical about this process.
So, in today's guide, we have decided to share a comprehensive insight into Pokemon Go Adventure sync and how you can use it to earn rewards in the game.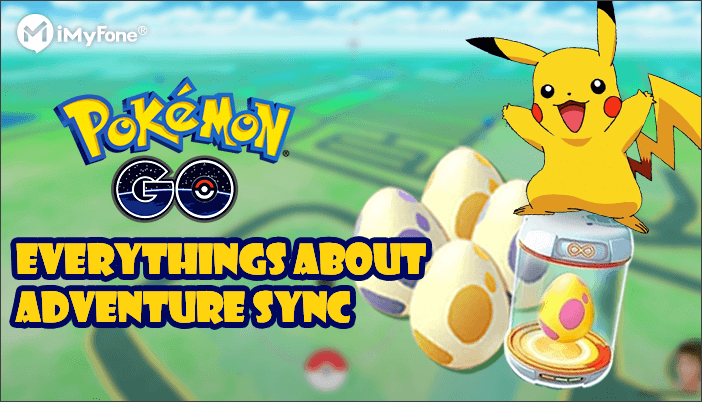 Part 1: What Is Adventure Sync in Pokémon GO
Niantic first released the "Pokémon GO Adventure Sync" feature at the end of November 2018. You can enable the feature through the "Settings" menu in Pokémon GO and once enabled, it'll follow up all your GPS movement when the game is not running. And, once you'll relaunch the game, it'll automatically reward you with special credits (usually Buddy Candies).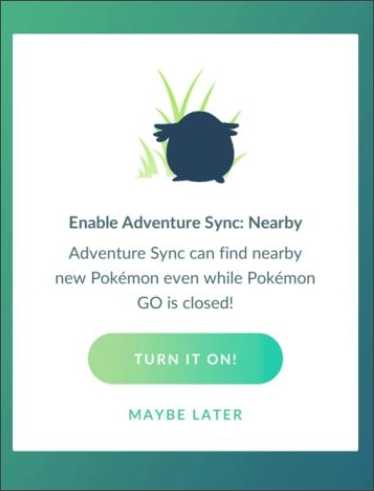 This means that if you want to earn these rewards, you'll always have to carry your phone along with you so that it can easily find out your GPS movement. Along with your smartphone's GPS signal, this feature also fetches data from certain apps to precisely follow up your movement. Of course, your movement won't be counted if you're moving too fast, i.e., when you are driving a car.
Over the course of two years, Niantic has released several updates to improve this feature. Recently, in March 2020, the gaming-giant announced an upcoming Pokémon GO update in which the "Adventure Sync" feature will receive significant improvement. As per reports, the upcoming update will provide credits for treadmill running and indoor walking as well.
Part 2: Pokémon GO Adventure Sync Rewards
So, what Pokémon GO Adventure Sync rewards you can receive by enabling the feature. Basically, you'll receive weekly awards based on the total distance you've covered in the entire week. The distance window is divided into three different categories and each category has its own specific rewards. These categories include:
| Weekly Walking Distance | Pokémon GO Adventure Sync Rewards |
| --- | --- |
| 5km | 20Pokéballs, |
| 25km | 20Pokéballs, 10 Great Balls, 500 Stardust, 1 Rare Candy or 5km Eggs |
| 50km | 20Pokéballs, 10 Great Balls, 1500 Stardust, 5km Eggs & 3 Rare Candy or 10km Eggs |
It's worth noting that 50km is the maximum limit for rewards. If you surpass the 50km benchmark, you won't receive any additional awards.
Part 3: How to Turn on Pokémon GO Adventure Sync
Now that you're familiar with the rewards you'll receive through Pokémon GO Adventure Sync, let's quickly take a look at how to enable Pokémon GO Adventure Sync so that you can start collecting rewards.
Watch the Video Tutorial to Turn On Adventure Sync in Pokémon GO
If you have recently updated Pokémon GO, you'll automatically receive a pop-up to enable the feature. However, in case you didn't get any pop-up message, follow the below-mentioned instructions to enable the feature via "Settings" menu.
Step 1: Launch Pokémon GO on your smartphone.
Step 2: Tap "PokéBall" icon to launch the "Main Menu" and then select "SETTINGS". You'll be prompted to the "SETTINGS" window.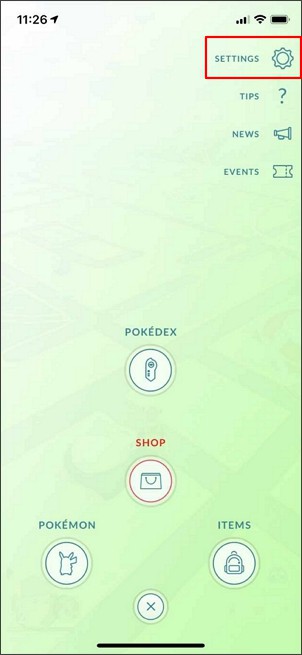 Step 3: Simply click on the "Adventure Sync" option to enable it. You may also have to provide additional permissions so that Pokémon GO can easily collect data from apps.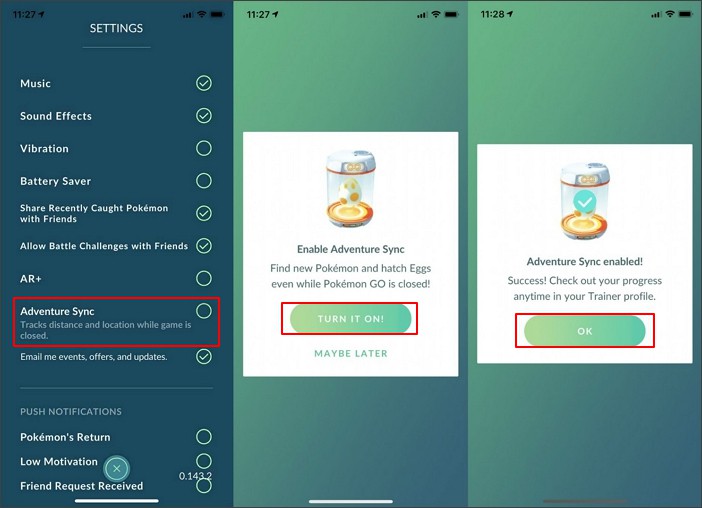 Part 4: Why Pokémon GO Adventure Sync Not Working
Despite being a remarkable Pokémon GO feature, many players have also reported that the feature doesn't work for their account properly. To believe Pokémon GO forums, there were many cases where Adventure Sync didn't update the weekly details and as a result, it didn't reward anything.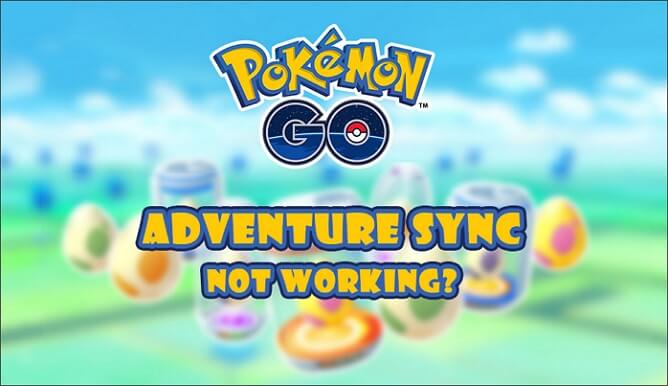 If you're facing the same issue with your Pokémon GO account, here are 3 tips that'll help you make Adventure Sync work again.
First and foremost, make sure that Pokémon GO is completely closed. Adventure sync won't follow up your GPS movement when Pokémon GO is running, even in the background.
Secondly, you must be using a compatible app. In general, Pokémon GO supports Apple Health for iOS and Google Fit for Android. So, your smartphone must be running these apps so that Adventure Sync can successfully follow up your weekly GPS movement.
Finally, you must be walking, running, or biking at a speed of less than 10km/hour to rewards. Pokémon GO uses a speed cap and it won't follow up distance if the speed is above 10km/hour.
Part 5: BEST Pokémon GO Adventure Sync Location Changer You Should Know
Adventure Sync in Pokémon GO is a pretty useful feature, especially if you are a regular Pokémon GO Player. However, it's also safe to say that not all players have the energy or desire to go out and walk for several kilometers just to collect Pokémon GO Rewards.
This is when Pokémon GO Adventure Sync location changer will help. There are different ways for both iOS and Android that'll help you trick Pokémon GO into believing that you indeed walked a specific distance, even when you've spent the entire day on your couch.
Let's discuss the two different tricks with Adventure Sync in iOS as well as Android.
1

Pokémon GO Adventure Sync Location Changer for iOS&Android

Location spoofing is the most reliable trick to change your GPS movement and add more distance to your Adventure Sync. This can be done using a dedicated iOS&Android location spoofing app like iMyFone AnyTo.

It's a feature-rich geo spoofing tool for iOS&Android that'll allow you to change your GPS location and also plan a route to change your GPS movement on Pokémon GO.

This way your Adventure Sync Pokémon GO activity will continue to increase, even if you've not walked a single step. iMyFone AnyTo comes with a wide range of features that make it a reliable tool for location spoofing on iOS&Android devices. Some of these features include:
Set your location from anywhere in the world.
Change Your GPS movement on Pokémon GO while controlling your speed manually.
Save routes and locations for future use.
Find locations using their GPS coordinates.
Works with all iOS devices running iOS 7.0 and above system, including the latest iOS 16.
Support Android devices running Android 5.0 and above system, include the latest Android 12.
How to Use iMyFone AnyTo to Gain More Distance without Moving Outside
Now, let's move to the step-by-step process using iMyFone AnyTo.
Step 1: Start by installing iMyFone AnyTo on your PC/Mac. After the installation process completes, launch the software and click "Get Started".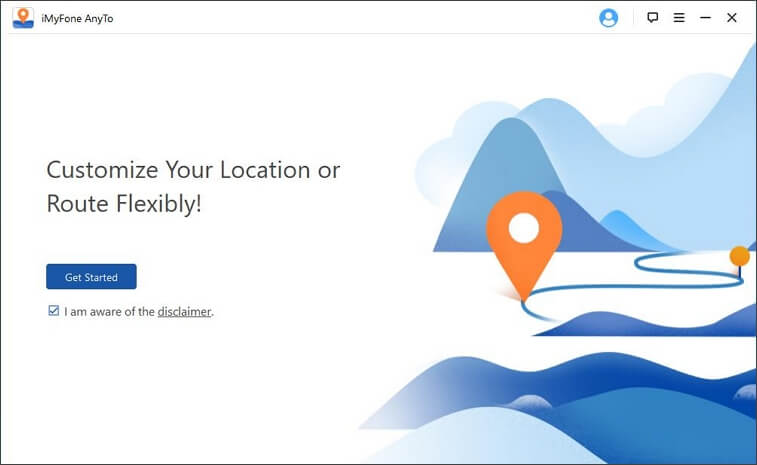 Step 2: Connect your phone to the PC/Mac and click "Trust" on the pop-up window on your devices. Entering the passcode to grant the permission.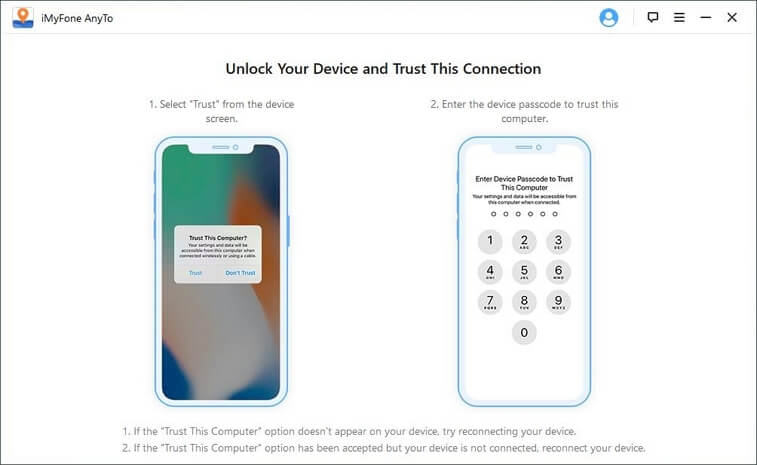 Step 3: After connected successfully, a map will pop up. Choose "Multi-Spot mode" from the top-right corner.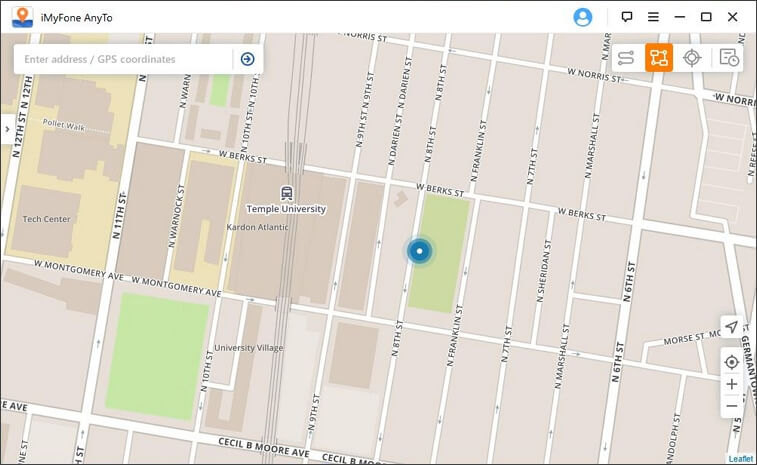 Step 4: To plan you customized route, you have to pin the locations one by one on the map. You can also set the location by enter the address and coordinates to search bar.
Step 5: Once you've selected the locations, all of them will automatically appear in the sidebar.
You're allowed to set the number of round trip times by enter the number into the blank. You can also adjust the speed according to your need by dragging the slider. After the times and speed are set up, click the move to start your GPS movement.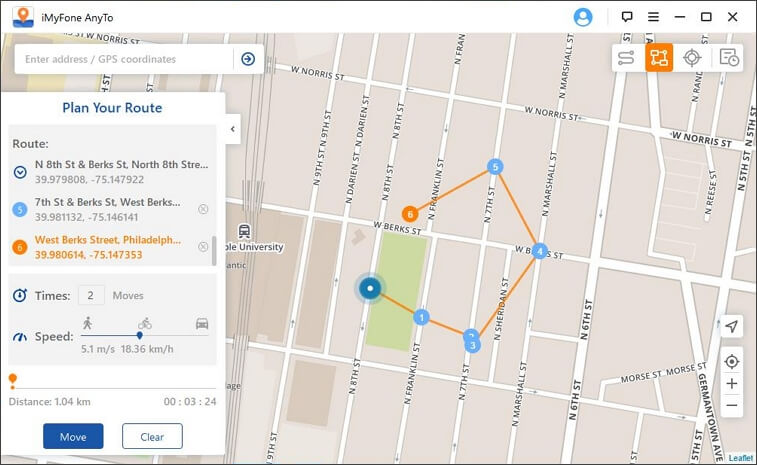 Right now, you have already make your phone move along without moving and walking outside. All the data recorded by your phone will be counted for Pokémon GO.You can now enjoy the Pokémon GO Adventure Sync with iMyFone AnyTo.
---
2

Pokémon GO Adventure Sync for Android

In addition,we also provide an Android solution. In this case, we recommend using DeFit, officially known as the debugger of fitness apps. Instead of faking your GPS movement, DeFit will simply add activity records to your Pokémon GO account.

As a result, you'll receive the Pokémon GO Adventure Sync rewards without having to walk several kilometers. Let's quickly walk you through the step-by-step process of using DeFit to add activity data on an Android device.

Step 1: Go to Google Play Store and download the "DeFit" app on your smartphone.

Step 2: Launch DeFit and make sure to log in with the same ID you're using with your Pokémon GO account.
Step 3: In the next window, drag the slider to customize the activity data and then tap the slider to turn on "Sync fitness data".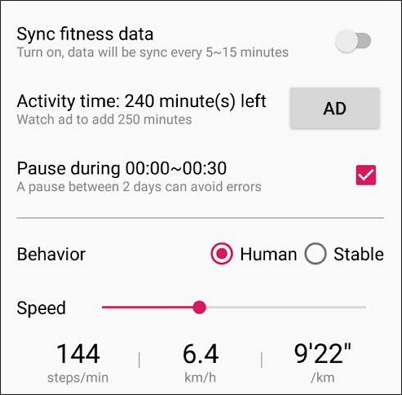 Conclusion
So, that's everything you should know about the Pokémon GO Adventure Sync feature. If you weren't using it earlier, it's the right time to enable it as it'll help you get free rewards along with some physical activity. And, in case you're feeling a bit lazy to go out, make sure to follow the above-mentioned ways to earn rewards while sitting at the comfort of your couch.
Change GPS Location on iOS/Android
168,282 people have downloaded it.
Fake iOS/Android GPS location to anywhere in the world instantly.
100% Work with location-based apps such as AR games, social platforms, etc.
Joystick to simulate GPS movement freely when playing games.
Import / Export GPX file to save your favorite routes.
Compatible with All iOS & Android versions.