Question
I've spent several hours working on an important PowerPoint file, but before I was able to save it, my Windows PC shut down unexpectedly. How can I recover unsaved powerpoint in Windows 10? Any suggestion is appreciated!
PowerPoint presentation is widely used nowadays due to its vivid content, and it often takes hours to create an awesome PowerPoint file. Therefore, sheer upset must be the first reaction when you found that the PowerPoint file you've put much effort into was unsaved. Also computer systems are prone to crashing, the ppt files are closed without saving due to some bugs. Nevertheless, if you find yourself in this situation the next time, you don't have to panic because Here, we'll discuss three best solutions about how to recover unsaved PPT files in details.
#1. Recover Unsaved PowerPoint File by Advanced Program
If it's becoming hard to recover unsaved PPT files in Windows10 or Mac, especially when the recycle bin has been emptied, you have one last shot – a third-party recovery tool called iMyFone D-Back Hard Drive Recovery. We recommend this software because it's a leading data recovery tool that can recover all unsaved PowerPoint files no matter the reason, and give back your lost file with the same file type and quality.
Main Features about iMyFone D-Back:
Recover over 1000 file types, including PowerPoint presentation file, excel files, Word document, photos, audios, videos and many others.
Restore deleted/unsaved ppt files from USB flash drive, PC hard drive, memory card, and other external storage devices.
Able to Recover files lost due to accidental deletion, hard drive formatting, lost partition, virus attack, system crash, drive corruption, etc.
Allow preview before recovery, and the free trial version allows you to recover 3 files for free.
It is fully compatible with Windows 10/8/8.1/7/XP and Mac
Steps to recover unsaved PowerPoint file:
Step 1. Free download D-Back on your computer, and then launch it. Select the location where you lost the PowerPoint presentation file, and click theStart tab.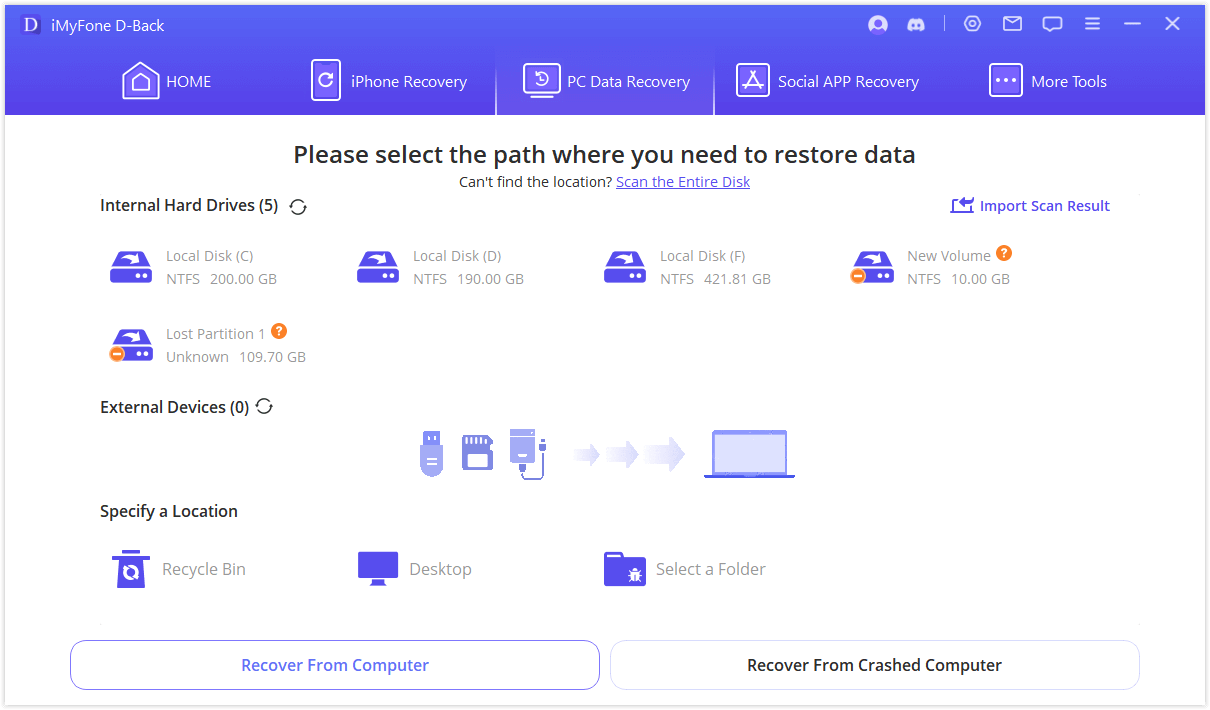 Step 2. Wait patiently while D-Back Hard Drive Recovery Expert scans the location and search for lost files.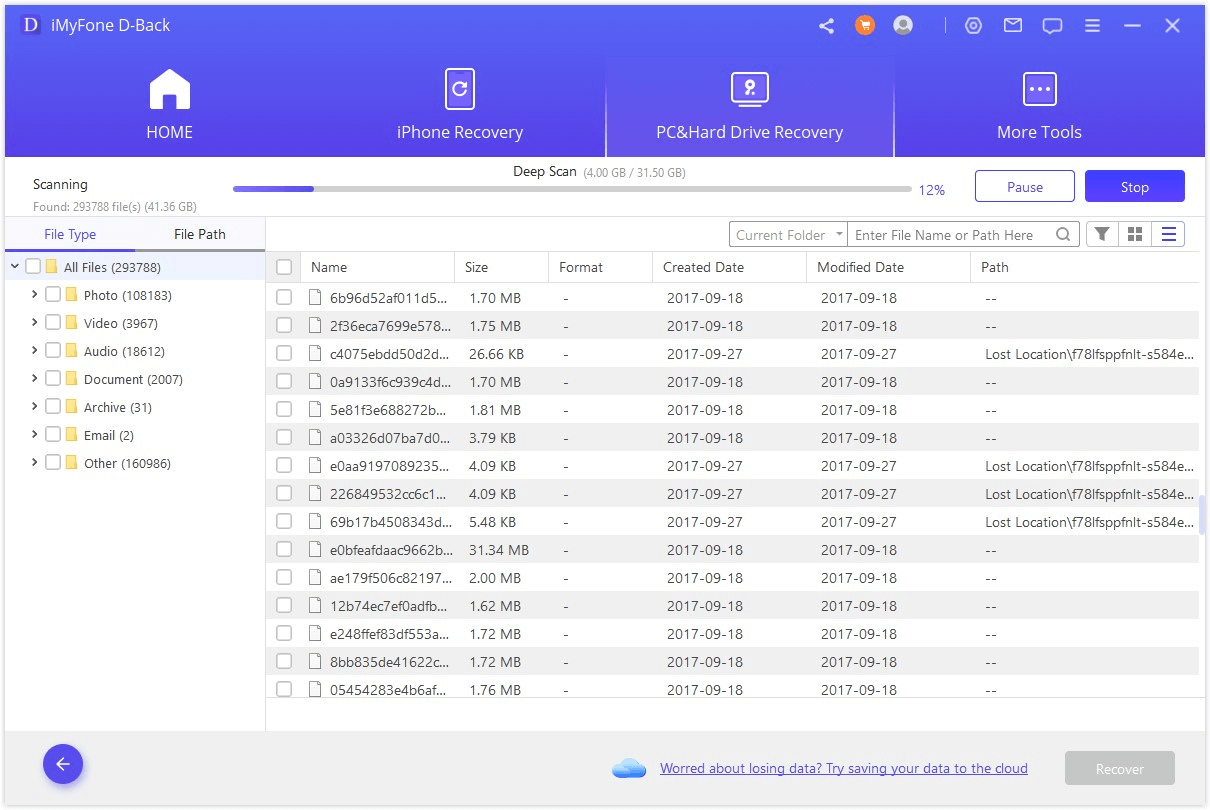 Step 3. Once the scanned files are presented to you for preview, go through them and select the ones you would like to recover. Then, click the Recover tab, and select a location to save the PowerPoint file.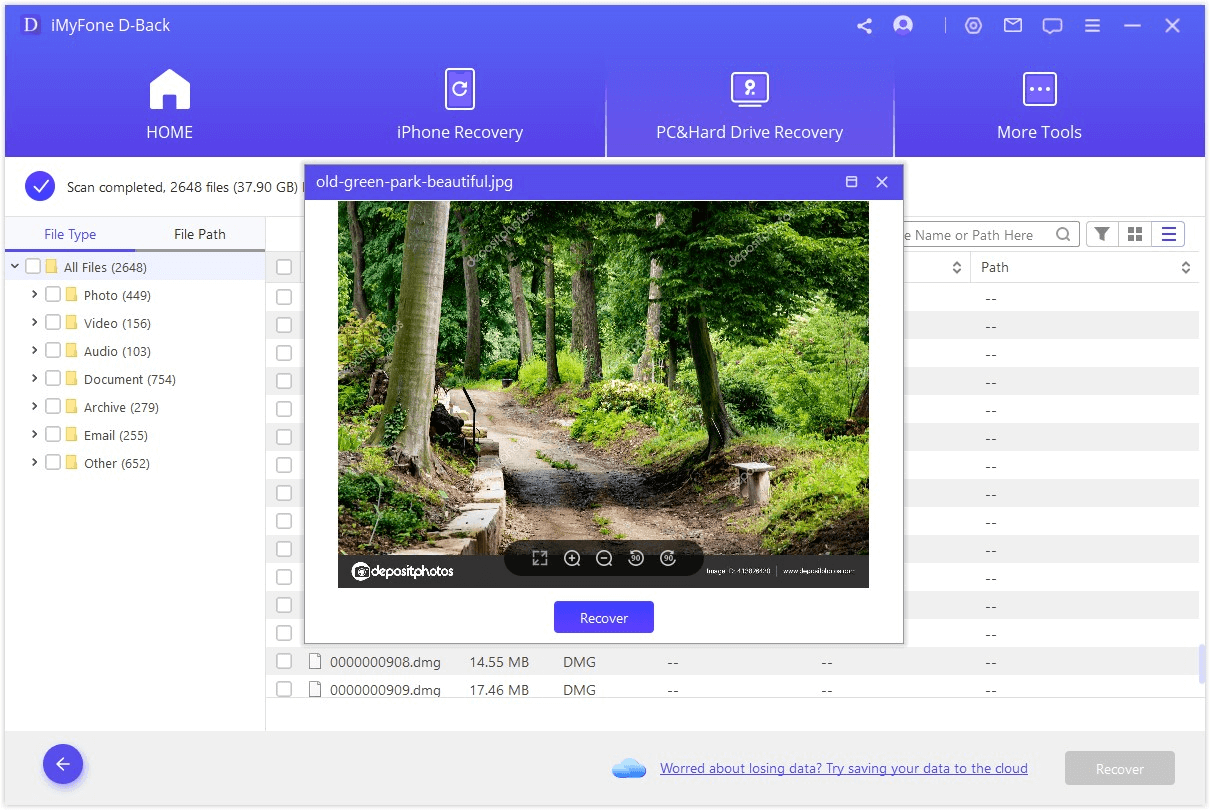 #2. Restore Unsaved PowerPoint File with "Recover Unsaved Presentations" Feature
If you inadvertently closed or shut down your PC before saving your PowerPoint presentation file, it's possible to find it back from saved drafts in Microsoft PowerPoint 2010, 2013, or 2016.
Option 1.
Step 1. Open PowerPoint Office application on your PC.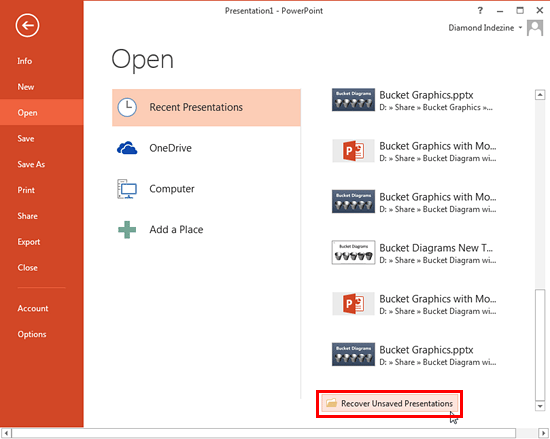 Step 2. Click the "File" tab in the upper left corner of the page, select "Open" and scroll down toRecover Unsaved Presentation under "Recent Documents".
Step 3.The Saved Draft folder will open, find the unsaved PowerPoint presentation and double-click it to open it. Then, save it.
Option 2.
You can also find unsaved PowerPoint file by following these steps:
Step 1. Open PowerPoint Office application on your PC.
Step 2. Open a new file or an existing file.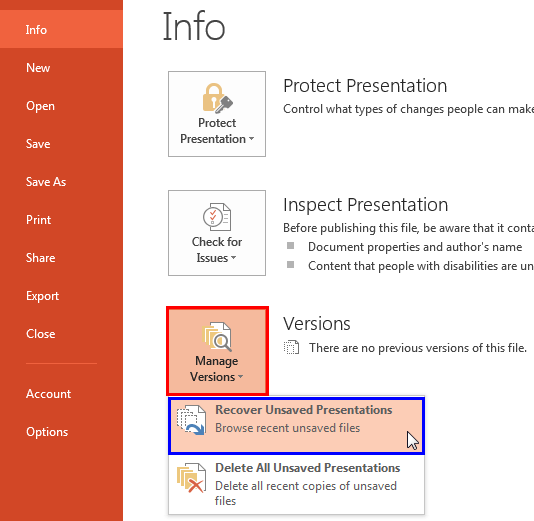 Step 3. Click "File > Info > Manage Versions > Recover Unsaved Presentation" tabs.
Step 4. A list of unsaved files will be displayed, select the one you want to recover and click Open.
Step 5.Click "Ctrl + S" keys to save the file.
Note
The files under "Unsaved" folder in PowerPoint are temporary and will be erased after some time. So, ensure you save it immediately you open it.
#3. Recover Unsaved PowerPoint Files Using AutoRecover
The Microsoft PowerPoint program itself features a PowerPoint file recovery function, namely autorecover feature, which helps to recover your unsaved PowerPoint file, but you'll need to check if it's enabled.
How to check if AutoRecover is enabled and enable it
Step 1.Open PowerPoint Office application in your computer and select "File > Options > Save" tabs.
Step 2.Check the boxes "Save AutoRecover information every x minutes" and "Keep the last AutoSaved version if I close without saving".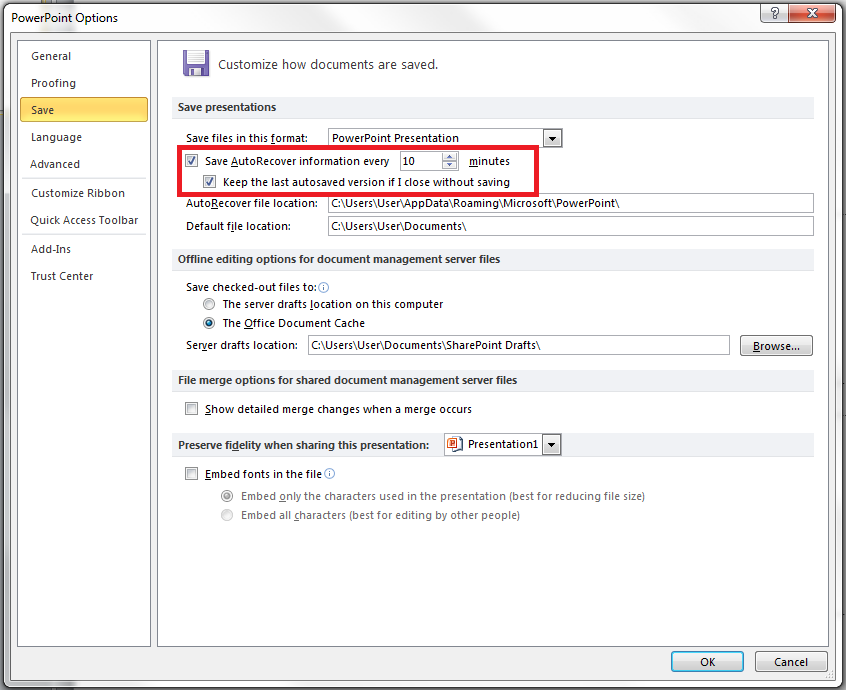 Now, you can use AutoRecover to retrieve unsaved PowerPoint Presentation
Step 1.Continue from step 2 above, copy the file destination path from "AutoRecover file location" option.
Step 2.Open windows explorer, paste the file path on the search bar and hit "Enter" to search for unsaved PowerPoint file.
Tips
If you are an Office 365 user, the file should be in your cloud if you have enable the autorecovery function.
FAQs about Unsaved PPT Files
1

How to Prevent PowerPoint File from being Lost?
As PowerPoint is common in our life, to save yourself from all the trouble and stress of PPT file was unsaved, it's better to take some measures.
Always turn on the AutoRecovery feature, and I would recommend to set at "save AutoRecover information every 1 minute".
Have a backup of your finished PowerPoint file in an external storage device, in case the copy you saved in your computer hard drive is lost.
Better not empty your recycle bin, in case you still need the PPT file you have deleted before.
2

How to find PowerPoint file not saved?
If you don't know how to find PowerPoint file not saved, it's recommended that you press the "recover unsaved files" from the "file" tab and the unsaved files will be listed there.
3

How to Recover Unsaved PPT Files from TMP Files With MS Office?
If you are using MS Office 2010, you can use the built-in recovery function to restore and convert the TMP file into PowerPoint to make sure you can edit it.
Open your PowerPoint, go to the Files, and scroll down to Information.
Click on the "manage versions" option and hit the "recover unsaved documents," You will find the file you lost.
3

How to Open TMP Files In PowerPoint?
If you want to know how to open TMP file PowerPoint, you have to assign the file a new name and change the extension from TMP to .ppt. Once the file format is changed, the file will easily open in MS PowerPoint
To Conclude
Stop panicking if your PPT file was not saved, as this post has provided three efficient methods to recover unsaved PowerPoint files in Windows 10/8/7 or Mac, and the most recommded method is by iMyFone D-Back, a leading data recovery program than can easily handle PPT file recovery.