[2023] How to Recover Files from Emptied Trash on Mac
Category: PC Data Recovery
4 mins read
Restore data from Mac with one click.
If you are a Mac user and have accidentally deleted your important files from emptied trash, including memorable pictures or some documents, then we will help you recover them in the best ways. People think that if they have deleted their stuff from the trash, it will be unrecoverable, but that is only a rumor in today's modern era.
In this article, we will see the recovery of your worthy data from emptied trash in multiple ways. One is through a professional recovery tool, while others are the general methods.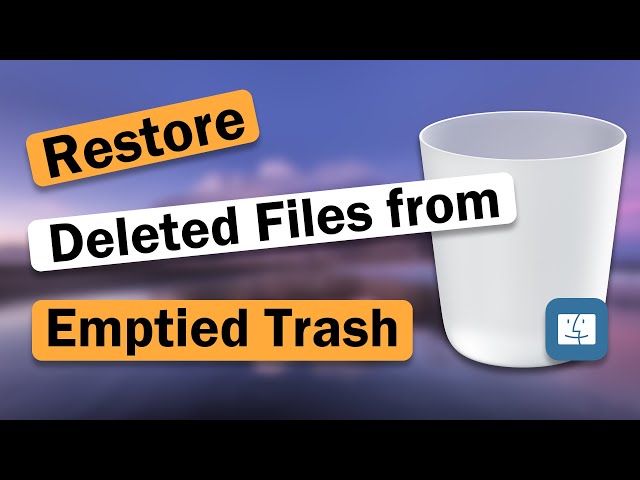 Part 1. Recover Mac/Mac OS X Deleted Files from Emptied Trash Using a Professional Tool
Recovering data from the trash section of your PC is just a single-handed operation nowadays, but it has become more efficient through a professional tool. Your data in emptied trash can be deleted due to accidental deletion, virus infections, or it can be due to connecting infected devices. Let's start with a brief introduction of iMyFone D-Back, a professional recovery tool.
iMyFone D-Back is a competitive and smart tool that recovers your files from emptied trash in the easiest way. It has a straightforward interface, a prominent attribute for new users. It also has quick speed scanning to present the result within a few minutes. People are worried about their data privacy while using third-party apps, but it assures you with layers of protection for your data. You can filter the files quickly based on their type and the date you deleted them.
With the easy-to-use interface, you can restore your data from emptied trash without putting extra effort.
Before recovering, you can freely scan your data in emptied trash while previewing it to determine what data can be recovered.
It is available for Windows as well as Mac.
The iMyFone D-back data hard drive doesn't only work with files on Windows/Mac, but it can also help you to recover data from SD cards, hard drives, cameras, etc.
Let's see how the software works.
Step 1: Download iMyFone D-Back by selecting the relevant OS and installing it on your PC.
Step 2: Launch the software; it will show you an intuitive interface with various options. Click Trash from specify a location tab.
Step 3: After specifying the location, please wait a few minutes because it will start digging for the lost emptied trash files. When the scanning is completed, you will have a preview of your lost files.
Step 4: Select the files from

emptied trash

or search for a specific one. Hit Recover at the bottom. It will ask you to select the file path where you want to restore the files, so select a safe location.
Part 2. Recover Mac Deleted Files from Emptied Trash for Free
In this part, we will guide you about the free ways to recover Mac deleted files from emptied trash. One way is the direct way, while the other is through the cloud. Let's see how each of these works.
1

Restore Files from Emptied Trash with Time Machine

If you have emptied the trash, then there is only one way to recover the files, and that is Time Machine. It is the default feature in Apple devices that consistently saves your data by using your built-in backup. It captures and prioritizes your recent data instead of aged ones, but you can also store data manually. Let's start with the steps and see how this feature's algorithm works.
Step 1: Click Enter Time Machine from the menu list. Or use the terminal application by using several coding that will allow you to view the previous data that Time Machine has taken in the past.
Step 2: When you open the Time Machine, you can explore the files created as a backup.
Step 3: Go to the specific parent folder and select the date when the files were saved on Mac , or you can also use the up and down arrow buttons to reach the exact date.
Step 4: Select the files and hit Recover at the bottom. It will retrieve all the files on your hard drive.
2

Restore Files from Emptied Trash with iCloud backup

This way works when you have created a backup on your iCloud account. iCloud is a platform that stores your valuable data and manages it accordingly; you can easily restore it whenever needed. For this method, you must have a strong internet connection and higher speed to enjoy uninterrupted downloading and uploading. Let's see how it recovers the data effectively.
Step 1: Navigate to the iCloud webpage through your web browser. Login with the credentials from which you have lost your data from the trash.
Step 2: Click Account Settings and scroll down to the end of the page. Click Restore Files from the advanced tab.
Step 3: Select the files you have lost from the trash and hit Restore Files from the upper menu. Hit Done to complete the process.
3

Restore Files from Emptied Trash from Emails

The emails will only work if you send the important files to your friends or colleagues. This depends on your luck if you have shared it to save them as a backup.
Step 1: Open the email application that you usually use.
Step 2: Go to the Sent or Inbox and open that mail. Click the download button and select the location where you want to save them.
Part 3. FAQs
1

Where is trash on MacBook?

The trash icon is placed in the Dockon the right-hand side.
2

How to empty trash on Mac?

Follow the steps to empty the trash:
Open trash from the Dock.
Select all the files by Cmd+A from the keyboard.
Click Empty at the top right corner.
3

How to stop recovered files in the trash Mac OS X?

While recovering the files from your Mac OS X trash, if you have selected the wrong file and want to stop the recovery process, then hit the Stop button in iMyFone D-Back to cancel the process.
Conclusion
You have learned how to recover the deleted files from the emptied trash of your Mac OS X. It is more efficient to use a professional recovery software like iMyFone D-Back that leads to the true and fastest recovery of your worthy files.