[SOLVED] How to Recover Game Data after Initializing PS4/PS5?
Category: PC Data Recovery
5 mins read
I'm in a real bind here. My PS4 refused to turn on, forcing me to initialize ps as a last resort. Sadly, this has led to the loss of my PSN account, trophies, games, and even the DLC that came with them. I've tried re-downloading from the store, and I had all my data saved to the cloud, but nothing is appearing there either. Is there any way I can restore everything I've lost? Any advice or suggestions would be a lifesaver. Thank you all for your assistance!
We all understand the immense disappointment that comes with losing game data and rankings that you have accumulated over time. Sometimes, we have to face the situation of initializing PS4. But what does initialize PS4 meaning and what does initialize PS4 do? Why of my game data are gone after initializing PS4?
There's no need to worry. In this article, we will provide you with a detailed guide to understanding the process of initializing the PS4 and will present you with the best method to recover data after initializing PS4. Keep reading to find out more!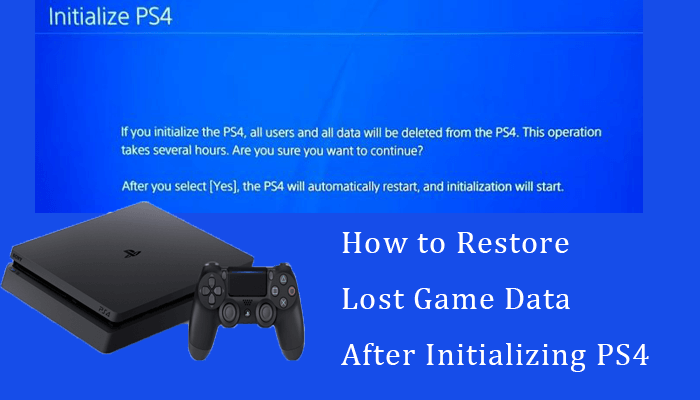 Part 1: What is Initializing a PS4 and What Does it Do?
Initializing a PS4 refers to the process of restoring the console's settings to their default state. When you initialize your PS4, it erases all user data, including games, applications, saved game progress, and personal settings. Essentially, it resets the console as if it were brand new out of the box.
The initialization process is typically used in situations where you want to start fresh with your PS4, troubleshoot software issues, or prepare the console for sale or transfer. However, it is essential to understand that initializing your PS4 will result in the loss of all your games and data, unless you have previously backed them up.
It is important to exercise caution before proceeding with initialization and ensure that you have a backup of your games and data to avoid losing any valuable progress or content.
Part 2: What Happens When You Initialize Your PS4?
When you initialize your PS4, several things occur that you should be aware of:
Erasure of User Data: Initializing the PS4 deletes all user data, including games, applications, saved game progress, screenshots, videos, and settings. This process essentially wipes the internal storage clean, reverting the console back to its factory settings.
Removal of User Accounts: All user accounts associated with the PS4 are also removed during initialization. This means you will need to sign in again using your PlayStation Network (PSN) account details after the process is complete.
Reinstallation of System Software: Initializing the PS4 reinstalls the system software to its default version. This ensures that any software-related issues or glitches are cleared, potentially improving system performance.
Deactivation of the Console: Initializing the PS4 deactivates the console as your primary system. This means you will need to reactivate it and set it as your primary system again if you wish to access certain features, such as playing downloaded games without an internet connection.
It is crucial to understand that initializing your PS4 is a drastic step that should be taken with caution. Make sure to backup your data beforehand to avoid permanent loss of your games and other valuable content.
Part 3: How to Recover My Games After Initializing PS4?
To recover your games and data after initializing your PS4, one reliable solution is to use iMyFone D-Back. This powerful data recovery tool specializes in retrieving lost or deleted files from gaming consoles, including the PS4/PS5.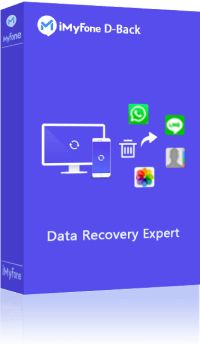 1,000,000+ Downloads
Key Features:
Efficient data recovery for games, saved files, and multimedia content.
Compatibility with various PlayStation models and file types.
Intuitive user interface for easy navigation.
Advanced scanning algorithms for comprehensive data retrieval.
Safe and secure recovery process without any risk of data loss.
Step 1: Download and install iMyFone D-Back on your computer. Then, launch the software and select the "PC & Hard Drive Recovery" option.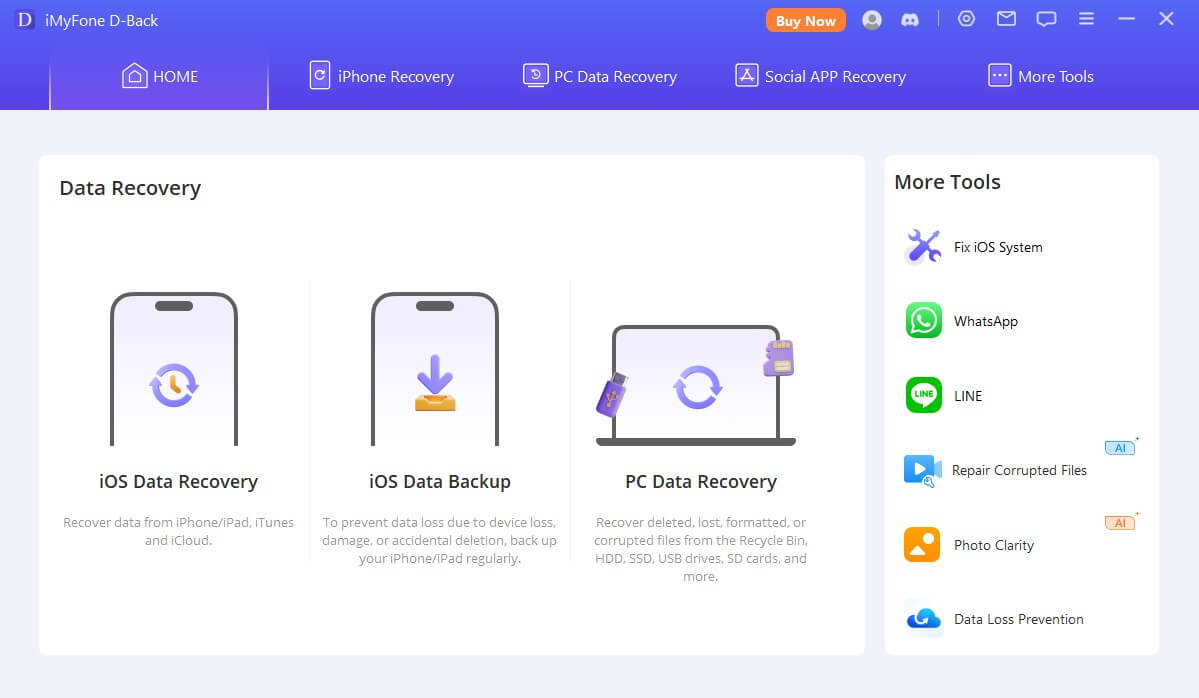 Step 2: Connect your PS4 hard drive to your PC and initiate the scanning process by clicking on "Start." Allow a few moments for the scan to complete.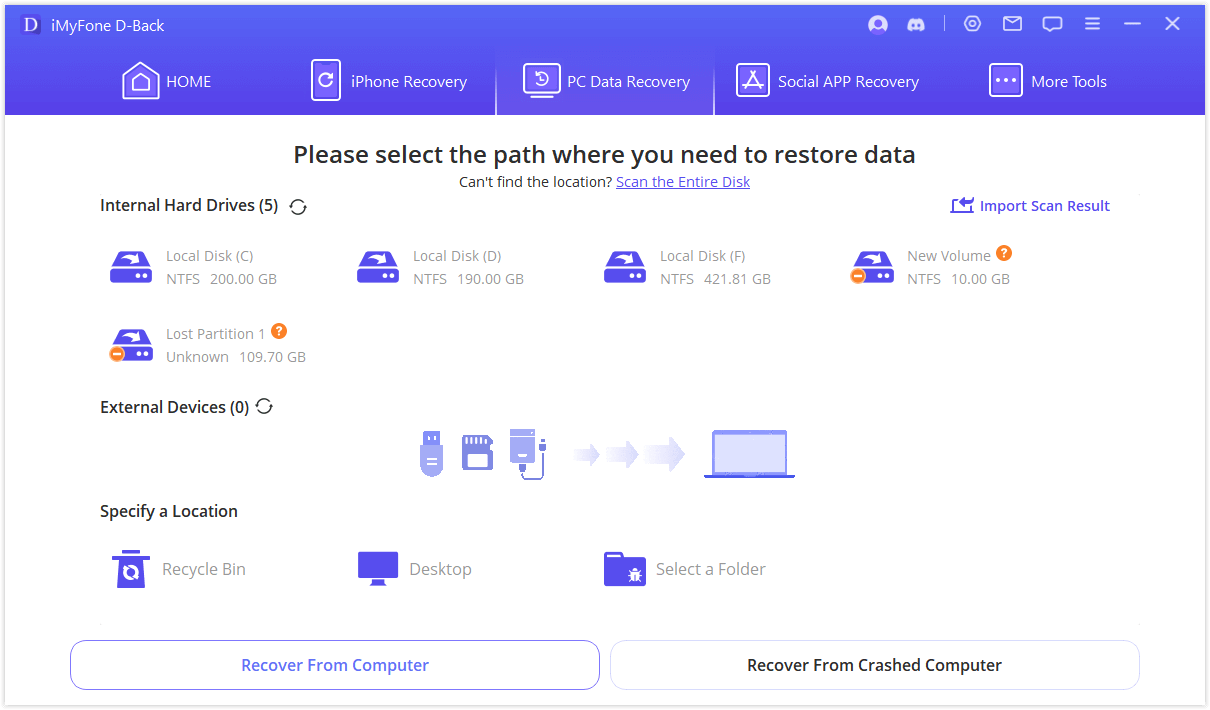 Step 3: After the scan, select the PS hard drive files you wish to restore. Within a few minutes, you will regain access to your PS files.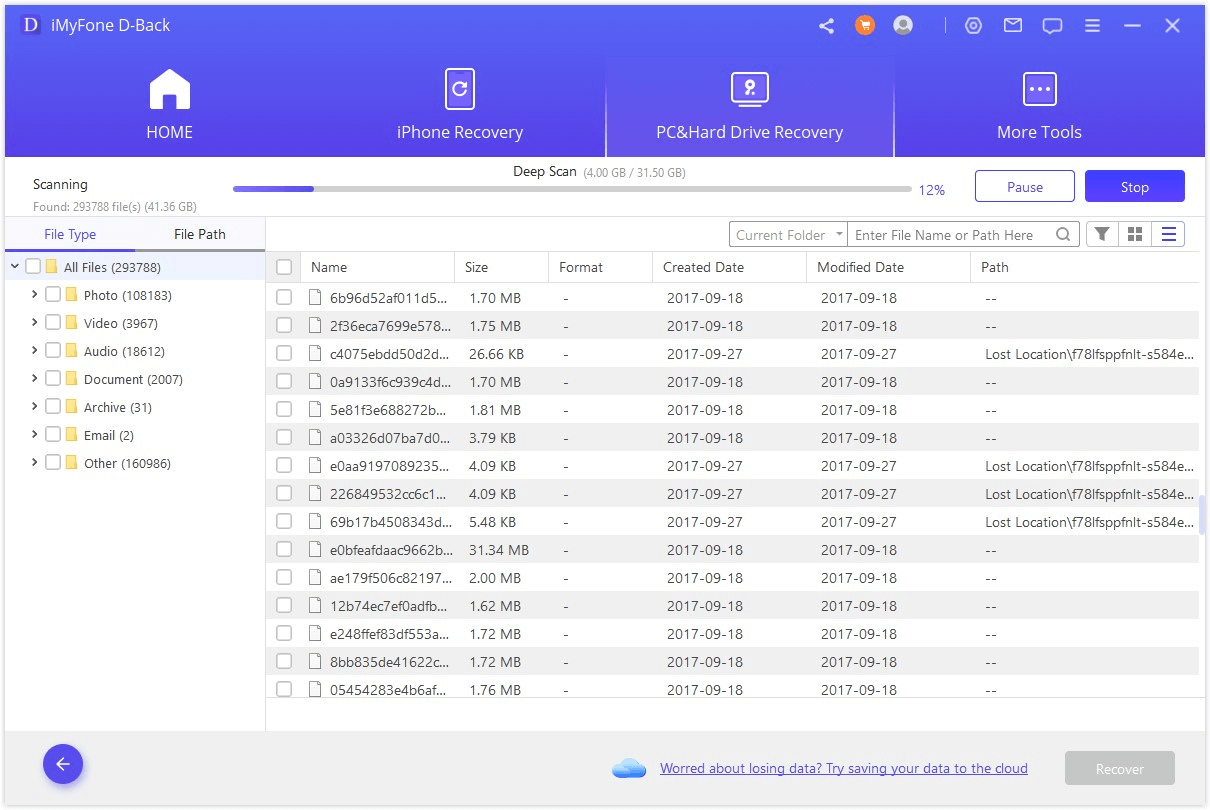 Part 4: How to Get Data Back on PS4 Internal Storage?
Before you can understand this method, you must be sure that the contents of the PS4 file have not been overwritten. If you have saved the data to the only location where the missing files are located, the contents will remain on the disk. In this case, you will lose their entries, which is why you won't see them.
However, when the PS4 drive is overwritten to zero by any data recovery tool, there is nothing you can do in this case. The game data has been lost forever. You cannot recover them by scanning the drive. In this case, you should look for ways on how to recover game files from external hard drive.
1

Way 1. Restore PS4 data from Cloud Storage
As a PS Plus subscriber, you have access to 100GB of free space to save your game data in the cloud. The auto-save feature automatically backs up your PS4 games. Follow these steps to restore your game data after initializing your PS4:
From the PS4 home menu, navigate to Settings.
Select Application Saved Data Management.
Choose Saved Data in Online Storage.
Select Download to System Storage.
Browse through the saved game data and choose the files you need.
Click on the Download button to start the download process.
2

Way 2. Recover the data from PS4 USB Storage

You can also use a USB storage device to restore your PS4 game data. Ensure that you have enabled sync with PlayStation Network and copied the video game files to the USB storage device. Follow these steps to restore your game data:
Open the Settings menu and navigate to System.
Click on Backup and Restore.
Select Restore PS4.
Browse through the backup files and choose the ones you need.
Confirm your selection by clicking Yes to initiate the data restoration process.
3

Way 3. Recover the data from PlayStation Store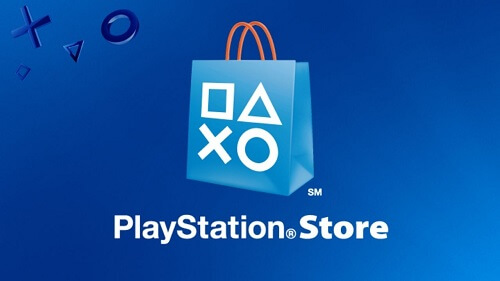 You have the option to re-download lost PS4 games from the PlayStation Store using the same account you used to purchase them. This re-download process is free of charge and serves as an alternative solution. Follow these steps:
Sign in to your PS4 with the same account credentials.
Open the PlayStation Store.
Browse for the lost games you wish to recover.
Select the games and initiate the download process to the PS4's local storage or hard drive.
Part 5: FAQs about Initializing PS4
1

If I initialize my PS4, will I lose my account?

Yes, initializing a PS4 will result in the loss of your account information. Remember your account credentials to regain access to your digital purchases, online progress, and trophies.
2

Can initializing a PS4 fix certain issues or errors?

Yes, initializing a PS4 can help resolve certain software-related issues or errors by restoring the system to its default settings. However, it is crucial to note that this will result in the loss of all data.
3

Is there any way to undo the initialization process on a PS4?

Unfortunately, once you initialize a PS4, the process cannot be undone. The data is permanently erased, and there is no built-in feature to revert the console to its previous state.
4

Does initializing a PS4 delete system software?

No, initializing a PS4 does not delete the system software. It only removes user data and settings, while the system software remains intact.
5

How do I back up my PS4 before initializing?

To back up your PS4 before initializing, you can use an external hard drive or utilize cloud storage services. Navigate to the Settings menu on your PS4, select "System," then "Back Up and Restore" to create a backup of your data.
6

How do I initialize my PS4 without losing data?

Unfortunately, it is not possible to initialize a PS4 without losing data. The initialization process is designed to wipe all user data and settings from the console. Therefore, it is essential to back up your data before proceeding with the initialization process.
Conclusion:
Understanding the consequences of initializing a PS4 and the importance of data recovery is crucial for gamers. In this article, we explored the process of initializing a PS4, the implications for account information, and provided a reliable solution for recovering games and data using iMyFone D-Back. Remember to always back up your data before proceeding with any system-level changes to ensure a seamless and worry-free gaming experience.