Software updates are very important for iPhone. Apple fixes previous UI bugs and glitches with every iOS update. Various other device performance updates will also be made to provide a better user experience for its customers.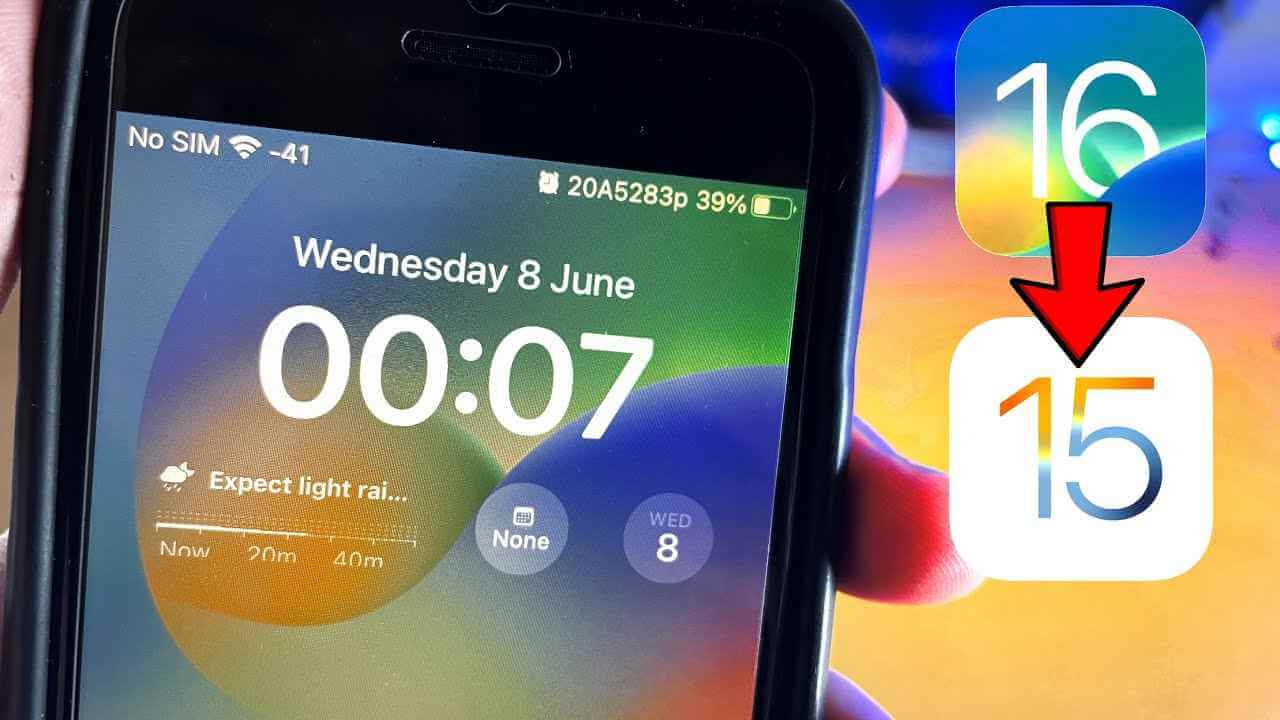 However, many users who chose to update iOS 16 have asked a question, "How to delete software update iOS 16?". In fact, sometimes you do run into some pretty tricky troubles when you update your system. In this article, we will discuss how to remove iOS 16 update on iPhone. Read on!
Part 1: How to Delete Software Update iOS 16?
Delete iOS 16 Updates on Your Device
Step 1: On your iPhone, iPad, or iPod touch, go to Settings and tap General.
Step 2: Select iPhone Storage or iPad Storage, depending on your device.
Step 3: Locate and tap the downloaded iOS software update.
Step 4: Select Delete Update and confirm you do want to delete it.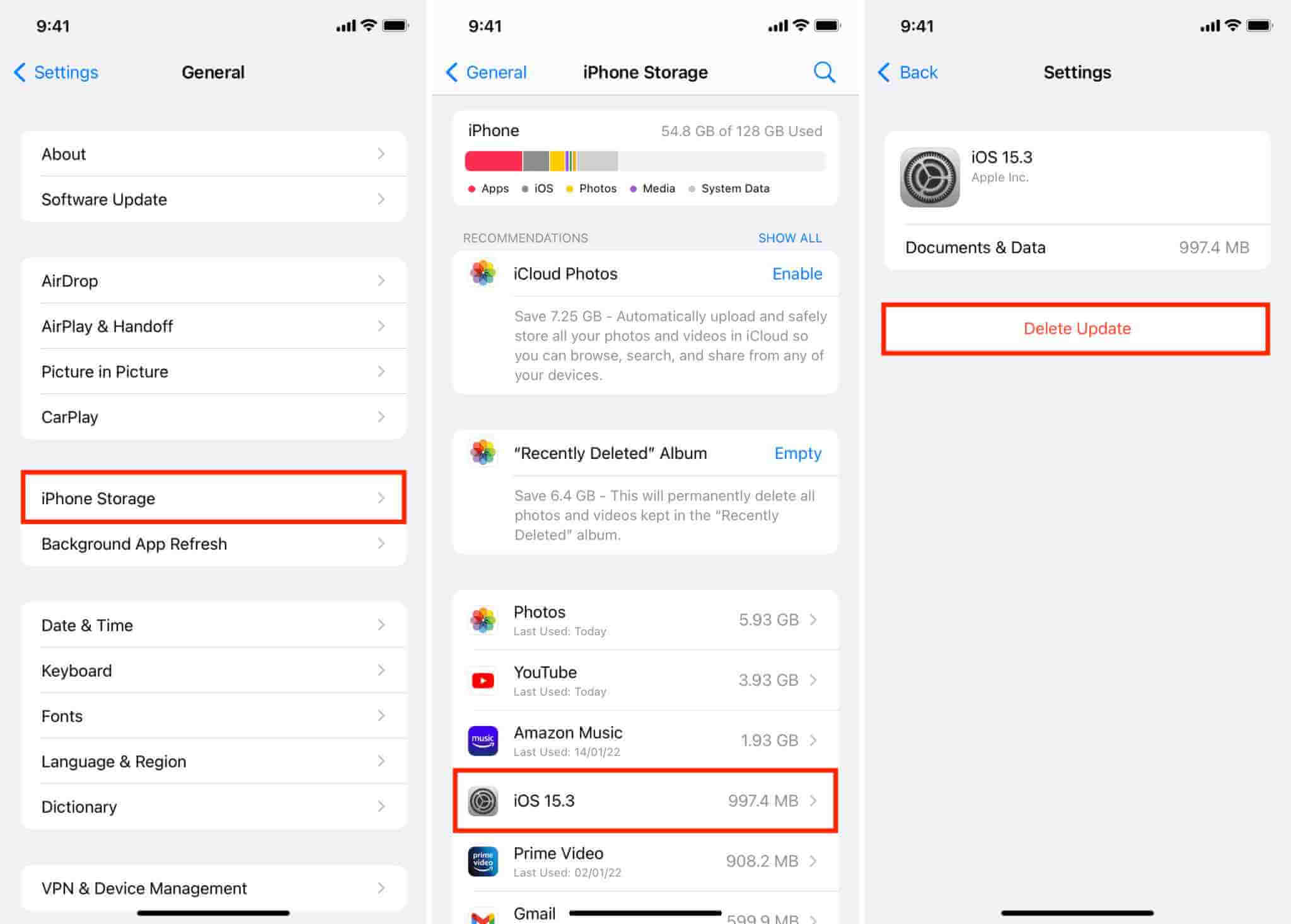 In the same time, some users have encountered a lot of mobile phone failures caused by delete iOS update, such as device freezes, white/black Screen and so on. These situations are not uncommon.
Fortunately, we have an all-in-one solution that will allow you to easily repair any of the iOS issues that may be causing the problem and easily repair the device. This solution is iMyFone Fixppo - an iOS system recovery tool that specializes in repairing all system issues.
iOS 16 Supporrted iMyFone Fixppo
Enjoy a 100% success rate for fixing the system-related issues.
It can be used to fix a frozen iPhone in all of the different situations described above and many more.
It supports all iOS devices and all versions of the iOS software.
Use the most advanced technology to ensure recovery is very fast.
A lot of media sites have recommended this tool.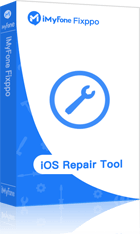 iMyFone Fixppo

Part 2: How to Undo iOS 16 Update on iDevice?
In addition to wanting to delete software update ios 16, many users also want to downgrade their iDevices back to the original version. For this problem, we will share with you how to undo iOS updates using iTunes and third-party tools.
1

Undo iOS 16 Update on iDevice with User-friendly Tool (without Losing Data)
---
Since native tools like iTunes will erase existing data on iPhone during the downgrade process, in order to avoid these troubles, we recommend you to use iMyFone Fixppo system repair tool. This is a highly advanced and user-friendly tool that can solve various problems related to iOS devices. In addition to that, it can undo iOS updates without losing existing data on your phone.
A video & step-by-step guide on how to safely undo iOS 16 without losing data
See how to downgrade iOS system with iMyFone Fixppo
Step 1 Download and install iMyFone Fixppo on your PC and select Reset iDevice on the screen.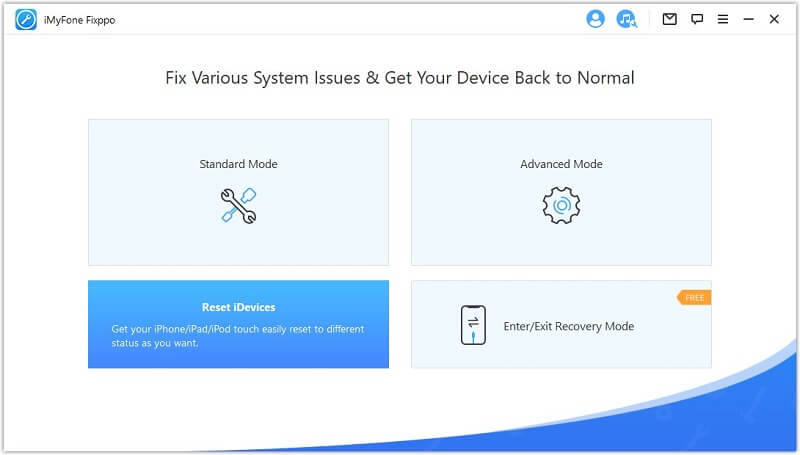 Step 2 Choose Hard Reset to downgrade your iOS system. Then connect your iPhone to the PC.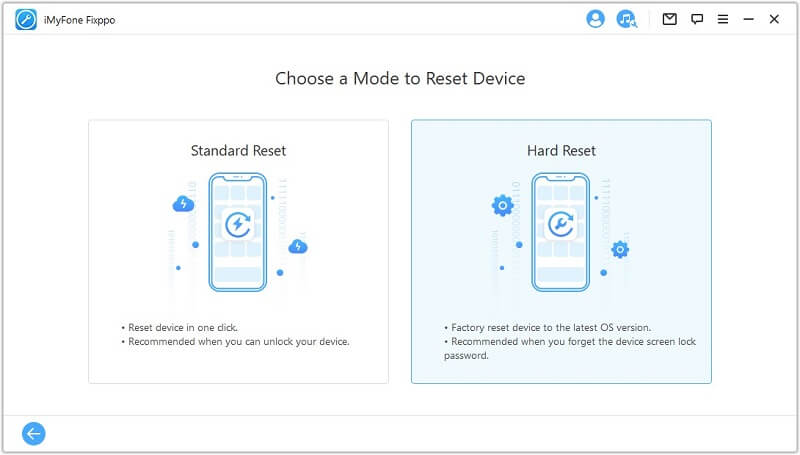 Step 3 Then download the firmware. And you can choose the version you want to downgrade and click the Download button.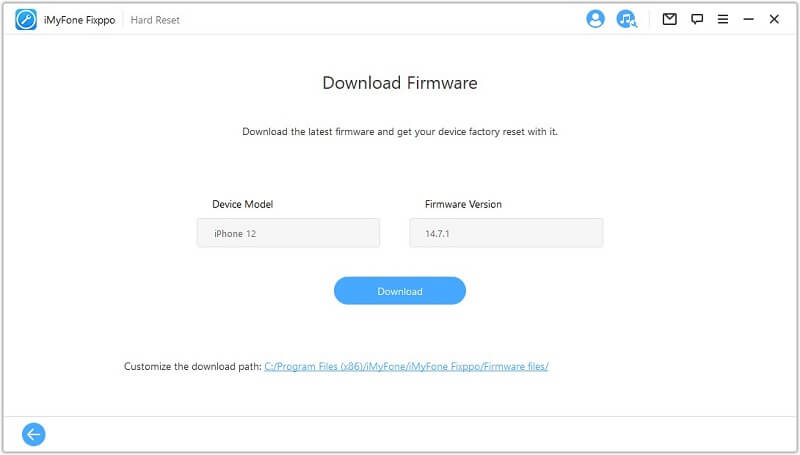 Step 4 Click the Start button to start the downgrade procession.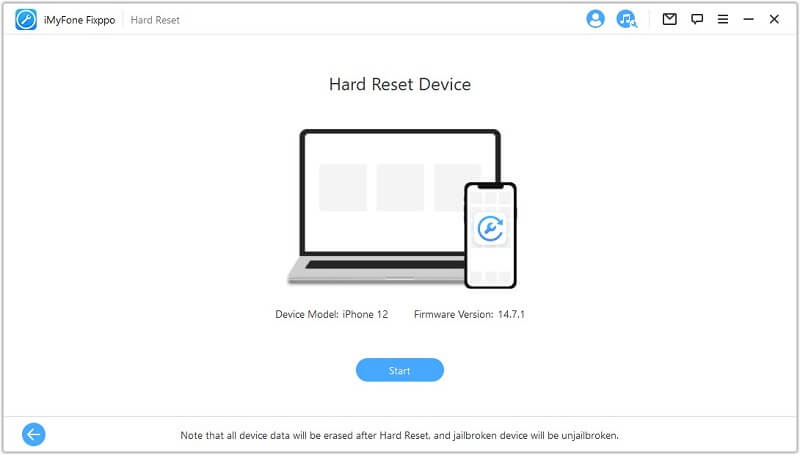 Step 5 Keep waiting till it success.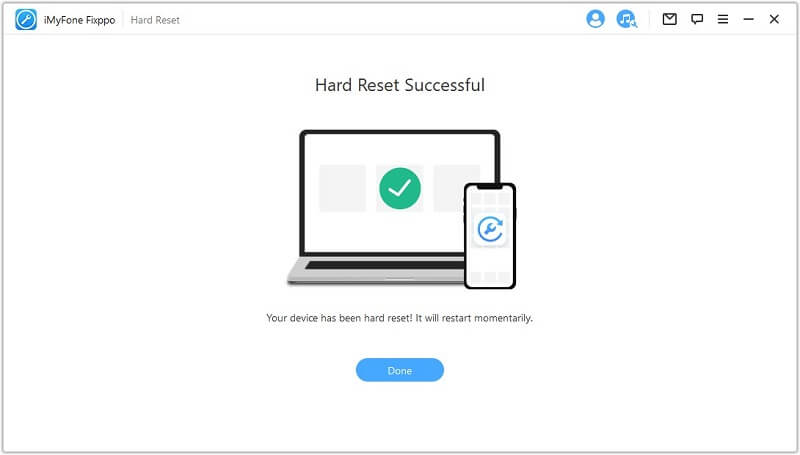 2

Undo an Update on iDevice with iTunes (with Risk)
---
If you don't mind losing data from your iPhone, you may always rely on iTunes Restore to solve most of your difficulties. So, a simple restoration can repair the iOS 16/15 beta stuck on the Apple logo, DFU mode, or Recovery mode. Take the following steps:
Step 1 Connect your iPhone to your computer and start iTunes.
Step 2 While the iPhone is in recovery mode or DFU mode, iTunes will identify it and display a pop-up window inviting you to update or restore the device.
Step 3 Select the restore option when attempting to downgrade the device because the iPhone's last backup will be restored.

Risks of Downgrading with iTunes
It will wipe the existing data on your iOS device by resetting. So, if you don't backup beforehand, you will end up losing the data stored on your iPhone.
Even if you have a backup on iTunes, you cannot restore it 100% due to compatibility issues.
The process is a bit complicated and takes more time than recommended solutions like iMyFone Fixppo System Repair.
Part 3: How to Avoid Automatic Update of iDevice System Again?
By default, the option to automatically download the latest iOS updates is enabled on iOS devices. If you want to prevent your iOS device from automatically downloading the latest software update, you must manually disable it as detailed below.
Step 1 On your iOS device, open the Settings app.
Step 2 In the Settings menu, find General and tap it.
Step 3 Click the Software Update option in the General tab.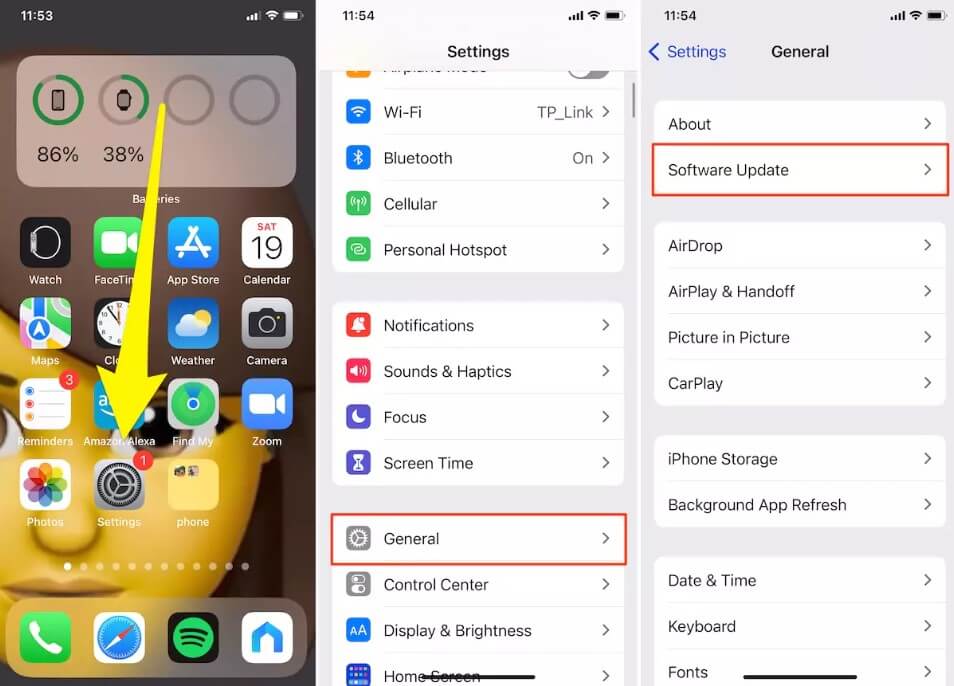 Step 4 Go to the Automatic Updates window by clicking on it.
Step 5 Disable Download iOS Updates & Install iOS Updates by toggling to the left.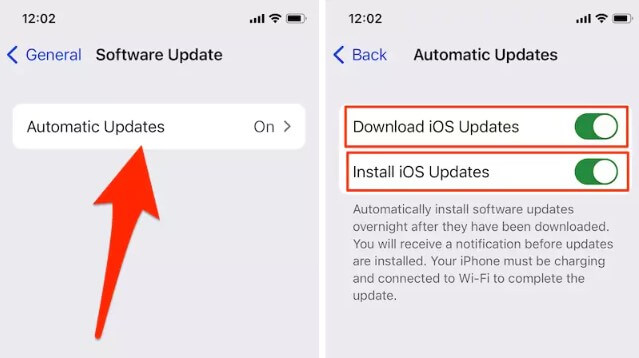 Conclusion
So, this is how to delete software update iOS 16. Just follow the steps mentioned in this article. This article also mentions the steps to downgrade the iOS system configuration on iPhone. Overall, the iOS system repair tool iMyFone Fixppo is indeed worth recommending. So if you have any issues implementing these, please let us know in the comments section. We are happy to help you.