You can protect Android devices in many different ways. One particularly secure lock on Android is the Factory Reset Protection (FRP) lock, AKA Activation lock, which Google introduced with the FRP on the Android 5.0 (Lollipop) operating system. With this lock enabled, nobody can access the device without the Google credentials used to lock the phone or tab previously. That's probably why you're search for an FRP bypass APK like Rootjunky.
Since Android Lollipop, with every update, it became more difficult to bypass FRP lock, and up till the latest version of FRP in Android 8.0 (Oreo), the difficulty level has increased considerably. It is quite tough to unlock FRP but not impossible, as this guide will introduce to you the Rootjunky APK and alternative FRP bypass apks, which simplify the bypass process, making it incredibly easier to bypass FRP on Android devices.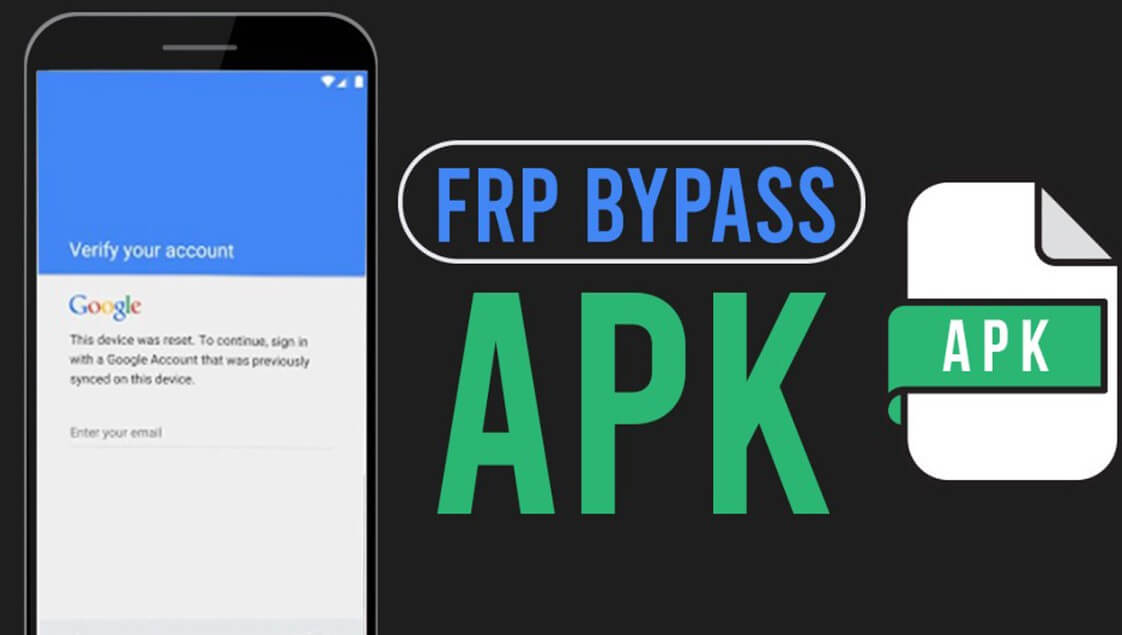 Part 1: What is Rootjunky Apk?
Rootjunky APK, or Rootjunkysdl, is an Android application that does its one job perfectly – bypass FRP locks on Android. We recommend this robust application primarily because it makes the unlocking operation painless. Also, a great thing about it is that you need not worry about compatibility as it supports almost all Android models. Also, this application, unlike others, has a particularly high success rate.
After unlocking your device, Rootjunky apk lets you switch Google accounts or create a new one easily so that you can regain control of the device. The next section will lay down a step-by-step guide on bypassing FRP locks on your phone or tablet.

Part 2: How to Use Rootjunky Apk for Google FRP Lock
The simplicity of using the FRP apk Rootjunky cannot be overstated as this program requires absolutely zero tech knowledge but will unlock your device after a few clicks. Here is how to use it.
Step 1: Install Real Term program of Rootjunky via the following link:  http://rootjunkysdl.com/files/?dir=Apps/FRP.
Step 2: Download com.rootjunky.frbypass-1.0.apk and copy it to the device's memory card or download once onto the phone or tablet.
Step 3: Ensure that the device is on and plugged into the computer using a USB cable. Connect the device to a WiFi.
Step 4: Run the downloaded RealTerm on your computer and check Half Duplex under display.
Step 5: On your PC, right-click My Computer and click Manage. Click Device Manager and select modems.
Step 6: Your connected device should appear under modems. Right click it and click Properties.
Step 7: Select modem from the properties window to confirm what port the device is connected to, for example, com5.
Step 8: Close Device manager windows and run RealTerm again.
Step 9: In RealTerm's ports tab, input the port number from the last step and click change.
Step 10: Click the send tab and input the following commands and send them with the Send ASCII button:
At+creg?\r\n
Atd1234;\r\n
Step 11: Watch this video for the rest of the steps.
Pros
Completely bypasses Google FRP.
The device cannot be tracked with old Google account after the operation.
Legit method.
100% free FRP bypass apk.
Cons
The unlocking process is complex.
You need to be careful about each step.
Without an SD card, it may seem confusing.
Part 3: Better Alternatives to Rootjunky Apk for Google FRP Lock
If you are confused about the method of Rootjunky apk, then you can check   iMyFone LockWiper (Android) FRP Unlock here. This computer program is just as good as Rootjunky apk. Actually this program is easier to use for most people while the above one is a little bit complicated and time-consumed. iMyFone LockWiper (Android) handles Google frp lock well and also hndles so much more kinds of Android locks like screen locks with password, PIN, pattern, fingerprint, etc. It is a professional tool when it comes to unlock Android devices with 24 hours technical support.
Features of iMyFone LockWiper (Android)
Help you remove the annoying Google frp lock without knowing the password.

Unlock your device in record time without any hassle.

With this app, no one can track or block the unlocked device remotely.

Quickly change the Google credentials associated with the device.

Hand you total control of the phone or tablet.
After downloading and installing this program, follow the video or steps below to use it as an FRP bypass apk:
Step 1: Launch LockWiper (Android) and select the Remove Google Lock mode. Connect your device. Next, click Start for the software to detect your device automatically.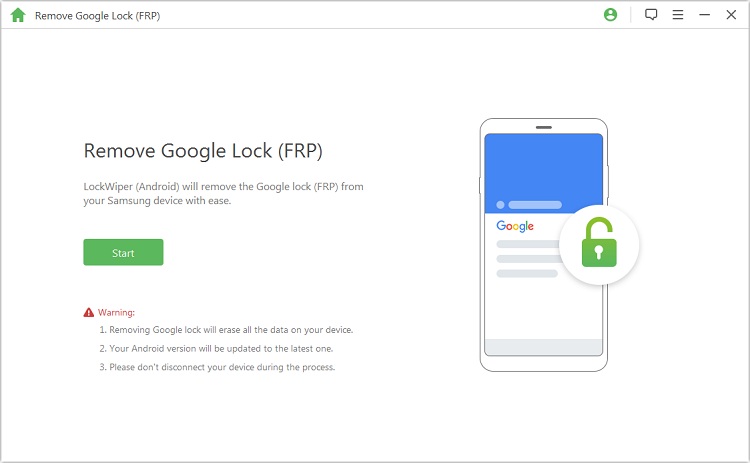 Step 2: If the recognized device name is wrong, correct it manually or click Next to proceed. There is the instruction on how to enter recovery mode will appear on the screen. Select the accurate information about your device. Choose the right PDA, your country, and carrier, and then click Download.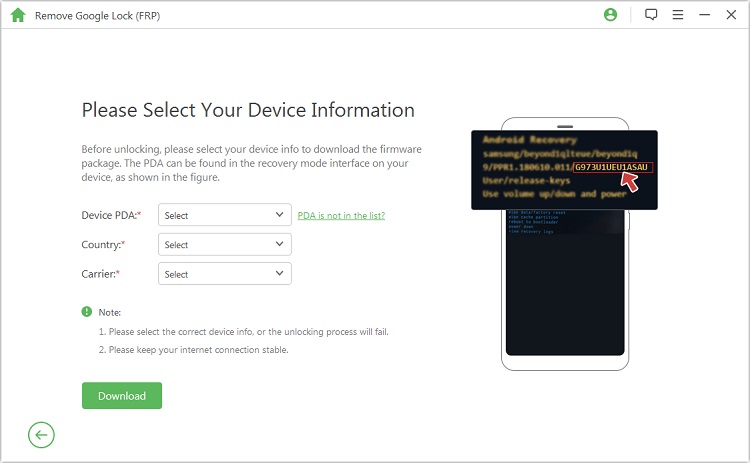 Step 3: It will proceed to download the relevant data package. When the download completes, click Start to Extract to unpack it.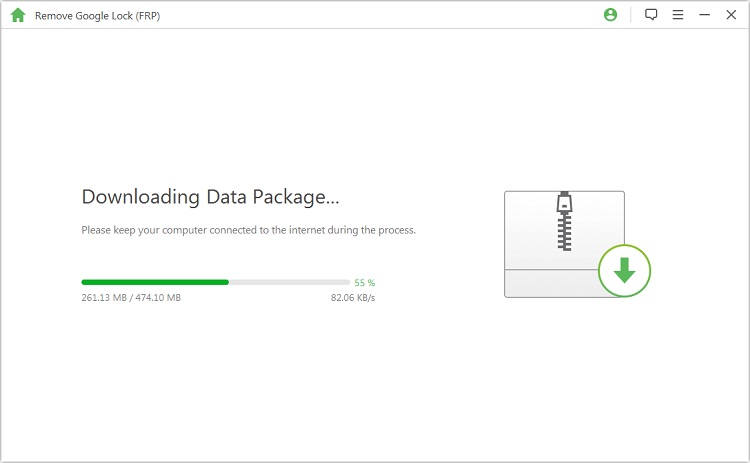 Step 4: Put your phone in downloading mode via the onscreen instructions and click Start. Next is to confirm it and the application will install the chosen data package onto your phone.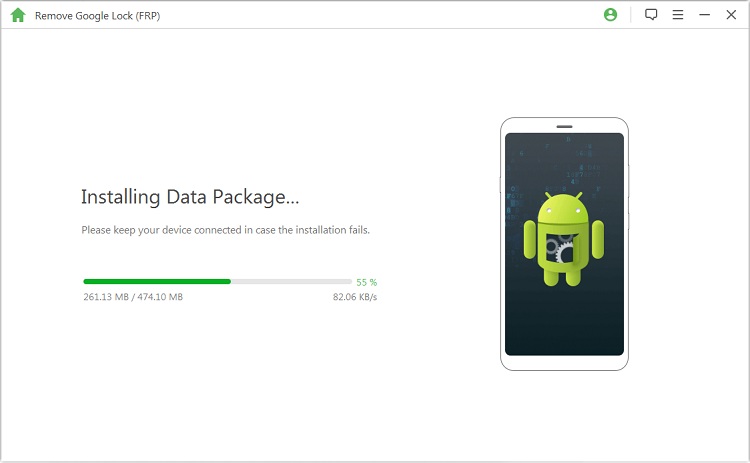 Step 5: Following the installation, the firmware will be installed after the next steps. But first, you need to turn on USB debugging, and OEM unlock by following the provided instructions. To install the firmware package on your device, put your phone in downloading mode again.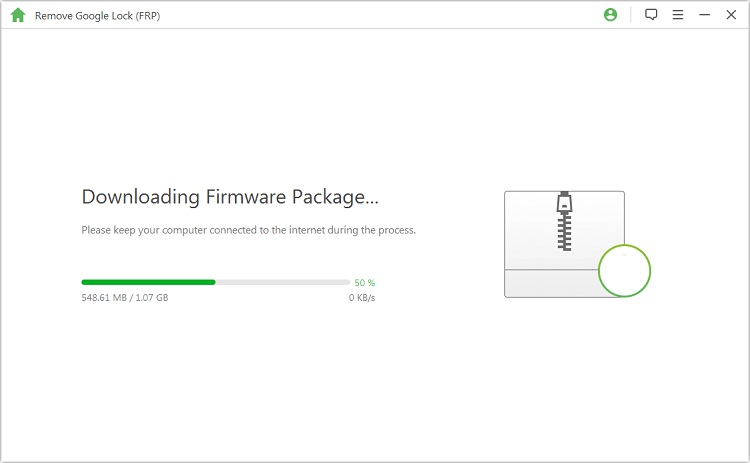 Step 6: To unzip the downloaded firmware onto your device, click Start to Extract. After the extraction, iMyFone LockWiper will then proceed to remove the Google FRP lock from your device.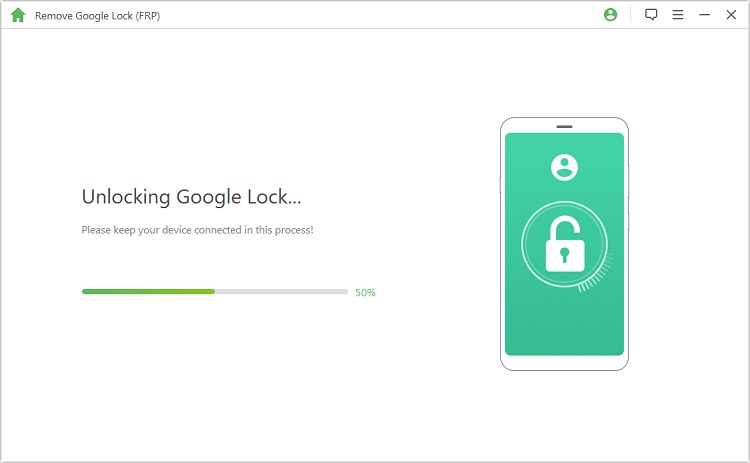 Step 7: Wait a second, it will remove the lock from your device successfully.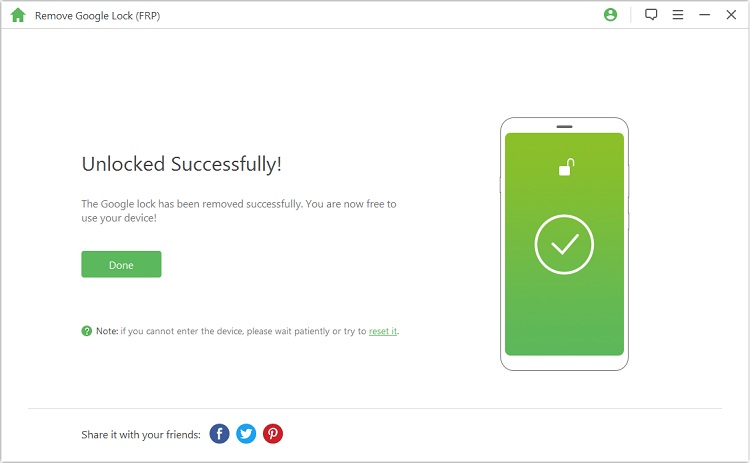 Wait for the process to finish and make sure your device stays connected to your computer throughout this process. When the bypassing operation finishes, you can then configure your device with another Google account.
---
By the end of this detailed guide, you should have learned about the best FRP bypass apks and how they work. If the FRP apk Rootjunky does not work for your device or if it is too complex for you, you should try out the alternative program iMyFone LockWiper (Android). Spread the word to whoever needs this useful piece of information.