The primary reason to set up a type of lock screen security on your Android phone is to keep outsiders (or companions) from looking at your messages or private pictures. Past that, you don't need any individual who sets out to take your Android phone to get full access to your sends, photos or other vital data. Consider the possibility that you're the person who can't get to your Android phone unlocked. You could forget your PIN.
Regardless, there's a significant simple answer for how to reset Android phone when locked without crushing your phone against a wall. All you need to do is follow one of the methods listed below.
Method 1: Manually Reset Android Phone When Locked
How to reset android phone when locked, with recovery mode will (1) Involve a total factory reset of the gadget, including losing all information on the Android device; (2) Require you to sign into your Google account to reboot the gadget if you have set up one. 
Your Android gadget can be reset to factory default from the bootloader utilizing the means beneath. Follow the steps below to learn how to format android phone when locked:
Step 1: Press and hold the Power and Volume Down Button until the fastboot menu shows up.
Step 2: By utilizing the Volume Up and Volume Down Buttons to navigate, scroll to select the Recovery mode alternative in red.
Step 3: Tap the Power Button to choose Recovery Mode.
Step 4: Press down the Power Button for some seconds and tap the Volume Up Button.
Step 5: By using the volume buttons, scroll to factory reset/wipe data, and press the power button to select the option.
Step 6: Navigate with the volume button to highlight the option(YES) then press the power button to select it.
Step 7: Your Android device will be rebooted automatically when it's done resting.
Method 2: Using an Unlock Tool to Reset Android Phone When Locked
How to reset a locked phone? Here's the best solution for you. The iMyFone LockWiper (Android) is a work area program that is powerful and simple to use in bypassing Android lock screen. By utilizing this program, you can have access to your Android Device without entering any PIN or secret key. It is useful in cases whereby you have entered wrong passwords too often, purchased a second-hand Android gadget that accompanies a locked screen, utilizing Android phones or tablets with a broken screen that can no longer operate well, or endeavoring to get to an Android device with fingerprint feature that isn't working.
Features of iMyFone LockWiper (Android)
With such features of iMyFone LockWiper (Android), you got nothing to worry about.
Reset Android phone when locked without passcode in under 5 minutes!
Functions on Android devices running on Android  2.3 to Android 11.0 .
Maneuver forgotten password, PIN, pattern lock, fingerprint, or even face lock of your Android phone.
Supports almost all brands and Android phones and tablet devices like Samsung, LG, Google, Motorola, etc.
100% safe for your devices and super easy to use without any hassle.
Video tutorials on how to reset Android phone with computer:
Steps on how to reset Android phone when locked using iMyFone LockWiper (Android): 
Step 1: Download and run the iMyFone LockWiper (Android) Desktop Application.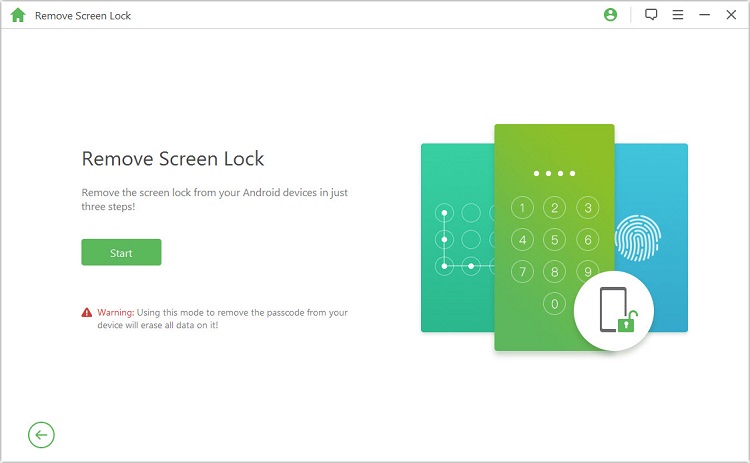 Step 2: Then make sure your Android Device is connected to your PC, and the program will automatically identify your Android Phone or tablet.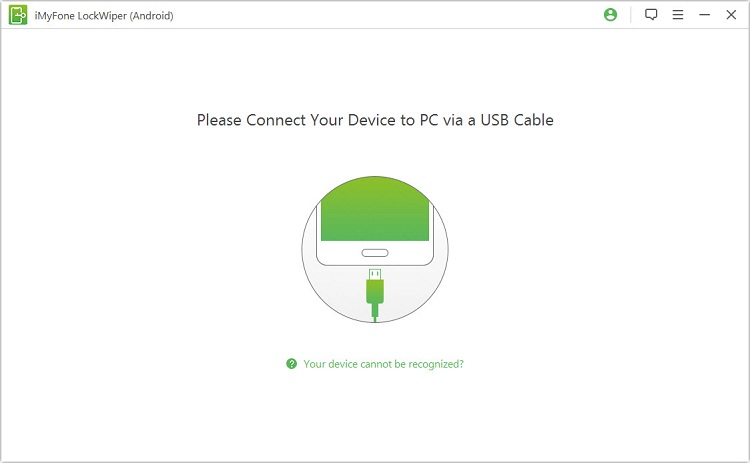 Step 3: Ensure that all information shown on the screen about your device is correct if so you can go ahead to click the "Start to Unlock" button to proceed.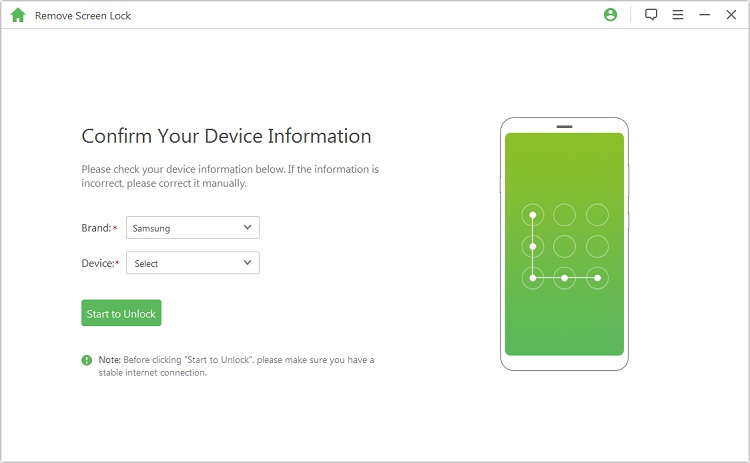 Step 4: After that, iMyFone LockWiper (Android) will install a particular data unlocking package that is standard for your Android device.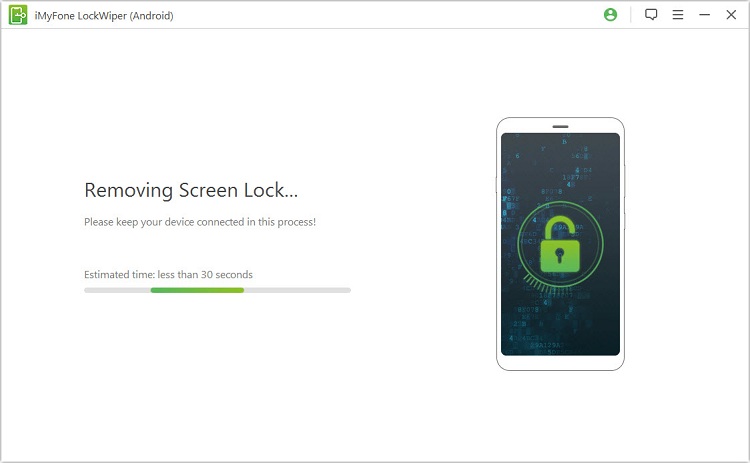 Step 5: Proceed with the instructions on your screen to finalize the unlocking process.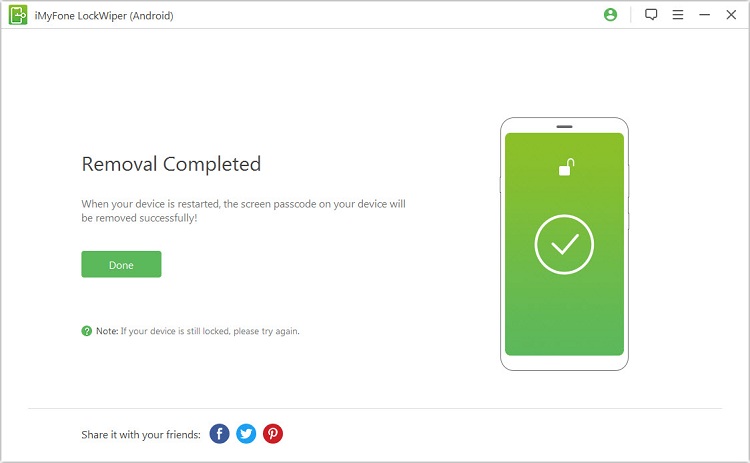 Method 3: Using Android Device Manager to Reset a Locked Phone
Here's another method for how to reset a locked phone. Android Device Manager is accessible with a lot of highlights that enables you to unlock your Android device. Other than helping you to discover your Android device, it likewise helps you to Ring it, lock it, and wipe all information on it too if your Android device has been stolen or lost.
By signing into the Android device manager site from your PC, you can utilize every one of these choices once your Android device gets found. It is advisable to get your Android device secured by Android device manager in case it is stolen or lost, so your device is properly secured.
Steps to unlock your phone using the Android Device Manager:
Step 1: Navigate to the Android Device Manage page on your PC or any other device.
Step 2: Login with your Google credentials that you use in your locked Android device.
Step 3: Choose the phone you intend on unlocking in the Android Device Manager interface and select Lock.
Step 4: Enter a password that will be temporary, and select Lock again.
Step 5: In this next step, you will see a confirmation below the box with options buttons such as Ring, Lock and Erase.
Step 6: Enter another temporary password again when you see a password field.
Step 7: Navigate to your device lock screen settings to disable the temporary password.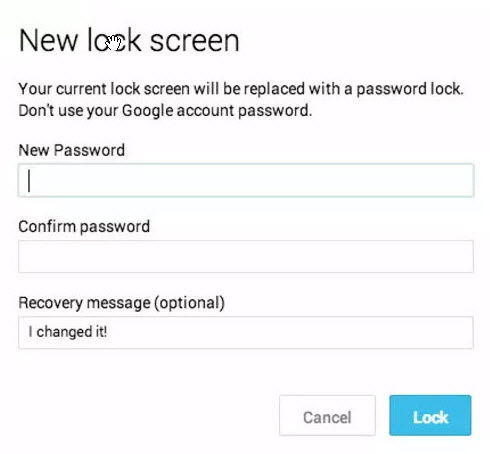 Relax!! Your Android device has been unlocked successfully by the Android Device Manager.
Method 4: Resetting Method for Samsung Devices When Locked
Here's the answer of how to reset Android phone when locked if you are using a Samsung device. Too many wrong password entries will get your Samsung Android device locked; what will be your next course of action at this point? You can secure Samsung Android devices with a PIN, password, pattern lock, or even using fingerprint features to protect sensitive information in your device.
In any case, you will figure out how to reset a Samsung Device that is locked utilizing the Find My Mobile technique. If you aren't able to remember your PIN or password, you can reset your phone using the Find My Mobile website.
Steps to unlock using Find My Mobile technique:
Step 1: Launch your web browser and navigate to Find My Mobile website.
Step 2: Log in with your Samsung credentials used in your locked phone.
Step 3: Once the Samsung device has been located click More.
Step 4: Click on Unlock My Device icon.
Step 5: To continue to enter your Samsung account password and click on Unlock.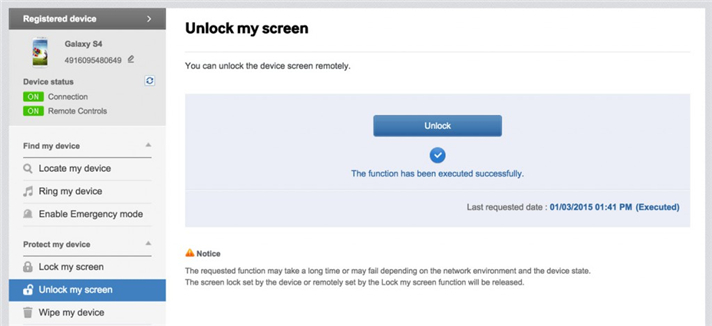 ---
These are all you need to know on how to reset Android phone when locked. Nevertheless, forgetting your password is a perplexing situation although you have the solution to unlock your Android phone. As hard reset is much complex, you should try the iMyFone LockWiper (Android) to Unlock your Android for smooth performance. So get the software or try other methods and cheer up.