"Last week when leaving for my business trip, I changed my Samsung password. I was leaving the device at home and I did not want my kids to use it while I was away. They knew the old password. Today, I wanted to use the device. However, I could not recall the new password. Does anyone know of a Samsung lock screen removal solution that I can use?"
Most Android Phones now come with finger-print, PIN or password feature to ensure all your private data is kept safe. While forgetting your password is an awful thing, you have five simple approaches on how to unlock phone password. In this article is a step-by-step guide on how you can unlock your Android mobile Device in the best ways.
Method 1: Unlock It with LockWiper (Android)
iMyFone LockWiper (Android) is a Desktop application that can unlock Android phones in record time. iMyFone LockWiper (Android) runs on most Android devices.
It is the best solution on how to unlock Android phone password. With iMyFone LockWiper (Android), you can remove the fingerprint, PIC, pattern or password on most Android device with ease. It will take only minutes and several steps to complete the tough work for you. All you need to do is to download it on your PC and let it do all the work for you.
Features of iMyFone LockWiper (Android)
iMyFone (Android) is compatible with most Android Devices like Samsung, Huawei, Motorola, etc.
It is straightforward to use, and you do not require any computer skills to use it.
It unlocks your Android mobile device within just minutes without knowing the password.
Top sites recommend iMyFone LockWiper (Android) and it is totally safe to use.
Supports Android versions ranging from Android 2.3 to 11.0.
Steps on how to unlock Android phone using iMyFone LockWiper (Android): 
Step 1: Download iMyFone LockWiper (Android) into your PC. Connect your phone via a USB. Make sure that the phone stays connected throughout the process.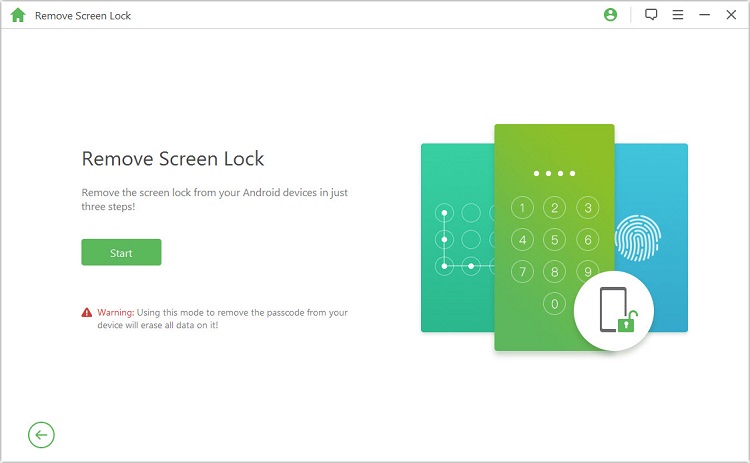 Step 2: After clicking to continue, your device information will be loaded automatically.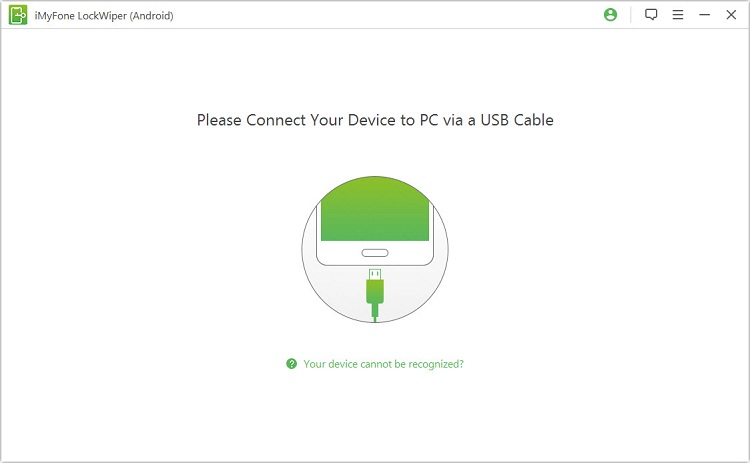 Step 3: Ensure the information displayed is correct and click  to continue. Note that if the displayed device information is incorrect, you can tweak it manually.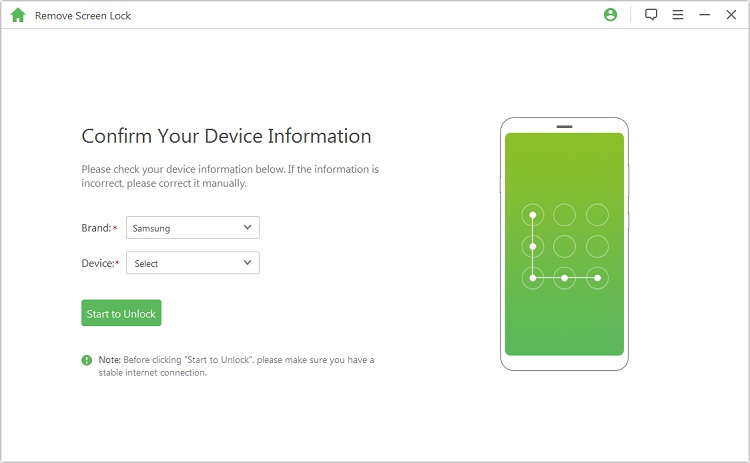 Step 4: Please follow the instructions displayed on your screen to reset your device.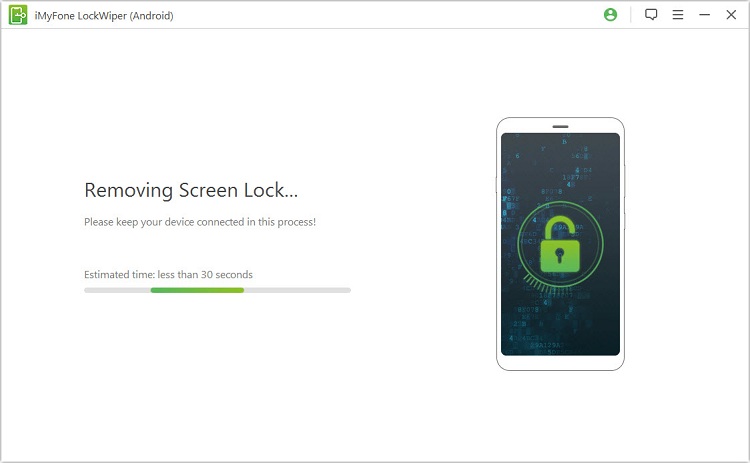 Step 5: Wait for it to remove the screen password lock from your Android device.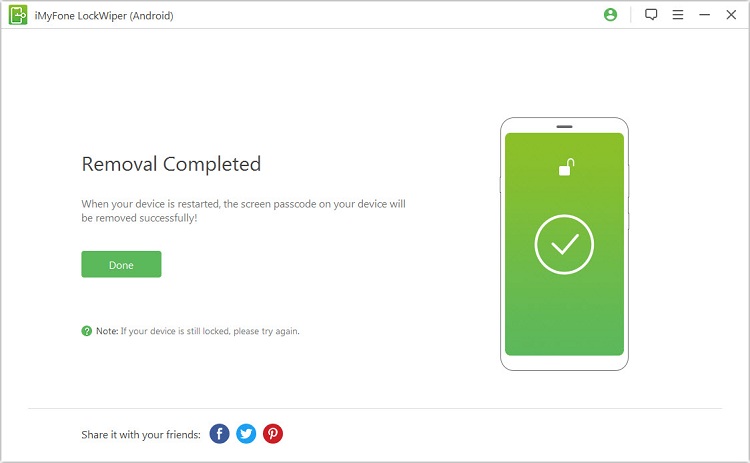 Congrats! You have successfully unlocked your Android device using iMyFone LockWiper (Android).
Method 2: Using Your Google Account Password
Since Android Devices are firmly coordinated into Google platforms, you always have to setup your Android device with your Google account, or an existing Google account you have. A few people believe that doing this is irritating and tedious, particularly when you have to setup your Google account for the first time. In any case, having a Google account connected with your Android Mobile Device can be a lifesaver whenever you are unable to access your Android Device.
It is helpful when it comes to how to unlock Andoird phone if you have a Google account. This process utilizes your Google Recovery account data to unlock your Android Device.
Steps to take using Google Account to unlock Android device:
Step 1: After so many failed attempts to unlock your phone a "forgot password" link button will appear. Tap it to continue.
Step 2: Type in your Google account credential which you use in the Locked Android Device.
Step 3: After filling the account form, click on Log in, then your Android Device will be unlocked.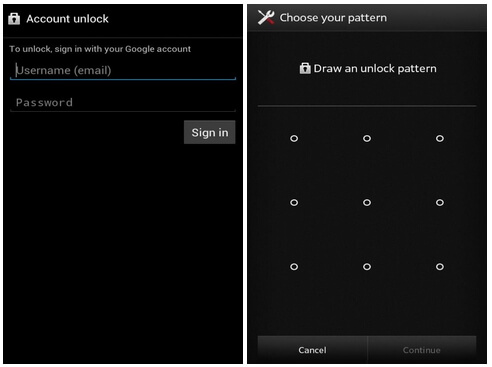 Method 3: Using Your Samsung Account [Find My Mobile]
 There are numerous people whose Samsung device are locked due to some conceivable reasons like users forgetting the device password, failed fingerprint input, or purchased second hand Android Device, etc.  You will learn how to unlock your Samsung device using your Samsung account.
Steps to take using Samsung Account to unlock phone screen:
Step 1: Log on to Find My Mobile website.
Step 2: Use the same Samsung account credentials on your phone to Log in.
Step 3: You will get an indication that your device has been located.
Step 4: Click More, then click on "Unlock My Device."
Step 5: Type in your Samsung account password.
Step 6: Click on "Unlock" To unlock a device.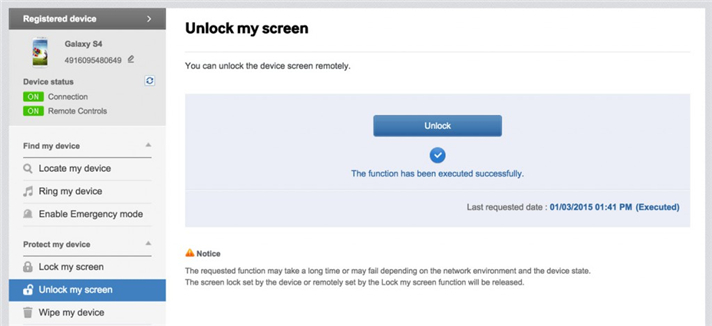 Method 4: Unlock It Remotely with Android Device Manager
 Unlocking an Android device with Android Device Manager is a very effective method for all sort of lock screens. Simply the Device ought to be Android. Android Device Manager will open your PIN, pattern lock, or password. The requirement is that Android Device Manager (ADM) ought to be enabled in your Device before it got locked.
Steps to take using Android Device Manager to unlock phone password:
Step 1: Visit https://www.google.com/android/devicemanager and use the Google credentials used on the locked device to log in.
Step 2: A list of all the devices connected to the Google account will be displayed. Ensure you choose the one u need to unlock by selecting the "LOCK" option.

Step 3: Type in a temporary password that will be used to unlock your phone, and click on "LOCK" again.
Step 4: A password field will be displayed on your phone screen, Type in the temporary password so your phone can be unlocked.
Step 5: Navigate to your phone lock screen settings and disable the temporary password option.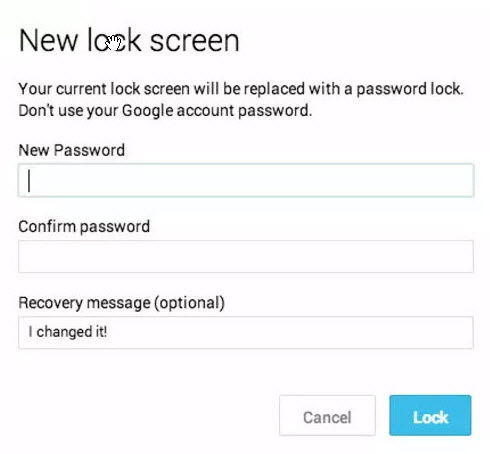 You are all done, now you see how easy the Android Device Manager unlocks your phone.
Method 5: Factory Reset to Unlock Android Phone
The most widely recognized method on how to unlock Android phone is by a factory reset. You can hard factory reset your Android device to unlock it. Keep in mind that performing a hard reset will delete every information on your device. So factory reset will unlock your device, yet you won't recover any info you put in it. So if you have something vital on your device, think twice before going for a factory reset.
Steps to take using the Factory Reset method:
Step 1: Press and hold volume down key alongside Lock/Power key for about 8 seconds.
Step 2: You will see an Android logo. Go down to wipe information/factory reset by holding the volume down key.
Step 3: Select Yes by tapping the power button.
Step 4: Wait for some seconds, and your device will begin rebooting. By following these steps, you have been able to perform a factory reset on your Android device.
Note: Whatever your Android model is, the factory reset will erase all your information from your device.
---
Conclusion
If you cannot remember your password/pattern/PIN or you just purchased a secondhand device that is locked, you can still use the device. All you will need is to learn how to unlock android phone without code. In this article, we have shown you how to unlock android phone without password. The best solution to locked Android devices is iMyFone LockWiper (Android) screen lock removal tool. LockWiper, unlike other solutions, does not have any limitations. The tool will help you unlock your phone irrespective of the Android version running on the device.