As Android users, you must have heard about the FRP lock. FRP is the acronym of Factory Restore Protection that occurs when you do a hard reset to Android running Lollipop 5.0.1 and above versions.
If you are looking for reliable sources to bypass FRP, then you'll need an unlocking tool. There are many available in the market that claim to be able to remove FRP. Doing a Google research you might find Technocare Samsung FRP. You'll need to see if this tool is reliable or not without making a useless purchase. You will find a better alternative to Technocare Tricks APK Samsung here.
Here's a brief comparison between Samsung FRP Technocare and its alternative LockWiper (Android).
| Solutions | Success Rate | Official Website | User Interface | Unlock Condition |
| --- | --- | --- | --- | --- |
| Technocare Tricks APK Samsung | 60% - work for specific devices | No | Complex, with few instructions | USB drive, OTG cable, |
| | 98% - work for most Samsung | Yes | Easy instructions for each step | data cable, computer |
Part 1: Everything about Technocare APK Samsung - Check Before Buying
a

What is Technocare Tricks APK Samsung?

Technocare Tricks APK is the original for Samsung FRP Technocare, an application that is used to bypass FRP lock for Samsung phones. Technocare APK Samsung ranks in the popular unlocking tools list in 2018. We will see if  TechnocareFRP Samsung is reliable to bypass Samsung FRP as it claims.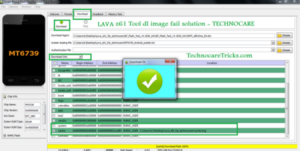 b

Can Technocare Bypass Samsung FRP?

The answer is yes, and no.

Yes - For some specific Samsung devices, Technocare APK Samsung works to bypass FRP. Most devices in the supported list as below can be unlocked with this tool:

Samsung j701f / j7 nxt  feb 2018 patch,

Samsung g615f / j7 max feb 2018 patch,

Samsung j730gm / j7 pro 2018 patch,

Samsung j330fn 2018 patch,

Samsung j250f 7.1.1,

Samsung j400f 8.1.1

No - It is less efficient compared to other unlocking tools. Many people complain about it for the following reasons:

1. Most Samsung devices are not supported by it to unlock.

2. Users have to prepare a USB drive compatible with a OTG cable. Unlocking cost is higher than the APK price itself.

3. Unlocking process is complicated as the tool is in a lack of detailed instructions.

4. It has no official website so users' account and data security are not guaranteed.
Part 2: A Better Alternative to Technocare FRP Samsung
Technocare APK Samsung is not as reliable as it claims to be. Here we need a better alternative for Samsung FRP Technocare. We introduce iMyFone LockWiper (Android) to bypass FRP lock from Samsung phones. iMyFone LockWiper (Android) can bypass the FRP lock instantly with great ease.
Key Features of iMyFone LockWiper (Android)
Bypass Samsung FRP/Google Lock without any password.

Get removed your device from the previous Google account and won't be tracked.

You can sign up with a different account or create a new one after FRP removal.

Enable full access to your device and all features completely.

Unlock screen lock without data loss on many Samsung phones.

Support almost all Android phones to unlock screen lock without reset or password.
Steps to remove Samsung FRP Lock
Here are the easy steps to remove Samsung FRP Lock. Check them out:
Step 1: Download and install iMyFoneLockWiper (Android) on  your PC.  Choose "Remove Google Lock (FRP)" and click "Start".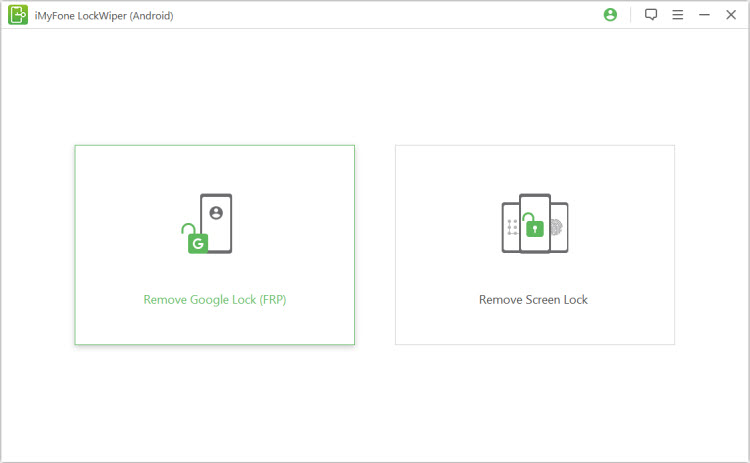 Step 2: You will need to select the device name and then click "Next".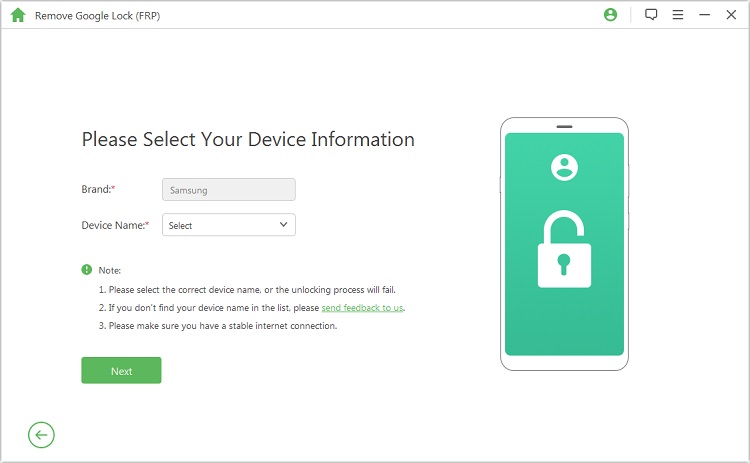 Follow the instructions to get into recovery mode and click "Next". Select information of your device. Click "Download".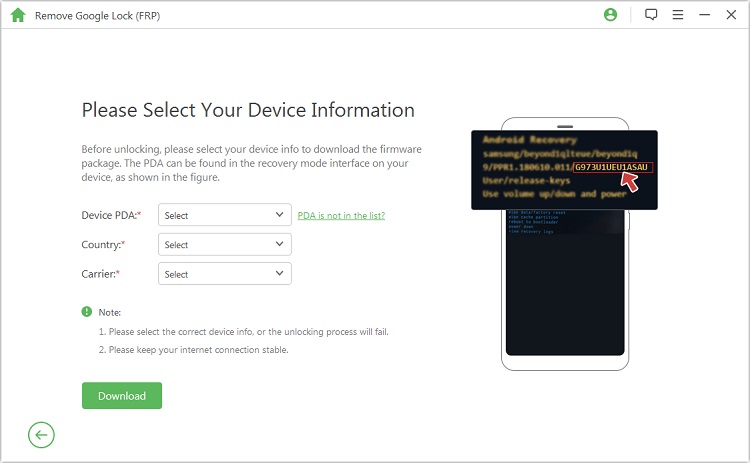 Step 3: A data package would be downloaded for your device. Click "Start to Extract" after finishing download. The package will be unpacked.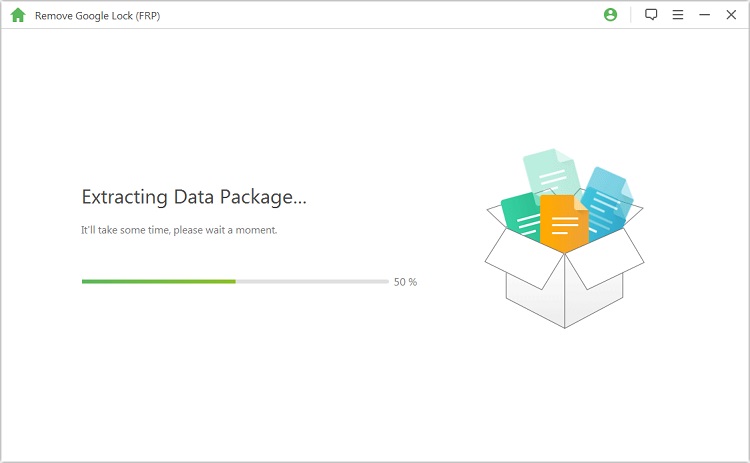 Follow the instructions to put Samsung into downloading mode. Click "Start". Type "000000" to start the installation of the data package.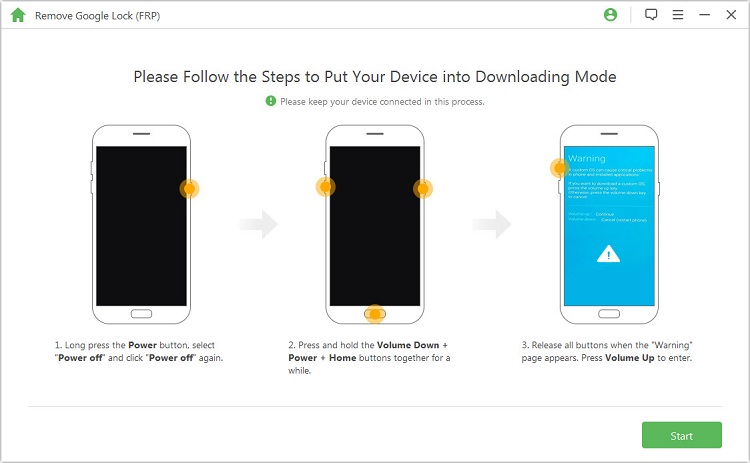 Step 4: Follow the instructions to reset your device. The program starts to unlock the Google lock wait for it to finish.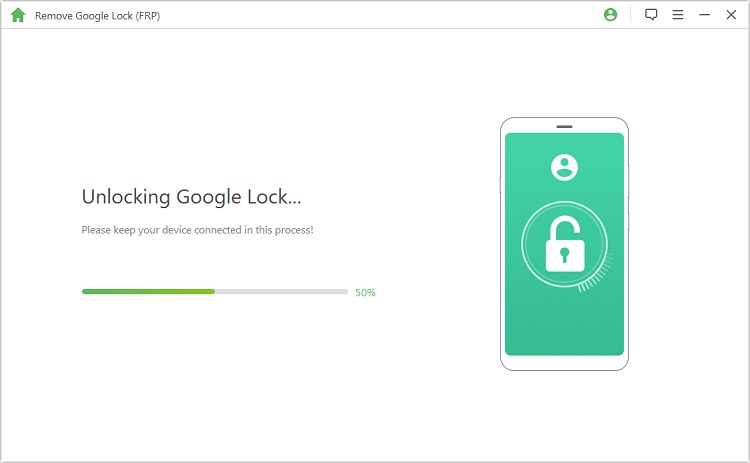 Here is the good news! Google FRP lock is removed from your device and you are able to access the whole device with all rights.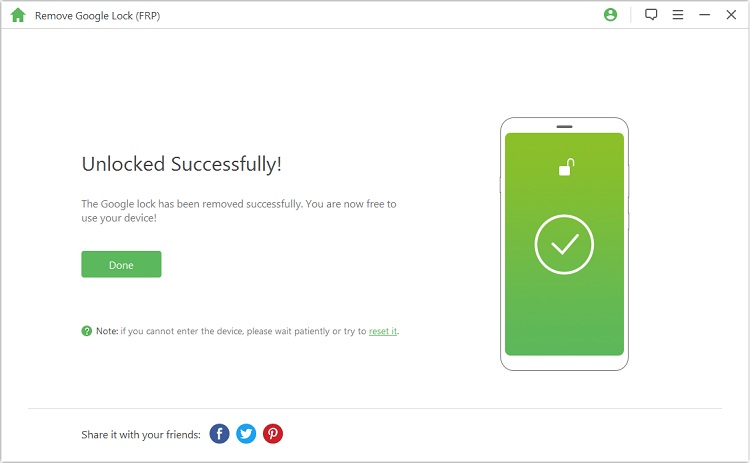 iMyFone LockWiper (Android) helps to bypass FRP in a very simple way. You don't need to provide a Google account to get verified. Try its free trial version and get started.
---
Conclusion
We've got the whole scenario clearly that Samsung FRP Technocare is no longer a reliable application to bypass FRP lock on Samsung phones. iMyFone LockWiper (Android) proves to be the best option to opt in 2022. So why not to get advantages of LockWiper (Android) and get rid of the FRP problem instantly?