If your device is still locked to the Vodafone network, switching to a different network becomes impossible. If you try using a SIM belonging to a different network on the device, receiving and making calls becomes impossible.
It is not uncommon for Vodafone users to get tired of the network. If you travel frequently, the roaming charges may become too much for you. To have the ability to use your device with a different network, you need to perform a Vodafone unlock. In this article, you will learn how to unlock any device from the Vodafone network.
What's the Vodafone Unlock Code
Vodafone unlock code, also referred to as Vodafone NUC (Network Unlock Code), is a code used on devices locked to Vodafone to make them accessible to other networks. Once you use the Vodafone unlock code on your device, removing the existing SIM and replacing it with a different one becomes possible.
If you do not know whether you need to use a Vodafone unlock code on your device, you can try replacing the Vodafone SIM card with a SIM from a different network. If the SIM works, this means that you may not need Vodafone unlock code. However, if the SIM fails to work, read on to learn how to get a Vodafone unlock code.
1. How to Unlock Vodafone Phone with Unlock Code
The best way to get a Vodafone unlock code is by making use of an online tool called DoctorSIM Unlock Service. This service ensures that you get a working Vodafone unlock code within the first 48 hours.
During this period, you will get to access 24/7 customer support via telephone, email, and chat. The service ensures that all your questions are answered. If you are worried that you may end up losing your money if the Vodafone unlock code fails to work, you shouldn't be. DoctorSIM offers a full refund if they fail to unlock your device.

DoctorSIM Unlock Service Main Features:
The simple, quick, and legal way to unlock your device.

DoctorSIM method does not void your device's warranty.

It is a remote service. Hence, your phone will never leave your side. You continue using your phone during the unlock process.

After the unlock, you can use your device with any network provider, anywhere in the world.

The service has already performed 5 million+ unlocks successfully.

The service supports all phone brands, including Apple, Alcatel, Blackberry, HTC, Huawei, etc.
How to Perform a Vodafone Unlock Using DoctorSIM:

Step 1: After visiting DoctorSIM unlock page, select your device brand.
Step 2: Next, choose your country and the network provider. Your network provider should be Vodafone.
Step 3: Dial *#06# on your phone to access your device's IMEI code. Enter the first 15 digits on DoctorSIM. Next, enter your email address.
Step 4: Follow the onscreen instructions to make the payment.
Step 5: Relax while waiting for the Vodafone unlock code. After getting the unlock code in email, simply enter it on your device to unlock it.
DoctorSIM Customer Comments:
To date, DoctorSIM has already received almost 6000 customer reviews on Trustpilot. Over 85% of the reviewers have rated the service 5 stars, indicating satisfaction. The happy clients indicated that their devices were unlocked on time. Also, they had a smooth experience with the unlock service provider.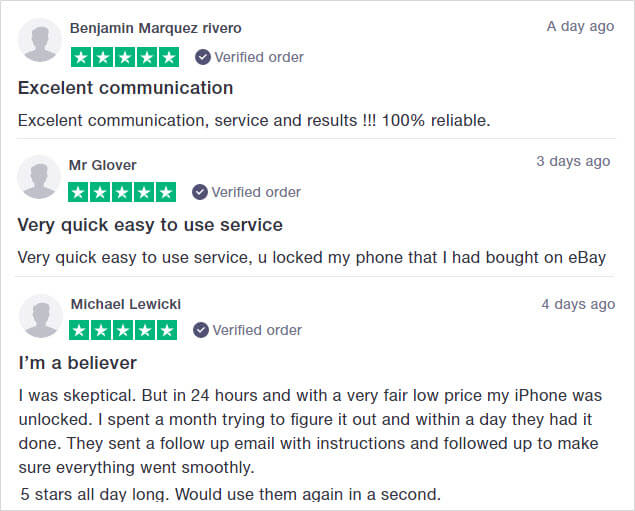 DoctorSIM responded to all the customers who had left unhappy comments, promising to offer ideal solutions for each customer. This indicates that the unlock service takes all the necessary measures to ensure that their customers get value for their money.
You can click here to read more comments of DoctorSIM >>
2. How to Unlock Vodafone Phone with iPhoneIMEI.net
Unlike DoctorSIM, iPhoneIMEI.net is only capable of unlocking all iPhone models. This means that if your device was not manufactured by Apple, unlocking it with iPhoneIMEI.net will be impossible. The service supports all iOS versions.
The unlocks performed using iPhoneIMEI.net are permanent. After the Vodafone unlock, the device will never get relocked. The service indicates that you will not require jailbreaking to unlock your iPhone. The unlocking service is 100% legal.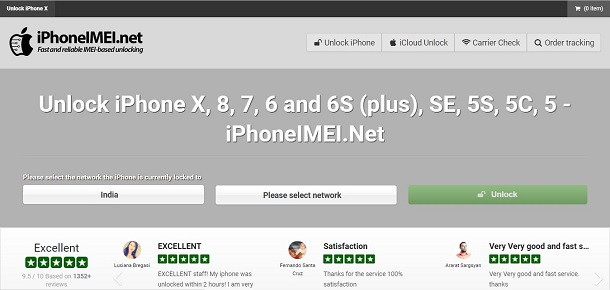 How to Perform a Vodafone Unlock Using iPhoneIMEI.net:
Step 1: Visit iPhoneIMEI.net. Next, select the network provider to which the device is locked (in this case, Vodafone) and iPhone model.
Step 2: Tap Unlock.
Step 3: Enter the IMEI number on the form that appears and then tap Unlock Now.
Step 4: Make the payment and then wait for approximately 1 to 5 days for your device to be unlocked.
What Customers Say About iPhoneIMEI.net:
After receiving over 5000 reviews on Trustpilot, iPhoneIMEI.net has an average rating of 3 stars. 63% of the reviewers were satisfied with the service offered by iPhoneIMEI.net. But note that, Trustpilot mentioned that iPhoneIMEI.net offers incentives in return for positive reviews. So its positive reviews may be unauthentic.
23% of the reviewers have rated the service provider 1 star indicating that they are not happy. Happy clients indicated that the unlock process was smooth. The unhappy clients indicated that:
The service wanted them to pay extra money without any notification earlier.
The service provider did not communicate with them during the unlock process.
The service lasted for almost 1 month.
The unlocking was not successful but the  provide refused to issue refund.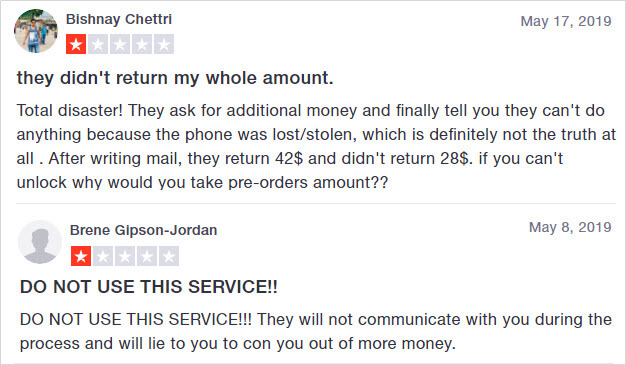 You can click here to read more comments of iPhoneIMEI.net >>
3. How to Unlock Vodafone Phone via Its Website
While this method may work for your device, it has a lot of pre-requisites. If you fail to meet the pre-requisites, your device will not be unlocked. Additionally, unlike the previously mentioned Vodafone unlock services, you may have to wait up to 10 days. To perform a Vodafone unlock using the company's official website, follow the steps below:
Step 1: Visit this link: https://www.vodafone.co.uk/vodafone-uk/forms/unlock-code-request/.
Step 2: You'll find a mini-questionnaire stating the requirements for the Vodafone unlock code. Check the ones according to your own situations.
Step 3: Then you need to fill in a request form.
Step 4: After filling the unlock form and questionnaire, wait for up to 10 days for your device to be unlocked.
Extra Tips: How Can You Do When You're Locked Out of Your Phone
Don't worry even when you are locked out of your Android device and fail to access your device settings. There is always a method to solve the issue. If you have any issue related to screen lock or Google FRP lock on your device, you can consider iMyFone LockWiper (Android) for help. It's an Android password unlocker which was specifically created with the most advanced technologies.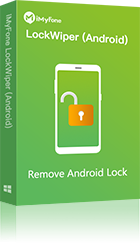 75,000,000+ Downloads
What LockWiper (Android) Can Do for You
Stuck at the Google account verification page? It can easily bypass the verification to set up your device.
Completely erase the previous Google account without password so you can fully access all the features on your device.
Bypass Android screen lock by removing PIN, pattern, password, fingerprint, and face lock.
Get rid of the Samsung locked screen easily without losing any data.
A complete self-service program that anyone can handle Android lock issues at home.
iMyFone LockWiper (Android) is easy to use. If you want to check out the using steps, please click here >>.
In Conclusion:
If you have been using Vodafone against your will, you should try the services outlined in this article to unlock your device. After unlocking your device, you should be able to use it with any network provider you prefer.
If you would like to use an online service to perform the Vodafone unlock, you should try iMyFone LockWiper (Android). Unlike iPhoneIMEI.net, iMyFone LockWiper (Android) has much better reviews. This indicates that the majority of iMyFone LockWiper (Android) customers are satisfied.