The "This iPhone is disabled" message is one that progresses from "Try again in X minutes" to "iPhone is disabled connect to iTunes", and many are eager to learn how to open disabled iPhone. Many people frantically search Google for how to open disabled iPhone 6 or how to open disabled iPhone 12 of any disabled iOS device.
But what is it that leads to an iPhone being disabled? It is when the wrong passcode has been entered up to 10 times. In this article, we discuss how to open disabled iPhone, the methods that work and those that don't work.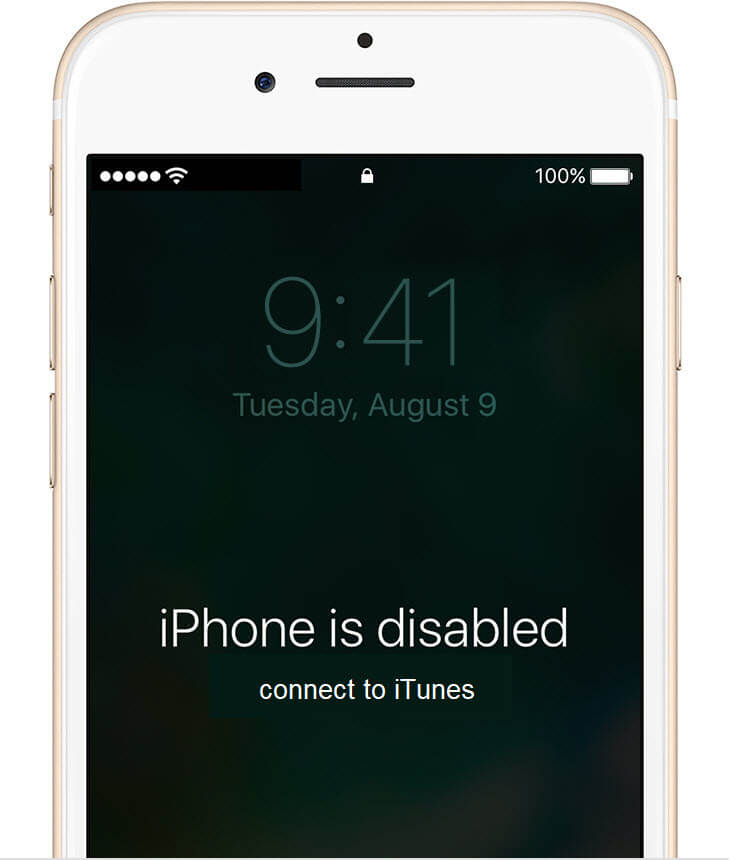 How to Open Disabled iPhone/iPad, in a Few Clicks
In order to open disabled iPhone, you need to work from the outside because the iOS device was locked or disabled from within. The perfect groundbreaking software for this break in is the iMyFone LockWiper Win/Mac. It's a trusted leader in the iPhone unlocker market that let's you get back into your iDevice without a passcode.
Features of the iMyFone LockWiper include:
Helps easily get into a disabled iPhone/iPad in a few clicks
Cracks iPhone screen lock without any passcode for device screen is disabled, in recovery mode, locked, broken, back or white
Unlocks 4-digit/6-digit passcodes, Face ID or touch ID screen locker type.
Unlock Apple ID for activated iPhone, allow you to change a different account.
No tech knowledge required, it's a completely DIY software, 100% safe with 100% success rate.
Fully compatible with iPhone 13/12, Apple iOS 16 and earlier.
Below are the steps to take when using the iMyFone LockWiper to open disabled iPhone or iPad:
Download, install and launch iMyFone LockWiper and click "Start" to begin the unlocking process.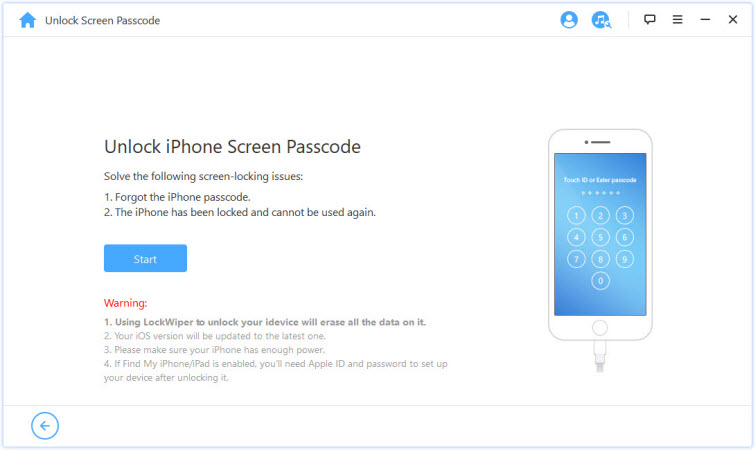 Connect your iPhone/iPad to your computer via lightning USB cable.
Select your device model from "Other iDevices" , "iPhone 7/7 Plus" or "iPhone 8/8 Plus/X" at the top bar. Then follow the instructions to put your device in DFU mode.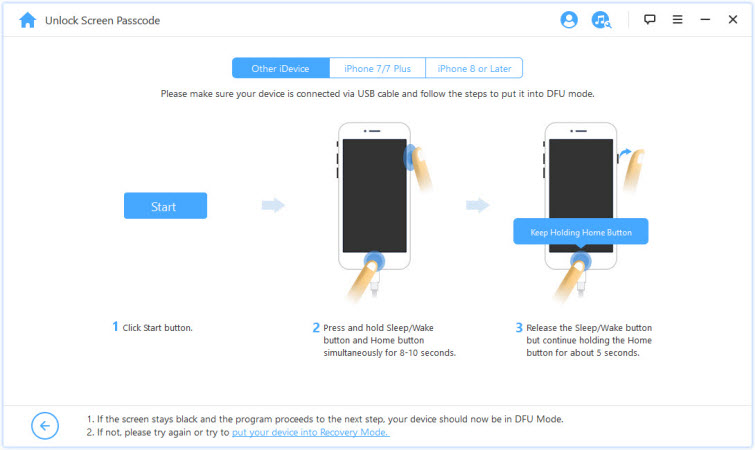 When your iPhone is in DFU mode, the software program should auto-detect your device. Check or correct it manually. Click "Download."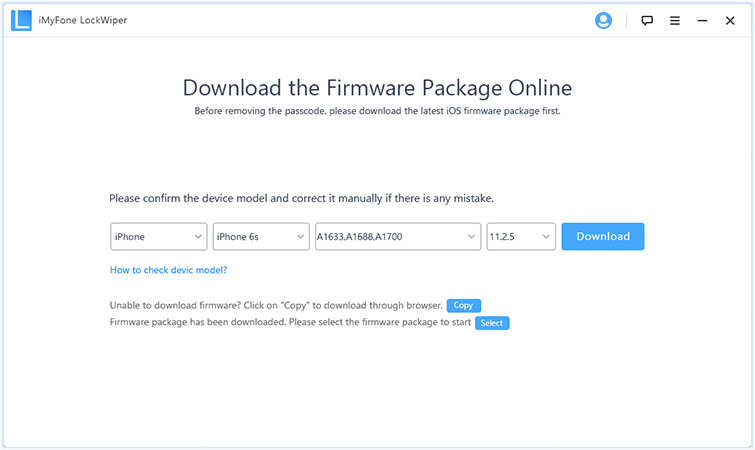 After downloading the firmware, click "Start to Verify."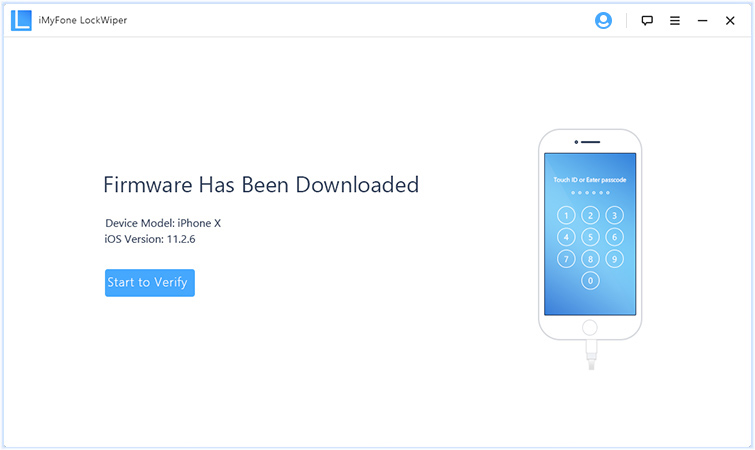 If the verification succeeds, click on "Start Unlock".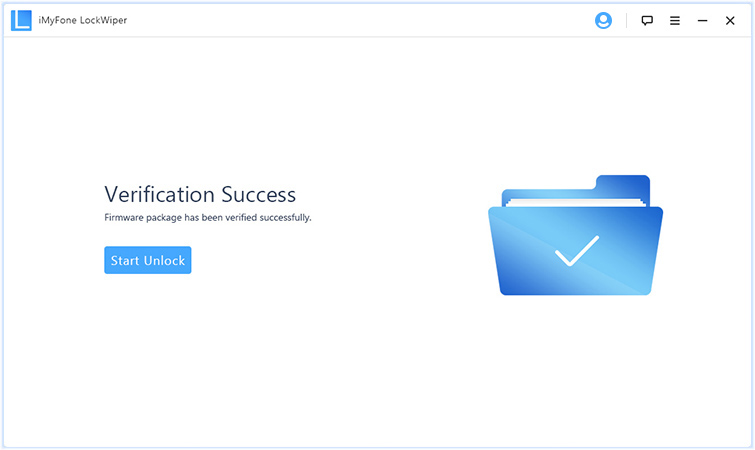 Enter "000000" to confirm again that you are agreeing to unlock your iOS device. Click "Unlock."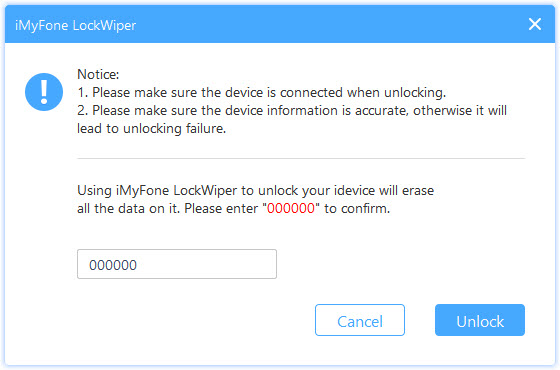 After mere minutes, the disabled screen will be removed from your iPhone.
The iMyFone LockWiper is a trusted unlocker with high recommendations from professional software review authorities, including SOFTPEDIA, download.hr, iOS HACKER, etc.
How to Open Disabled iPhone/iPad via "Find My iPhone"
The "Find My iPhone" app on iOS devices is responsible for the lock screen activation and is also responsible for helping you find your iPhone should it go missing.
One of the ways to open disabled iPhone/iPad is via the "Find My iPhone" app. Simply erase your device. Steps?
From another computer, go to icloud.com/#find.
Sign in with your iCloud Apple ID when prompted.
Select All Devices at the top.
Choose your disabled iPhone or iPad. (Can't find the device you want to wipe off on the list? Then use iMyFone LockWiper.)
Click on Erase iPhone (iPad or iPod touch) to remotely wipe off your disabled device and its passcode. Please ensure that the disabled device is connected to the internet.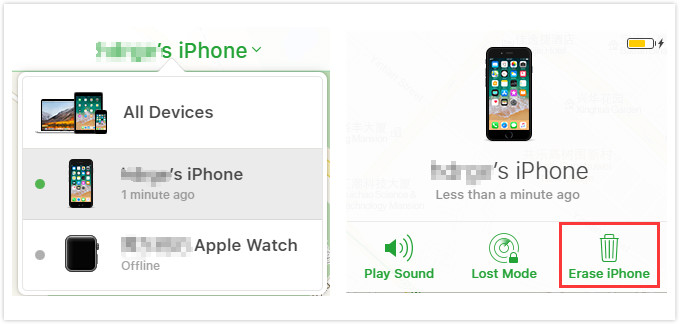 Methods That Don't Work
There are many methods prescribed online, but below are the ones that don't work.
The make-a-fake-emergency-call method no longer works because the bug was fixed.
Accessing your iPhone's keychain directory using iExplorer, iPhone Browser, or SSH to delete the passcode file from on your jailbroken device no longer works.
"Find My iPhone" app does not allow you to set a new passcode lock or overwrite the old one.
Using Siri helps to get into iPhone when iPhone is locked instead of being disabled. Besides, it only works for some specific iOS version. Even if you are in the right version, this way doesn't always work.
The Bottom Line
iMyFone LockWiper is highly recommended to open disabled iPhone or iPad whenever your iPhone says "iPhone is disabled, try again XX minutes later" or "iPhone is disabled connect to iTunes". It's the easiest way which just requires you mere minutes. What are you waiting for? Free download and give it a trial.