Question
My iPhone screen gets broken on a car accident and the keyboard does not work so I am not able to type anything. I plan to send it for hardware fixing. Before sending it to the reparing shop, how can I turn off Find My iPhone on my broken iPhone to protect my privacy? Please help!
In this article, we are going to explore all possible methods to access the settings of the iPhone with broken screen. There are several other limitations that are posed due to broken or damaged iPhone screens. You will find the tested methods and tools that can help you to access your iPhone without entering a password or email.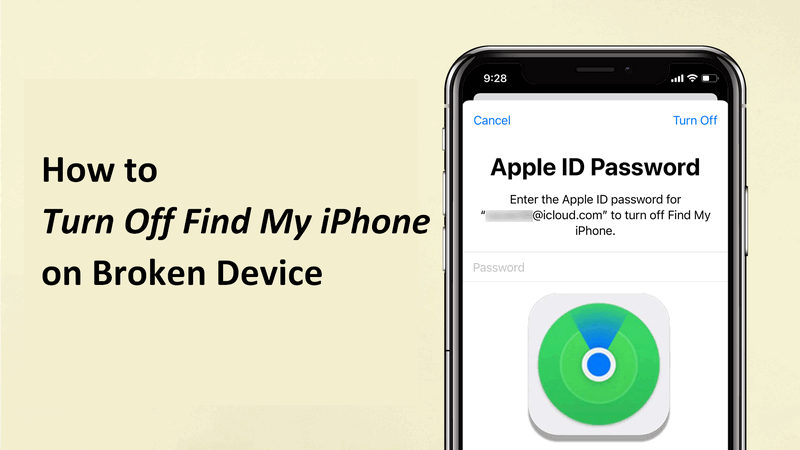 What is Find My iPhone?
Find My is a security solution designed by Apple to prevent anyone else from using your iPhone in case it gets lost or stolen. It is used to locate the stolen or lost devices. In case you are planning on selling your device, turn of this security feature to avoid any inconvenience. You can turn off the Find My feature as long as an Apple ID is signed to an Apple device. Normally, to turn off Find My iPhone, the password to the Apple ID is required.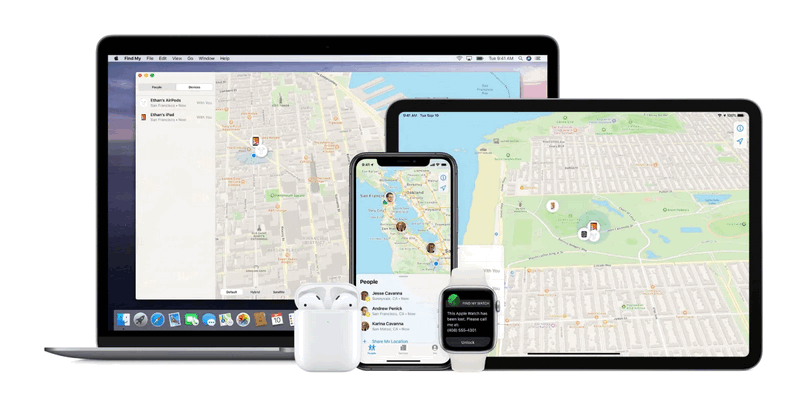 Finding the working method for how to turn off Find My iPhone on broken iPhone is not easy because most of the blogs are just talking about spam tools and methods. Breaking the screen of your smartphone is a normal thing. Things get complicated when you have to access the privacy options without being able to access the password and login page.
" Is it possible to turn off Find My iPhone on broken iphone without password?"
- "Yes, please read the solution below."
Part 1: Remove Find My iPhone Activation Lock on Broken iPhone [without Password]
Recommended:





Suitable for: iPhone completely broken or forget Apple ID password
Remove find my iPhone activation lock without a password may be a complicated task if you don't have the right tools. There are extremely expensive tools that can guide you about how to bypass find my iPhone activation lock on broken screen or there are some malicious tools that can infect your device.
Unlike other tools in the market, iMyFone iBypasser iCloud activation lock bypass tool is not that kind of expensive. You can unlock almost any old or latest model of iPhone without entering the password with the help of iMyFone iBypasser.
iMyFone iBypasser features:
Bypass Find My iPhone Activation Lock on broken iOS devices without Apple ID or password.
Support iPhone/iPad/iPod touch running iOS 12 and later versions, including the latest iOS 14.8.
Enter your iOS device and use it as brans new without any limitations.
Sign in with a new Apple ID.
Here are also the detailed steps to Bypass Find My iPhone Activation Lock on both normal and broken iOS devices with iBypasser:
Step 1. Download and launch iMyFone iBypasser on your computer. Choose the "Bypass iCloud Activation Lock Screen" mode.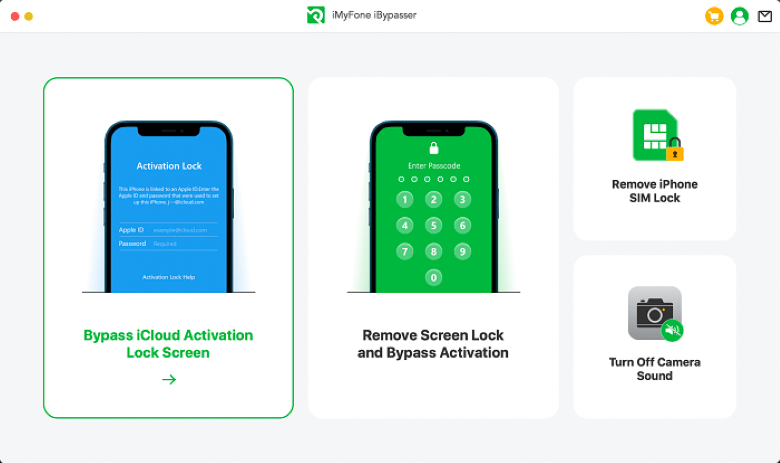 Click "Start" and connect your iPhone/iPad/iPod touch to the computer with a USB cable.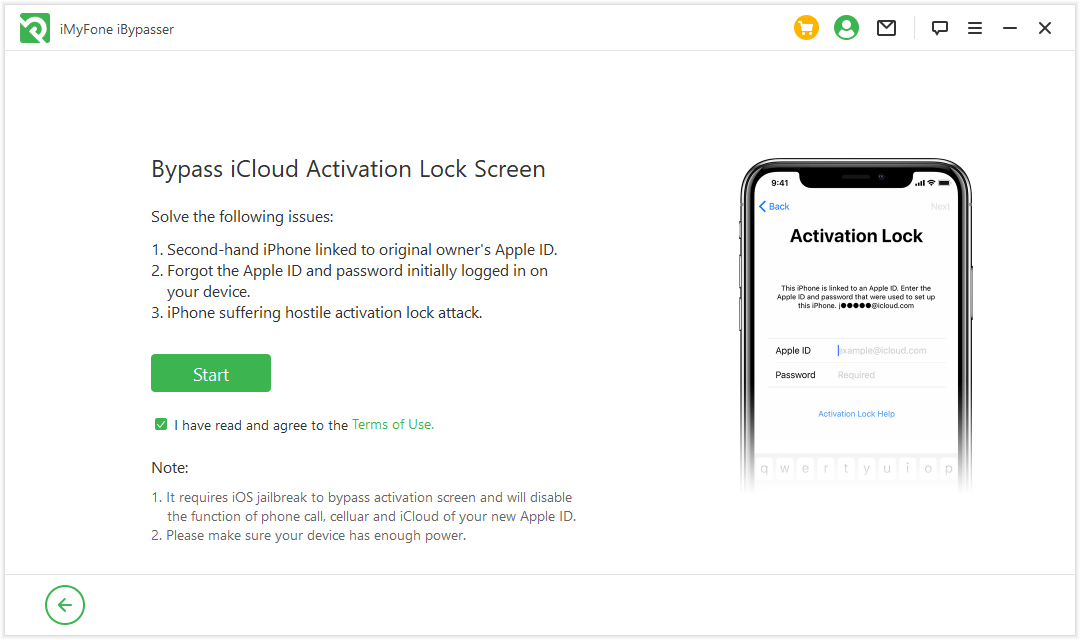 Step 2. The program will start downloading a package which helps you jailbreak your iPhone.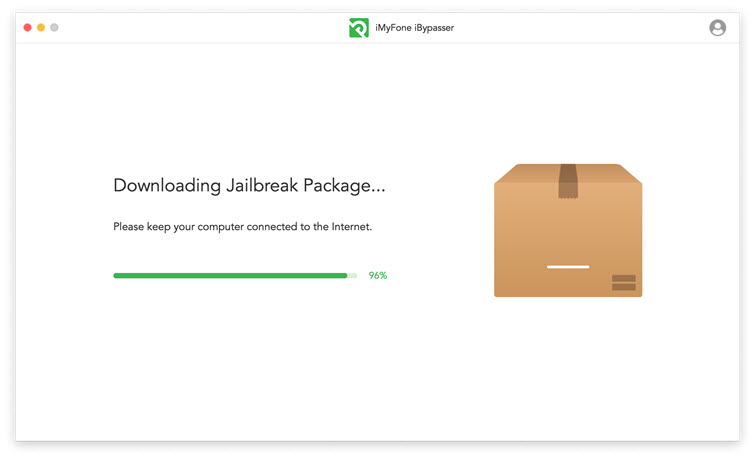 Step 3. Follow the onscreen instructions and then click "Next" after the jailbreak finished.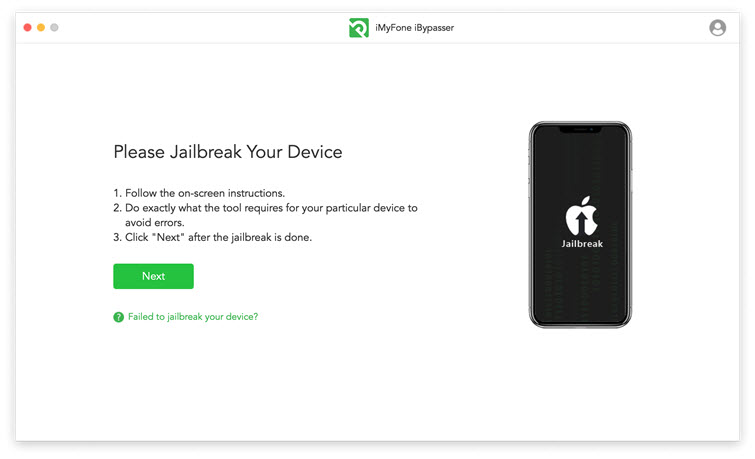 Step 4. After jailbreaking, iBypasser will start bypassing activation lock screen. Please keep the computer connected to the internet and keep your iOS device disconnected from the network. Then click "Start Bypass".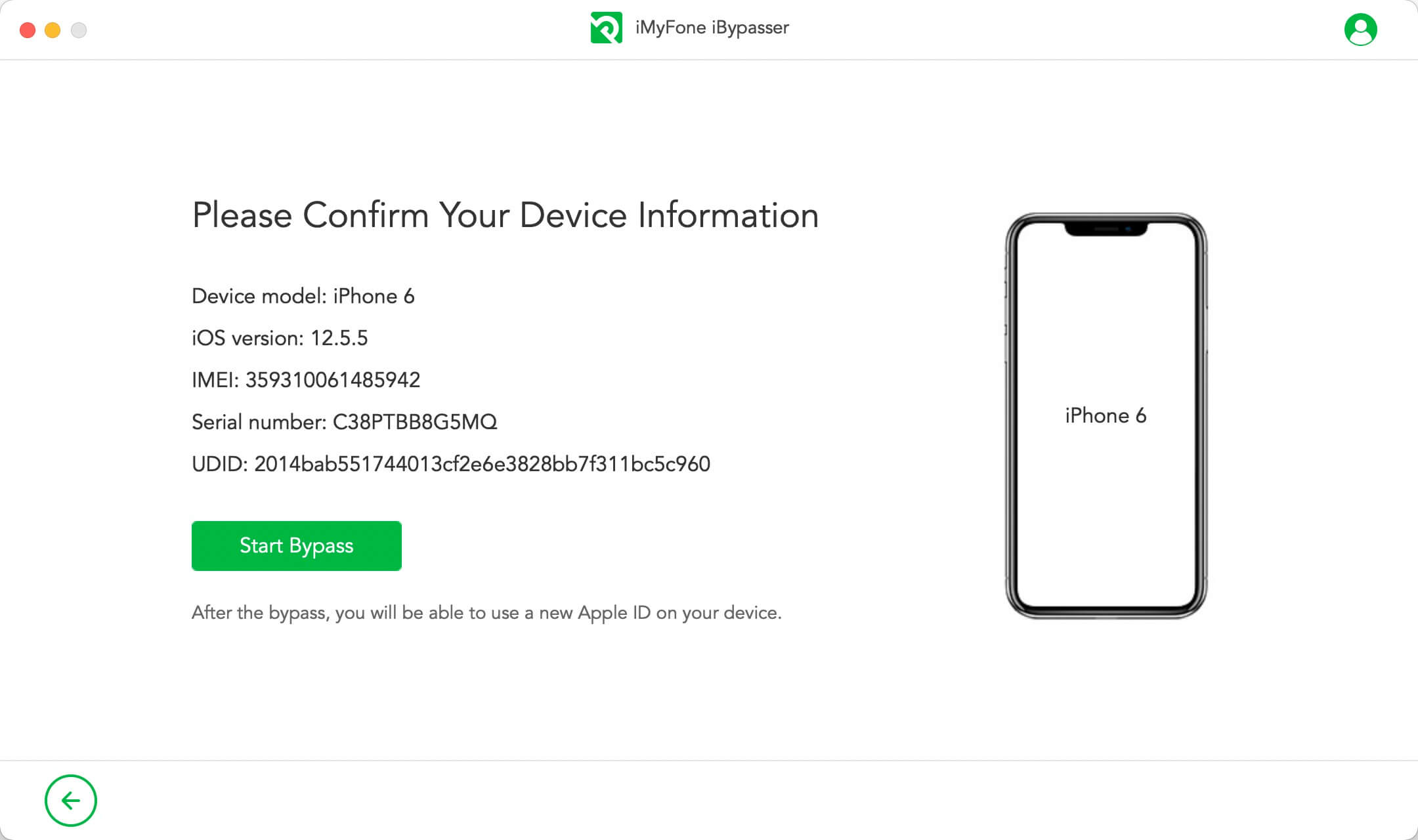 Step 5. The Find My activation lock screen will be successfully bypassed after a few minutes.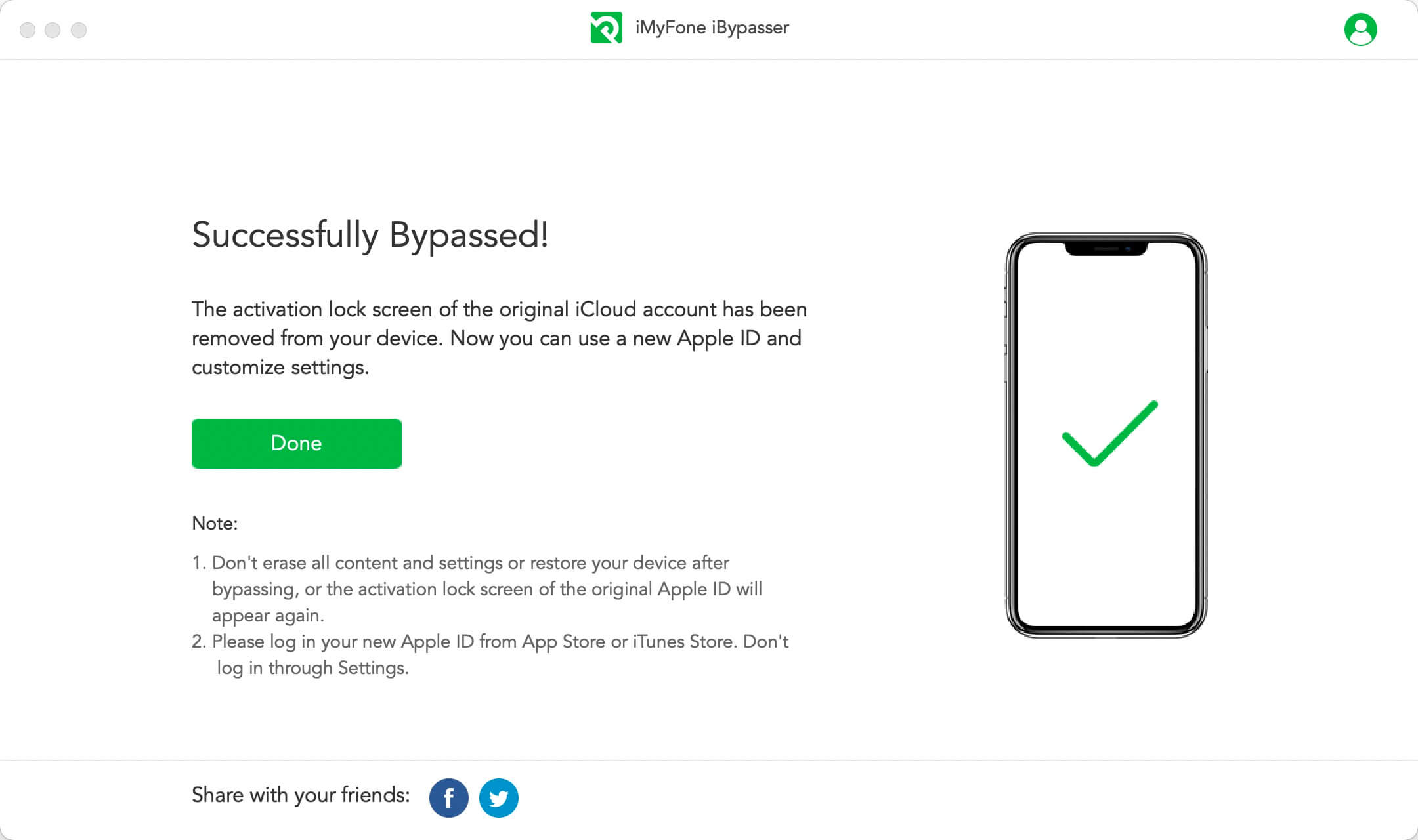 When the process is done, the previous Apple ID will be removed. All you need to do is factory resetting the device and then you can use it as brand new.
Part 2: Official Solutions to Turn Off Find My iPhone [ Password Required]
1

Turn Off Find My iPhone through Settings
Recommended:



Suitable for: iPhone broken but able to type and see the screen texts
If the broken iPhone screen allows you to see the texts clearly and the typing function still works, you can simply go to Settings and enter Apple ID pasword to turn off the Find My feature.
On your iPhone, tap Settings > Your Name > Find My iPhone, enter your Apple ID password and tap "Turn Off".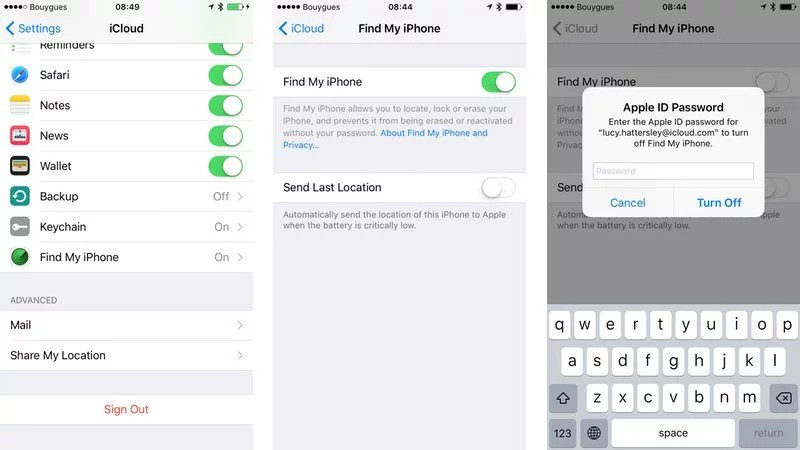 After that, your device will not be linked to the Apple ID used before.
Note
This method only works when your broken iPhone screen still can be used.
2

Remotely Turn Off Find My iPhone on Broken Device through iCloud
Recommended:




Suitable for: iPhone broken but remember Apple ID password
But what if the owner is not with you? How to remove iCloud activation lock for free? Luckily, you can ask the previous owner to remove iCloud activation lock by deleting the iPhone from the current iCloud account remotely.
Contact the previous owner and ask he/she to follow these steps:
Step 1. Start by going to icloud.com.
Step 2. Sign in to the site with your Apple ID and passcode.
Step 3. Click "Find iPhone".

Step 4. Tap "All Devices" located at the top.
Step 5. Choose which device you want to remove from the iCloud account.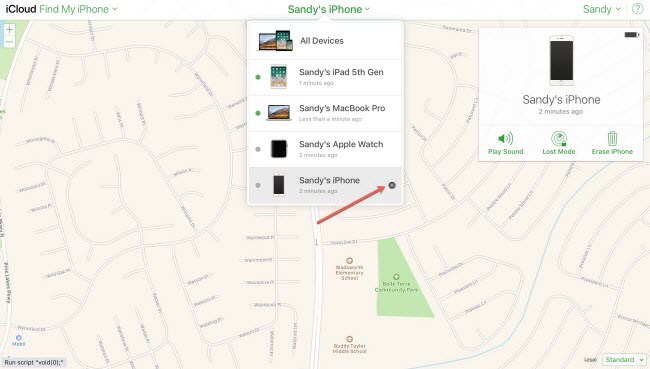 Step 6. Once the device has been deleted, click on "Remove".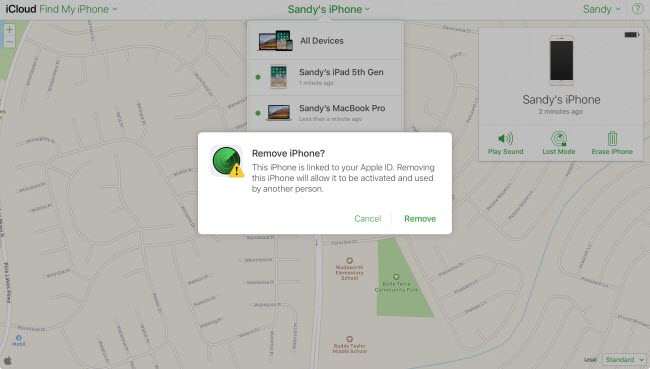 3

From Another Device
When the above methods are not available, we recommend you to try this way. If you have another Apple device in your hand, you can fowllow the steps below.
Step 1. Go to Find My app on another Apple device.
Step 2. Select the device you want to turn off, then roll to the Erase This Device and click it. Don't enter message when prompted. The erase will start when your device is online.
Step 3. After earse is done, click Remove This Device to remove it.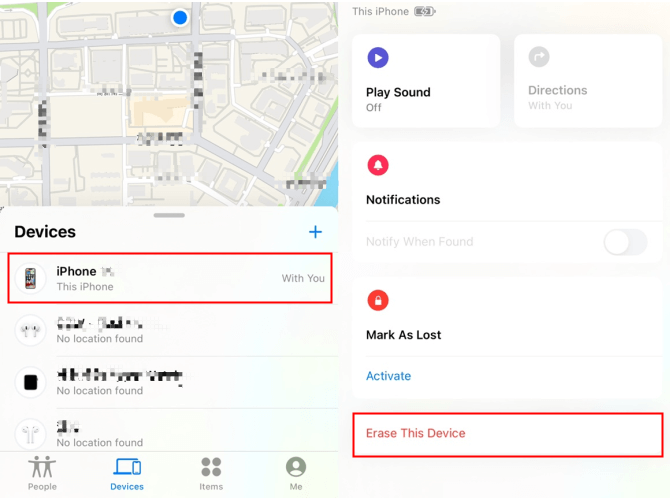 4

Go to Apple Retail for Official Support
If you are the owner of the broken iPhone but not able to type characters or see clearly through the phone screen, you are strongly advised to ask for help from Apple Support.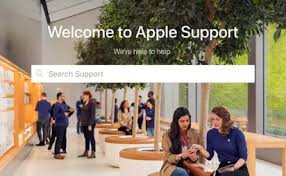 Step 1. Visit the official website of Apple Support and get the location of the Apple Store nearby.
Step 2. Prepare the original purchasing receipt and your identification approval.
Note
If you don't have the required materials or your device is out of warranty, your request might br refused.
Step 3. Make a reservation through phone call or fill out a form online.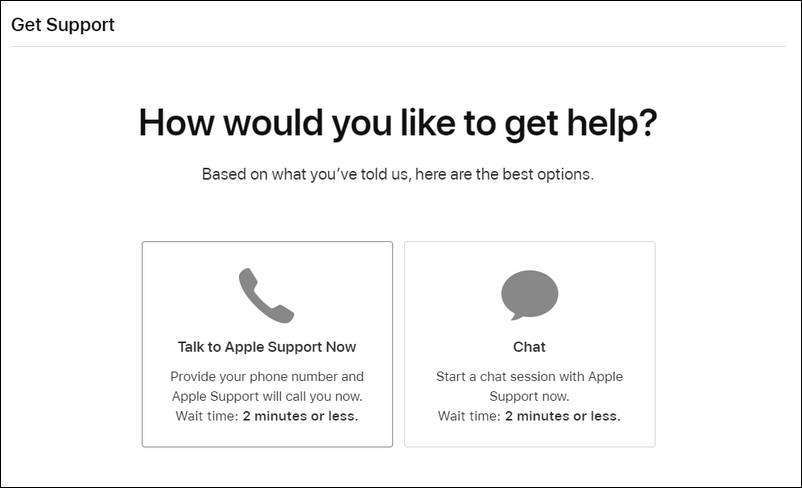 Part 3: FAQs about Find My iPhone and Broken iPhone
Here are some frequently asked questions about Find My iPhone and broken iPhone. Go through the content below to learn more.
1

What happens if you turn off Find My iPhone?
Before you sell, give away, or trade in a device, you should turn off Find My. When you turn off Find My on a device, the device is removed from your Devices list and Activation Lock is turned off.
2

Does Find My iPhone still work when my iPhone is broken?
Yes. Find My iPhone will always be turned on unless you manually turn it off. No matter your iPhone is slightly broken or seriously damaged, it works all the time.
3

What to do if I need to send my broken iPhone for repairing?
If you no longer have the device, you can remove it from your account using Find My iPhone on iCloud.com.
4

Can I simply restore my iPhone to turn off Find My iPhone?
No. Some people might restore the broken iPhone through iTunes to turn off Find My iPhone. However, after resoring the activation lock whick asks for the previously used Apple ID and password will appear. You can refer to this video to bypass iCloud activation lock if you don't have the correct Apple ID password.
Conclusion
From the solutions discussed above, I'm sure you've had a clear impression on how to turn off Find my iPhone on a broken iPhone. If you know the Apple ID password, use the official solutions and ask Apple Support for help when the hardware unfunctions. If you don't have the Apple ID password, do not hesitate to use iMyFone iBypasser which can bypass activation lock without password and Apple ID. After using iBypasser, you are free to sign in with a new Apple ID and get full access. Free download the trial if you nee this!