Images play an important role in everybody's life. These are memories that users cherish afterward. Sometimes these images get deleted or lost due to various reasons. Today, we will talk about how we can recover lost and deleted images using DigDeep. We will also share the best alternative, iMyFone D-Back for Android.
It is a commendable data recovery tool that recovers almost any type of file in difficult scenarios. Beginners can also use it as it requires simple steps and a few minutes to get the job done.
Part 1. DigDeep Image App Recovery Review
DigDeep is a data recovery app that is available on the Play Store for Android users. It allows the user to search through the whole phone and recover the deleted and lost images.
DigDeep is a reliable and safe tool that people can download. The user can also search images by folders and preview the photos that DigDeep restores. It is a phone application and makes it easy for the user to get a hold of old photos.
Features:
DigDeep has a user-friendly interface with simple options.
It has powerful recovery tools to restore deleted photos.
It is highly reliable and scans the phone with quick speed.
DigDeep supports different image formats, including PNG, JPG, and even JPEG.
Does not require the user to root the phone.
Pros
It is free to use.
Available in different languages to ease the users.
Easy to use.
Users have given this tool a good user rating, so it is safe to use.
Cons
Data or images are not encrypted.
Only able to recover images and no other files.
Sometimes it shows images that are not deleted yet.
Part 2. Better Alternative for DigDeep Image Recovery - iMyFone D-Back for Android
2.1. Retrieve Data with iMyFone D-Back for Android
If the user wants to retrieve the deleted images or any data, then there is a better alternative to DigDeep, and it is iMyFone D-Back for Android. This tool not only allows the user to recover lost or deleted photos, but it supports the recovery of 11 different data types, including contacts, videos, WhatsApp, call logs, messages, documents, and more. It also enables the user to recover data from any Android device.
iMyFone D-Back for Android is capable of recovering data in different situations, including accidental deletion, water damage, black screen, virus attack, and more. It can recover data from Android's internal storage directly, Google backup, and even from broken Android data.
iMyFone D-Back for Android is a really powerful tool as it can filter the files and allow the user to preview the data. It is completely safe and reliable to use. Moreover, it has a high-speed data recovery with ultra-fast scanning speed.
Step 1: First, you need to install iMyFone D-Back for Android on your computer. Open the tool. You will see various data recovery options. Click on "Recover Phone Data". With this, the user can recover data from the phone's internal storage.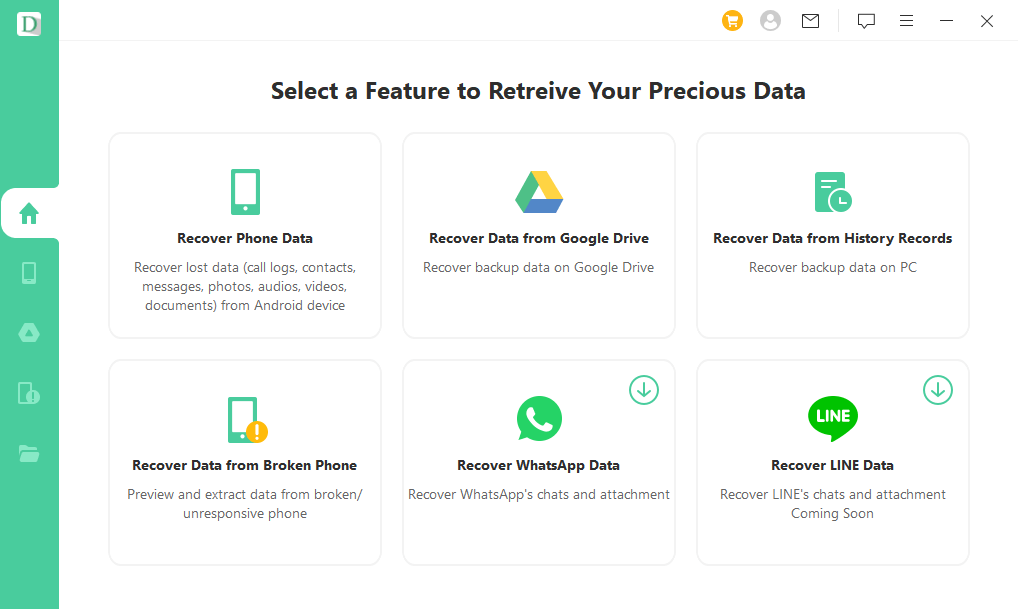 Step 2: Then, enter your Android phone model number and device name. The tool will then download the data package according to your phone.
Step 3: Once the data package is downloaded, make sure to connect your Android device to the computer with the help of a USB cable. Click on "Next" when the device is detected by the tool.
Step 4: Now, choose the type of files that you want to recover. As we are looking at an alternative for DigDeep, let us choose photos. The tool will then analyze your selection and start scanning the device.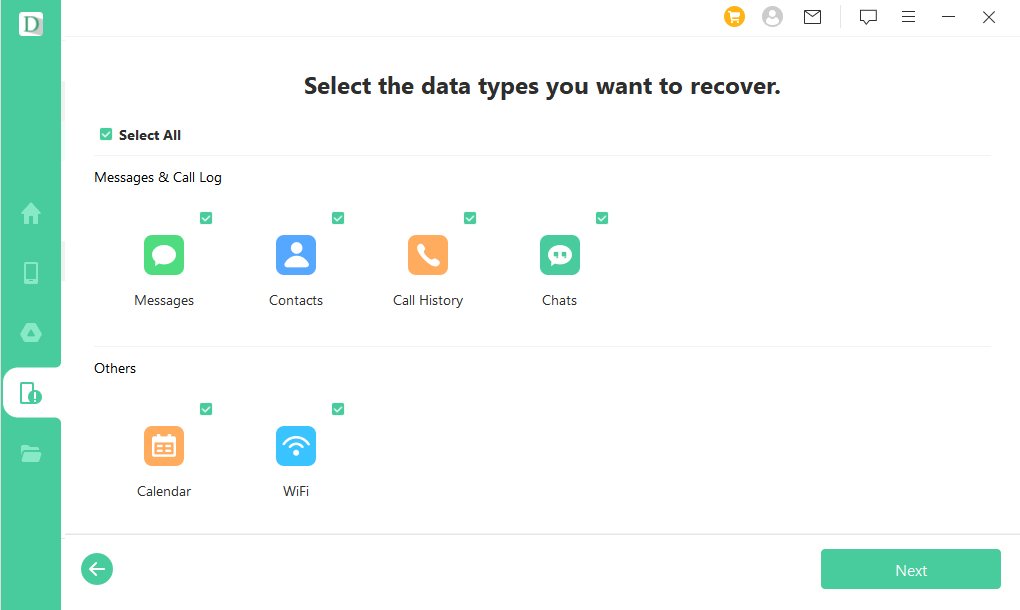 Step 5: The user can then look at all the recoverable files. Choose the files that you want to recover and click on "Recover" to restore them. All the files will be saved to your computer.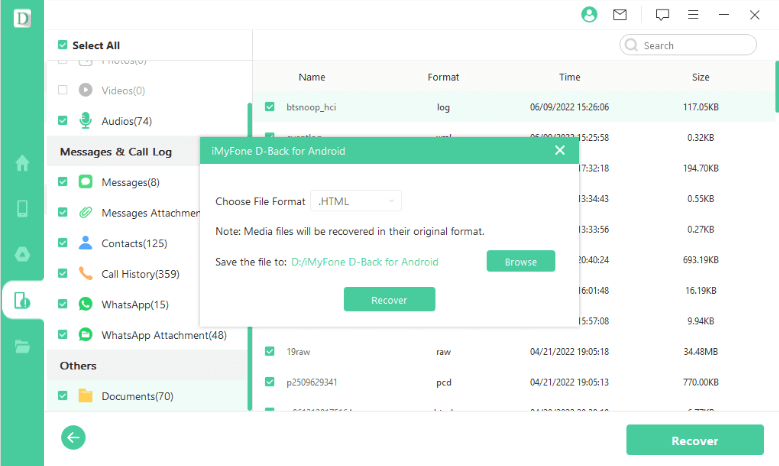 2.2. Comparison Between DigDeep Image Recovery and iMyFone D-Back for Android
| iMyFone D-Back for Android | DigDeep Image Recovery |
| --- | --- |
| Able to recover different data types. | It can only recover images. |
| Strong algorithm to restore deleted files and images from months ago. | A decent algorithm that works fine. |
| It has a trial version that users can download and check its working. | Free to use. |
| It is very easy to use as it has a simple interface. | The interface is simple but not effective. |
| Can recover data in different difficult situations. | It cannot help the user in difficult situations like black screen and water damage. |
Part 3. FAQs
1) Does DigDeep Image Recovery Work on iPhone?
No. DigDeep does not work on iPhones. But there is an iOS version of iMyFone D-Back for iOS. It allows the user to have all the features and privileges that an Android user has. Just like the iMyFone D-Back for Android, the user can recover all types of data with just a click. The user can download the iOS version of iMyFone D-Back and start recovering the images.
2) Is DigDeep Image Recovery Safe/Trustworthy?
Yes. As per the users' and self-experience, it is safe to say that DigDeep is a safe tool. However, it has limitations as it does not recover images and anything else. There are many better tools offering data recovery with multiple data types. This is the reason that people are restricting themselves from using DigDeep.
3) Does DigDeep Recovery Really Work?
Yes. DigDeep works but not as powerfully as iMyFone D-Back for Android. It is just a simple image recovery tool that sometimes does not even work properly due to its algorithm. People have complained that it shows deleted images that are not deleted from the phone, and its credibility is compromised.
Conclusion
We have discussed two different tools to recover lost or deleted images from an Android device. Both are easy-to-use tools, but the iMyFone D-Back for Android has a preference over it due to its diverse recovery process and data type support. Whereas, DigDeep can only recover images that too with the least reliability. This is the reason that people should go for the iMyFone D-Back for Android and try out the trial version to check its feasibility and compatibility with Android devices.