Voicemails are a basic way of communicating with voice messages using smartphones. While it is only a way to deliver information for some people, some have special voicemails they want to keep on their newer devices. It is the right guide if you also want to transfer voicemails to a new device.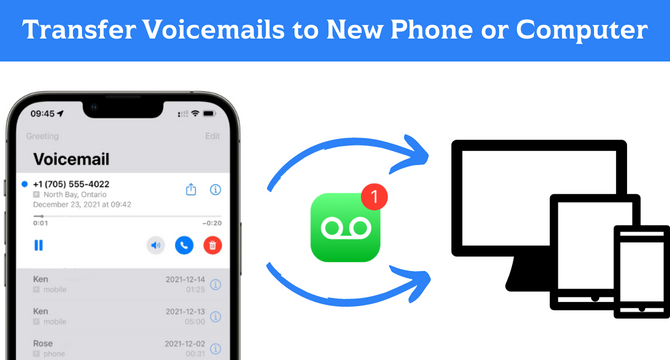 Part 1. Do Voicemails Transfer to New iPhone/Mac [Solutions Provided]
Do you also have an old iPhone with many files and important things? Well, buying a new iPhone may make you think if you can transfer your voicemails to that new iPhone or your Mac.
The answer here is yes, and luckily there are 2 very easy methods for you to follow. Both methods work wirelessly as you can use iCloud and AirDrop features. So, below are the details about each one of them:
1.1 Transfer Old Voicemails to New iPhone/Mac with iCloud
The first method is using iCloud. If you have enough iCloud storage space, you can set it up for once. After that, you will automatically get all the old voicemails to your new iPhones, Macs, and other Apple devices without additional effort.
Below are all the steps you need to follow for this method to work.
1. Open Settings on your old iPhone and go to the iCloud option.
2. There you need to turn on iCloud Backup and then click on Back Up Now.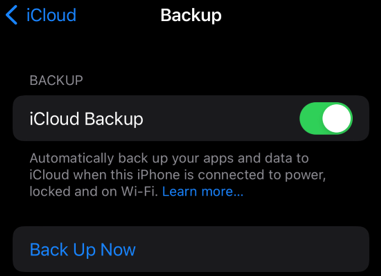 3. After the backup is complete, iCloud will have a backup of your iPhone.
4. Now you can sign in with the same iCloud account on your new device. On a mac, you can use the iCloud app, or on a Windows PC, you can use the iCloud app or go to the official website.
With these steps, you will get voicemails from your old iPhone to the new one on your PC.
1.2 AirDrop Voicemails from Old iPhone to New iPhone/Mac
An even simpler and easier method to transfer your voicemails from an old iPhone to the newer one is by using the AirDrop feature. Not only is it easy, but it is very quick as well. The only requirement is that the devices must be close to one another for AirDrop to work.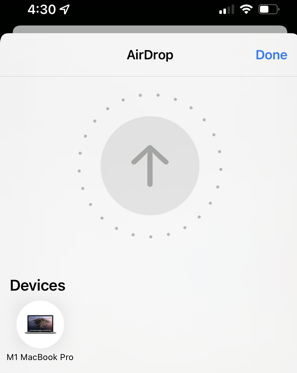 If your devices meet these requirements, you can follow these steps to use this method of transferring your voicemails from your old iPhone to the new one:
1. Turn on the AirDrop feature on the old iPhone and the new Apple device where you will be sharing that voicemail.
2. Go to the Phone app and then to the Voicemail section.
3. Now you can select different voicemails that you want to share.
4. Tap on Share and select AirDrop.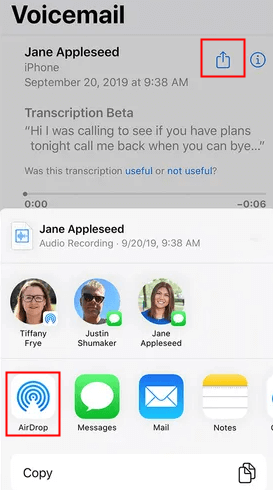 5. Select the recipient device and accept on that device.
Within a few seconds, you will have all your voicemails on the other device with the help of AirDrop.
Part 2. How to Transfer Voicemails to Computer/Android with Mail/Message
If you do not have easy access to any way to connect your devices, then you can go for a wireless method. While everything is done wirelessly here, one of the best things about this method is that you can do voicemail transfers to new iPhones, computers, and Android devices.
The following are all the steps that you need to follow to transfer voicemails from your iPhone using message or mail:
1. On your iPhone, go to the Phone app and choose the voicemails that you want to transfer.
2. Now tap on the Share icon, and from the sharing options, you must select either Mail or Message. After selecting one of those options, you need to specify the receiver accordingly.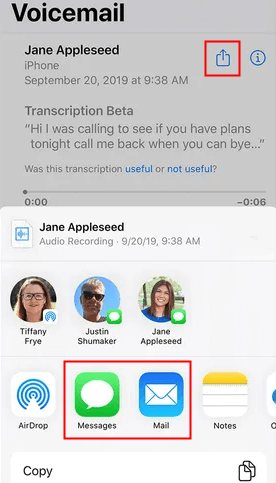 3. Hit Send, and you will have transferred those voicemails to computer and Android devices.
It is a simple approach that can help you transfer and share your voicemails across different devices. Working wirelessly is one of the biggest perks. Additionally, when you use this method, you can put yourself as the receiver with the same or different contact information and keep a record of that voicemail.
Bonus: One-click to Export and Restore Voicemails on Old iPhone
If you have an old iPhone that wants to export and restore all the voicemails, then your best choice is iTransor from iMyFone. It is a tool that helps you create a backup to export files with one click.
Similarly, you can also restore those voicemails to the iPhone with one click. iTransor brings many other back-ups and restores features, including safety and reliability for all your files. It also supports online and offline backup/restore functionality. Thus, iTransor meets all your voicemail transferring requirements while offering you the most convenient experience.
FAQs: More You May Want to Know About Voicemails Transfer
1

Why my voicemails didn't transfer to the new iPhone?
There could be several reasons your voicemails didn't transfer to the new iPhone. You can try restarting your device, and you will get those voicemails if that was a software glitch. Otherwise, you need to do QuickStart to get all the data from your backup.
2

Where did my saved voicemails go?
In android devices, voicemails are saved in the phone's storage according to the settings. On iPhones, they are saved in M4A format, and you can find them in the Voicemail tab in any audio player.
Conclusion
You can significantly ease the process by using the right method to transfer voicemails to a new iPhone and computer. Remember that you have options to transfer your voicemails to different devices apart from your computer if you use the right method. However, following all the steps in the given order is extremely important if you do not want to lose any of your important voicemails accidentally.