"Hi, I make backup almost every week or less, but this time it failed. I'm very upset. Why won't my iPhone backup? That's why I'm here. Please help and get me out of trouble. My data is very important to me and I can't afford losing it."
Backup is the smartest way to avoid loss of essential data in the future. Most people are aware of making backup on regular basis and iPhone users go with either iTunes or iCloud to backup their iOS devices. But sometimes, these ways bring some glitch with them making the users upset ultimately making them think why my iPhone won't backup. We will make you familiar with some reasons behind the failure of iTunes and iCloud. Moreover, in this article, you will get a perfect alternative to backup your iPhone.
Why Won't My iPhone Backup
1. Possible Causes for the Failure of iTunes Backup
When your iPhone backup failed with the help of iTunes, it may be resulted from the following reasons:
Faulty USB cable – Make sure to use the official and certified Apple USB cable. It means only those which came with the iPhone. A faulty USB cord won't let you backup successfully.
Old Version of iTunes – When you don't have recent version of iTunes, it can also be a cause of iTunes backup failure. Install the latest one and try again.
Security Software – Sometimes iTunes fails to backup when there is security software in your device. To backup smoothly, make sure to disable security software.
Not enough Disk Space – Another reason could be less disk space. Check if your computer contains enough disk storage to backup your iPhone.
2. Possible Causes for the Failure of iCloud Backup
Here are the reasons of iCloud backup failure:
Bad Wi-Fi connection – To make backup via iCloud, your device needs to be connected with a good Wi-Fi connection. Check if your connection is bad and use other connection.
Not enough iCloud storage – Make sure you don't have shortage of iCloud storage. If there is less storage, it can trouble you making backup.
iCloud Backup is in Maintenance – When it comes the time of maintenance, the service stops temporarily. Therefore, you can check Apple System Status to ensure if iCloud Backup is in maintenance. If yes, this must be the reason behind the failure.
Best Alternative to Back Up iPhone
When you're fed up using iTunes or iCloud and stuck with the question, "why won't my iPhone backup", you probably are looking for some alternative to backup your iPhone. Good news is that the best alternative comes -- iMyFone iTransor (compatible with iOS 15). It's an impressive program which helps the users to backup and restore iOS devices fully or partially in an efficient way. Let's talk about its amazing features.
Key Features:
iTransor has the ability to backup your iOS device without overwriting the earlier backup files.
The program lets the users to backup full settings and data as well as merely WhatsApp, Contacts, WeChat or messages.
The users are allowed to restore only contacts, messages, WeChat or WhatsApp from iTunes, iCloud or iMyFone backup if they want.
It can easily extract 20+ types of data from the backup files you made with iTunes, iCloud or iMyFone iTransor.
1. Make a Full Backup without Overwriting the Previous Backup
iMyFone iTransor helps in backing up all the data and settings on your iPhone no matter you are running iOS 15 or other iOS versions. The program has the power to make various backups without replacing the previous backups, which is what iTunes can't do. On a plus, you can make backup whenever you wish and also can preview the data after making the backup.
Here is how to make complete backup of iPhone.
Step 1. Start with getting the program into your PC by opening browser and downloading iTransor. Install and then launch it. Now, connect your iPhone/iPad/iPod with the computer.
Step 2. From the main interface, select "Acquire Backup from Device & iCloud" option available in the left panel. Now hit on "Back Up Device".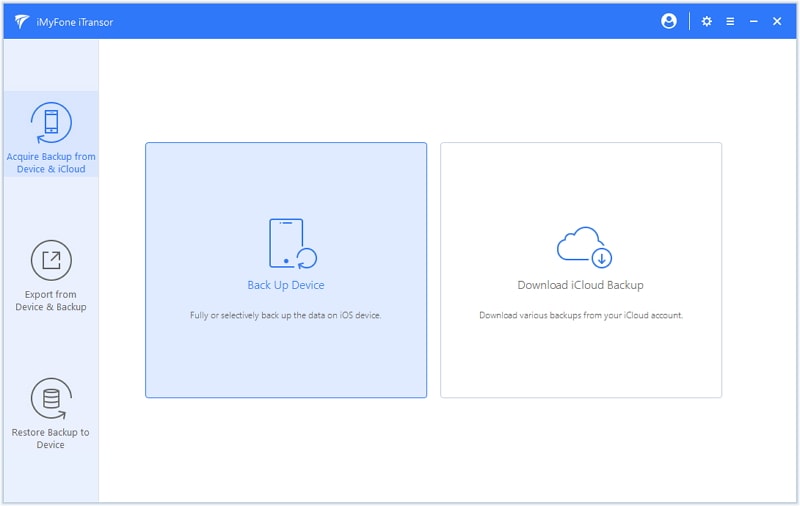 Step 3.Next screen will provide a "Back Up" button. Select 'Make a Full Backup' and hit on the Back Up button. Keep connected your device and PC.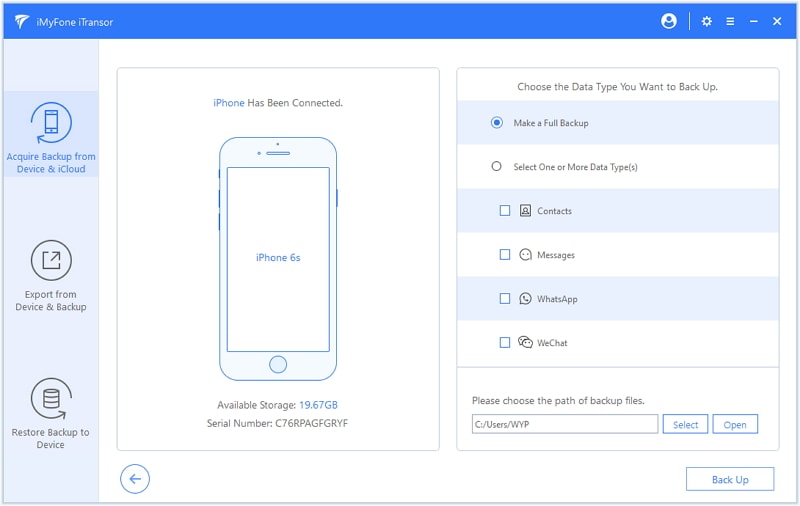 Stay for few minutes until you get the notification. When it comes, the process ends.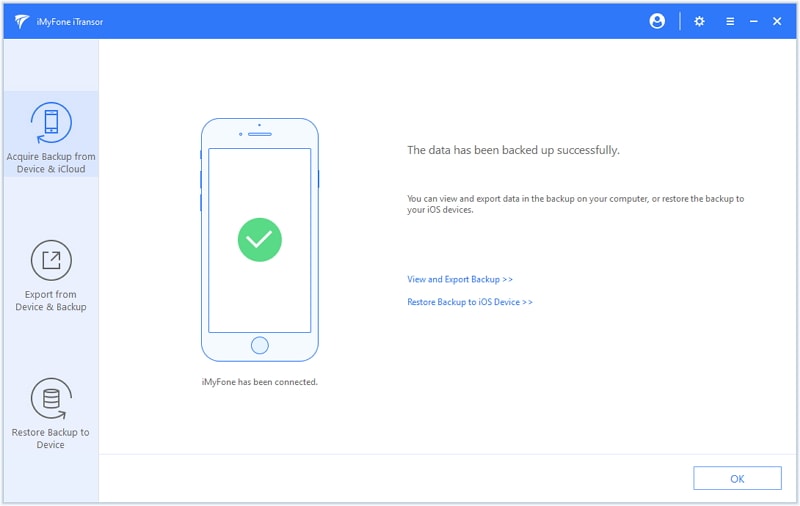 2. Backup WeChat, WhatsApp, Contacts or Messages Separately on iPhone 
iTransor provides an outstanding platform where users can backup their WeChat, messages, Contacts or WhatsApp data individually if they need. Also, unlike iTunes, the users can restore the files with no overwriting issue. The steps are:
Step 1. Again, start with downloading, installing and launching the program. Connect the device with the computer and proceed to the main interface.
Step 2. Firstly, hit on "Acquire Backup from Device & iCloud" and then select 'Back Up Device'.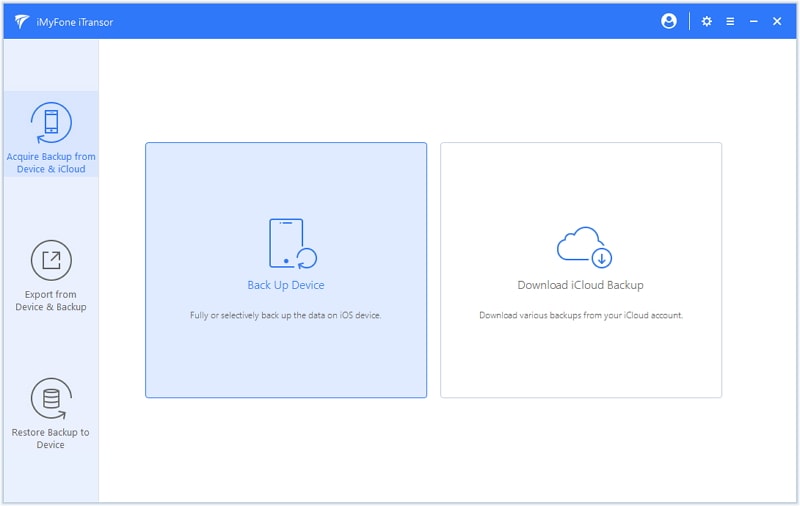 Step 3. Select the preferable data like clicking "Contacts" if you want them to store. Click on "Back Up" and your backup process will begin.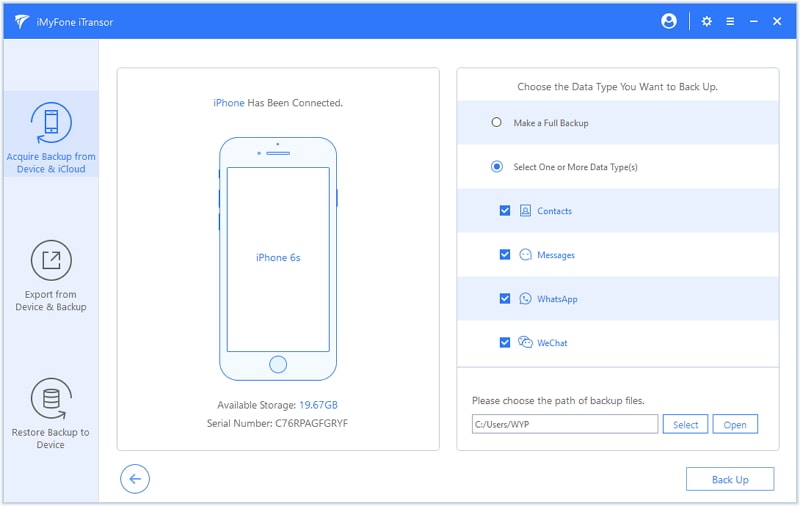 You will be informed by the program when the process gets end.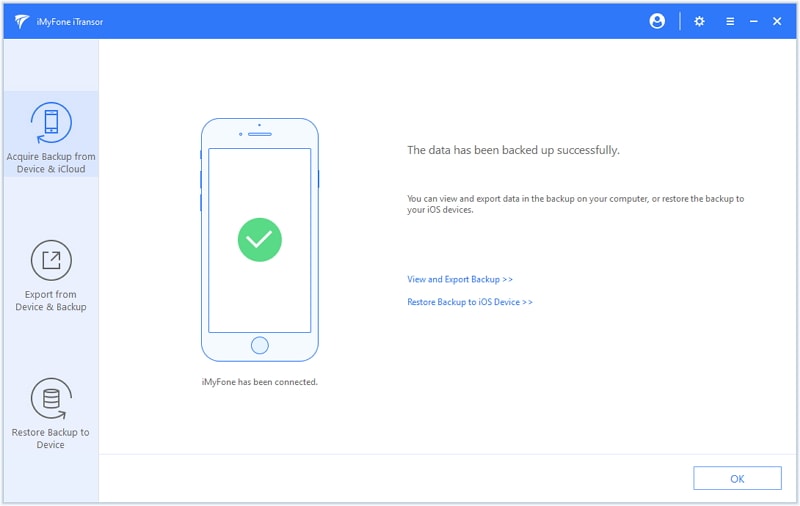 3. Flexibly Restore iPhone from iTunes, iCloud or iMyFone Backup
If you want to restore partial data (like contacts, messages, WeChat messages, WhatsApp messages) from iMyFone, iCloud or iTunes backup, you can easily do that with this program as well. Plus, you can restore at anytime you want. Here are the steps to restore iPhone from iTunes backup:
Step 1. Initially, download and install the iTransor. Thereupon, proceed with launching the program. Connect your iOS device to the computer. Then click "Restore Backup to Device" and you need choose a backup from the chart. Here we choose an iTunes backup.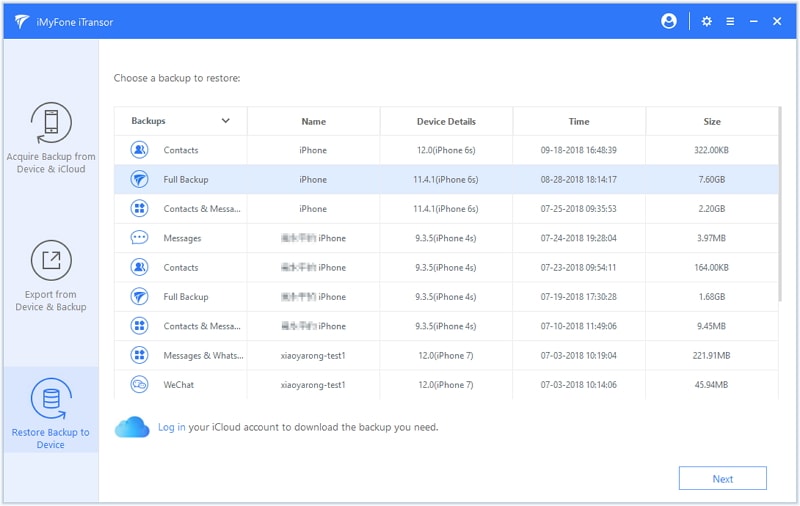 Step 2. The next step would be to click on "Restore Partial Backup" option.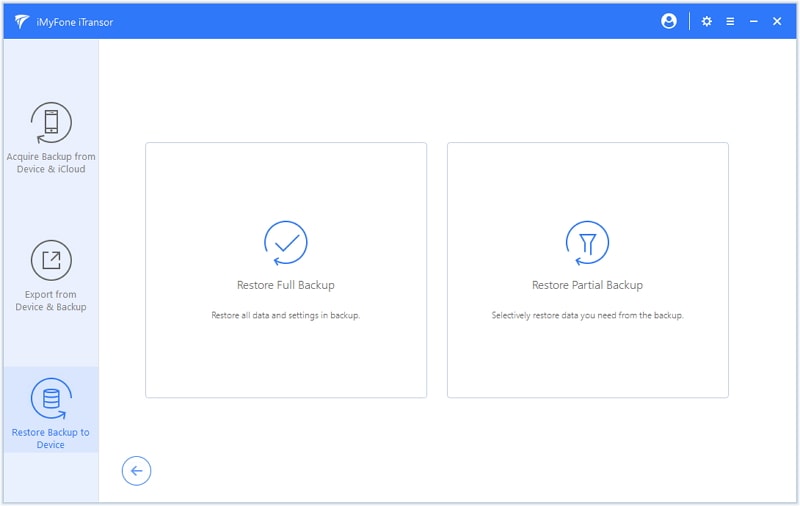 Then, proceed to select WhatsApp messages from th data types.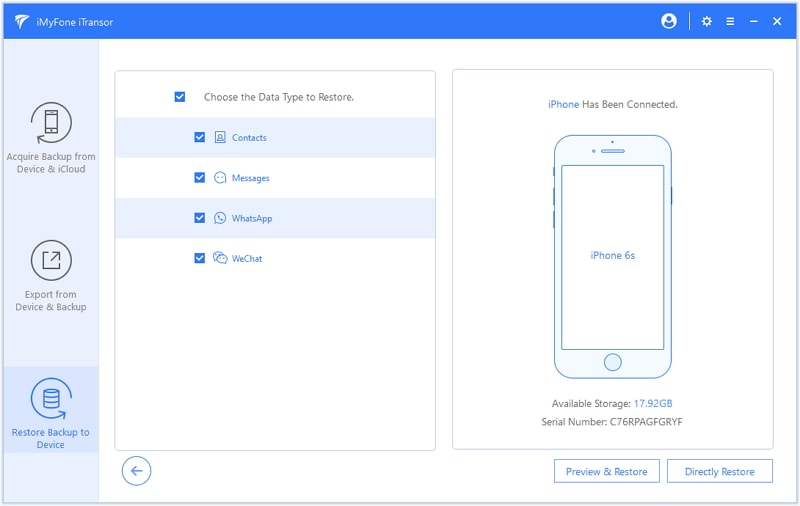 Step 3. After this, click on "Preview & Restore or Directly Restore" to initiate the restore process. You can choose Preview & Restore to let the scanning complete and once done, preview your data before restore.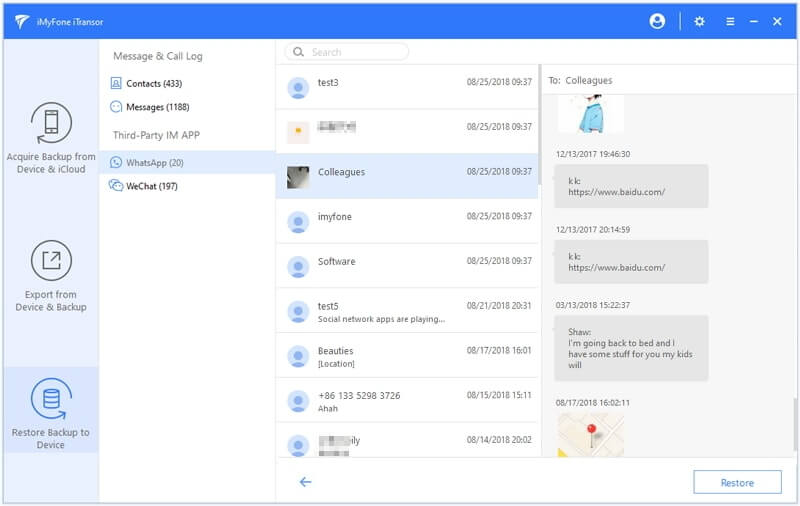 In the end, hit on "Restore" and select Merge & Replace or Fully Replace to begin to get your WhatsApp messages without altering the other data in your device.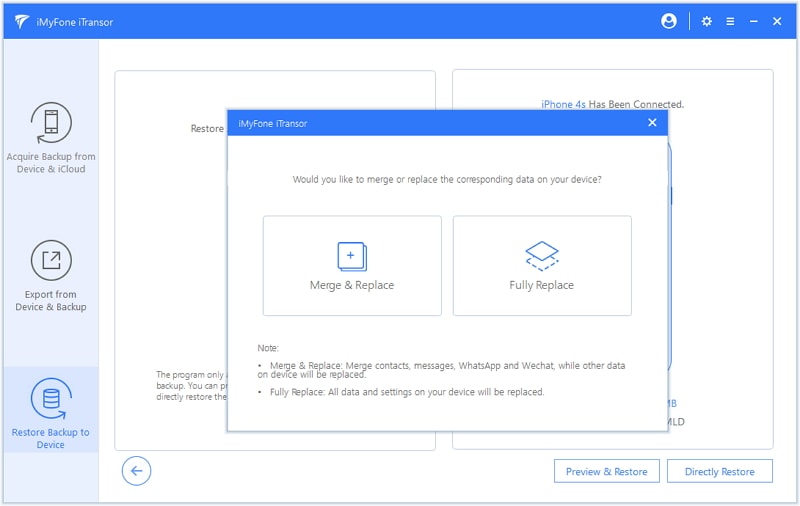 iTunes and iCloud are the ways that first come to the minds of iOS device users in order to backup or restore their device. However, these two ways can hamper our process due to various reasons. When you finish reading this article, we hope when next time you stuck with the question of why won't my iPhone backup, you will be able to resolve the problem with the best alternative -- iMyFone iTransor (compatible with iOS 15).