GPS capability is a feature that we cannot live without. It is vital for so many location-based applications, including Google Maps, search engines, weather, and so much more. However, like everything else in this world, it also has a price. Yes, we pay with our privacy. Sometimes, people take advantage of it as an obsessive partner may want to keep tabs on your whereabouts. So is there any solution? Yes, and it is a fake locator through GPS spoofing.
Part 1:What is a Fake Locator
GPS spoofing is a workaround to keep the actual location of the user hidden. The best fake locator app or GPS spoofing app allows you to transmit a fake location while you are at another place.

Most fake locator or GPS spoofing apps make use of latitude and longitude parameters on the mobile phone or tablet to emulate the desired location. Some applications. However, take it to another level by changing altitude, speed and accuracy parameters along with the latitude and longitude. In fact, we also have softwares in the market that can show that you are moving while you are not. 

This is used with almost all mobile platforms and with other devices that use location-based applications. While some people use it for unlawful purposes like shipping companies, cab services etc. but sometimes it is essential and totally legal to hide your location for security purposes. On a lighter note, many teens are using fake locators to play Pokemon freely from anywhere in the world. They also use it for pranking their friends or for surprising their family.

There are many applications available in the market that are used as fake locators or fake location apps for Android.
Part 2: Why Faking Locator
There are several reasons why you might want to use a fake locator. It could be privacy, to overcome some restrictions applied by certain apps or to find out more about a new geographical location. You have many options to employ GPS spoofing. You can either combine VPN with a fake location app, or you may use a service that connects a premium VPX with an in-built best phoney GPS location spoofer.
First, let us have a look at different reasons why a fake locator app may help you.
1 Extract Messages from iTunes Backup SelectivelyIt is frustrating when Android, Facebook, Twitter or other applications release new updates with loads of exciting features, but it is limited to specific geographical locations. If you use a fake locator the right way, you are good to go.
2 Online privacy is a growing concern within many circles. However, GPS tracking and movement tracking is a blessing for parents and family who want to kee[ tabs on your location. However, we are seeing more and more cases of abusive partners, criminals and others using GPS tracking to restrict, confine, kidnap and violate the boundaries. Online fake locators may help the victims immensely.
3 Your favourite Netflix documentary is not available in your region. Now what? Yes, GPS fake location is here to help you.
4 You can even expand your dating profile globally by using GPS spoofing apps to find more matches around the world.
5 Last but not least, gain more points and expand your Pokemon arena for more options using the useful fake locator.
Part 3:Fake Locator Announcements
It is rather difficult to monitor the real impact of GPS in the economy. However, we can see that there is a significant influence of this concept in the critical infrastructure of the world. Position, navigation, or timing (PNT) information plays a vital role in many fields like civil, military, commercial and legal sectors.
The problem here lies in the fact that many critical sectors solely depend on this PNT information from GPS satellites. Recent research shows that GPS technologies contribute around $1.4 trillion dollars in the US and £6.7 billion pounds in the UK industry. Therefore, falsification of location can pose a serious issue as there is no form of authentication or verification in the GPS transmissions, and it is straightforward to falsify a place. Hence a great deal of threat and criminal issues can arise here. Some examples may be shipping companies, cab drivers and criminals using a useful fake locator to mislead the authorities.
Part 4: 7 Fantabulous Fake locators
Fake a location on your Android phone
If you want to fake a location on your Android phone, then you will enable the developer options hidden menu. To accomplish this, go to the Settings app and open the about menu page. Now, locate the software information page and find "Build Number". The trick here is to tap the build number entry seven times, and you will see  "You're now a developer!" appear at the bottom of your screen.

After doing this, you can go to developer options and allow mock locations by  "select mock location app". So, it is now time to have a look at the fantabulous and best fake locators.
1

Fake GPS location– Hola
It is free to use app that helps you to change your GPS location without any hassle.  This fake GPS app can break geo-restrictions for many applications on the phone.
Follow these steps to use a fake location on your phone. Make sure you have already enabled developer options as we described earlier.
Step 1: Download the Free GPS Location - Hola on your device from the Google Play store.

Step 2: Open the Hola app and choose the desired location on the app. You can also select the location through an easy to use the search bar.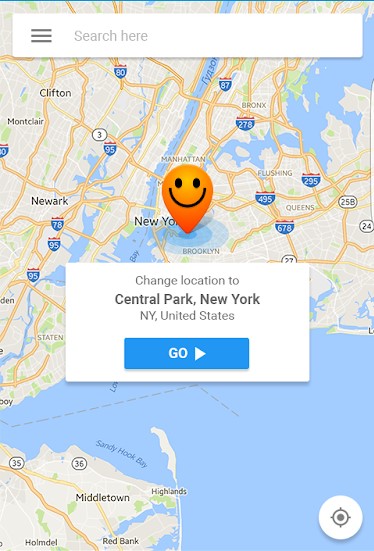 Step 3: Now click the "Play" button, and it's done.
2

 Fake GPS Location By Lexa
Fake GPS location by Lexa is a famous fake GPS app because you can even use it for GPS spoofing even without rooting the device. Lexa has a set of advanced features, including press-and-go; you can even combine it with the automation app Tasker to generate fake locations automatically.

Following are the steps for using the best fake GPS locations by Lexa.

Step 1: Download the Fake GPS location app.

Step 2: Enable Developer options as we discussed earlier.

Step 3: Select mock location application.

Step 4: Spoof your desired location.

Step 5: Enjoy!!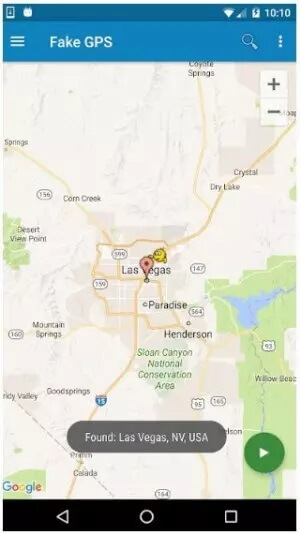 3

Fake GPS Location – GPS Joystick
Step 1: Download the GPS joystick fake GPS app from Google's Play store.
Step 2: Launch the app and select the option to get started. Click the Set Location option.
Step 3: Now, open the map option and select the Latitude, Longitude line in the GPS Joystick app.
Step 4: From the start tab, click the Draw Permission Required dialogue box and go to Settings.
Step 5: Give permission to draw over other apps.
Fake a location on your iPhone
Faking location on Apple devices is not as easy and straightforward as the Android devices. You may have to jailbreak your device or make other adjustments that can even mess up with your device settings. Four possible solutions, however, that you can consider are here.
iOS GPS spoofing with a location simulator
iPhone fake location with an app
Fake iOS GPS using a computer program
Fake iOS GPS jailbreaking
We will see some options to use fake locations in detail now.
1

AnyTo
iMyFone AnyTo can be used for both iPhone and Android. With AnyTo, you can not only change your location to false coordinates, but you can use advanced options too. For example, you can even stimulate movement when your location is constantly changing as if you are travelling.

Simple steps to use this app are;

Step 1: Launch the AnyTo app.

Step 2: Connect your device and load the map.

Step 3: Now you can change your location and can also use a multi-spot path of your movement.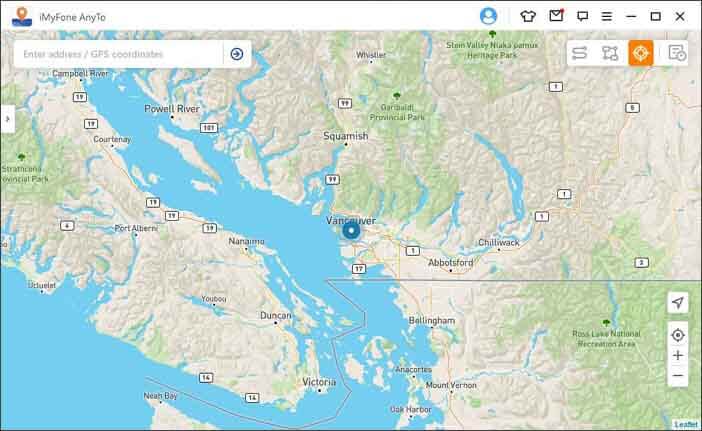 2

Cydia
Cydia is an alternative to the Apple store for a jailbroken device. You may use Cydia to install third-party and the best fake GPS apps. Here are some steps to follow.
Step 1: Install Cydia Impactor on your Windows or Mac system.
Step 2: Now connect your iPhone to the system and trust the computer when prompted. Select the connected iPhone set from the dropdown menu and click the "Start" button.
Step 3: You may need to use a Yalu IPA installer for some devices. You can download it from the website and drop the file on the interface.

Step 4: Now go to Settings > General > Profiles > Device Management and trust the developer installed by the Cydia Impactor.
Step 5: Click the "Go" button and wait till the app jailbreaks your device.
Step 6: Now you can launch Cydia and go to the Location Faker app page to download it.
Step 7: You can now select the destination to a fake location.
3

3uTools
3uTools is a free data management and jailbreaking tool for Apple devices. It can be used for backing up and managing documents, multimedia files, and contacts. Because of its jailbreaking feature, it also assists in bypassing restrictions. 3uTool only works for Windows systems, so Mac users need to work on other softwares.

Let us see the steps to use 3uTools as a useful fake locator.

Step 1: Download and launch 3uTools and connect your device.

Step 2: After detection of the iOS device, go to Backup/Restore >> Back up iDevice.

Step 3: After backup, go to Backup/Restore >> Backup Management and select the latest backup, and click on the View button at the bottom right corner.

Step 4: In the Backup Viewer, click on the App Documents tab and go to AppDomain-com.apple.Maps >> Library >> Preferences folder.

Step 5: Now, open "com.apple.Maps.plist" file in a plist editor.

Step 6: Insert the following code before the </dict> tag in the file: save the file.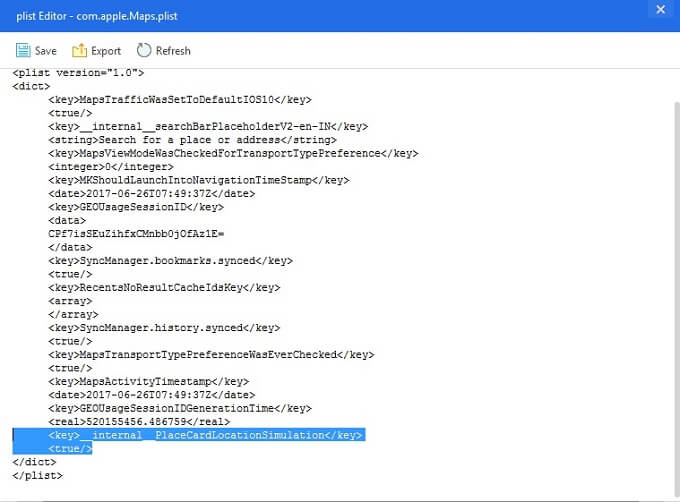 Step 7: Now go to Backup/Restore and choose Restore Data.
Step 8: Select the latest available backup and click on the Restore Now button at the bottom right corner.
Step 9: After restoration, remove your device from the computer.
Step 10: Launch the Apple Maps app on your iOS device, and search the location you want to fake and click the "Simulate Location" option at the bottom of the screen.
Step 11: Finally, it's done.
4

Turbo VPN
Since there are no fake location apps available on the Apple store, another workaround you can use is any VPN. Today, we will consider Turbo VPN as an example.
Step 1: Open the App Store on your iPhone and download a VPN app like Turbo VPN in our case.
Step 2: Launch the VPN app on your iPhone and allow it to modify VPN configurations.
Step 3: Choose your desired VPN server location from the Locations tab and connect.
FAQs about Faking Locator
1

Does fake GPS really work?
Yes, it does. GPS applications work on the latitude and longitude of the device, and there are many methods to fake these numbers.
2

How do I set up a fake GPS location on Android?
Many apps are available that are used to fake GPS locations on Android. It is pretty more straightforward than iOS, however.
3

Why does the "Failed to detect location" or "GPS signal not found" error occur? 
There are several reasons, including;
Your Android phone/tablet is unable to receive GPS signals because your location might not have signals.
Mock Locations option is enabled on your Android device.
4

Why is "Disconnected From GPS", or the map is not visible?  
It may mean there is a disruption of GPS communication.  The reason may be location, environment, or aeroplane mode. It is essential to make sure GPS is enabled and the aeroplane mode is turned off.
5

How to turn off your location information without trying to fool people?
It varies for different platforms.

For iPhones, go to Settings > Privacy > Location Services. Turn off the Location Services button.
For Android phones, go to Settings > Connections > Location. Turn off location services.
Conclusion
Everything has its positive and negative side. Similarly,  the best fake GPS locators have their positive reason and an illegal intent too. When you are doing it for legal reasons, you have different applications and workarounds to get it done. However, make sure you know the repercussions of your actions.