Are you looking for a solution on how to stop your phone from being tracked by parents? Then here is the article that can be helpful and provides the insights on the different solutions and apps that can be used as anti spy ware for your mobile phone.
This article also provides the information related to the location spoofing apps which can be used to prevent your phone to be accessed by your parents when you are not at home and accessing your phone from other place.
Why Should We Prevent Parents from Tracking Your Phone?
With the boom in technologies advancements, there are many apps that are designed for surveillance of other people activities like their movement, health, sleep and even what they watch and do. In this regard there are many apps that were designed for parents to monitor their kids activities like their location, calls and messages.
But there is a potential risk with these tracking apps which is spreading like water under the carpet and it is nothing but the security of your personal information. So it is important to prevent parents from tracking your phone because of the following reasons:
Tracking for Profit
The child tracking apps are solely not designed only for kids surveillance but also for the specific companies profit by collecting the confidential information and sell it to other companies. When parents monitor their kids activities, information related to your kids will be in the company's hands without you knowing about it.
Private Data Leakage
Many studies and researches by many security firms like Symantec has given some shocking results related to the data leakage because of the usage of tracking apps. When we are trying to get the personal information from people, it is very clear that it is a highly confidential data and by using these apps this private data will be in the hands of the companies which have designed and developed the apps.
Loss of Trust
This is nowhere related to any technology side but with the trust factors between the parents and children. A 2019 study has revealed that surveillance of kids using these apps has undermined the trust between the parents and children which is a higher risk when compared to that of your kids watching bad things in the mobile phones.
So, it is very important for parents to stop using these apps to stop data breach and will minimize the trust between parents and kids.
How to Stop Your Phone from Being Tracked by Parents?
Method 1: Use Location Spoofer to Stop Location Tracking by Parents
Use iMyFone AnyTo to Stop Location Tracking by Parents on iPhone
iMyFone AnyTo is the best location spoofing app available for iPhone users which allows them to spoof GPS location to anywhere instantly. This is specially designed and works well with location based games and social media platforms like Whatsapp, Facebook and answers your "how to stop my parents from tracking my iphone" question.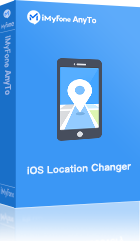 1,000,000+ Downloads
What makes iMyFone the best GPS location spoofer:
Plan your route in which you want to travel when the location is set.
Customize your route and set the speed for your navigation.
Pause your journey for a moment and continue your journey in the same route after a while to make the location changed to look natural.
The latitudinal and longitudinal values can be given to set the precise location of your phone.
You can set your location to any of the previously visited locations that are available in history.
Perfectly support the latest iOS 14 system.
Watch Video Tutorial to Stop Your Phone from Being Tracked by Your Parents
(Note: If you have installed iMyFone AnyTo on the computer, drag the video bar to 0:28 to skip the downloading and installation part.)
Step 1: Launch iMyFone AnyTo
Download and install iMyFone AnyTo on your computer/Mac. Launch it and click "Get Started".
Connect your iPhone to the computer/Mac, unlock your phone, tap "Trust" to establish connection with the computer/Mac.
Step2: Select a Destination on the Map
By clicking the 3rd icon available on the upper right corner of the screen, select the Teleport mode. In the text area available on the upper left corner, enter the destination that you pretend to be shown.
Step3: Change GPS Location Instantly
The pop-up will be displayed which shows your location details like name, coordinates and distance. Confirm your destination and click "Move" to navigate to the new location.
In case you want to return to your original location, just restart your iPhone or iPad to get the accurate location.
Right now, your parent won't be able to track your real time location. Amazing, huh? Simply click the "Try It Free" button below and try iMyFone AnyTo for Free!
Use Fake GPS Location to Prevent Parents from Tracking Android Phone
Here is an efficient app for all those who are thing on "how to prevent my parents from tracking my samsung phone". Yes, Fake GPS location app is one of the efficient apps which is specially designed to spoof your location on Android phone.
In just two taps this will change your mobile location to some other location and make the other apps to detect your mobile in that location. Below are the steps to use this app in android phone:
Step 1: From the Play store, select, download and install the Fake GPS location app.
Step 2: Open "Settings" and look for Build no. of your device from "About Phone" section. Tap on it 7 times and you will enable developer options. In the Developer menu, tap on "Select mock location app" and choose the app you just installed.
Step 3: Open app now and tap on the search icon and enter any address that you pretend to be spoofed to.
Step 4: Once you enter you will be navigated to that location and all the apps in your phone will be showing the changed location only.
---
Method 2: Turn off Location Service on Phone
How to Turn off Location Service on iPhone?
Turning off the location service on your iPhone can be better option but there are some apps which need access to your location for them to work and give perfect results. So you cannot completely stop the access but can stop the access for a specific app. Follow the below steps for this:
Step 1: Go to "Settings" > "Privacy" > "Location Services".
Step 2: Tap on the App and select the following options:
Never: Blocks your location access.
Ask Next Time: Provides the option to allow or disallow the access.
While Using the App: Allows you to access the location when using the app.
Step 3: You can also tap the "Location Services" option on the top to disable all location access for all apps you have on your iPhone.
How to Turn Off Location Services on Android Phone?
When the location services are turned on, information like the location, nearby restaurants and other information will be revealed and can be recorded by any other third-party apps.
So it is suggestible to turn off location, for this you need to follow the below steps:
Step 1: In the Android phone, open the "Settings" app.
Step 2: Tap on the "Location" > "Use Location". Toggle it off.
---
Method 3: Install Anti-Spyware App to Stop Parents from Monitoring Your Phone
Anti-Spyware App for iPhone: iAmNotified
iAmNotified is the anti-spyware app that is developed to know who are spying your phone. It is an efficient app for iPhone users which can be used to secure your device. This app has a History Log which shows all the last notifications because of which spying your mobile is highly impossible.
iAmNotified app is a one stop solution for the question "how to prevent my parents from tracking my iphone". The notification system allows you to receive the notification on the lock screeb if someone has accessed your phone.
Anti-Spyware App for Android Phone: Anti Spy Mobile Free
Anti Spy Mobile Free is an efficient App which will not allow your parents to spy on your mobile activities. Nowadays, parents are concerned of kids activities on the mobile phone. This spy ware app will not allow the parents to sneak-peek through your phone, monitor your calls, see your messages, photos and videos.
The Pro version of Anti Spy is available and has many updated features which will automatically ensure the security and safety of your phone.
You may also like:
How to Stop Parents from Tracking Me Through Life360 without Them Knowing? >>>
---
Conclusion
The above mentioned solutions can be best utilized by kids to prevent parents from monitoring their phone. Ensure to use the solutions and apps discussed in this article to have safe and happy surfing on your mobile phone. It is also very important to follow some rules and not to open any kind of harmful apps which will disturb your life.