WhatsApp is one of the most popular messaging apps across the globe. Despite having end-to-end encryption, people with the right tools can easily spy on your WhatsApp account to see your chats, listen to your WhatsApp calls, and even track your location. If you've been noticing some unusual behavior with your WhatsApp account, someone might be spying on you already.
Fortunately, there are ways to restrict people from spying and stop tracking WhatsApp usage. So, in this guide, we've put together some of the effective techniques to restrict someone from spying on your WhatsApp account.
Part 1: How to Know if WhatsApp is Being Spied by Someone?

Before starting with the actual techniques, it's important to identify if your WhatsApp activities are being tracked or not. So, let's first discuss the factors that tell if someone is spying on your WhatsApp account. The truth is if your WhatsApp is being spied, you'll notice multiple indications on your smartphone. Some of these indications include:
1. Battery Will Drain Quickly
Usually, people will use a spyware app to track your WhatsApp activities. Since these spyware apps run in the background, they'll utilize your phone's battery and it'll start to drain more rapidly. So, if there's been a sudden increase in battery usage without any reason, someone is most likely to be spying your WhatsApp account.
2. Your Phone Will Make Noises Without Any Reason
If your phone has started to vibrate or make absurd noises frequently, even when there's no incoming notification, there's a huge possibility that a spyware app is running in the background.
3. WhatsApp Will Hang More Frequently
The most common indication that tells your WhatsApp is being spied by a third-party is unexpected hangs. When WhatsApp starts to hang more frequently without any reason, it's usually due to the presence of a spy app that's collecting data from your WhatsApp account.
4. Your Phone Will Heat Up Unnecessarily
As we mentioned earlier, spyware apps run in the background, which means they'll utilize your smartphone's hardware to operate. This can cause your phone to heat up more rapidly. So, if your device has started to heat up, even when there aren't any ongoing activities, know that your privacy has been hampered by a spy app.
If you have noticed any of the above activities on your device, it is most likely that someone is tracking your WhatsApp account. In this case, make sure to take effective measures to protect your privacy.
So, without any further delay, let's discuss how to stop someone spying on your WhatsApp.
Part 2: How to Stop Location From Being Tracked on WhatsApp?

One of the major reasons why people spy on someone's WhatsApp is to track their location and GPS movement. Since WhatsApp has access to "location-services", anyone with a spying tool can know your whereabouts by simply tracking WhatsApp.
However, by following a couple of tricks you can keep your location hidden from spyware apps. If you are worried about someone tracking your GPS location, follow the below-mentioned two methods, and keep your GPS location protected.
Way 1: Using iMyFone AnyTo to Prevent WhatsApp Spying

If you are an iOS user, you can protect your current whereabouts by installing a location spoofing tool like iMyFone AnyTo. It is an excellent tool for iOS users that'll help you hide your actual location from others.
The software has a dedicated "Teleport Mode" that'll help you change your current location to a fake one by choosing any physical location in the world. This way, even if someone has installed a spyware app on your device, they won't be able to track your location.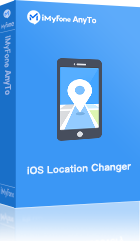 1,000,000+ Downloads
Main features of iMyFone AnyTo:
Change GPS location to anywhere in the world with a single click.
Multi-Spot Mode to create a fake route with GPS movement.
Customize the movement speed on your fake route.
Use GPS coordinates to search for a specific location.
Keeps location records for future use.
Widely compatible with most models of iOS devices, support versions from iOS 7.0 to iOS 14.
So, let's discuss how to stop tracking on WhatsApp location using iMyFone AnyTo by using a fake GPS location.
Step 1: Launch iMyFone AnyTo on your desktop and select "Get Started".
Step 2: Now, connect your iOS device to your computer/Mac via a USB cable. You'll receive a notification asking you to confirm the connection. Tap the "Trust" button and enter your passcode to establish the connection.
Step 3: You'll be prompted to a map pointing to your current location. To change your GPS location, tap the "Teleport Mode" in the top-right corner. You can either use the top search bar to find a location or move the pin-around to choose a specific location on the map.
Step 4: Once you've selected the right location, tap the "Move" button. This will change your current GPS location on the map and your iOS device to the selected location.
Once your device's GPS location is changed, no one can track your current whereabouts, even if they've installed a spyware app on your smartphone. So, what are you waiting for, just click on the Try It Free button below and try to use iMyFone AnyTo to stop WhatsApp tracking.
---
Way 2: Turn Off Location Access to Stop Tracking on WhatsApp

Another way to stop someone spying on WhatsApp location is to turn off the location access in "Settings". If you have an iPhone, you can choose which apps will have access to the location services. This will allow you to restrict WhatsApp from accessing your location and as a result, no one could track your GPS location by spying on your WhatsApp account.
Follow these instructions to turn-off location access for WhatsApp on your iOS device.
Step 1: Open the "Settings" window on your iPhone.
Step 2: Scroll down and select "Privacy". Now, tap the "Location Services" button at the top of the window.
Step 3: Make sure to toggle the switch to turn on "Location Services". Now, scroll down and select "WhatsApp".
Step 4: You have four different permissions to choose from.
Since you want to keep your current location protected, we recommend choosing "While Using the App" option. This way WhatsApp will only have access to location services while it's being used. This will allow you to share your location with specific people while using WhatsApp, but no one would be able to track your GPS location via a spyware app.
Part 3: How to Stop Third-Party From Spying on WhatsApp Chat?

The above-mentioned methods are only effective when you want to restrict people from knowing your current whereabouts. However, if you're looking for how to stop someone from tracking my WhatsApp messages, you'll have to locate and uninstall the spyware apps from your device.
Here are some of the tactics that'll help you remove spyware apps from your device and keep your WhatsApp conversations protected.
The most convenient way to find a spyware app is to look for it in the "App List" in "Settings". Open "Settings" and scroll down till the end. Here you'll see a list of all the third-party apps that are installed on your iDevice. Even if someone is using a high-end spyware app, it is most likely to be listed here. However, the name for the app could be different. Your goal should be to look for third-party apps that you haven't installed yourself.
You can also stop third-party from accessing your WhatsApp conversations by checking your WhatsApp Web. Check if your WhatsApp account is being logged-in on a different device. If yes, log out from all WhatsApp Web sessions and the person would not be able to track your WhatsApp conversations anymore.
If you are unable to locate the spyware app or there's no active WhatsApp web session, the only way to stop tracking WhatsApp usage and messages is to perform a factory reset. When you'll reset your device, all the third-party apps, including the hidden spyware app, will be uninstalled automatically. However, make sure to back up all the important files so that you don't end up losing valuable data.
---
Conclusion
That concludes our guide on how do I stop someone from tracking my WhatsApp calls and messages. If you've been noticing some unusual activities with your WhatsApp account, make sure to follow the above-mentioned tricks. This will help you stop people & spyware apps from spying on your WhatsApp account.