Kingston got to be one of the best SD memory cards in the world right now. This is mainly because it comes with three kinds of flash memory cards; a compact flash, SD cards for videos and photos, and micro SD cards, which you insert into your mobile devices. Now, even though these cards are reliable, data loss can still occur, and when it does, we want to tell you what you can do in Kingston SD Card data recovery. So, keep reading to find out!
Part 1. Best Kingston SD Card Recovery /CF Card Recovery /Memory Card Recovery Software - Free Download
When you lose crucial files or photos from your Kingston SD card, it is easy to recover all of them with the help of the following professional data recovery software.
Option 1: Restore deleted files with iMyFone D-Back
iMyFone D-Back is a recovery tool capable of recovering permanently deleted files from your SD card, flash drive, hard drive, or any other type of storage out there. And it does so with only a few clicks. It is a simple tool that even beginners can operate with relative ease, and the best part is that it can work on all operating systems, including Windows and macOS. Here is how you can use this tool to recover files or documents from your Kingston SD card using the iMyFone D-Back recovery tool.
Step 1.Download and install the software on your device. After that, launch the tool, and right on the interface, you will see the drives on your computer, including the connected SD cards.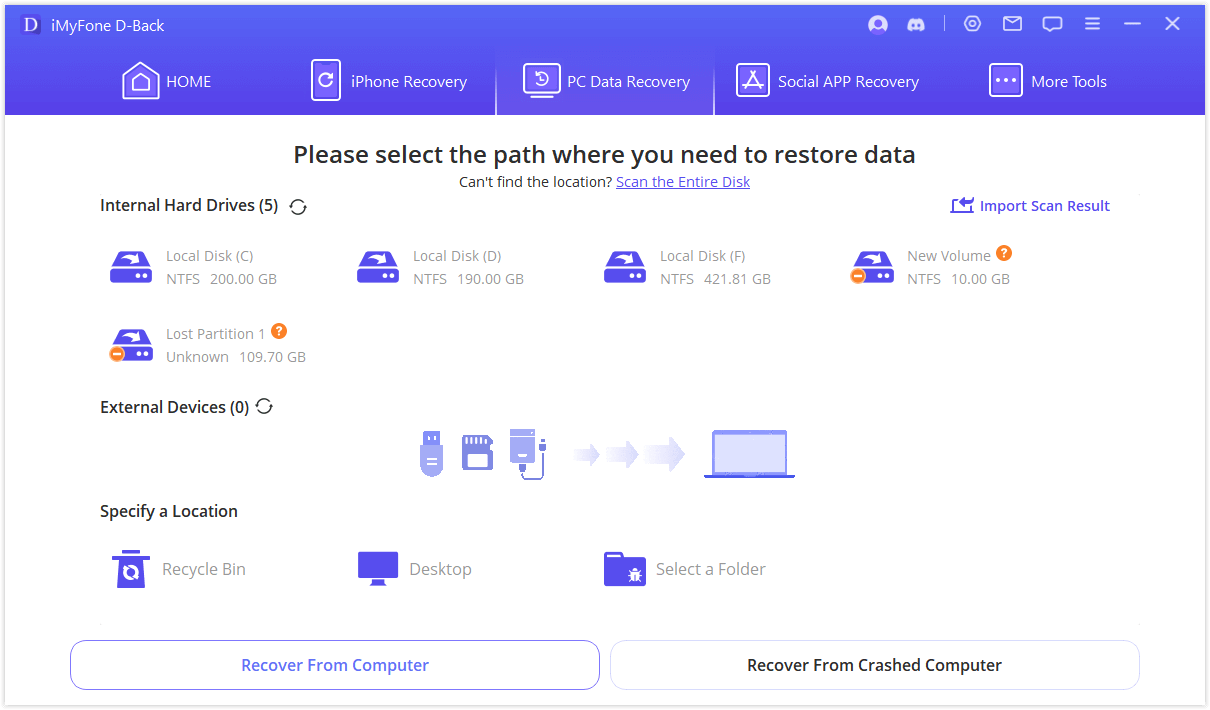 Step 2.Click on the SD card, and the scanning process will start automatically, where it will find all the files deleted and arrange them in a list based on their type and format.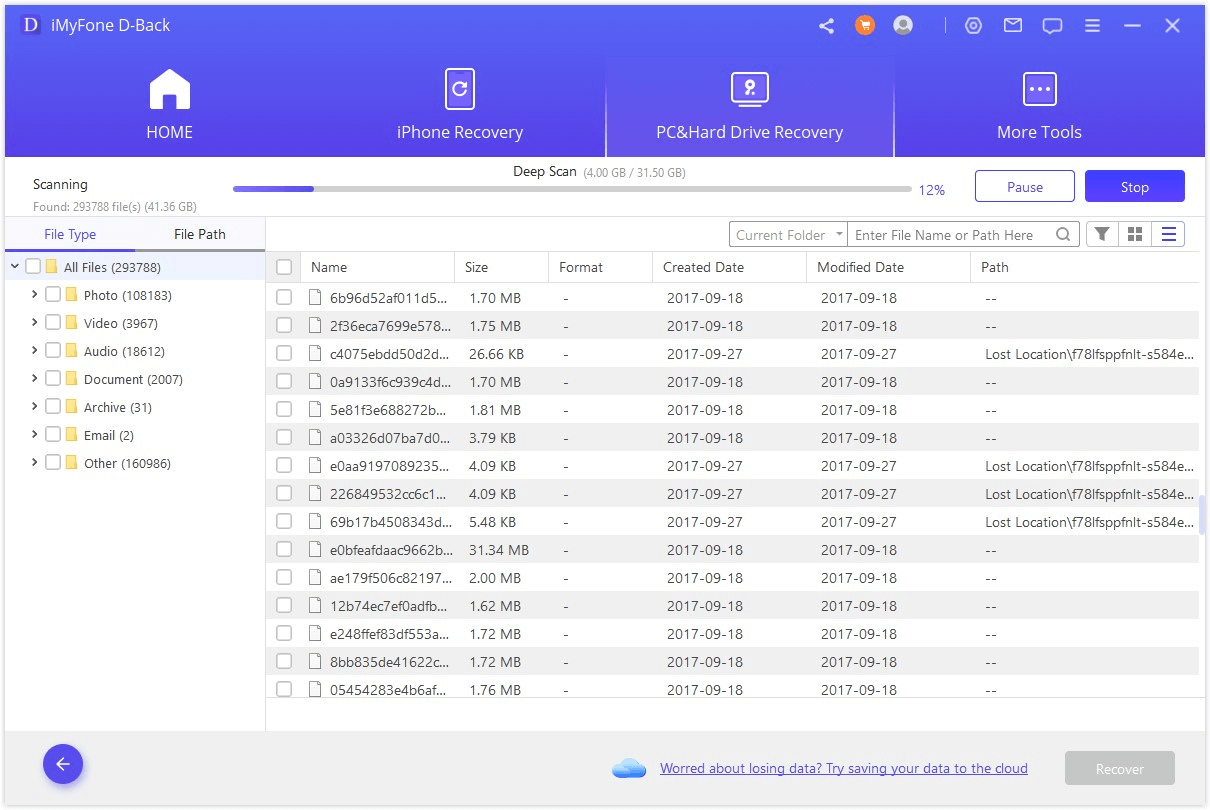 Step 3.After that, you can select the files you want to recover, as there may be no need to recover all the files that were found. You can preview these files before clicking Recover. All you need to do after that is to select the new location to store the files, and that would be all.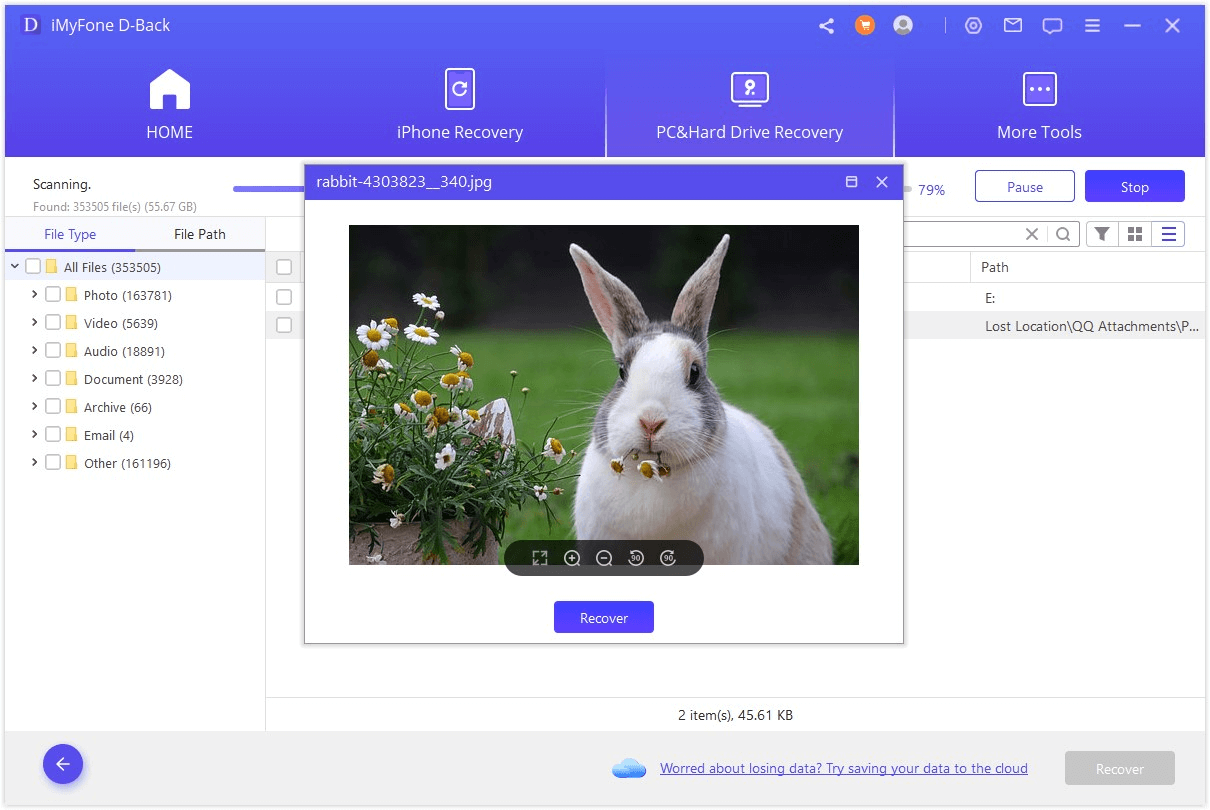 Option 2: Recover lost data with MediaRECOVE
MediaRECOVE is a versatile data recovery software that can also be used to restore all file types from your Kingston SD card. Back in the day before the arrival of all the other recovery software, it was the go-to software application to restore data lost from pen drives, SSDs, hard drives, and memory cards. Today, it may have been overtaken by other software, but regardless, we will still show how you can restore lost files from your Kingston SD card with it.
Step 1. Download and install the software on your device. Then open it and once on the interface, select your storage device, then specify the recovery path and click Next.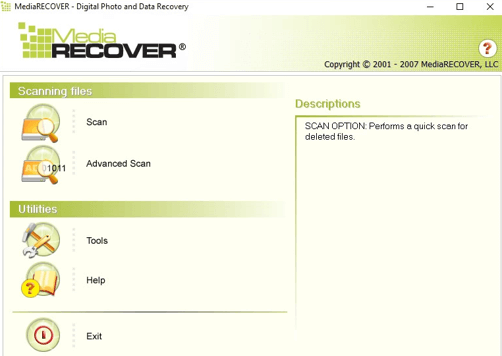 Step 2. The scanning process will begin, and after it is over, you can preview them before recovering them.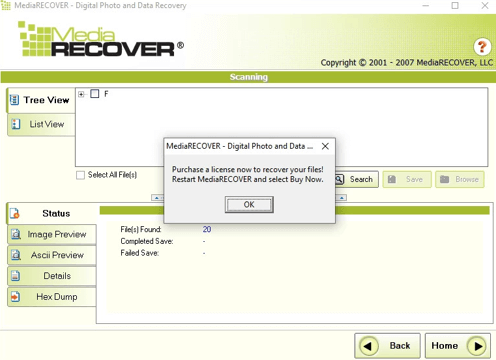 Comparison Between iMyFone D-Back & MediaRECOVE
When you compare both software, you will instantly notice that MediaRECOVE is quite outdated, especially once on the interface. Also, whereas iMyFone D-Back recovery is easy to use and understand, Mediarecover is a bit complicated, especially in recovering the files already found during the scanning process. This is because, Mediarecover requires specific licenses before you are able to recover the files, which is unheard of with iMyFone D-Back. So in general, iMyFone D-Back is a much better choice here!
Part 2. How to Fix Damaged/Corrupted Kingston SD Card/CF Card/Memory Card?
There are many ways through which you can fix a corrupted Kingston SD card, but here, we are going to tell you about the top two.
Method 1. Update your driver
Sometimes, the problem could be a result of outdated drivers. So, by updating these drivers, you will be strengthening the performance of your system, which, in turn, will strengthen the communication between the SD card and your computer.
To update the drivers, go to Device manager by pressing Windows + X keys. Then expand Disk Drives and go to the SD card, right-click and then say, Update driver. After that, select Search automatically for updated driver software.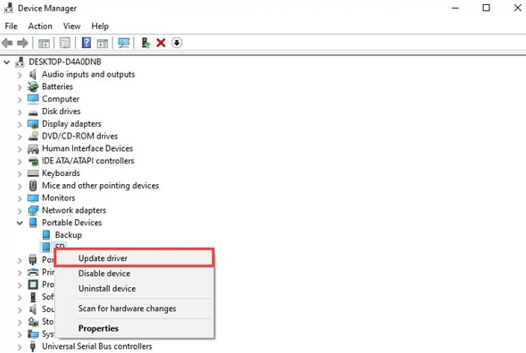 Method 2. Format the SD card
Whenever you have a problem with an SD card, formatting it has always fixed the issue. Even in this case, you can format the device. And if you are worried about losing crucial files, recover the files first using iMyFone D-Back before formatting.
The process is quite simple as you just need to right-click on the SD card and then choose Format, select the proper file system, and make sure you tick Quick Format and then hit Start.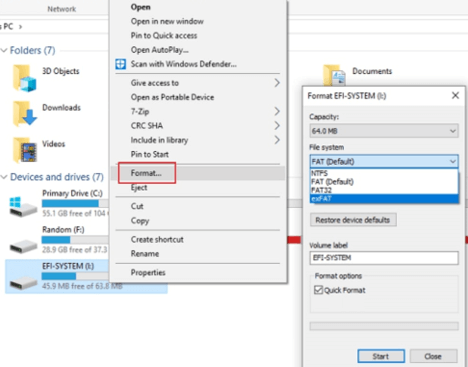 FAQs about Kingston SD Card Recovery
1

How to check the original Kingston memory card?
For starters, the product label may use phantom technology. Also, you can check the colors, where the original SD cards have colour0shift technology, with the colors on the label or imprint changing at various angles.
2

How to format Kingston micro SD card?
Connect the car to your computer, and from the file explorer, select the card, right-click, and choose Format. You will select your preferred File System based on your card size, check Quick Format, and then Start.
3

How do I recover deleted files/photos/images from formatted SD cards?
It's easy! First, download iMyFone D-Back software on your computer. Open it and select the SD card and start scanning. After the process is complete, select the files/documents you would like to recover and hit Recover. That's all!
Conclusion
As you can see, when you accidentally delete files from your Kingston SD card or the card becomes damaged or corrupted, you don't have to worry about losing data since with iMyFone D-Back data recovery can help you restore any form of data with only a few clicks. This, on top of the easy-to-use interface, you can't go wrong with this software. You can download it today from our site!