Bitwar Data Recovery is a software that has been promoted as the software that can help you recover your missing data. Is it up to what it claims, though? If you're curious about the Bitwar Data Recovery review and Is Bitwar Data Recovery Safe, keep reading!
Part 1. Bitwar Data Recovery Review
Bitwar Data Recovery focuses on recovering the files you miss like other software. There are, however, things that make them superior and better compared to other software.
1.1 What Does Bitwar Data Recovery Do? Is Bitwar Data Recovery Safe?
As stated before, Bitwar Data Recovery is a software built to help its users recover their missing data. Being a data recovery software, Bitwar can recognize many file types, from videos to documents. To make it even better, the software is compatible with all kinds of devices. So, you can use it on whatever device you're using right now.
There are also other features of Bitwar Data Recovery that are worth checking out. Some of them are:
The ability to read/preview the files without damaging them.
Recover data without having to lose them partially.
Deep recovery to go to the nook of the files.
Feature to search the files on the search bar.
Scan the device and save the result so you won't need to scan again.
The software has decent features to help you get your missing files.
1.2 How to Use Bitwar Data Recovery
For this Bitwar Data Recovery review, we will explain the two methods to recover files using Bitwar: Wizard Mode and Standard Mode.
Wizard Mode
Wizard Mode is pretty easy, as it is primarily automatic, where you only need to recover data in just three steps. Wizard Mode is available when you use the software for the first time. Here are the steps to use the Wizard Mode:
Step 1. Plug the device into your computer and choose it on the software. Make sure you pick the correct partition too.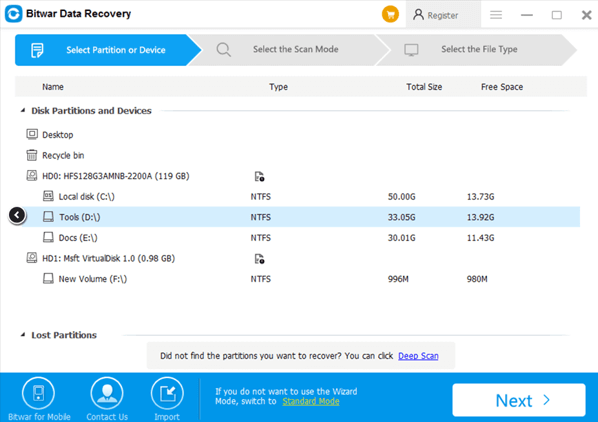 Step 2. After you've chosen the partition, select the scan you want (Quick Scan, Deep Scan, Formatted Recovery).
Step 3. Then, choose the file type you want. If you're going to recover all of the files, choose Select All Types.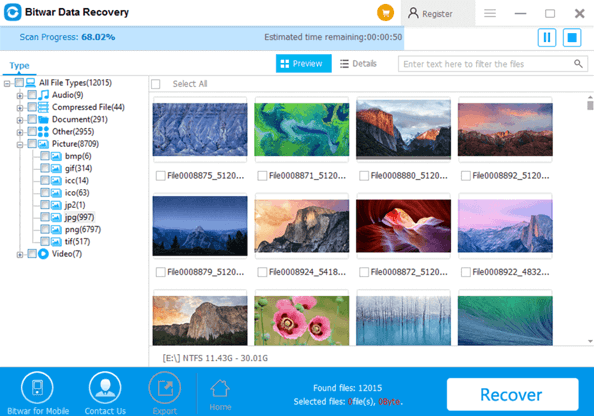 Step 4. Click Scan to start scanning the files available.
Step 5. After the files are scanned, choose the files you want to recover, then preview and click Recover.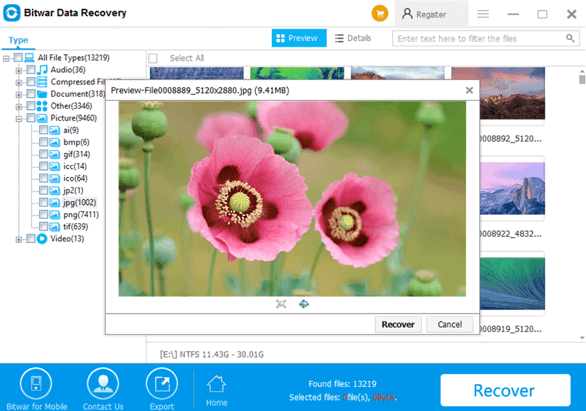 Standard Mode
Standard Mode pretty much has the same steps as Wizard Mode, except that you get to choose the kind of recovery you want to do. There are six ways of recovery you can do:
Deleted files recovery
Formatted disk recovery
External devices recovery
Recycle bin recovery
Lost partition recovery
Deep recovery
1.3 Is Bitwar Data Recovery Safe and Free?
Although Bitwar Data Recovery seems like a decent software, unfortunately, it comes with a price.
For a monthly subscription, the cost is $49.00 for one device. You will get free updates for one year. If you want more advanced updates and more devices, you can purchase a subscription that costs $99.00.
If you're still unsure, you can use the free trial version. For the trial version, you can preview the files, use the software on one device, and import/export the result we get from the software.
Part 2: Ultimate Alternative to Recover More Types of Data with iMyFone D-Back
If Bitwar Data Recovery is too pricey for you, you can opt for other software. One of the software you can use is iMyFone D-Back.
2.1 What Does D-Back for PC Do?
Like Bitwar Data Recovery, iMyFone D-Back for PC is a software used to recover your device's missing files. It has all you need for an excellent data recovery file. Using D-Back, you can recover files from all kinds of devices, scan more than 1000 file types, and you can preview the files before you recover them too.
Other Features of iMyFone D-Back for PC:
Feature to access even the most private data.
Merge different parts of the exact video (corrupted files).
Advanced file search using filter.
Fast scanning that takes less than one hour.
Offer different scenarios for data recovery.
2.2 How to Use iMyFone D-Back
Like the Bitwar Data Recovery review above, using iMyFone D-Back is easy. The steps to recover the files are below:
Step 1. Download the software according to the appropriate device (Windows or Mac) and open the software.
Step 2. Choose the device or partition you want to recover from.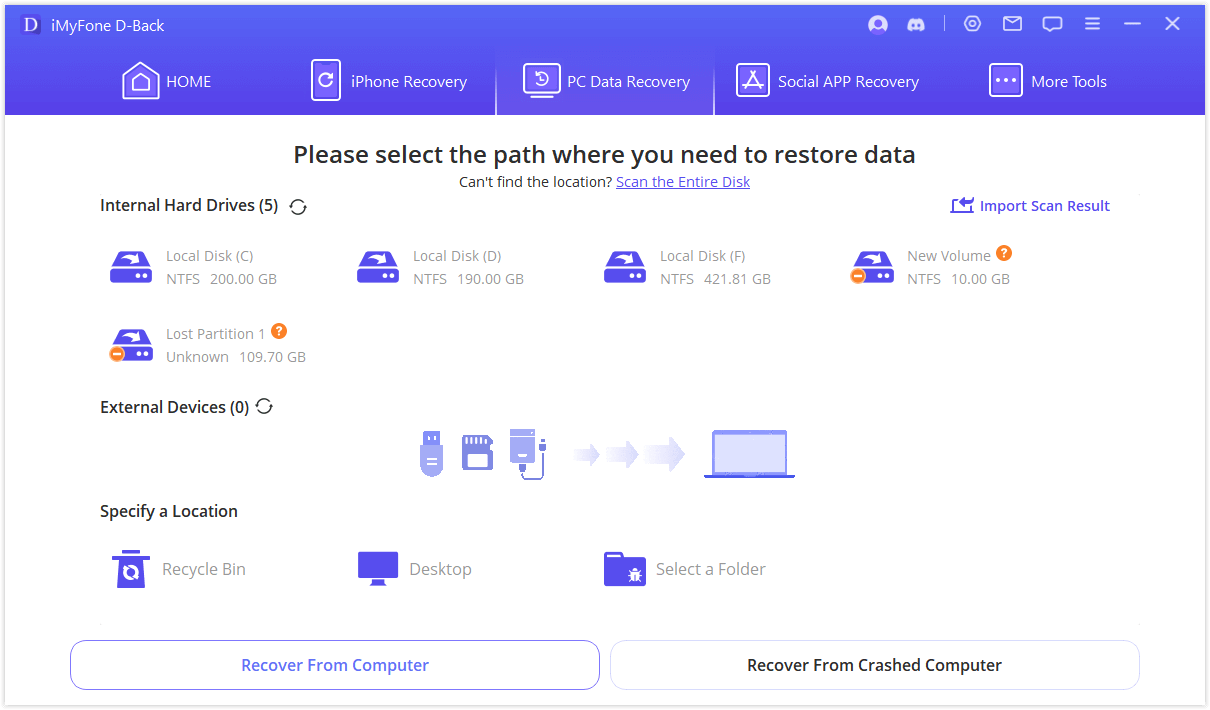 Step 3. After you've chosen the device, the software will scan it to get the files. Checkmark the scanned files you want to recover.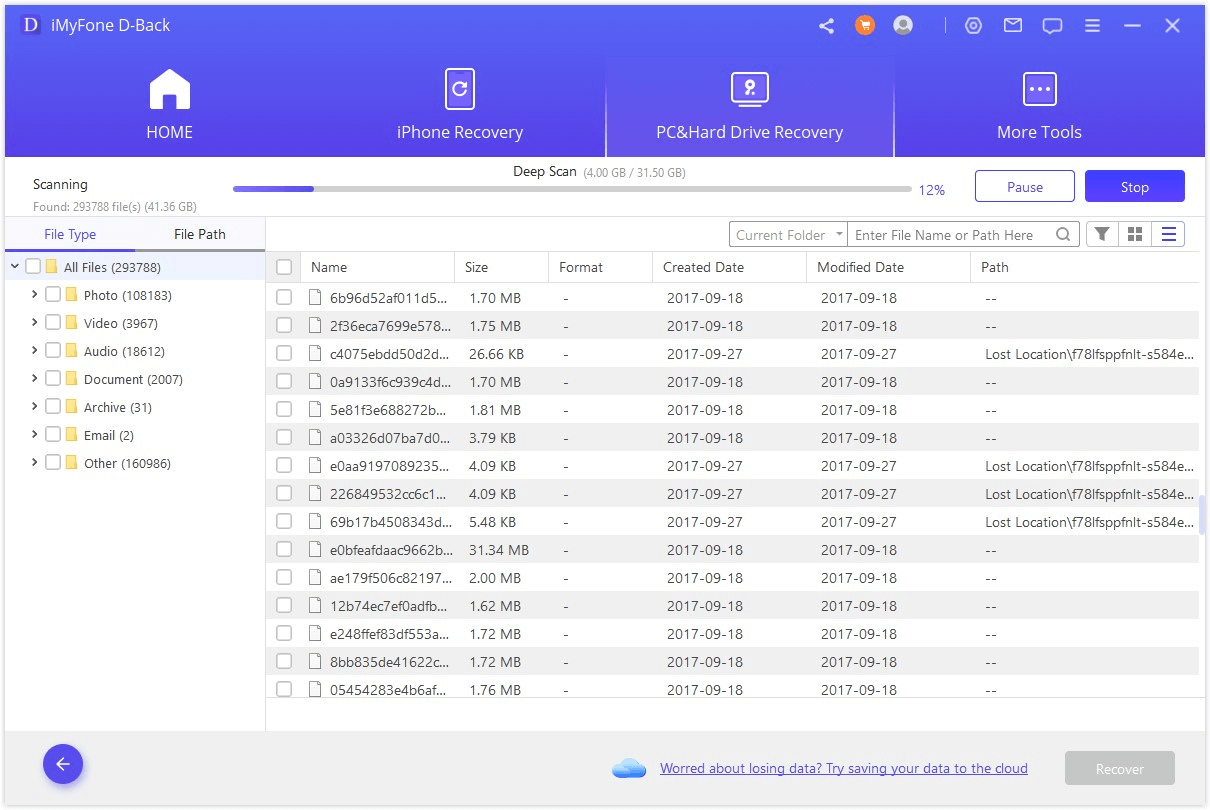 Step 4. To ensure that you've picked the right plan, you can click the files and preview them.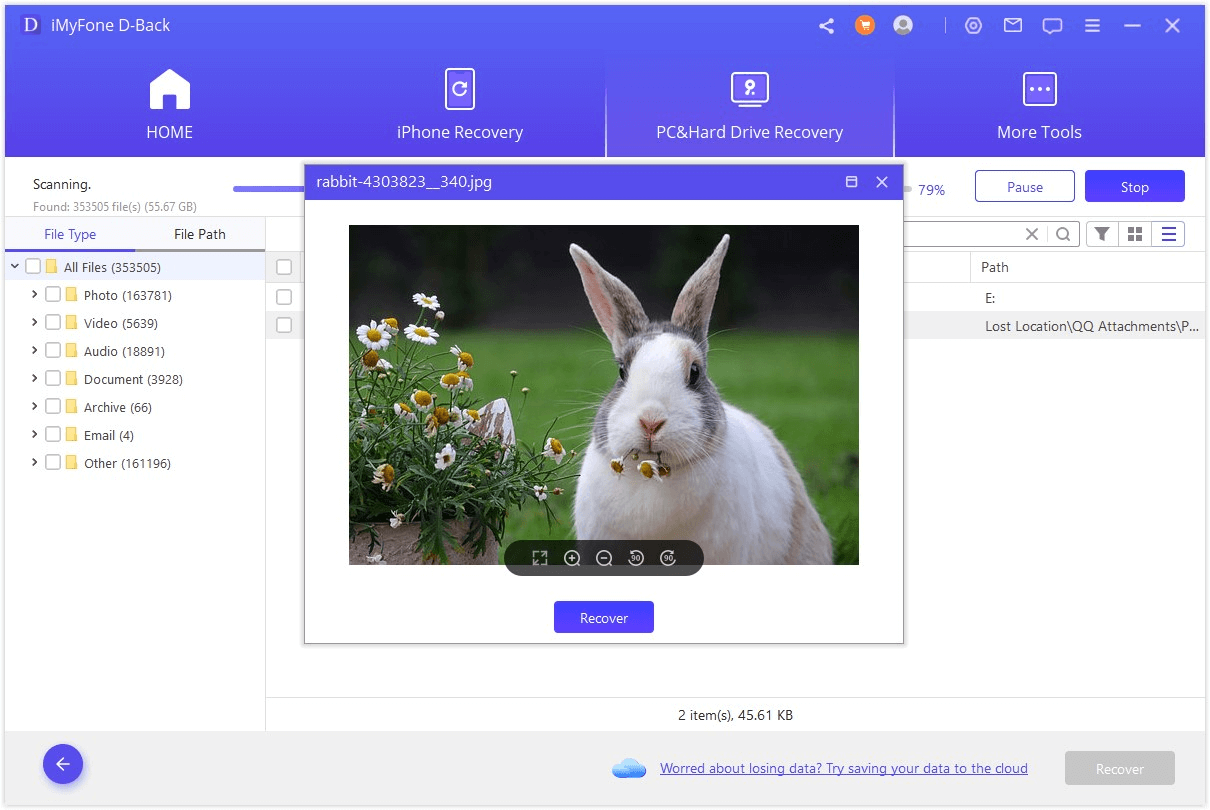 Step 5. Once all is set, click Recover to get your needed files.
2.3 Prices and Purchase Plan
iMyFone D-Back is similar to Bitwar Data Recovery in terms of price, meaning that you will need to subscribe to get all the premium features. Thankfully, iMyFone D-Back has more variety for their subscription.
iMyFone D-Back's subscription ranges from $29.95 to $59.95, depending on the device or software you want to recover. This is a great option considering that you can choose the plan that suits you the most and get the lower price of that version.
Part 3. Bitwar Data Recovery vs. iMyFone D-Back
Overall, Bitwar Data Recovery and iMyFone D-Back are great recovery software. They all do their jobs properly, and you can recover data quickly.
However, there are times when the iMyFone D-Back is more convenient due to its features. It has a more comprehensive range of variety for the devices that can be recovered and supports more file types.
To make it even better, the iMyPhone has more customization when it comes to subscription plans. So, you can get the ones you prefer without spending lots of money.
Conclusion
Both Bitwar Data Recovery and iMyFone D-Back are great software that can help their users. All you need to do is choose the one that suits you better. But if you want a data recovery software that gives you more features, freedom, and customization, then the iMyFone D-Back is the better choice.