Accidents and mishaps are unavoidable because they are a part of life. Rather than being depressed because of them, you should tackle them wisely to address the current situation and avoid future consequences. The same is valid for data loss; if you know the best solution, you can deal with the situation and recover your data from any external device.
We've compiled a detailed review of one of the most reliable recovery tools, iBeesoft data recovery, to assist you in surviving the destroyed files or corrupted data issues. In addition, we'll show you the most reliable alternative to this software if it doesn't work for you.
Part 1. iBeesoft Data Recovery Review
We all believe that what has been deleted or lost cannot be recovered. But this is nothing but another myth to some extent. With the advancement of science and technology, many resourceful and helpful software are introduced (such as iBeesoft data recovery) to make the user experience better and solve their data loss problems within seconds.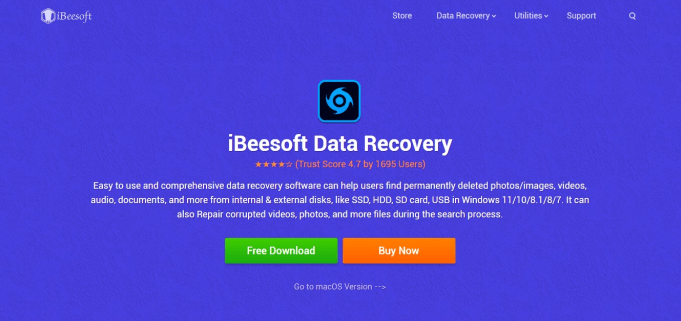 iBeesoft Data Recovery Download
iBeesoft data recovery is software that can recover lost files from anywhere. It supports many file formats. It's a virus-free and secure software and, most importantly, practical.
Pros
You can quickly recover files, whatever the situation is.
It supports more than 1000 different file formats.
No restriction on the number of files that you can recover.
Friendly interface.
Easy to use.
Cons
Its Deep Scan is time-consuming.
The Demo version does not allow any recovery of files.
iBeesoft data recovery software is among the legit and safe software currently on the market. It has thousands of users and a Trust Score rating of 4.5 stars out of 5. You can easily download the iBeesoft data recovery tool from their official website. Just put " iBeesoft data recovery" in the search bar of Chrome, and the whole process is very smooth.
How to Use iBeesoft Data Recovery?
First download iBeesoft data recovery through their website. It's virus-free and super easy to use. After that, open the software.
From the first window, select hard drive you need to recover."Then click "Start" to let the software do the work.
You can preview the file and then recover it as the file is scanned. After recovery, you can easily save them into the recommended drive or place.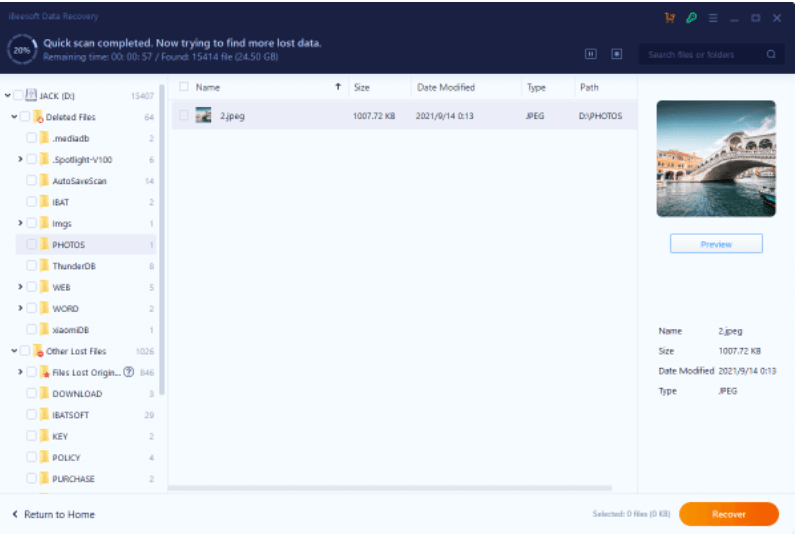 How Much Is iBeesoft Data Recovery?
iBeesoft data recovery is an incredible tool. What makes it even more worthwhile is that it is accessible to some extent too. Yes, you read it right. iBeesoft data recovery is free to download, and you can recover your files up to 100MBs for free.
| | Personal License | Family License | Company License |
| --- | --- | --- | --- |
| Price | $59.95 / year | $89.96 / year | $199.95 / year |
Is iBeesoft Data Recovery Safe/Legit?
iBeesoft data recovery software is fully transparent and clear to its user and customer when it comes to issues such as data safety. It doesn't collect any data while recovering files or when you enter your login details for iCloud.
iBeesoft data recovery is committed to providing the best services while maintaining the dignity & integrity of its customers. It is a virus-free, safe, legit, and easy-to-use software.
Part 2. A Better Alternative for iBeesoft Data Recovery - iMyFone D-Back
iMyFone D-Back is another of the most popular and widely used software available in the market. It is a professional program designed to recover, extract, and transfer. It also has a feature of backup for iOS devices.
iMyFone D-Back Review
D-Back Hard Drive Recovery Expert is data retrieving software. It is compatible with Windows and Mac and offers a variety of features to recover files in different types of scenarios ranging from accidental deletion, water damage, system crashes, broken screen, and, more importantly, you get locked out of your screen.
Apart from recovering lost files, the iMyFone D-Back offers a user-friendly user interface. It makes the whole process relatively easy, especially for those users who are not much tech geeks. The iMyFone D-Back hard drive recovery expert is relatively easy to use. It can recover your lost files in just three steps.
Step 1: First, you need to download and install the iMyFone D-Back hard drive recovery expert and then select the location where you want to recover the lost files.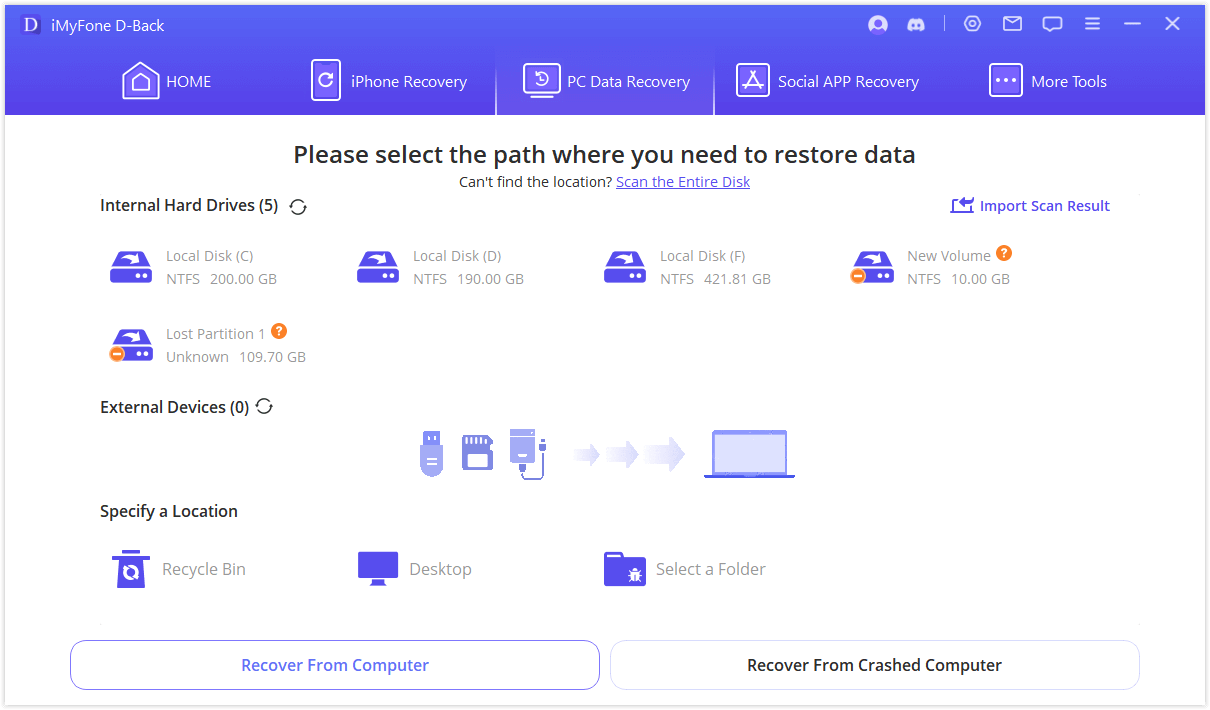 Step 2: After selecting your targeted location, the iMyFone D-Back hard drive recovery expert will perform a deep and all-around scan.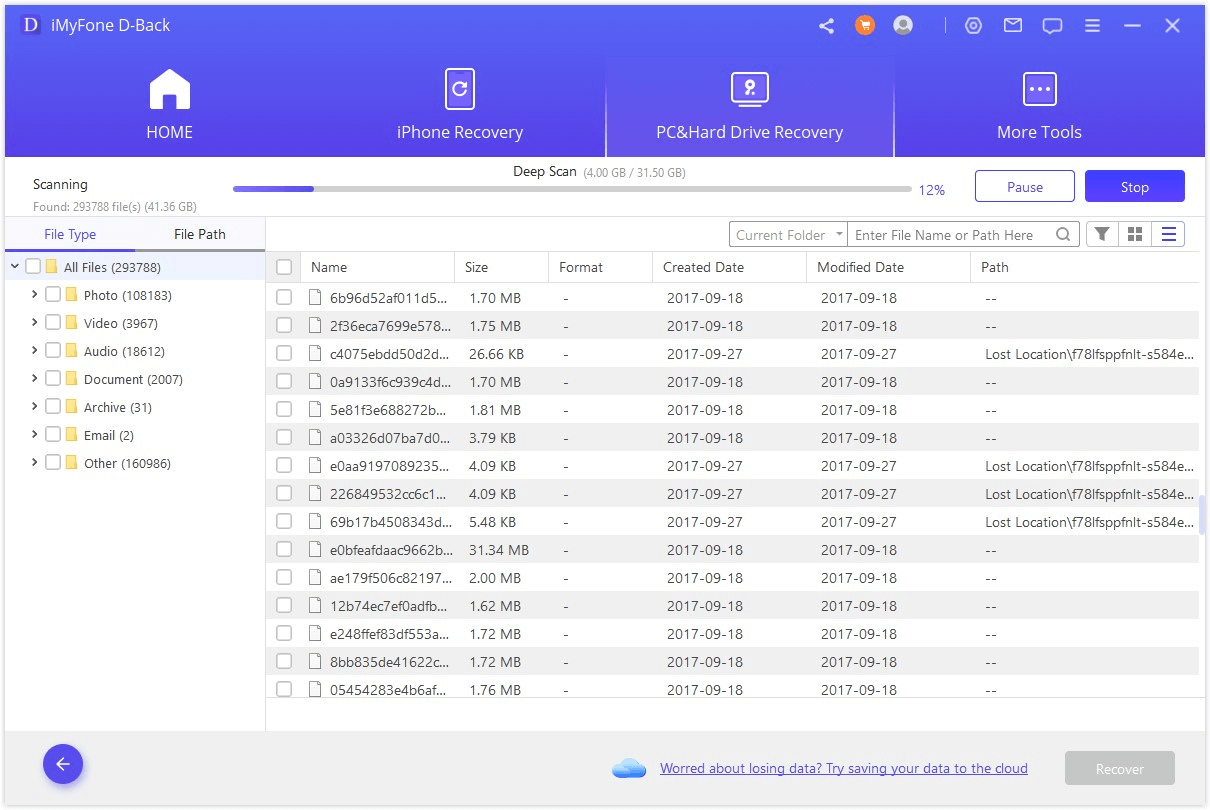 Step 3: Once the scanning is completed, all the files will be available for preview. Further, select your desired files to recover and save them on your computer.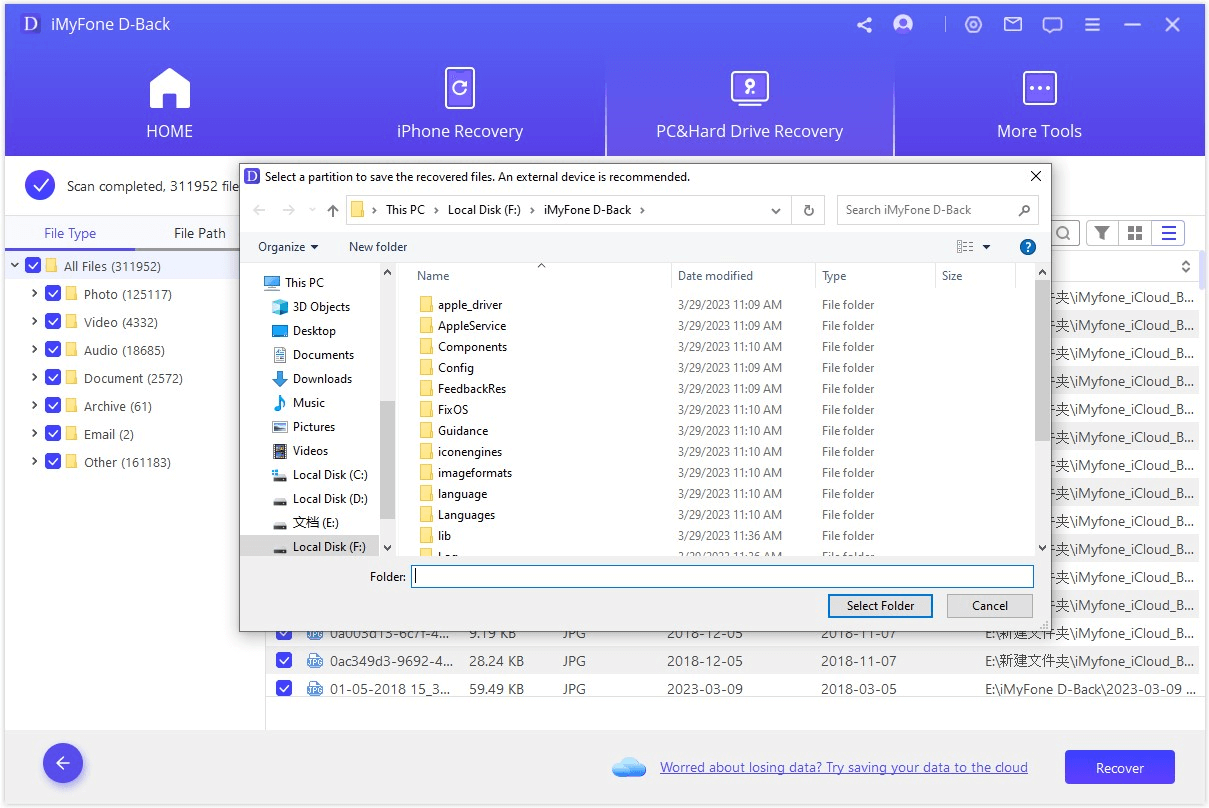 Comparison between iBeesoft Data Recovery and iMyFone D-Back
| Feature | File preview ; File scan | Smart recovery; Unlimited recovery | Locating the specific path | Filter option; Backup generating option | Price |
| --- | --- | --- | --- | --- | --- |
| | | | | | |
| iBeesoft Data Recovery | | | | | $79.95 / Year |
Part 3. iBeesoft Data Recovery License Key Free
iBeesoft Data Recovery License Keys:
FR226-BH2W5-MY2R8-Z2DTY
MKI27-VGT22-D2KP8-Q2WYZ
FAQs about iBeesoft Data Recovery
01

Is iBeesoft Data Recovery Free?
iBeesoft Data Recovery allows free recovery of files and data up to 100MBs. For recovery exceeding that, it requires you to buy their paid version.
02

Does iBeesoft Data Recovery Software Steal Your Data?
No, iBeesoft Data Recovery does not steal or collect user data without their consent. Its policy is strictly against such actions.
03

Does iBeesoft Data Recovery Work?
Yes, it's one of the best software available in the market for recovering lost files and data. It is practical, easy to use, and user-friendly.
Conclusion
Data is something very precious to all of us. Hence that's what makes it even more valuable. You can lose data in several ways, which is quite distressing. Software like iBeesoft data recovery makes such delicate and complicated matters easy to solve.
But still, iBeesoft Data recovery can't address certain issues of data loss. That's why in this recovery game, our winner is the iMyfone D-back Hard Drive Recovery Expert. Both the software have the same prices, but you'll get many more benefits if you go for the iMyFone D-back hard drive recovery expert. It offers you a filter option and supports more file formats.