Have you just made the mistake of not creating a duplicate file of your project? And now, your file is saved, but the data got replaced by a new one. This unfortunate event must be urging you to learn how to recover overwritten files from a hard disk.
Want to find the relevant ways to deal with the situation? This article will give a detailed guide on recovering an overwritten file from the hard drive. Let's dive deep into its solution!
Part 1. How to Recover Overwritten Files from Portable Hard Disk with Free Advanced Tool (Win&Mac)
Have you just lost a file, or has it been overwritten, whatever the problem is, but now you're wondering how to recover overwritten video files from a hard disk.
Retrieving overwritten files may seem harder, but using the correct way will give you substantial relief from this unpleasant error. The best method to cope with the situation is using software like the iMyFone D-Back. With this ultimate software, you will be able to recover most of your lost files or data swiftly and efficiently.
Since the iMyFone D-Back launched, recovering data has never been easier; Now, you can quickly check for all of your lost data within minutes. Whether you want to recover an overwritten hard disc or any other device, it's the perfect fit—some of the characteristics that make this software the best are listed below.
Main features of iMyFone D-back Hard Drive Recovery Expert:
No more worries about data loss, as iMyFone D-Back can dig out all your lost or inaccessible data from your devices like a hard drive, SD card, and USB drive.
The software has a built-in privacy protection feature that will put your mind at ease as all your data is secured and protected.
Free scan and preview are available to help you out in scanning and previewing your data before its recovery.
The unique algorithm of the software had made its scanning speed faster than light. With its fastest scan speed, You can restore hundreds of thousands of files within minutes.
Locating a particular file is made easier as with the file filter option, you can find all your lost files quickly and easily.
Steps to Use iMyFone D-Back:
Whenever you delete or remove the file, it remains hidden, and you can access it through any third-party software like iMyFone D-Back. You have to follow the three steps, Select > Scan > Preview & Recover. You can put these steps to use with the following method!
Step 1: The first essential step in continuing your data recovery using the software is to install the software. Simply click the install button, and the software installation process will begin.
Step 2: After installing the software, open it, select the location you want to recover and click scan to begin the scanning process.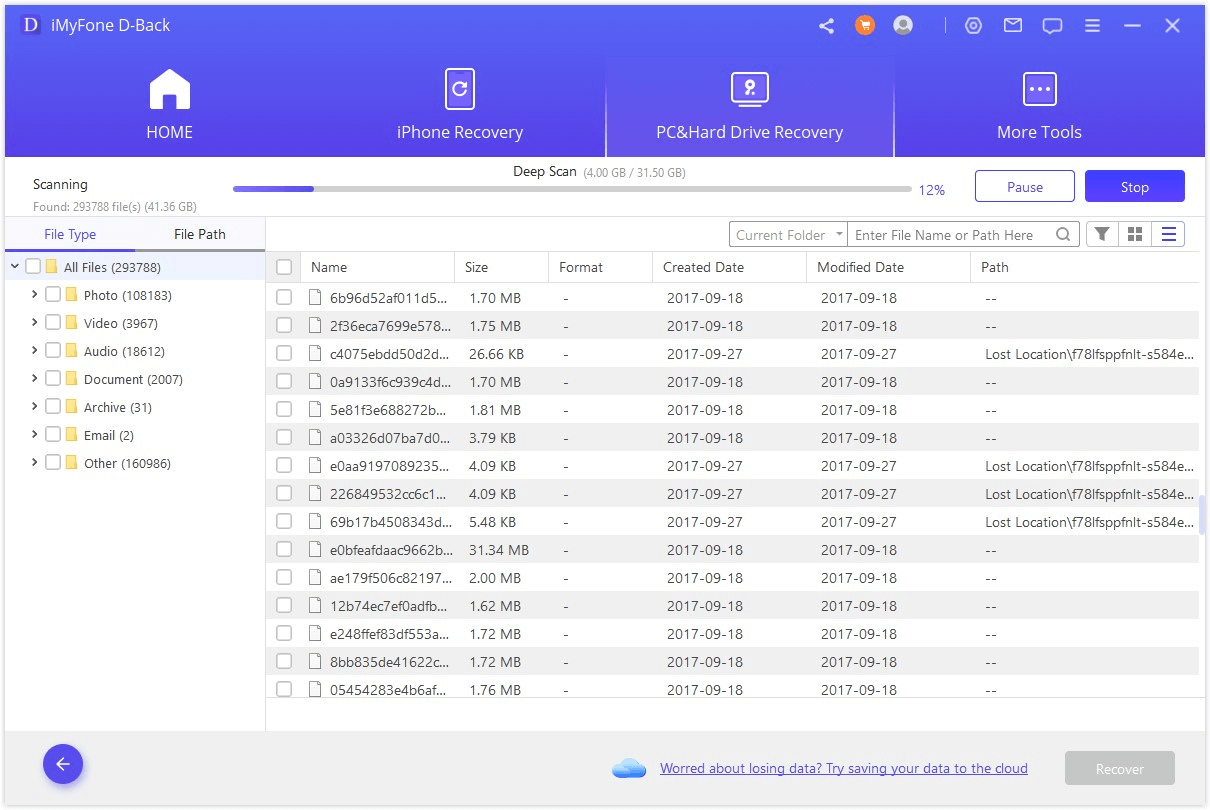 Step 3: You can see and restore your required files immediately after a thorough scan of your files. Click the recover button after selecting the file you want to recover. After that, choose where you want the file to be restored.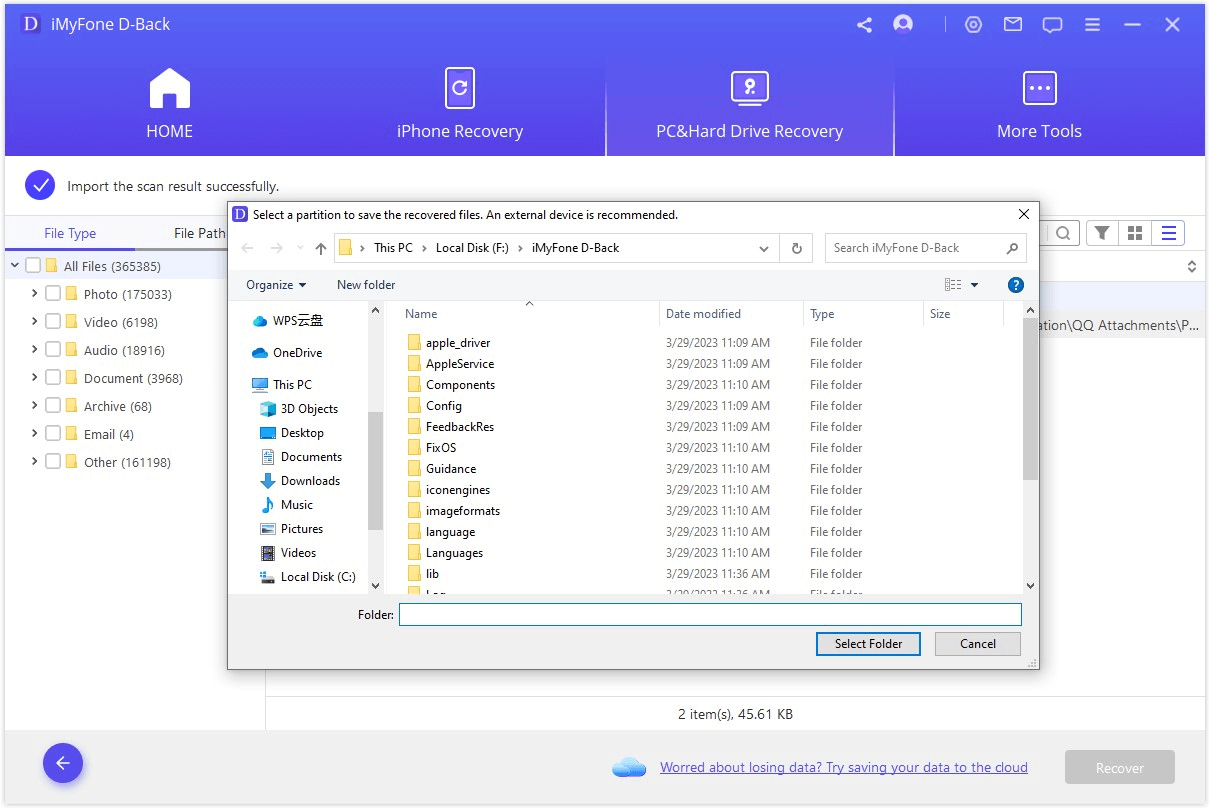 How to Recover Overwritten Files/Videos from Portable Hard Disk with Other Free Methods (Win/Mac)
If you cannot continue using the software to recover data from an overwritten hard drive for any reason, we have prepared four additional free methods to assist you in recovering your data.
Recovering through The Windows Properties
Previous versions of files is a feature in Windows that allows you to recover and backup your lost files and folders. You might be able to recover data from overwritten hard drives using this feature. That's how you do it:
Step 1: Right-click the drive you want to recover and then click "Properties".
Step 2: As you've opened the file properties, Now, Go to the "Previous Versions" tab.
Step 3: To restore the overwritten files in the previous version tab, select the most recent version and click "Restore".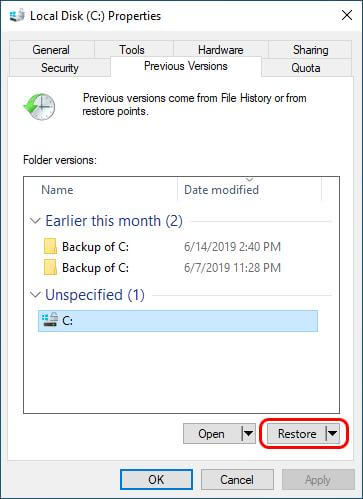 Recover Mac Overwritten Files from Time Machine
If you want to avoid situations like these, backing up regularly is the best option. If you've been following the best practices, you must be doing that.
Time Machine is the built-in recovery tool that comes with the macOS. It helps you protect your data while coping with these types of situations. If your file has just gone overwritten, using Time Machine will be the best option.
Step 1: First, you have to connect the storage media holding all your time machine backups to the computer.
Step 2: Now, locate the folder that contains the file you need to restore. Afterward, go to the time machine icon and click on enter time machine option.
Step 3: Now, navigate to the items you want to be restored using a timeline. Click on the item and press the spacebar if you want to preview your file. Now, click the restore icon to recover the file you need to be restored to the previous version.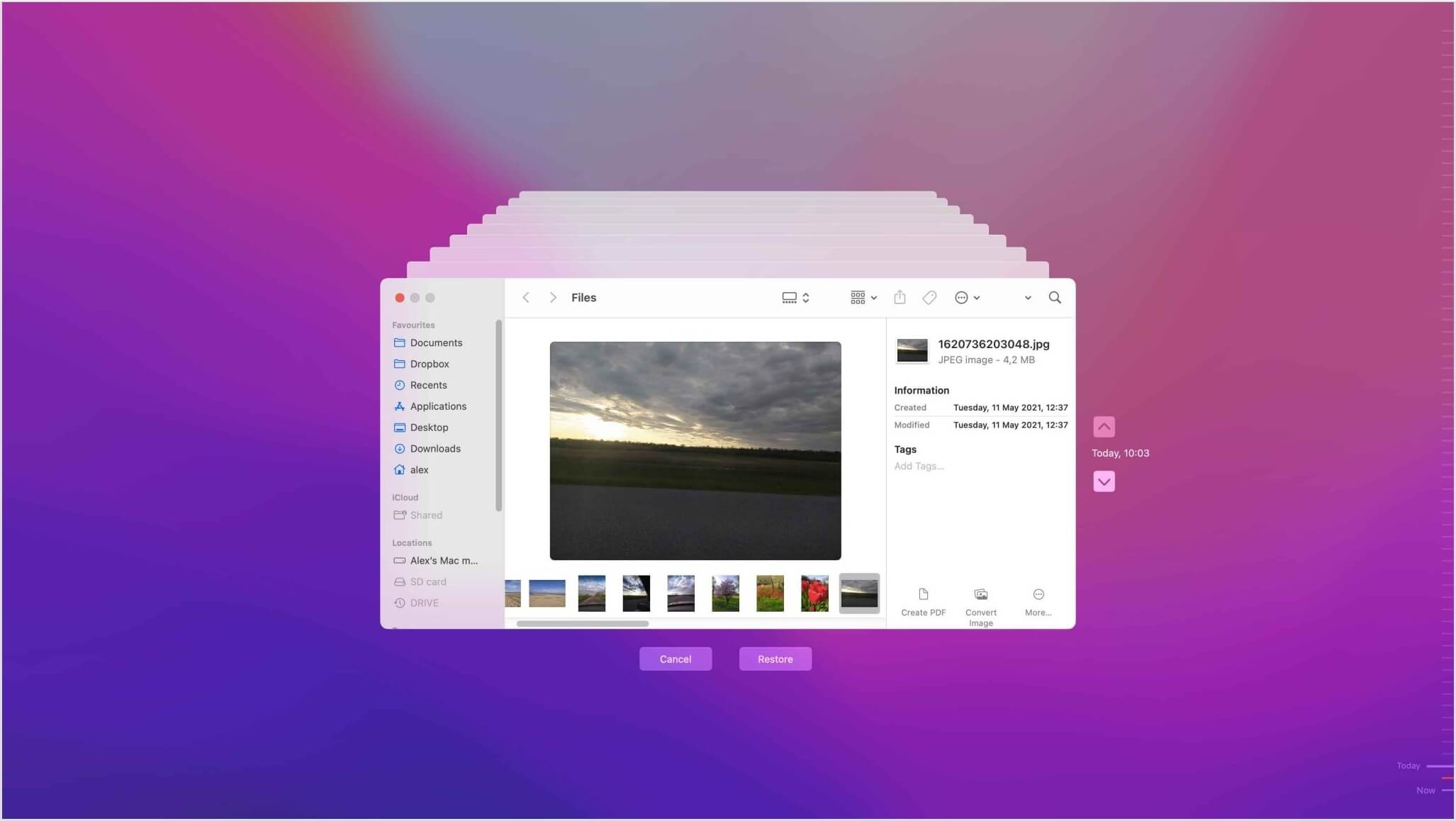 Recover overwritten files through Cloud Backup (For Mac Users)
You can set up your Mac to backup all the files to iCloud. Doing so provides you with another option to recover overwritten files. You can follow the steps given below to restore your files from iCloud.
Step 1: Firstly, you need to login to your iCloud account and then go to the setting option.
Step 2: Select the Advanced tab on the bottom-left and click on restore files.
Step 3: Now, navigate to your recommended file by searching for it, and then check out the boxes at the left of their names. If you want to recover all the files, you can also select all. Lastly, click on the restore files.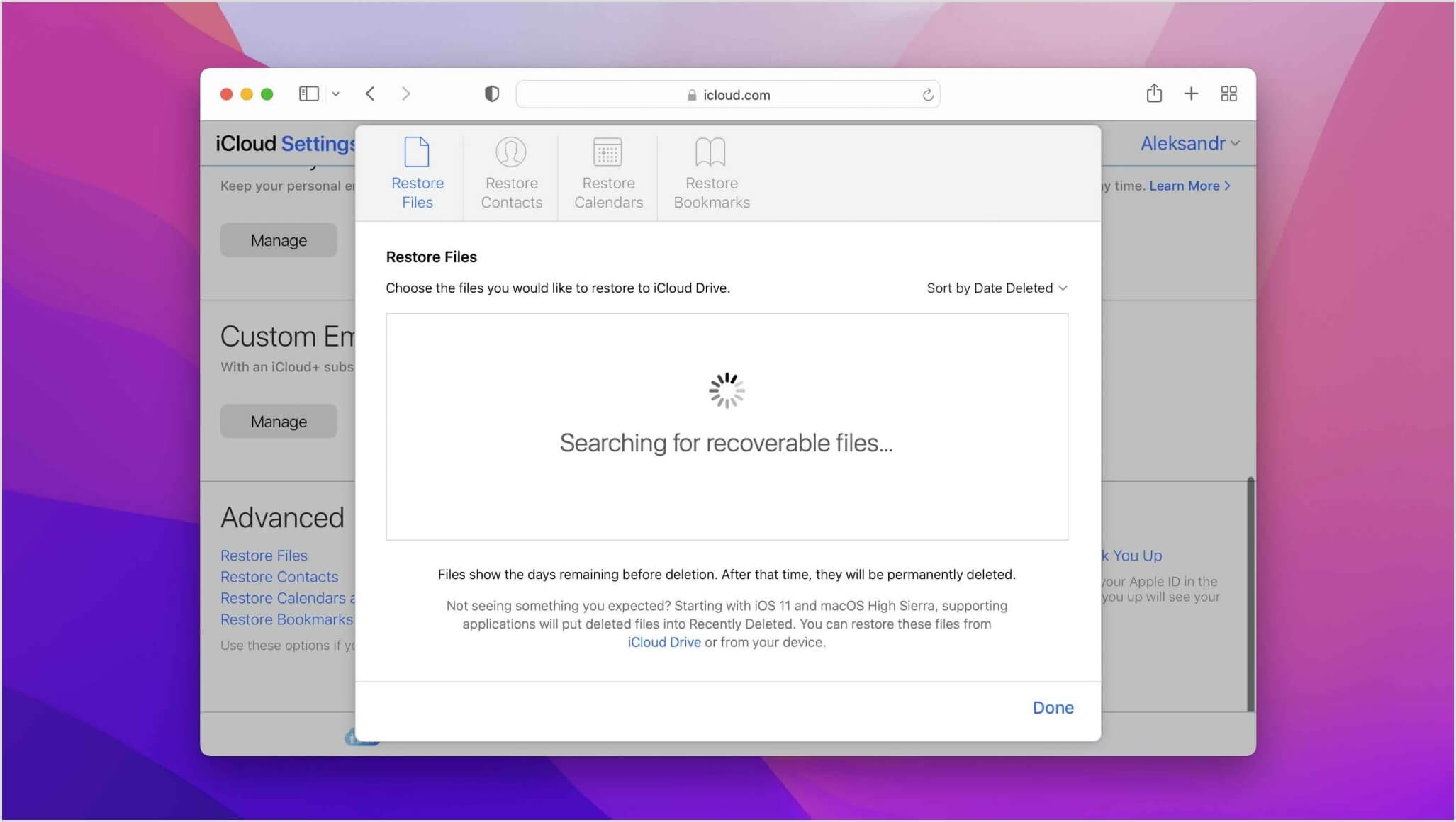 Use Systems Restore to Retrieve Your Overwritten File (Windows)
If the overwritten data involves system files, you may be able to recover it using Windows System Restore. Follow this approach to restore your system to a prior state and possibly retrieve your overwritten files.
Step 1: Open up the Control panel and Go to System and Security. Now, click on System, and then go to the System Protection link.
Step 2: To restore your System, go to the System Restore button and choose a restoration point. To begin the restore, select next and follow the steps.
Recovering Your Files by Restoring the Previous Version (Windows)
It is the built-in feature of windows that creates a file as a restore point or backup; these files aren't the original ones but the copy of the original files that are often known as the previous version of files. You don't have to do much to recover overwritten files; you have to right-click on the file or folder that is overwritten and restore the file to the previous version.
Step 1: Navigate to the folder containing the file you're looking for.
Step 2: Select the file or folder with the right-click menu.
Step 3: Now click on restore the previous version from the drop-down menu.
It was much easier to find the answer to your question about how to recover overwritten video files from a hard disk. You can follow any of the above methods to recover your overwritten files.
Part 3. FAQs about Recovering Overwritten Files
1

How to Recover Overwritten Files on The External Hard Drive?
You can use iMyFone D-Back to recover overwritten files on an external hard drive. It helps you to recover your lost files in a few simple steps. You've to simply install the software, scan the location, and restore. That's it!
2

How to Recover Overwritten Files with No Previous Versions?
If you recently altered a file and now wish to restore it to its former state, or if you want to recover overwritten files with no previous versions, reverting your file to its original form is ideal. Simply use the shortcut CTRL+Z to undo your action and return to the original version. You can use this to restore the previous version of the file you're working on.
If you're still not able to do it, you can use the iMyFone D-Back to recover your important data.
3

Is There Any Free Overwritten File Recovery Software?
iMyFone D-Back is among the best recovery software that is free overwritten file recovery software. It comes with the most powerful algorithm that helps you recover your data without any hassle.
4

How to Restore Overwritten Photoshop/Word/PowerPoint/Excel Files in Windows 7/10 and Mac?
You can restore any of your overwritten files using the iMyFone D-Back. We've already mentioned the method to use in part 1 of this article.
Conclusion
It might be overstressing when you can't find the reliable answer to your question: How to recover overwritten files from a portable hard disk. Thus, finding better strategies to fix the problem rather than becoming worried can make this scenario simpler for you.
We've put together a comprehensive guide to help our users figure out what to do if their file is accidentally overwritten. You can quickly recover your data by using any of the ways listed above.
The iMyFone D-Back is available to assist you when it comes to the best technique to recover data. With this incredible software, you can recover data from many devices trusted by hundreds or thousands of people.