Microsoft Word is frequently used by students, professionals, businessmen, and almost everyone who uses a computer. It is because everyone needs a tool to prepare a document, and Word is the most reliable and secure way for this purpose. However, Word documents can get damaged or corrupted due to various reasons. Therefore, in this article, we will discuss how to recover corrupted Word file. We will share different methods that you can try to recover your important files.
Part 1. Why Is My Word File Corrupted on Windows/Mac
The reasons behind the file is corrupted and cannot be opened Word on Windows and Mac are pretty much the same. It can occur in both operating systems. If your file is corrupted and cannot be opened, then these could be the reasons:
Virus Attack

Any malware or virus that attacks your file may modify or corrupt your files or even delete them. It can cause your system to malfunction. Similarly, when any virus attacks a Word document, the document gets corrupted. You will see that your Word document is not opening. Installing an antivirus is the best solution to keep your files safe from virus attacks.

System Crash

We never know when the system can crash. If the system crashes while a Word document is processing, there is a high chance that your files will be missing. So, make sure to close all the background applications that are not in use to avoid system crashes.

Hardware Failure

Just like a system crash, any hardware failure can alter your Word documents. For example, the hard drive could malfunction or get damaged. In this case, you will need to fix your hard drive and make sure that it has a stable power supply.

System Update

For people that have automatic system updates enabled, there is a high risk that updates can start while working on a Word document. After the update, the system will restart, and you will lose your word document. So, make sure to disable your automatic system update to avoid losing Word documents.
Part 2. [Fixed] How to Fix a Corrupted Word File on Mac Free
On Mac, the users can fix the corrupted word file with built-in features of Microsoft Word. This is the basic solution that anyone can follow if a Word document is corrupted. Let's see how to repair damaged files mac.
Step 1: Open your corrupted Word document. Go to "Files" in the top left corner and click on it.
Step 2: You will see different options under files; select "Save As". Then click on "File Format".
Step 3: Among the different formats, choose "Rich Text Document".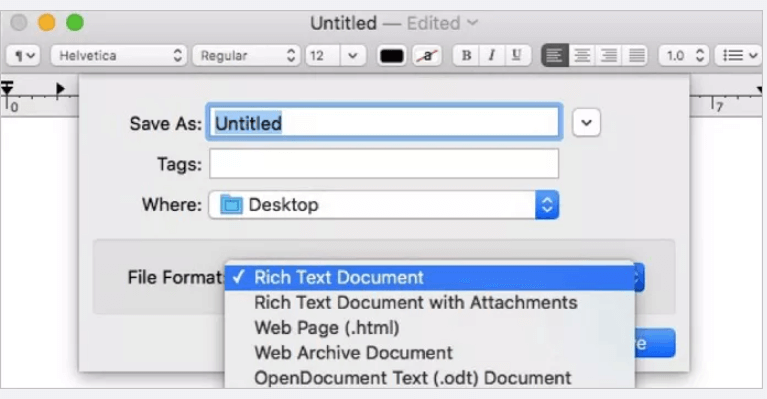 Step 4: Try to rename the file as well and then save it. Your word document will be repaired/fixed now.
Part 3. [Solved] How to Repair a Damaged Word File on Windows Free
If you are a Windows user and your word document or file is corrupted, then don't lose hope. There are many ways for doc file corrupted recover. Microsoft Word has a default command of open and repair that can fix not only Word documents but also Excel and PowerPoint files. It is very easy to repair files with this method. Below are the steps if you are looking for how to recover corrupted Microsoft Word file.
Step 1: Open Microsoft Word on your Windows. Go to "Files" and click on "Open".
Step 2: Don't open the file from the recent option. Under the option of open, click on "Browse".
Step 3: Browse the file which is corrupted, and instead of opening it, choose the drop-down option of "Open" and click on "Open and Repair". The Word will repair your corrupted file and open it for you so you can access it easily.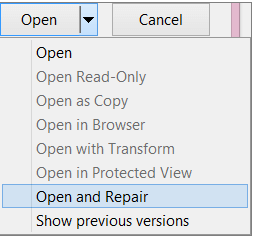 Part 4. [Hot] How to Recover a Corrupted Document Word File Online Windows/Mac
If your Word document is corrupted and you have lost it due to any reasons, then don't worry. We will tell you how to restore a corrupted Word file using a data recovery tool.
iMyFone D-Back is a third-party data recovery tool that can recover corrupted Word file in every scenario. This tool works with both Windows and macOS computers, so the user doesn't have to worry.
iMyFone D-Back can also recover data from lost or corrupted partitions. It has a high success rate of recovery and is reliable.
Let us see how to recover corrupted Word file online on Windows/Mac with an iMyFone D-Back.
Step 1: Depending on your operating system, download iMyFone D-Back and install it on your computer.
Step 2: Select the drive where your corrupted document was saved.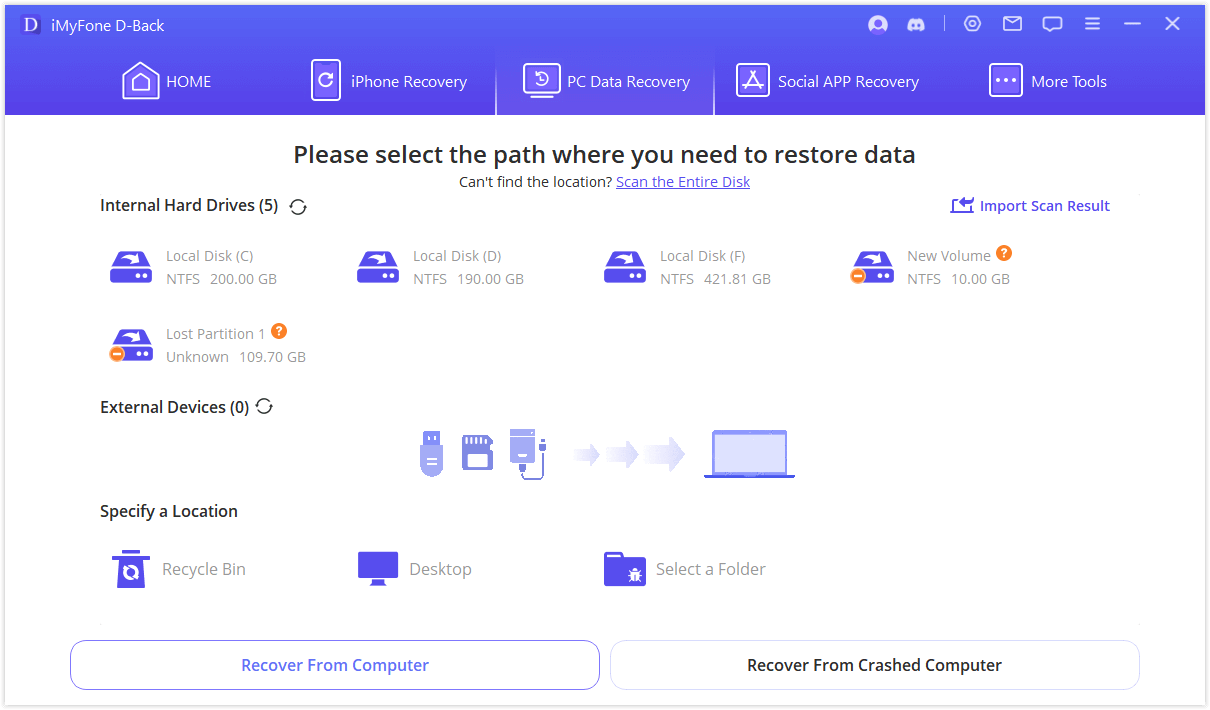 Step 3: iMyFone D-Back will then scan the selected location and show you all the recoverable data.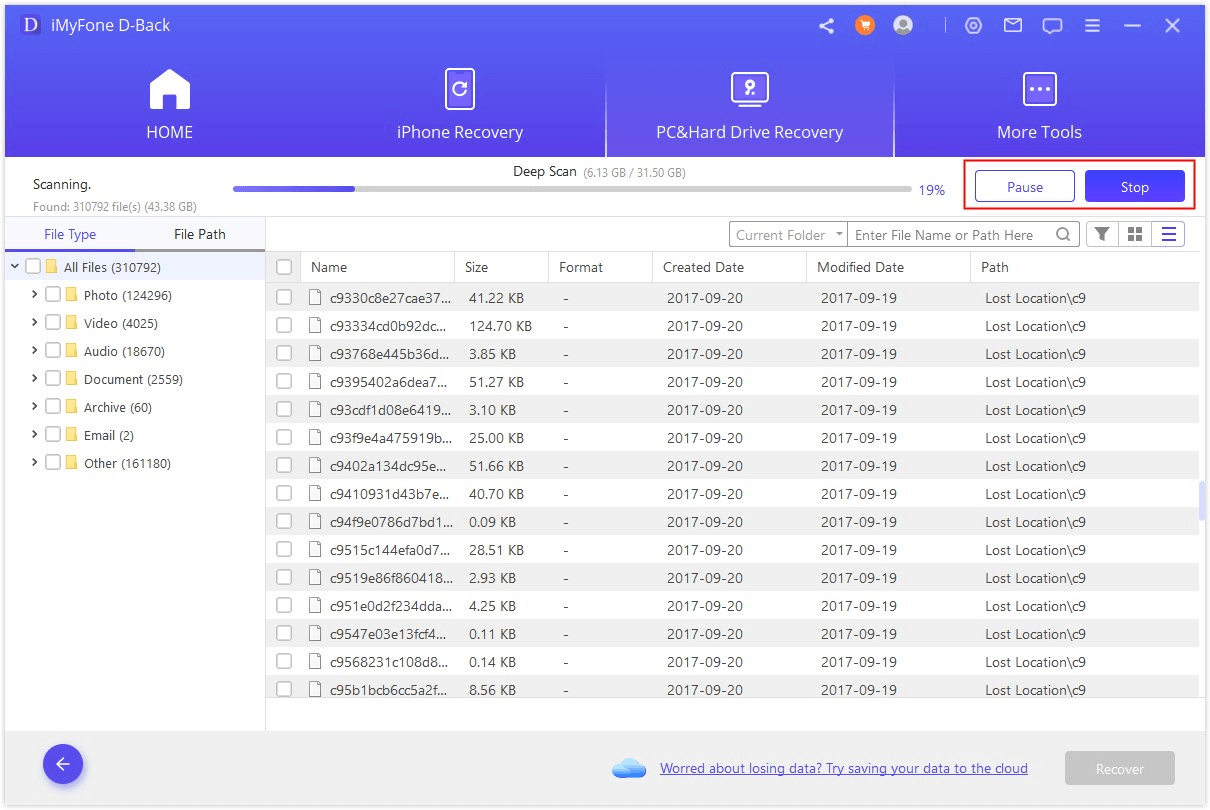 Step 4: Preview all the files and choose the file that you want to recover. Click on "Recover" to recover the selected file.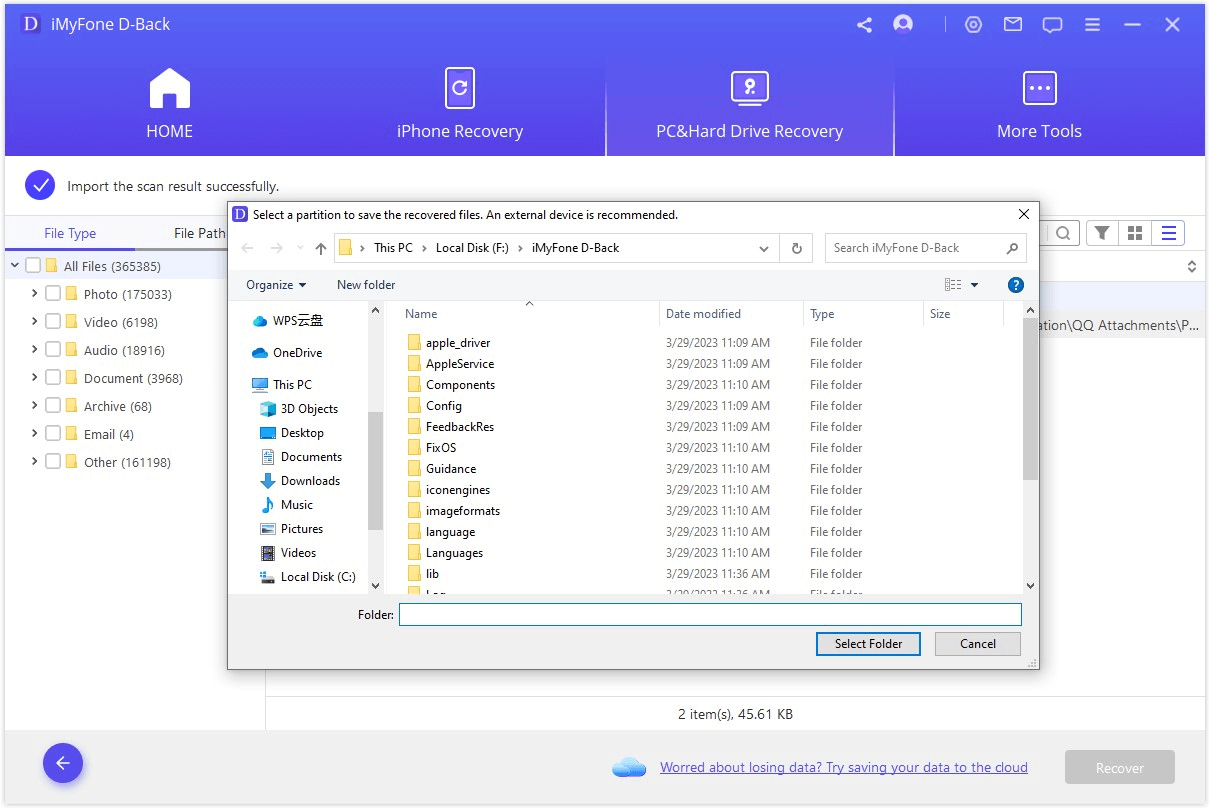 Part 5. FAQs
5.1 My Word File Is Corrupted How to Recover
To recover corrupted Word file, there are many options. But the best option you can go for is the iMyFone D-Back. It is a professional data recovery tool that can recover all sorts of files, whether it is corrupted or deleted. This tool is compatible with both Windows and macOS, so the user doesn't have to worry about the compatibility of the tool. Download this tool and follow the above-mentioned steps to recover corrupted Word file.
5.2 How to Fix a Word File That Is Corrupted
Depending on your operating system, you can fix your Word file. You can find the steps to fix your corrupted Word file in the article. We have discussed both Windows and macOS solutions. Depending on your operating system, follow the steps to fix your corrupted word file.
Conclusion
In this article, we have discussed everything about the recovery of Word documents. We explained how Word documents get corrupted, how to recover them, and how to fix them. There are different methods for each of these processes. However, the user trying to recover or fix the corrupted Word document must know what operating system is used. It makes all the processes easy. iMyFone D-Back is the best data recovery tool that one can use to recover all sorts of data. It has a trial version that anyone can download for free.