How to Recover Music/Songs/Playlists on Spotify? Ultimate Guide to use Spotify
Category: PC Data Recovery
5 mins read
If you've come across this situation while using Spotify, rest assured that there is a solution. It is not uncommon for tracks to become hidden or unavailable on Spotify, and sometimes even saved or downloaded songs can go missing. The good news is that you can easily unhide songs on Spotify and recover your deleted tracks. In this comprehensive guide, I will show you how to hide/unhide songs on Spotify and retrieve your lost music files on Spotify.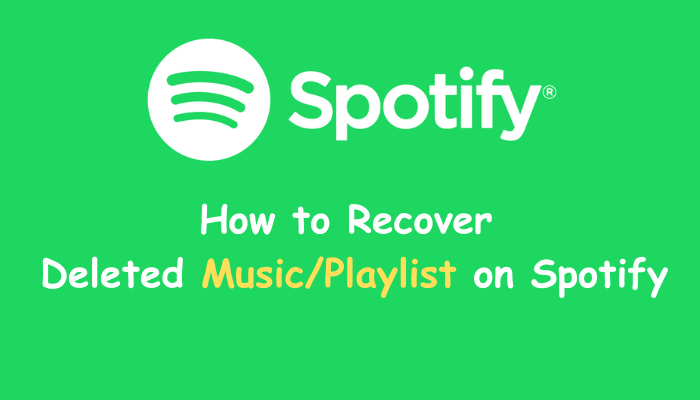 Part 1: How to Recover Deleted Downloaded Spotify Songs?
Unfortunately, Spotify does not provide a direct option to recover deleted songs from the app or website. However, if your songs get deleted from your iPhone or computer, you may need to use a data recovery tool. Since there is no built-in option in the Spotify app, you can turn to a reliable recovery tool like iMyFone D-Back to assist you in this situation.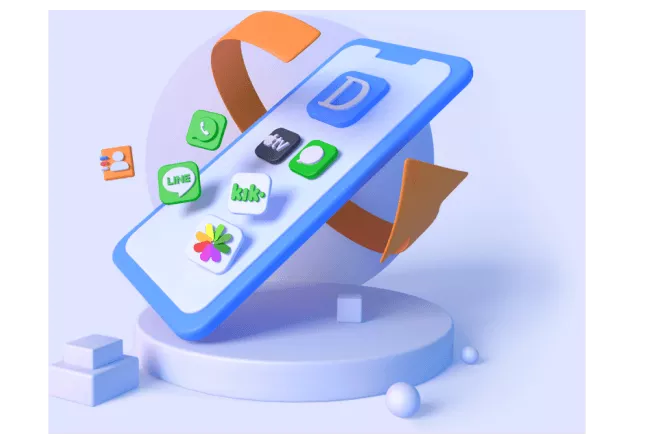 Key Features:
Retrieve music from your iOS/PC device, iCloud account, and iTunes account, providing flexibility in recovering your lost songs.
Supports over 50 types of audio files, including AIF/AIFF, M4A, MP3, WAV, WMA, APE, MID/MIDI, OGG, AAC, RealAudio, VQF, etc.
Allows you to preview the recoverable data before initiating the recovery process.
Expect a high data recovery rate when using iMyFone D-Back.
It guides you through three simple steps, making it easy for even non-technical users to recover their data efficiently.
Here are the simplified steps to recover music from your Spotify using iMyFone D-Back:
Step 1: Download and launch iMyFone D-Back. Choose "PC& Hard Drive Recovery" Mode.
Step 2: Select the desired location for the recovery Spotify files and click "Scan".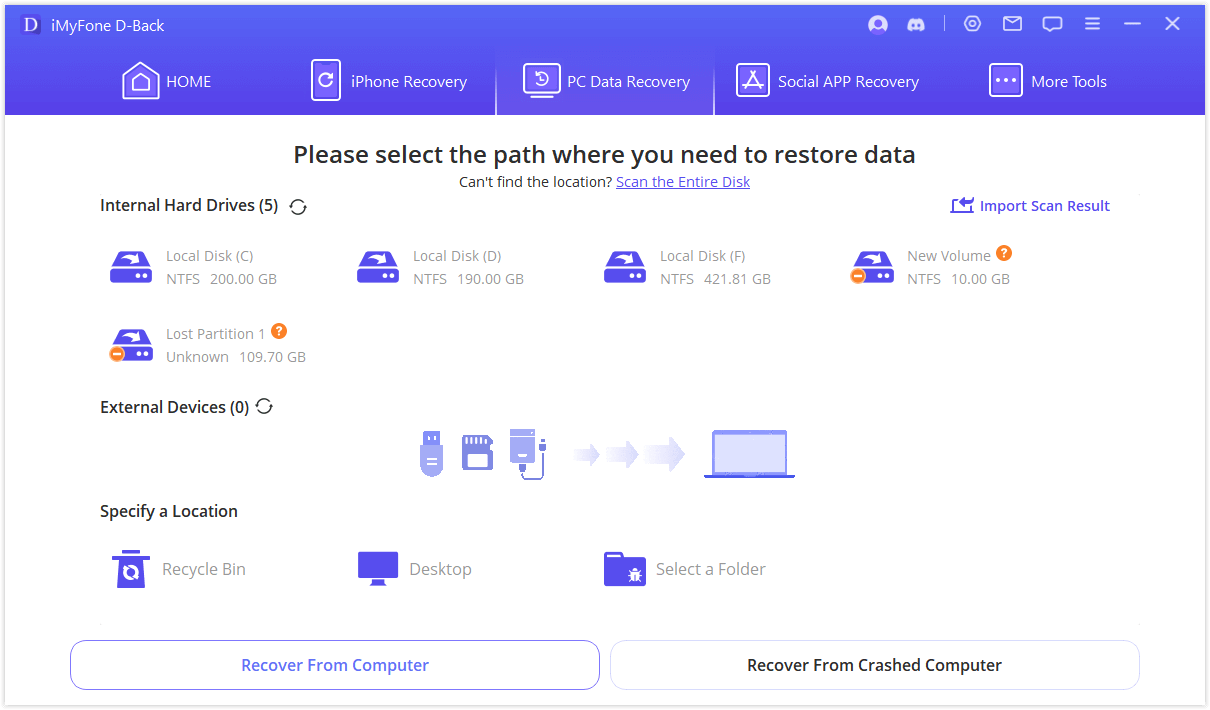 Step 3: After scanning, preview and select the music files you want to recover.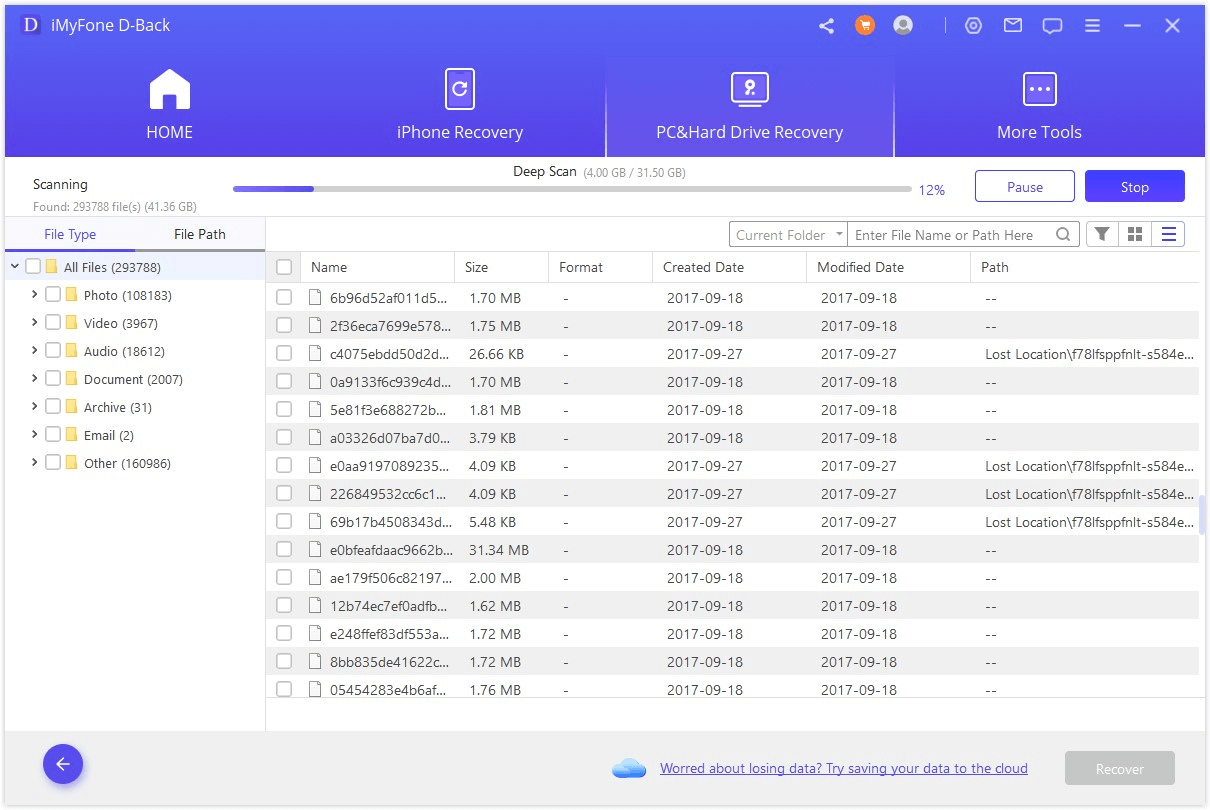 Step 4: Click the "Recover" button to restore the selected music files.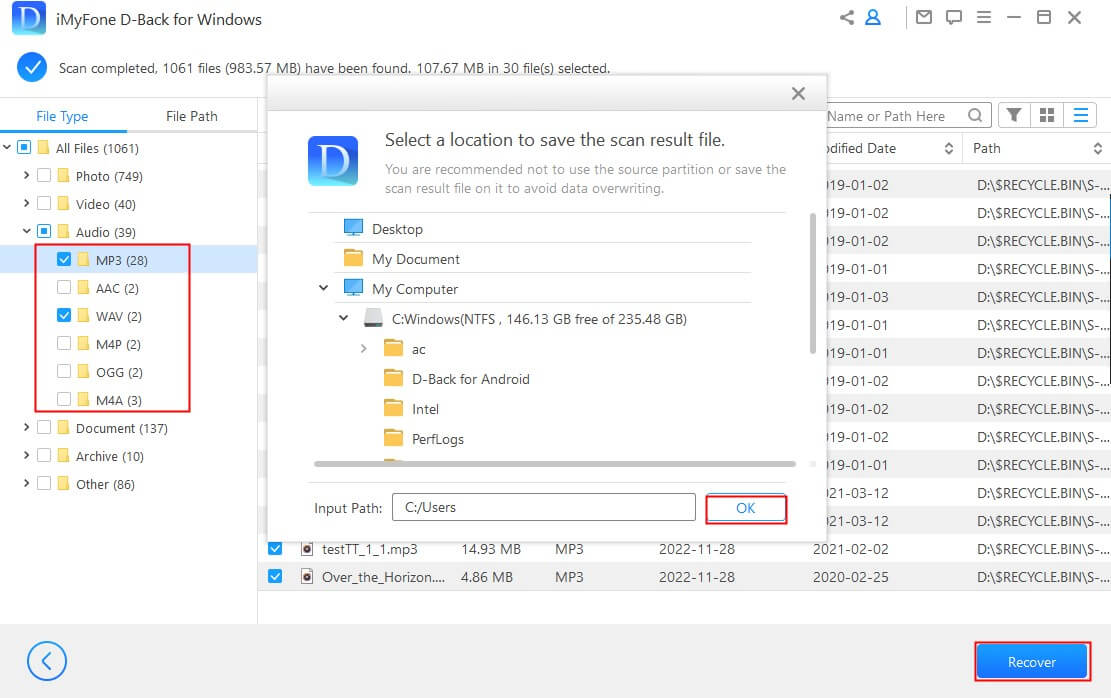 Part 2: How to Recover Deleted Playlist on Spotify?
While it is not possible to recover deleted songs from the Spotify app or website, there is a way to retrieve deleted playlists. However, this option is currently not available on the app itself. To recover a deleted playlist, you will need to visit the Spotify website on your computer or smartphone. If you accidentally deleted an existing playlist and wish to recover it, you can follow these steps:
Step 1: Instead of using the Spotify app, open the official Spotify website on your computer or smartphone. If you're using a phone, tap on the hamburger icon to access the login feature.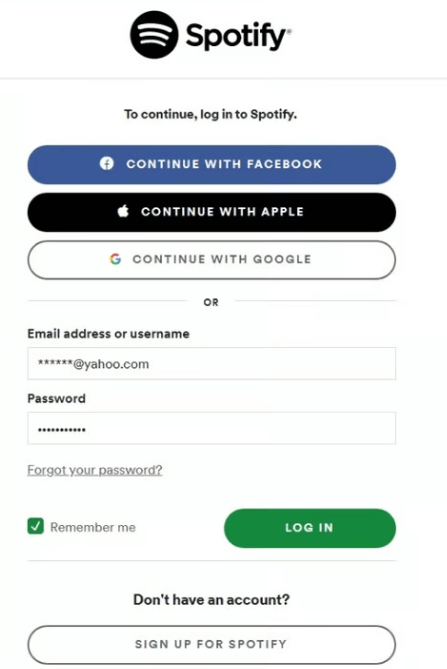 Step 2: Enter your Spotify account credentials to log in successfully. Once logged in, go to your Account Settings. From the dropdown menu at the top, select the "Recover Playlists" option.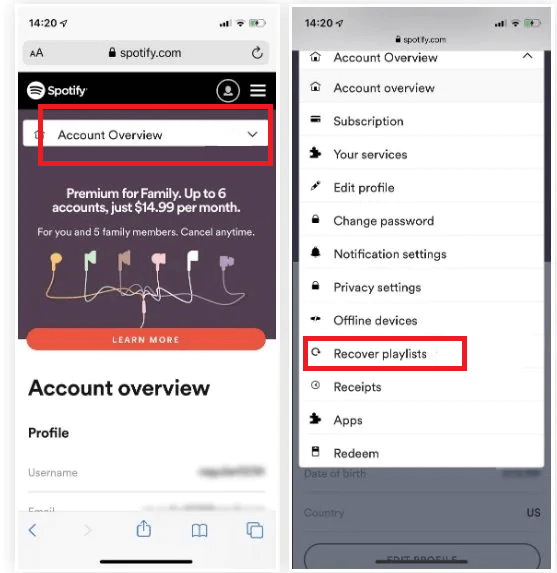 Step 3: In the "Recover Playlists" section, you will see a list of all the playlists that were deleted from your account. You can click on each playlist to view more details. To recover a playlist, simply tap on the "Restore" button next to its name.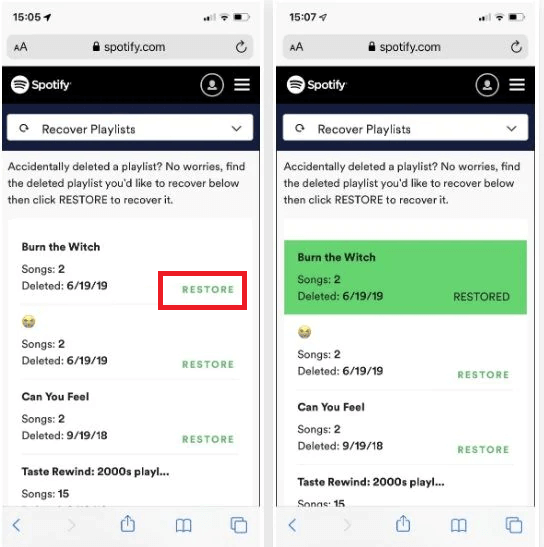 That's it! Once you click on the "Restore" button, the playlist will be restored and moved back to your Library. You can then access it like any other playlist in your account.
Part 3: How to hide or Unhide Songs on Spotify?
As you explore the vast library of songs on Spotify, you may come across tracks that you no longer wish to hear. Fortunately, Spotify provides a "Hide" feature that allows you to hide specific tracks found on albums or public playlists. When you hide a song, Spotify will skip it if it appears in your queue. However, it's important to note that hidden tracks can be easily unhidden whenever you desire. Here's a step-by-step guide on how to hide and unhide a song on Spotify:
Launch the Spotify app on your device and locate the track you want to hide or unhide.
On the track's page, you'll find the three-dot menu icon (•••) positioned next to the song title. Tap on it to access the options menu.
From the options menu, choose "Hide Song" if you wish to hide the track. By doing so, Spotify will skip this song when it appears in your queue or playlists.
If you decide to unhide a previously hidden song, repeat the same steps and select "Unhide Song" from the options menu. The song will be restored and will play normally when encountered.
With the Hide feature on Spotify, you have the flexibility to manage the songs you encounter and curate your listening experience according to your preferences.
Part 4: [Bonus] Tips to Use Spotify
Aside from recovering deleted music and playlists, we want to enhance your overall Spotify experience. In this bonus section, we'll provide you with valuable tips and tricks to get the most out of Spotify.
Unblock Spotify: If you're in a region where Spotify is blocked or restricted, you can use a VPN (Virtual Private Network) service to help you bypass geographical restrictions by routing your internet connection through servers in different locations. Unblock Spotify and enjoy using it without any restrictions. You can search for songs, create playlists, explore new music, and enjoy all the features offered by Spotify.

Remember to keep the VPN active while using Spotify to ensure uninterrupted access. Please note that the use of VPNs may be subject to local laws and terms of service, so make sure to comply with any applicable regulations.



Set Up Streaming and Downloading Quality: Customize your streaming and downloading quality settings in the Spotify app to optimize your listening experience. Go to Settings > Music Quality (or Audio Quality) and choose the desired streaming and download quality options based on your network connection and storage capacity.
Explore Radio: Discover new music and artists by exploring Spotify's Radio feature. Start a radio station based on a specific song, artist, or genre, and Spotify will curate a playlist of similar tracks that you can enjoy.
Buy a Family Plan: If you have multiple family members or friends who use Spotify, consider subscribing to Spotify's Family Plan. This allows up to six people to have their own premium accounts at a discounted price, making it cost-effective for everyone to enjoy ad-free streaming and additional features.
Find Podcasts: Spotify offers a wide range of podcasts on various topics. Explore the Podcasts section to discover podcasts from your favorite genres or search for specific podcast titles. You can also follow and save your favorite podcasts for easy access.
Be Social: Spotify has social features that allow you to connect and share music with friends. Connect your Spotify account to your social media profiles to see what your friends are listening to and share your favorite songs and playlists with them. You can also collaborate on playlists with your friends, making music discovery and sharing a collaborative experience.
Part 5. FAQs about deleted music on Spotify
1

How long does Spotify keep deleted music on their servers?

Spotify retains your deleted music on their servers for a period of time. The exact duration may vary, but typically it is around 30 days. During this time, you have the option to recover your deleted music.
2

Can I recover a playlist that was deleted a long time ago?

Spotify provides a feature to recover playlists that were deleted, even if it has been a long time since they were removed. By following the steps mentioned earlier, you can access the "Recover Playlists" feature on the Spotify website and retrieve deleted playlists.
3

Is it possible to recover music that was deleted from a synced device?

If you have deleted music from a synced device, it may still be possible to recover it. However, the process for recovery may vary depending on the device and the specific circumstances. In general, you can try connecting the device to a computer and using data recovery software to scan for and retrieve deleted music files.
4

Will the recovered music be added back to my library automatically?

When you recover deleted music or playlists on Spotify, they will usually be added back to your library automatically. However, it's always a good idea to double-check your library after the recovery process to ensure that all the desired music is restored.
Conclusion
That's it! Now that you know how to unhide songs on Spotify, you can easily retrieve any lost or hidden content. I've also provided iMyFone D-Back as a tool to recover deleted songs on Spotify. With its powerful recovery features, you can easily retrieve your deleted or lost music files from various sources. Feel free to explore Spotify and make use of these suggestions to manage your music like a pro. If you found this guide helpful, don't hesitate to share it with your friends and teach them how to unhide a song on Spotify too.