There is no doubt that Sd Card and hard drives have just revolutionized how we store our data, but still, they come with the risk of consequential data loss and damage. But if there is software like Yodot data recovery and iMyfone D-back Hard Drive Recovery Expert, it can potentially recover all your files and data.
Want to know how Yodot data recovery is a life savior for you? This article will review the yodot recovery software in depth and why it's worth using it. Let's dive deep into it!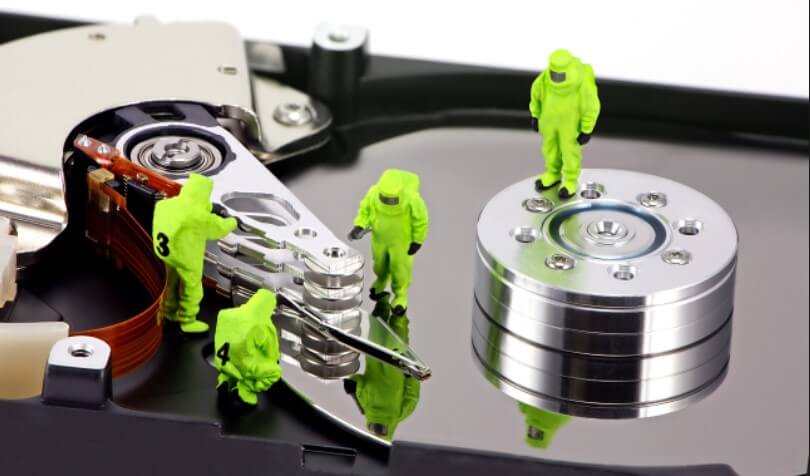 Part 1. Reviews of Yodot Data Recovery Software
1.1 Yodot Hard Drive Recovery Review
Yodot hard drive recovery is a game-changer as it enables the users to recover unlimited data from the hard drives. Whatever brand your drive is from, Yodot hard drive recovery can recover all of them for you with the most responsive tool and three easy steps. Below is the Yodot hard drive recovery review.
The software came up with remarkable data retrieving approaches that are advanced yet intuitive for the users. Let's look at some of its key features to know how it's the best choice for your hard drive recovery.
Fosters the risk-free approach by protecting your data and securing it from getting overwritten.
The export/Import session is the key feature that enables the user to pause or save their data at any time while recovering.
Preview your data before heading toward the recovery process
Come with the deep scan feature to retrieve the deep down buried file.
Pros
The robust algorithm that can recover buried files
Scan and preview files before recovery
Data is secured
Cons
The Demo version is not responsive to recovery
Unable to recover some of the file types
A bit costly to buy
Each paid version is different from the other and offers additional features
1.2 Yodot File Recovery Review
With this superior tool, you can recover all your files from the hard drive to the memory card and SD card. Whether it's photo recovery, partition recovery, or RAW recovery, Yodot file recovery supports them and opens a vast option for data recovery.
Want to recover all your data faster and with ease? Consider nothing else than yodot file recovery software. It may cost a few dollars in your pocket, but that's worth it. Below we've listed some of the salient features the Yodot tool comes with.
Scans every file deeper compare to any other data recovery software
Guaranteed effective recovery for every file format
You can recover your data faster with the highly responsive tool
It supports all delete situations from corrupted files to accidental deletion
Pros
Fastest file recovery but with the paid version
Scan deeper into a file to ensure it can recover your recommended file
Scan and preview are available before file recovery
Cons
File recovery is limited in the demo version
Costly to purchase
Can't recover all file formats
1.3 Yodot Photo Recovery Review
Losing memorable photos is the most stressful moment, but Yodot photo recovery will cover you up. It fosters exceptional features that enable users to recover all of their images and videos deleted accidentally. Yodot image recovery supports the following features.
It's a tried-and-true way to get your images back from a formatted external hard drive, hard disc, USB device, or memory card
You can locate the image you want to recover with its scanning feature
To ensure the integrity of the images preview is available before the recovery
Detect and recover lost JPEG/JPEG photos and restore them to good condition
Recover corrupted and deleted MP4 and MOV videos
Pros
Support all the JPEG and JPG image files
Filter the images and videos you want to recover through the filter option.
Cons
Failed to recover some of the images.
The basic version only supports limited features.
1.4 Is Yodot Data Recovery Software Legit/Safe
The software is built with the read-only format and comes with the most potent interface making it legitimate and safer. It can retrieve the data from almost all the files, whether a file system or not, while identifying the file size. At last, the answer to your question: Is yodot legit crystal clear that it can recover your data and be the safest and legit.
Part 2. The Best Alternative to Yodot Data Recovery Software (Windows & Mac)
There is no doubt yodot data recovery is worth using, but there is still a limitation that might come in between your data recovery. If you want a free and effective alternative, then, in that case, iMyFone D-Back is one of the most responsive software capable of recovering all your data with ease.
2.1 iMyFone D-Back
iMyFone D-Back is a highly professional tool that supports almost every file to recover your data within seconds. It's the easiest and most time-effective solution to your data loss problems. Compared to the Yodot recovery tool, it's available in both free and paid versions but at affordable rates. Lastly, it offers much more features compared to Yodot.
Below are the features making it the best choice:
Key Features of iMyFone Hard Drive Data Recovery Software:
It can ecover almost any data from files, photos, movies, and much more, no matter your situation
The preview option allows you to inspect the file you wish to recover
You can use the Filter option to remove all data and discover your desired file
It's compatible with practically every version of Windows and Mac, and it can recover data from a variety of devices
Scan unlimited files before recovery while ensuring the safety of your data.
Recover Deleted Data with iMyFone D-Back:
The iMyFone D-Back comes with 3 simple steps to recover your data. Scan> Preview> Recover. Let's find out how you take this excellent software into use!
Step 1. Installation
Install the software by just clicking the install button.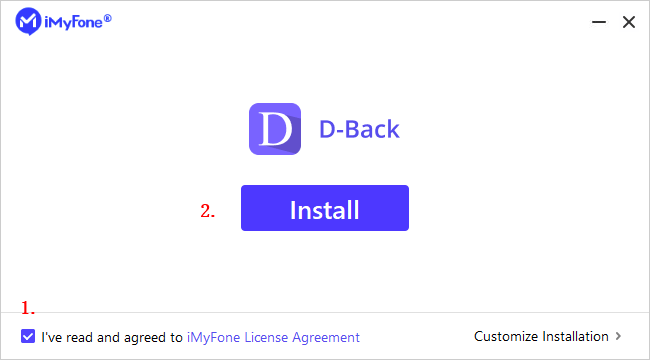 Step 2. Select the Location to Start the Scanning Process
As the installation process is completed, open it up, and find your file's location. It will start the scanning process.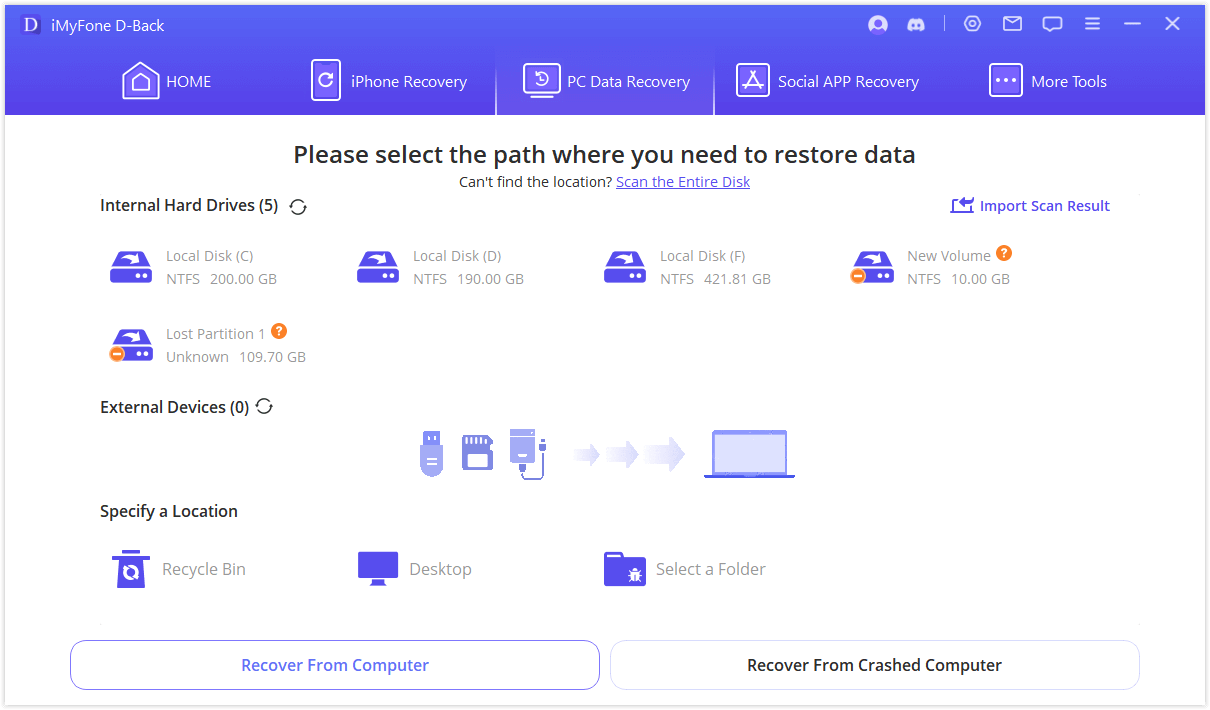 Step 3. Preview and Recover
As the scanning process is done, you can neatly see all the files, and then after previewing them, you can recover them.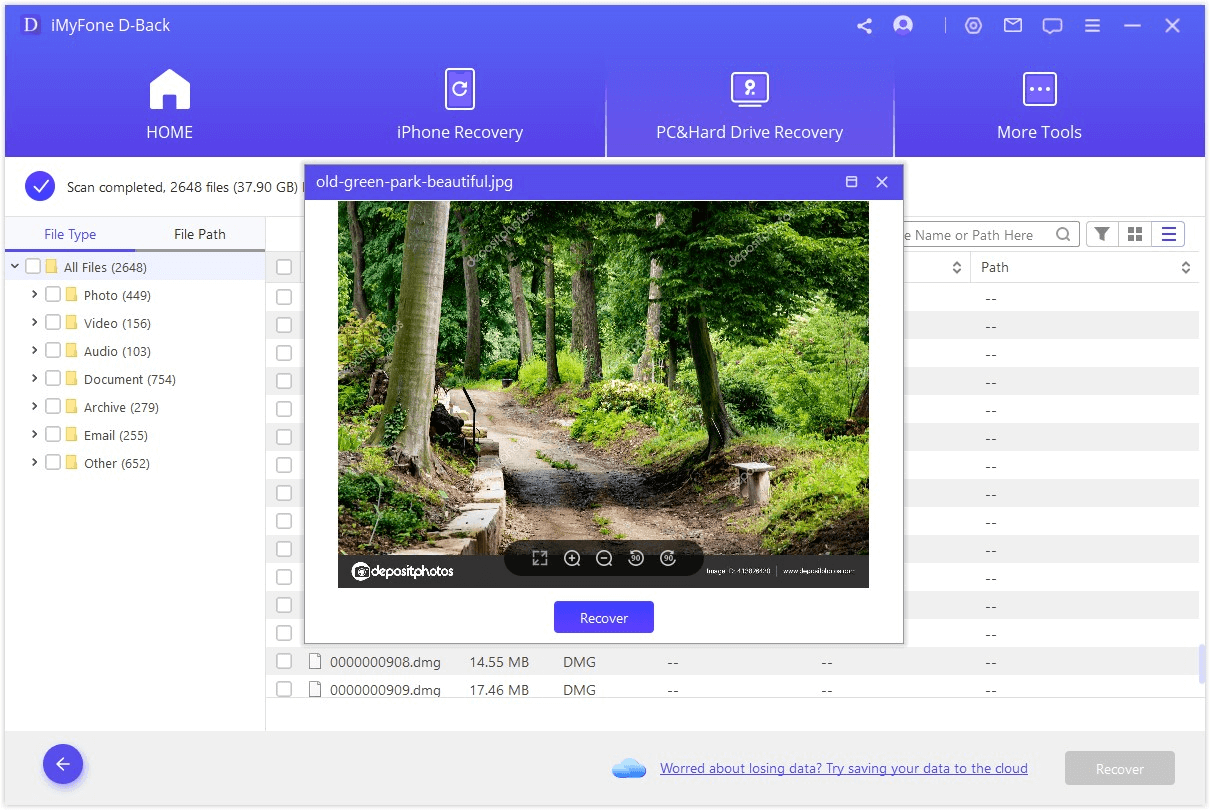 Step 4. Recover and Save the File
As you've previewed the file, click recover, and your file will get retrieved promptly. You can also save your file in your desired location.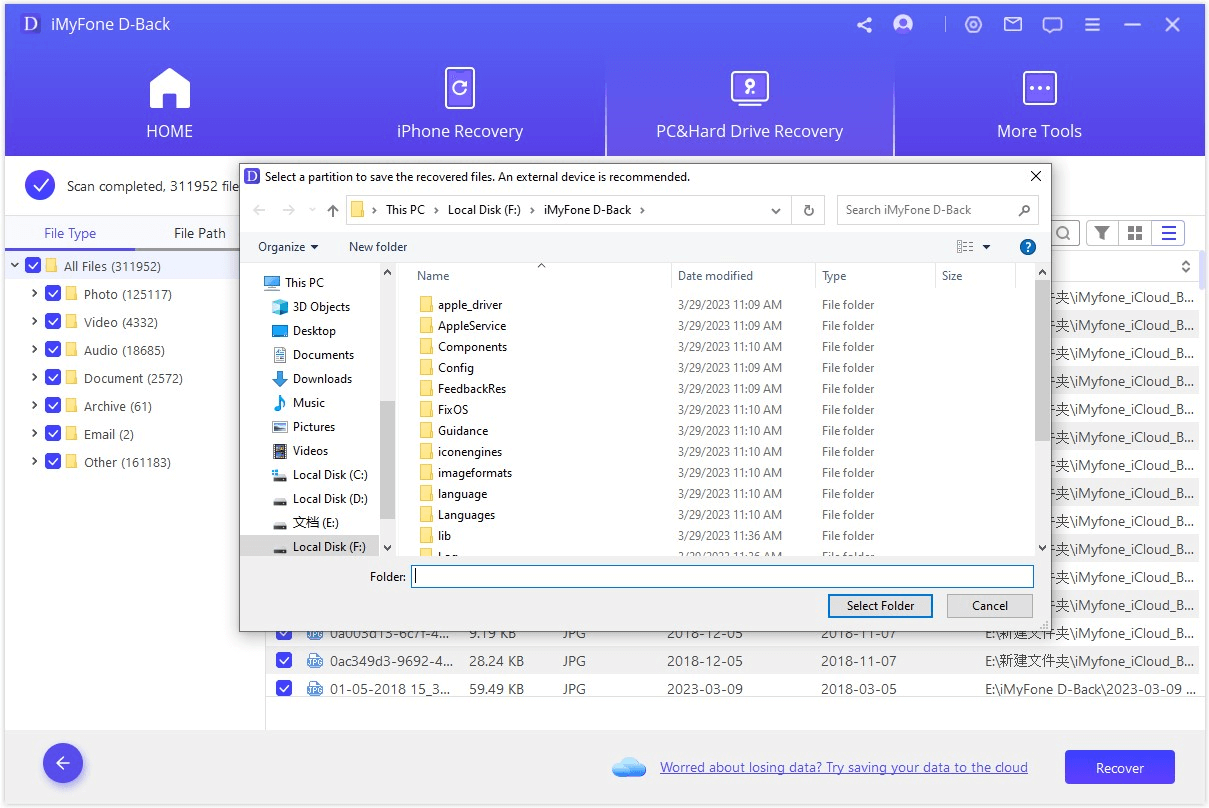 Comparison of Yodot and iMyFone D-Back:
| Features | | |
| --- | --- | --- |
| File preview | | |
| Scan your files | | |
| | 1000+ | 400+ |
| External and Internal Devices Recovery | | |
| Locating the specific path | | |
| Preview specific file type | | |
| Filter option | | |
| File name display | | |
| Price | $59.95 | $69.95 |
Part 3. FAQs about Yodot Data Recovery
3.1 What is Yodot Android data recovery software
Yodot recovery software is the recovery tool that helps you recover your lost files without overwriting them. It aims to solve all your data recovery needs with over 400+ file formats.
3.2 Something about Yodot MAC data recovery
Yodot data recovery software can be the best tool if you want to recover the buried files from your external or internal drives. It is compatible with all the versions of Mac and Windows. It follows up the user-effective interface that enables you to use it efficiently and promptly on your Mac devices.
3.3 Yodot MOV repair review
Have your videos from the vacation just got deleted or corrupted. No worries, Yodot recovery tool is here to help; you can use Yodot MOV Repair to retrieve them. The software can attempt to recover footage from various camcorders that have been truncated or corrupted.
The yodot tool is compatible with the MP4 and MOV versions of the video files. With this recovery expert tool, you can recover your video files quickly without any hassle.
Conclusion
Yodot file recovery can promptly handle all your data recovery needs and comes with a relatively easy recovery process that works on various file formats. But the shortcomings of this software should be noted.
If you were sifting to find a robust tool, the best alternative is the iMyfone D-back Hard Drive Recovery Expert. It's a considerable responsive and pocket-friendly solution to your data loss problem.