Losing vital data may be a painful experience, but retrieving the data becomes a breeze with the right and convenient solution in place.
Different kinds of software claim to help you with data recovery. A reliable data recovery company or data recovery software can make the process go smoothly. DTI Data Recovery Review claims that it is one of the best data recovery software, so let's find out more.
Part 1. DTI Data Recovery Service Reviews - Hard Drive Data Recovery Company
For over 20 years, DTI Data Recovery has continued to use the most advanced technology to satisfy the data recovery needs of its clients. They are a polite and economic data recovery company.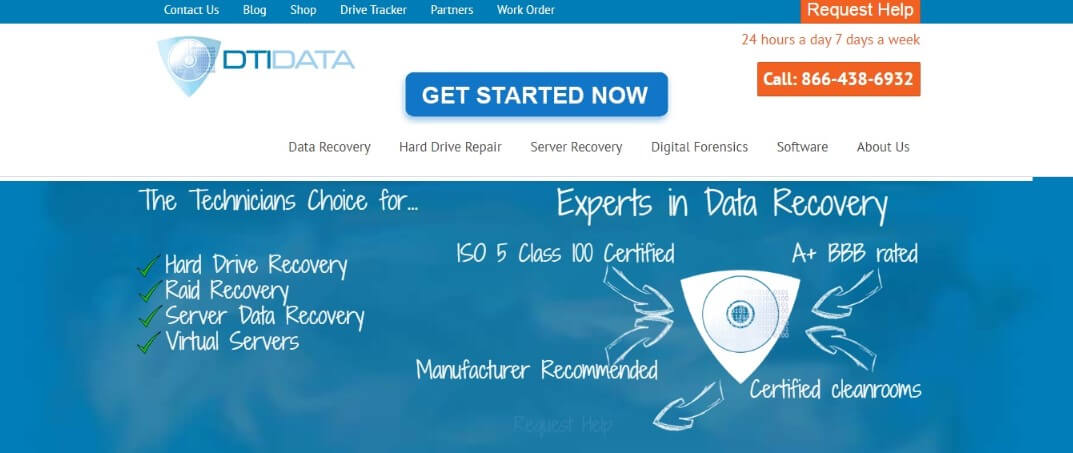 This company has been engaged to provide data recovery services since 1998.
Let's learn more about DTI Data Recovery!
1.1 Basic Information About DTI Data Recovery Company
DTI data recovery reviews claim that it is a single-stop solution for all data recovery requirements and offers a wide range of services as a leading data recovery company.
The company offers:
Data recovery from various sources, including reformatted drives, deleted or wiped files, folders, directories, corrupted file allocation tables, unbootable drives, viruses, etc.
Simple, fully automated products ideal for the end-user to highly complicated, state-of-the-art technical programs and everything in between Hardware recovery, software recovery, remote recovery, corporate recovery, forensic recovery, and more
Repairing and refurbishment solutions for hard drives that would otherwise discard
1.2 Hard Drive Recovery Service From DTI Data Recovery Company
DTI Data Recovery understands the value of your data. They focus on developing technology to recover data from any physically damaged hard drive. Their engineers work closely with the R&D team to keep up with the latest advances in hard drive technology and recovery methods.
They can find the problem quickly and provide practical solutions for hard drives. They offer the following hard drive recovery services.
Mass hard drive repair
Testing and grading of hard drive-SSD
Secure hard drive wiping
Certification and verification of hard drive wiping and sanitization
Certification for storage
Storage recycling

However, there are still a few things you should be aware of before you sign up for this:
Physical damage to the hard drive

If your hard drive makes a clicking sound, give up on the recovery attempt. Using a failed hard drive will damage the disk and make a recovery difficult.

When a hard drive is damaged, it can worsen the problem and cause the disk to degrade. The base on which the data is stored is destroyed when the read/write heads scratch the platter surface. In this case, you are undoubtedly dealing with a physical hard disk failure. At this moment, you should immediately power off the hard drive to avoid further damage.

Reliability of a repaired hard drive

It is a common concern if you will be able to utilize the repaired hard drive in the same way you did before. DTI Data Recovery fixes the hard disk for a brief duration to recover the data. The drive could work for a while once it has been fixed, but there is no way of knowing how long it will last.

When a hard drive has a physical failure, it loses its function as a reliable storage device. The final goal of a hard drive repair is to retrieve data. If the hard drive does not contain any valuable data, it is more cost-effective to change the hard drive than to repair it.

Fixing your hard drive is a sure way to recover your data

In some cases, you may prefer not to repair your hard drive to get your essential data back, which may be more cost-effective and convenient, but this is not feasible.

The disk is removed from the available sector banks. The micro-motion on the read/write head unit must function by the ROM on the printed circuit board. DTI Data Recovery will repair the drive so that it can read data from the user partition for the time being to recover your data.

They have tools that can help operate a severely damaged hard drive, turn off the read/write head, initialize the system area from a copy, etc. Nevertheless, you cannot recover data from a hard drive until fixed.
Part 2. The Best Hard Drive Data Recovery Software - Logical Hard Drive Problems
While DTI Data Recovery is there for you in case of physical hard drive damage, if you are unable to access your data due to logical errors such as hard drive erasure, corruption, or deletion, then you will need a reliable alternative to manage this problem to recover the data from your hard drive.
In this case, iMyFone D-Back Hard Drive Recovery Expert is the all-in-one solution, offering all you need for data recovery and efficiency, making your process simple, quick, and hassle-free.
The software has deep scanning capabilities and advanced algorithms and tools for filtering all of which can help you recover every bit of your lost data in time.
2.1 Free download iMyFone D-Back Hard Drive Recovery Expert
You will have a seamless and rapid data recovery with an iMyFone D-Back Hard Drive Data Recovery Expert. To take advantage of the benefits, download the software for free. The free version includes a deep scan of erased data, data previewing before final recovery, multiple file recovery, multiple device recovery, lost partition recovery, and raw data recovery.
Follow the quick and straightforward instructions below to recover data:
Step 1. Download and install iMyFone D-Back Hard Drive Recovery Expert
iMyFone D-Back Hard Drive Recovery Expert is compatible with different operating systems; choose the one best suits your needs.
Step 2. Select a location and scan it
Select a hard drive from which you want to recover data and commence scanning.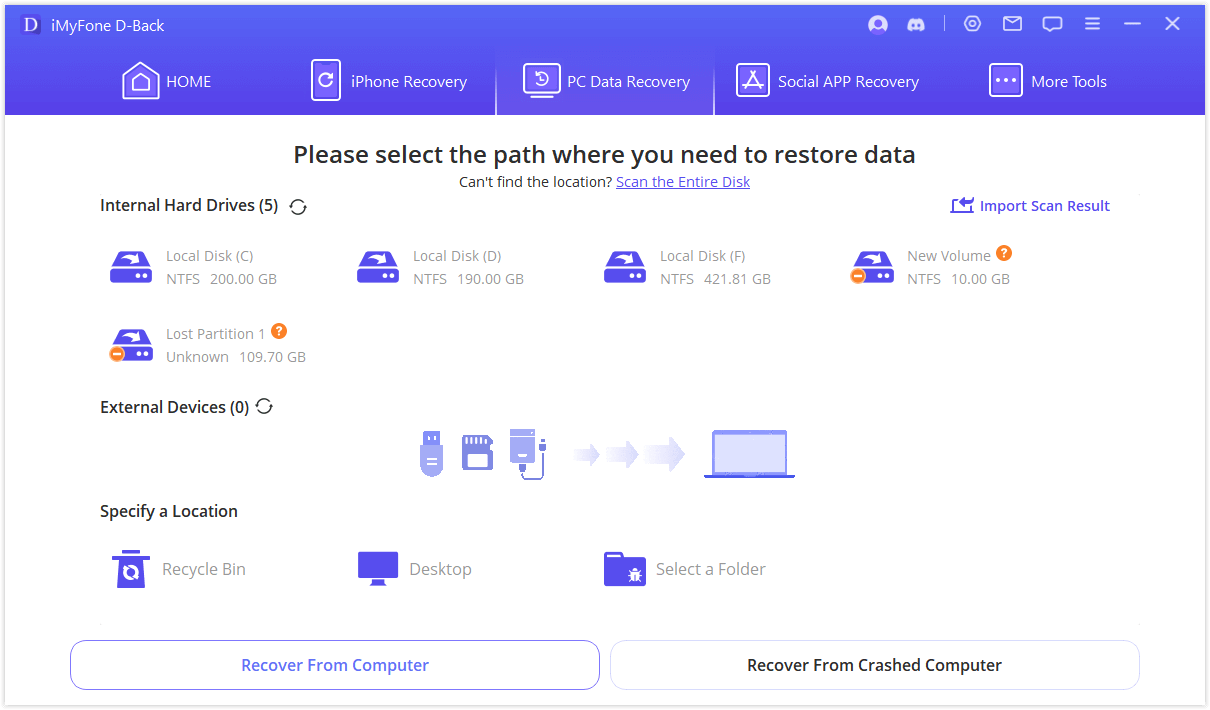 The program will do a thorough and all-around scan of the location, which can be tracked via the progress meter. It will also provide the scanning results on the interface, allowing you to review the results quickly.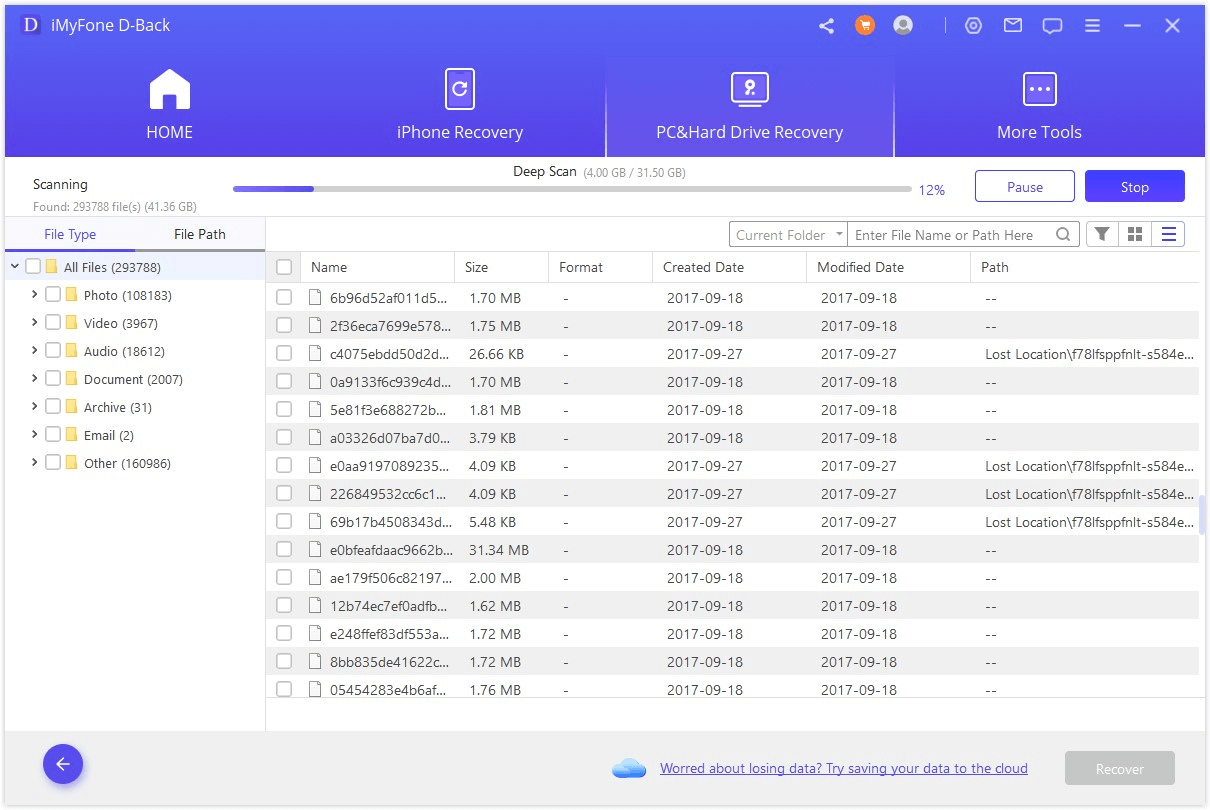 Step 3. Preview and Recover the data
You will neatly recover all the files after the scanning. You may preview the files. You can double-click a file; a pop-up window will emerge, allowing you to preview the content.
After previewing, you can recover them selectively; the recovered files will preserve their original quality.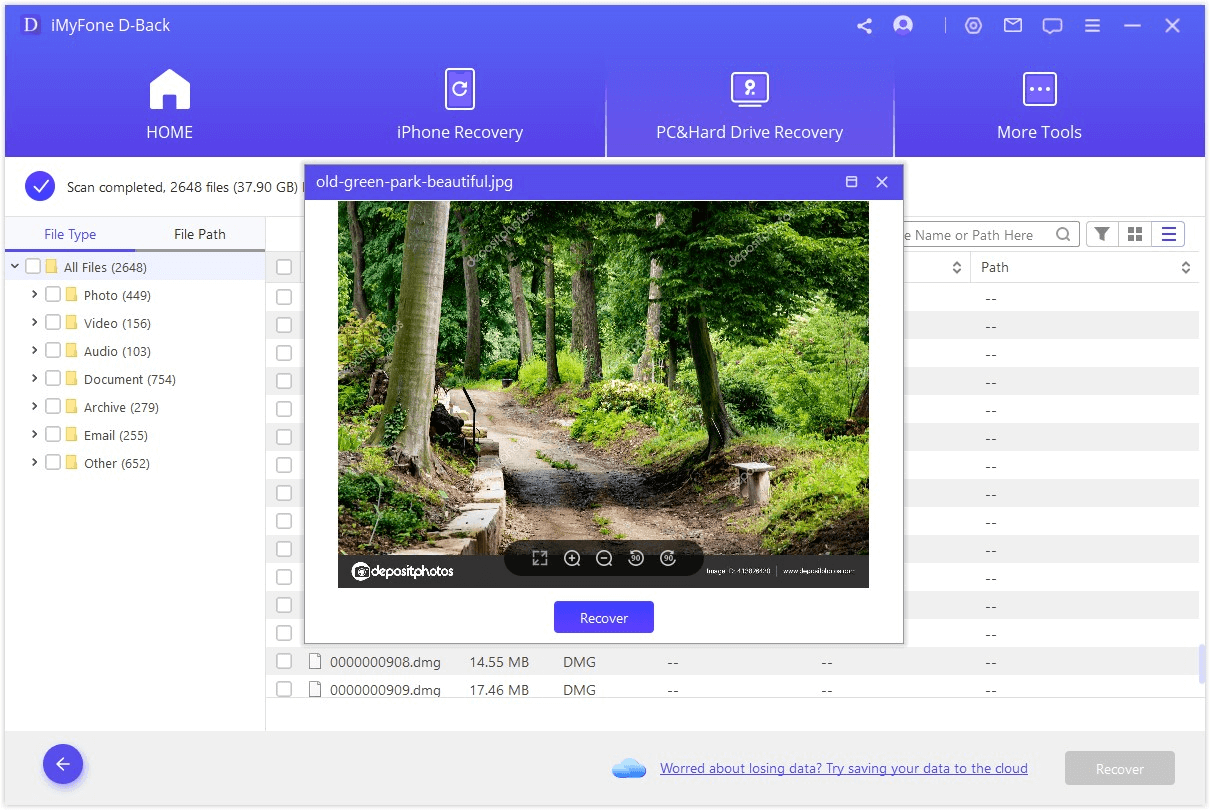 You can only recover one file at a time using the preview tool. You may also recover numerous at a time files by checking the boxes next to each one without previewing them, then clicking the recover option and selecting a location to store the files.
Part 3. What Is the Difference Between Data Recovery Software and Data Recovery Company
There are two approaches to recovering data: buying and installing data recovery software on your own or getting professional assistance from a data recovery company.
Let us look at the significant differences between the two and when you should use a data recovery company and when going for a data recovery software:
| Data Recovery Software | Data Recovery Company |
| --- | --- |
| Can recover data only when there is any logical error in the hard drive like deletion, corruption, etc. | Professional service from a data recovery company will be required when the hard drive is physically damaged. |
| Lower recovery rates | Higher recovery rates |
| Cost-effective option | Significantly more expensive option |
| A good option for professionals only | Ideal for beginners; however, both professionals and beginners can avail of it. |
| It is feasible for low-value data | Wise option for valuable data |
The differences between the two are noticeable. The solution you should choose is determined by the value of the data you are attempting to recover and how it was lost.
Data recovery software is a suitable initial step for low-value data or if it is lost because of deletion or corruption. Professional data recovery service from a data recovery company is recommended for high-value data or losses caused by physical damage.
Data recovery software is an appropriate initial step for low-value data or if it is lost because of deletion or corruption. Professional data recovery service from a data recovery company is recommended for high-value data or losses caused by physical damage.
Conclusion
It is unquestionably a terrible feeling to lose essential data. However, there are several options available to assist you in recovering your important data.
If you are concerned about losing data due to a hard disk wipe or corruption, iMyFone D-Back Hard Drive Recovery Expert is a trustworthy and cost-effective solution.
However, if you lose data due to physical damage to the hard drive or if the data is wiped off technically by any software and the data recovery software cannot retrieve it. Then you will need help from a professional data recovery company, like DTI Data Recovery, to complete the procedure efficiently.
It would help if you were not anxious about data loss and sought a solution that fits your requirements.