After the launch of a new firmware iOS 15/14/13, iOS users from all over the world gets excited with the new launch and try to update their devices. The most common way is to update through iTunes. But a few of the users complain that they are having issues to connect with the servers. The iTunes shows the message of "Software Update Server Could Not Be Contacted". Then Apple suggests to check the network connection and then try again. So is that the reason? Next, we will discuss the causes and some solutions to this problem.

Why the iPhone Software Update Server Could Not Be Contacted Happens?
Basically, the error occurs commonly either when you have connectivity issues or the Apple servers are overwhelmed with the response. However, according to users' reporting, software errors and incorrect configured settings are able to generate this alert message as well. To this extent, it is a bit complicated to diagnose and resolve this issue.
If it is caused by network issue: When such an error message appears on the screen, we should firstly consider the issue related to the network connection. Either you are using an unstable Wi-Fi network or there is a glitch in the Wi-Fi connection which is stopping you from connecting to the server.
If it is caused by Apple server: But it is also possible that Apple servers are having issues. When a new firmware is launched, Apple users from all over the world try to update their device, possibly the servers got overwhelmed with the response and unable to perform properly. You can go to www.apple.com/support/systemstatus to check the status of Apple server from the list. It the server is down indeed, all you can do is wait.
If it is caused by incorrect configured settings: If there is an issue with the incorrect settings, then it's very complicate for public to troubleshoot the issue because you may be required to edit your host file on your computer. You'd better to download the firware without iTunes. It's much easier for you.
Fortunately, we are going to show you how to fix iPhone cannot update software in detail. Next, we will learn 3 ways to fix this issue.
Way 1: Check the Network Connection
The first method describes if your iPhone software update server cannot be contacted because of a network connection problem. The follow the guide below to solve this problem.
Tip 1: So, at first you can turn off your Wi-Fi router. Now, you have to wait for at least 10 minutes before turning your router on again. It is possible that the described issue could get fixed after restarting the Wi-Fi router.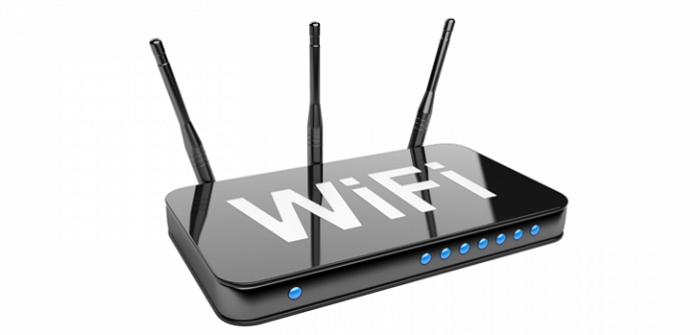 Tip 2: But if it does not, you have to find out if your computer, is actually getting connected to the Wi-Fi. Just, launch a website from your browser, in order to confirm your theory.
Tip 3: Unfortunately, if you find out that your computer is having issues connecting to the Wi-Fi or the connection itself is very weak. You have to connect to a different network.
So, you need to go through these 3 tips very carefully and figure out if the network issues are responsible for this connectivity problem.
Way 2: Update iPhone Software via OTA
If the network wasn't the cause of this issue, then the problem may caused by iTunes cannot connect to Apple server. You can update the iOS through OTA. OTA means, over the air. OTA is one of the official ways to update iOS.
Step 1: Navigate to the "Settings" of your iOS device.
Step 2: Now, you have to go to "General" and tap on "Software Update". Any update available will be visible, here.
Step 3: If there is any, just tap on "Download and Install" in order to update your iOS device.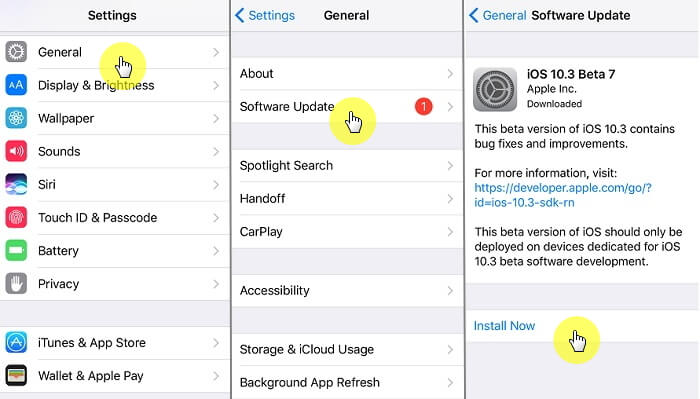 You have to make sure that the internet connection is stable as the download and install will take a longer period of time and it may fail if without a proper Wi-Fi network.
Way 3: Download the Firmware for the Update Without iTunes
If still, you are getting software update server could not be contacted error on your iPad or on your iPhone, you'd better to download the firmware not through iTunes. You can do it manually, which is the official but older procedure. Or you can download it easily with the help of professional tool.
Downloading the IPSW file manually to update the iOS is a common but complex way. Although it is not required to download with iTunes, it is required to complete the final installation step with iTunes. So, if the iTunes cannot work properly then the iOS upgrading process cannot be successful.
But, you have a better option to use professional software like iMyFone Fixppo, which is much easier. It can automatically match the latest iOS firmware for you or you can choose the one you wanted from the firmware list. Just one click then you can get the latest firmware to be downloaded. The whole process will just cost about 5-10 minutes and it's iTunes unnecessary.
| | Easy of Use | Time Consumption | Match the Firmware Automatically |
| --- | --- | --- | --- |
| Download IPSW File Manually | Very complicated | One hour or more | No |
| Download with iMyFone Fixppo | Very easy with just one-click | 5-10 minutes | Yes |
3.1 Download the iOS Firmware in One-click
iMyFone Fixppo can automatically match the latest firmware for you and you can also choose from the list. iMyFone Fixppo has years of experience in fixing iOS upgrading issues. The program can not only update the iOS version but also can fix other various iOS upgrading issues.
Now let's look at the procedure provided iMyFone Fixppo on how to update the iOS.
First of all, you need to download and install iMyFone Fixppo on your computer and launch it.
Step 1: As you don't want to lose any data, choose "Standard Mode" from the main interface.Then connect your iOS device and click "Next" to proceeding.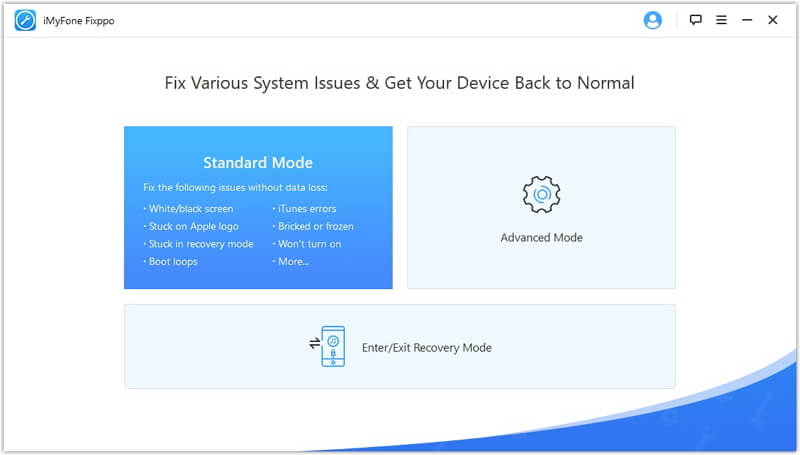 Step2: In the following page you will be asked to download the firmware. Here, you will be matched with the latest firmware automatically and then click "Download".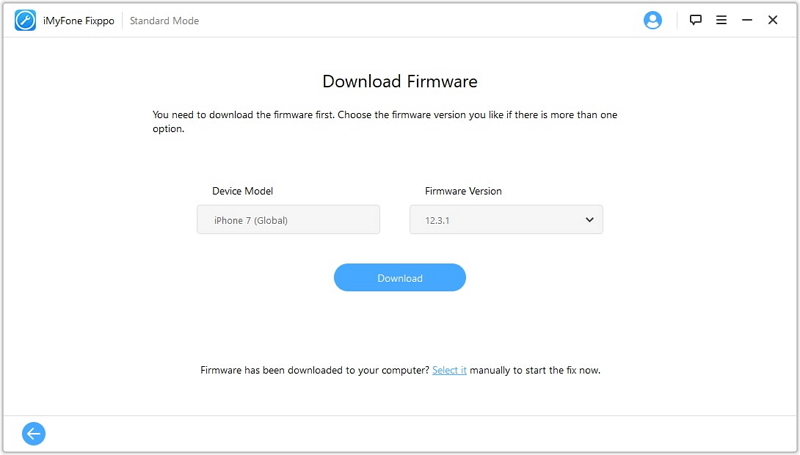 Step 3: After the firmware is downloaded, you will be forwarded to another page where you need to click "Start" to begin the procedure. It will just take few minutes then your device will be upgrade to latest iOS version.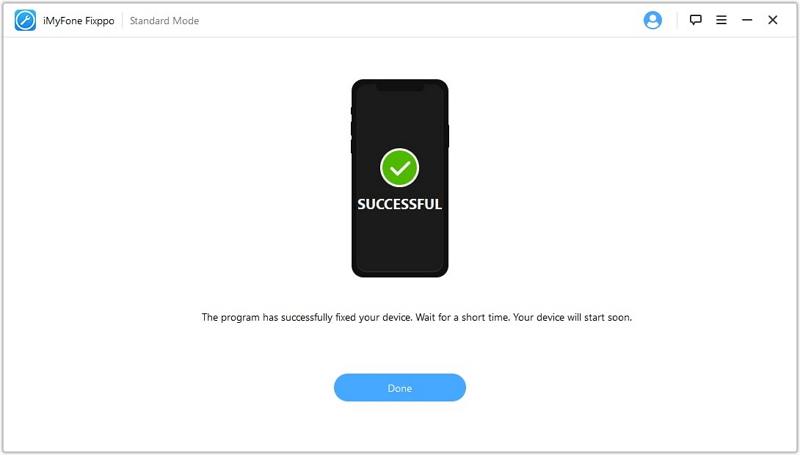 3.2 Download the IPSW File Manually
Now, the steps to download the firmware manually can be very different and complex. Let's have a look at how to do that.
Step 1: At first you have to download the IPSW corresponding with your device model to your computer.
Step 2: Then connect the iOS device to you computer. You have to launch iTunes and wait a while for it to detect the device. After the device is detected, click "Summary" on the iTunes panel.

Step 3: Now, you have to press "Shift" if you are using a Windows PC but if you are using a Mac, you have to press "Option" button and then hit "Restore iPad/iPhone". Then you will be able to browse and select the IPSW file which you had already downloaded.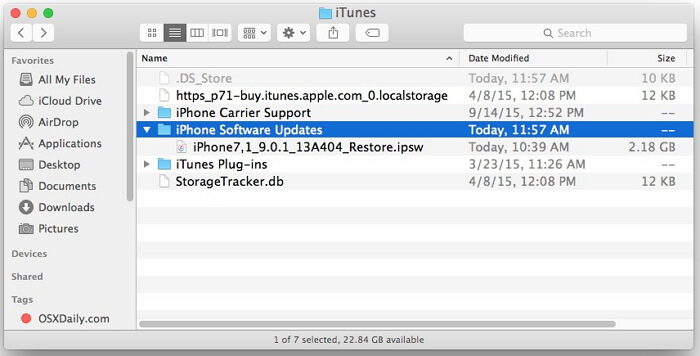 This is the way to manually download and install the IPSW file but it is just too complicated and iTunes may come up with several issues which can ultimately stop the procedure in the path.
Summary
So, finally all we have to say it that: if you are having trouble to connect to Apple server, it is probably a network issue from your part or simply, Apple servers are just overwhelmed. So, wait for the server to function properly. But we do recommend you to use iMyFone Fixppo for the purpose as the manual method is just too much hassle.